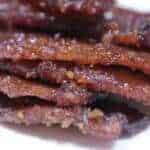 Print
Smoked Bacon Candy (Pig Candy)
Smoked bacon candy doesn't need a lot of introduction and there's not a better marriage of foods than what happens when you combine sweet syrup and bacon. Add the smoke factor and this might just knock you off your feet.
Season the Bacon
Peel the bacon apart

Layer it into a lidded container and drizzle maple syrup and rub between each layer.

Spread the syrup out with a brush before sprinkling on the rub.
Marinate the Bacon Overnight
Prepare the Bacon for Smoking
To smoke the bacon and turn it into bacon candy, lay it on a jerky rack or onto bradley racks. Be sure to leave a little space between each piece to allow the smoke easy access and to make sure they don't stick together.

Sprinkle more rub and brown sugar onto the bacon just before it goes into the smoker
Get the Smoker Ready
Prepare your smoker for cooking at about 225°F with indirect heat.

Let the smoker heat up to 225°F before placing the bacon in the smoker.
If you need further help with your smoker, try one of these links:
Smoke the Bacon Candy
Place the bacon into the smoker and let it smoke away for about 1 hour over indirect heat.

At the end of an hour, take it out of the smoker and flip the bacon pieces over to the other side. Once again, make sure the pieces do not touch.

Brush on more maple syrup and brown sugar

Smoke for an additional hour

Remove to parchment paper right away and let it cool for about 30 minutes before eating it for best results.

Break the bacon up into 3rds or halves and let the frenzy begin!