This smoked salmon candy also called "indian candy" was, at one time, a staple food while traveling away from home where cooking was difficult or near impossible.
Nowadays, it is just a great, slightly sweet, and sometimes savory, high protein snack.
I don't make this treat often but when I do it doesn't last very long. Even the folks who say they don't care for it, find themselves nibbling at it as if they have no control over themselves.
I tell you.. it is addictive and if I am allowed to do so, I will eat the entire batch myself!
The texture ranges from moist and tender to slightly dry and chewy depending on how long you cook it and you will just have to decide exactly how you like it best.
Get the Recipes – Banish the Ads
Most smoked salmon candy is very sweet and heavy on the brown sugar but I tend to like it more sweet and spicy. This salmon pieces are packed in my rub and a little kosher salt overnight to dry brine and the flavor that ensues is well worth the wait!
Use my rub on this smoked salmon candy and you'll be glad you did when you taste it.
Guaranteed you'll love it or your money back!
Reasons to buy: Support the newsletter and the website | Own the recipes | Get the newsletter 100% AD FREE from now on
Smoked Salmon Candy
Important Information
Prep Time: 20 minutes
Brine Time: 12 hours or overnight
Cook Time: 6 hours
Smoker Temp: 120/150°F
Meat Finish Temp: 145°F
Recommended Wood: Apple or Alder
What You'll Need
2-3 lb filet of salmon
Kosher salt
Real Maple syrup (grade A dark amber is best)
Slice and Remove the Skin
If you have access to fresh, wild salmon then I highly recommend that you use that. You can also use store-bought but you can't expect the same quality and flavor as fresh, wild-caught salmon. I've had both and you can definitely tell the difference. My point is to use the best thing you can get your hands on within your budget and means.
The first thing I do with salmon is to give it a good rinse with cold water and then pat it dry with a paper towel.
Lay it on the cutting board skin side down.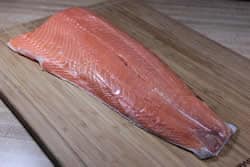 You can cut this as wide as you want and to any size that you want. I chose to go with about 1 inch slices right down the fish.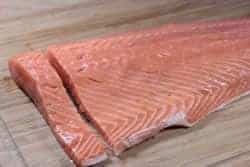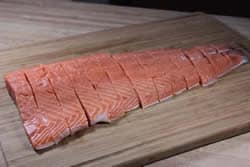 Some folks skin the fish before they slice it but I have found that it is easier to remove the skin from smaller pieces.
Use a sharp knife and just glide the blade between the meat and the skin to separate the two.
My method is to get it started on the thick end then when I have enough to get ahold of, I hold it with the thumb of my left hand (I am right handed) while I glide the blade, angled slightly downward, away from me.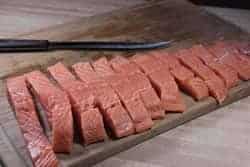 Removing the skin will cause stray scales to end up on the meat of the fish and I like to give it another rinse under cold water to remove anything unwanted.
As you rinse them, pile them on a paper towel to drain.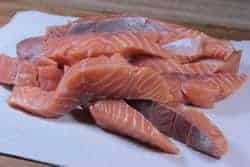 Dry Brine the Salmon
Now we are ready to dry brine the fish in a layered mixture of kosher salt and my rub (purchase recipe here).
What is dry brining?
In it's most basic terms, dry brining is the act of sprinkling salt (kosher salt is best) on meat. Water from the meat is attracted to the salt and is brought to the surface to meet the salt. The water mixes with the salt and is then reabsorbed back into the meat.
I use salt along with my rub so that when the moisture comes to the surface, it mixes with the salt AND the rub and then that flavorful slurry is reabsorbed back into the meat. It's like injecting flavor into the meat except a whole lot better!
To start, I pour enough rub to create a layer on the bottom of the brining bowl. For this 3 pound salmon, I used a bowl that was about 5″ x 8″ and about 5″ deep with a lid.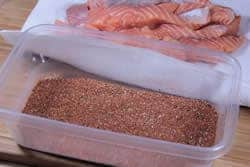 Next just a very thin sprinkling of kosher salt. The salt is what causes the moisture to be drawn out of the salmon. That moisture will mix with the rub and the salt and be drawn back into the fish and you will end up with a highly flavorful, slightly salty salmon that tastes really good.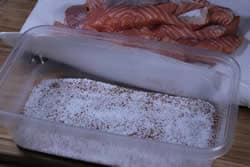 Add the salmon pieces by laying them gently on top of the layer of salt.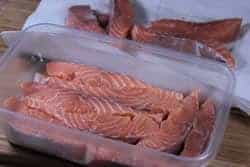 Add another layer of salt and then a layer of rub.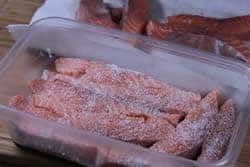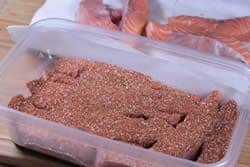 If you need to add a 2nd layer of fish, just add more salt on top of the rub like you did in the beginning.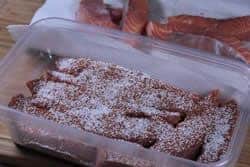 More salt and a rub layer and you're good to go.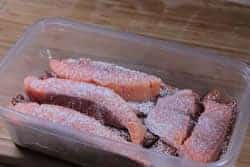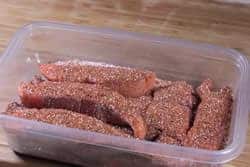 To simplify the process, here's the bottom to top stack up for a single layer of salmon:
rub-salt-fish-salt-rub
For a double layer of salmon, it would be (bottom to top):
rub-salt-fish-salt-rub-salt-fish-salt-rub
Keep the salt layers very light and especially if the fish is on the thin side. You want good coverage but no more than a single layer and only about 50% coverage over all.
Alternate Method: Make one batch of my rub (purchase recipe) and instead of the kosher salt that it calls for, instead add ½ cup of kosher salt. This gives you very close to a 2:1 ratio of salt to brown sugar which is usually what you want in a dry brine.
This mixture can then be sprinkled onto the fish without the need for layering.
Place a lid on the container and place the fish in the fridge overnight or for 8-12 hours while it brines.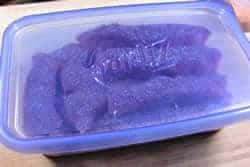 After about 4 hours, you will notice that liquid slurry in the bottom of the bowl, and you may want to stir the fish around a little to make sure it is well coated.
Here is the fish after 12 hours in the fridge..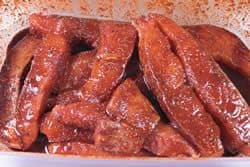 The fish was very firm and smelled wonderful.
Rinse the fish under cold water and try to get off as much of the salt and rub as possible. The flavors have already done their job and what is left is not needed.
Dry the Salmon to Form a Pellicle
Lay the rinsed fish onto a Bradley rack for the drying process. I use a second Bradley rack over the top so I don't have to worry about anything falling onto the fish in the fridge. (I have children and my projects aren't always their top priority).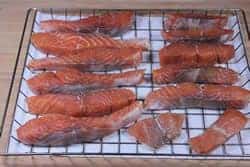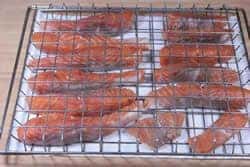 Just a tip: Use wire bread ties to connect the two Bradley racks together.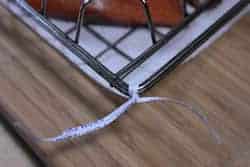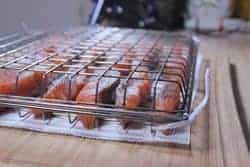 Some folks dry the fish on the counter but I am a safety nut and I prefer to dry it in the fridge.
Why dry the fish?
Salmon have a fatty liquid called albumin and this stuff will ooze out of the fish as it cooks. The albumin also serves to keep the fish more moist while it cooks.
By allowing the fish to dry, it forms a sort of skin called a pellicle which helps to prevent the white albumin from cooking out.
I recommend drying for 2-4 hours if possible. The fish will become sticky and get a sort of translucent look as it dries.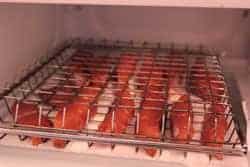 After drying the fish and allowing the pellicle to form they are ready to smoke.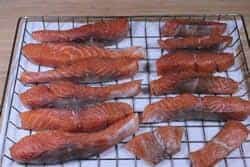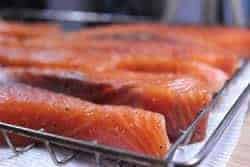 Getting the Smoker Ready
This is a great task to get done while the fish are in the last hour or so of drying. I recommend the Bradley smoker for smoking fish and this smoked salmon candy is no exception. The Bradley 4-rack Digital Smoker will do this fish justice for sure.
Winter is a great time to smoke fish since it is normally smoked at lower temperatures anyway and if your smoker has a hard time maintaining normal smoking temperatures of 225 °F, well then, you are in luck because you only need about 120-160°F to get the job done on this smoked salmon candy.
Start the smoker out at about 120°F and once it is holding steady, the fish are ready to smoke.
Here's Some Information on a Few Popular Smokers
Here's some information that I have written on various smokers.
Note: In colder weather, it is advisable to preheat the smoker at least an hour or more before you are wanting to use it. Keep the door closed as much as possible and even skip basting if necessary to maintain proper smoking temperatures.
Smoking the Salmon Candy
Place the salmon candy into the smoker. If you are using the Bradley racks then just lay it on the grate or you can lay the fish directly on the smoker grate. You might consider brushing a little olive oil onto the bottom of the fish pieces just before placing them on the grate to prevent any sticking.
I recommend using apple or alder wood and keep the smoke going the entire time.
Depending on how thick your pieces are cut and how dry you want the smoked salmon candy to be will determine the length of time that it spends in the smoker so you will have to do a little bit of testing after 3-4 hours of time. I always tell folks to make extra and to test a piece every 30 minutes until it gets to where you like it.
Write down how long it took and you'll know next time what to expect.
My fish was about 1 inch thick and I like it pretty dry but not so dry that it becomes chewy. I maintained the temperatures above almost to a tee in my Bradley smoker and it took 6 hours to become smoked salmon candy perfection.
2 hours at 120°F
then..
2 hours at 140°F
then..
2 hours at 160°F
The Glazing
This is what makes the smoked salmon candy sweet and gives it that nice sweet and spicy layer on the outside so it is important but extremely easy.
Mix the 2 ingredients together well and brush onto the salmon every hour starting at the 1 hour mark. Depending on how much salmon you make and how generous you are with it, you may need to make another batch.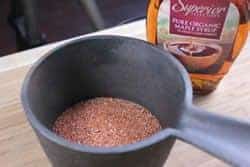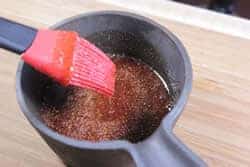 Finishing the Smoked Salmon Candy
What a great snack this is!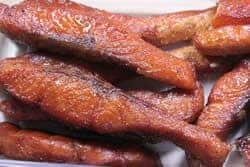 Printable Recipe (Beta)
Smoked Salmon Candy
Ingredients
2-3 lb filet of salmon
Jeff's rub (purchase recipe here)
Kosher salt
Real Maple syrup (grade A dark amber is best)
Instructions
Slice into Pieces and Remove Skin
Rinse salmon with cold water
On a cutting board, slice across the fish into 1 inch wide pieces
Remove skin using a sharp knife
Rinse fish under cold water to remove scales
Dry Brine the Salmon
Place a layer of rub then a light layer of kosher salt into a plastic or glass bowl
Place the fish onto the rub/salt layer
Sprinkle a light layer of kosher salt and a layer of rub onto the top of the fish pieces
If you need to double-stack the fish, place another light layer of salt then more fish.
Finish this layer with a light layer of kosher salt on top and then a layer of rub.
Place a lid on the container and place in the fridge for 8-12 hours or overnight.
Rinse the salt and rub from the fish using cold water and lay on paper towel to drain.
Dry the Salmon
Place the salmon on a Bradley rack or similar with at least ½ inch between pieces.
Place rack in fridge for 3-4 hours to allow the fish to dry and form a pellicle.
Smoking the Salmon
Setup smoker for cooking at about 120°F
Place salmon pieces directly on smoker grate for 2 hours.
Increase heat to 140°F
Continue to cook salmon for 2 hours
Increase heat to 160°F
Continue to cook salmon until it has reached the desired dryness/texture
Glazing the Salmon
Mix together ¾ cup of maple syrup with 2 TBS of Jeff's rub to create a glaze.
Brush the glaze on the salmon pieces every hour while they are in the smoker
Order Jeff's Rub Recipe and Sauce Recipe
If I could give these recipes away, I would do that. I really want you to have them!
But, then, this is how I support the newsletter, the website and all of the other stuff that we do here to promote the art of smoking meat.
Read these testimonies:
..after buying and using it, all I can say is BRAVO! I've used a number of "home-spun" rub recipes. It seems that they were always a little too sweet, a little too hot, or had a little too much of something in it. Jeff's Rub is just right – and well worth the price to have it just right. I'm glad I bought the recipe! ~John
Jeff, I bought your rub and sauce recipes a few months ago and you were ABSOLUTELY RIGHT! These are the best. Even my very picky wife and mother in law say they love them. I use them on everything I smoke, ribs,chicken.fish,roasts. Every newsletter you have I'm smoking it  a couple days later! I used my smoker 15 times in the snow and it gets you thru winter a lot sooner! THANKS!  ~Brian in Wisconsin
You see the raving testimonies and you wonder, "Can the recipes really be that good?"
No worries!
Make up a batch and if it's not as good as you've heard.. simply ask for a refund.
Now that's a bargain and you know it.
Let's review:
Completely guaranteed.. No worries
The recipes are absolutely amazing
Once you order, every newsletter will be Ad FREE
Well.. what are you waiting for.. click that link below that says "Order the Recipes Here"
Note: This ad should not show up in future newsletters once your purchase the recipes. Let us know if you are having any problems with this.
I really, really appreciate the support from my newsletter friends and be sure to let me know if you have any questions about this.
Have You Ordered My Smoking Meat Book Yet?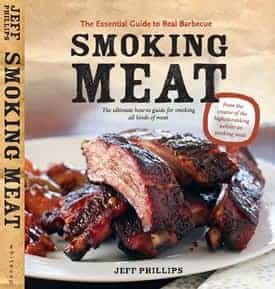 The perfect gift for the smoker friend(s) in your life. The book is full of recipes and contains tons of helpful information as well. Some have even said that "no smoker should be without this book"!
With 128 reviews on Amazon.com and a rating of 4.8 out of 5 stars, it comes highly recommended. It is also listed as a #1 Bestseller in Barbecueing & Grilling on Amazon.
If you are interested in a digital copy, we have versions available via Nook | iTunes
Note: For my German readers, the book is now available under the title "American Smoker" and translated into German at Amazon.de
Need Something? Shop at Amazon
That's right- we get a small commission every time you buy something at Amazon whether it's a piece of jewelry for your wife's birthday, a book or even a grill, smoker or cooking accessory. Use THIS LINK to get there and you'll get what you need, we'll get a small commission and you get to support smoking-meat.com.. everyone is happy!
Thank you in advance for using our special link: http://www.smoking-meat.com/amazon