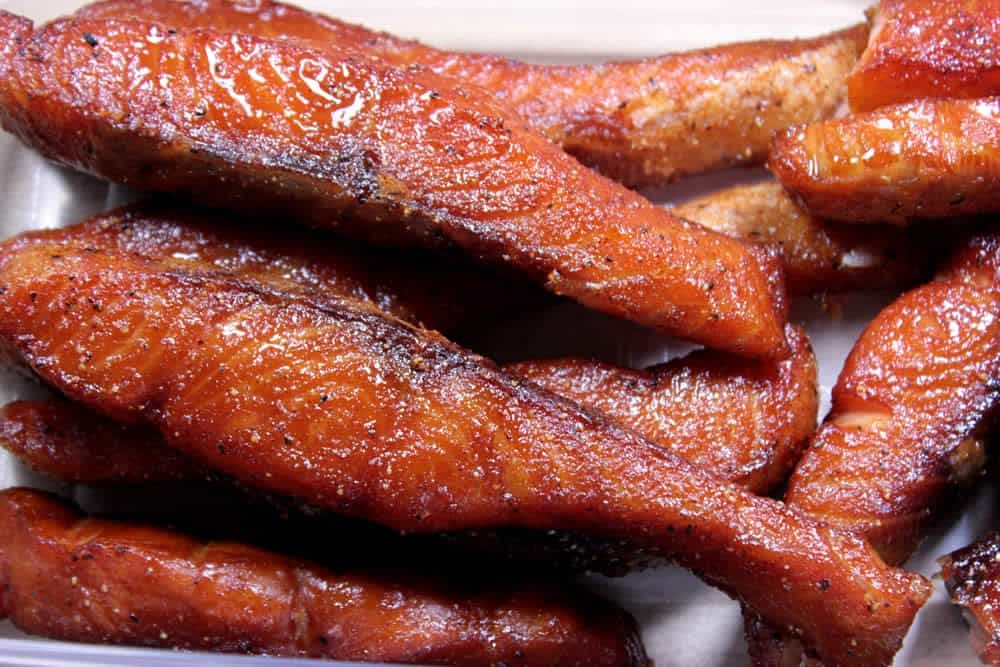 This smoked salmon candy also called "indian candy" was, at one time, a staple food while traveling away from home where cooking was difficult or near impossible.
The texture ranges from moist and tender to slightly dry and chewy depending on how long you cook it and you will just have to decide exactly how you like it best.
Update: When I first produced this recipe a few years ago, I had reports that it was too salty for some. I have completely reworked this recipe to ensure that the process is straight forward and much easier to follow. I have also modified the recipe to NOT use extra salt. It uses only my original rub (Purchase formula here | Purchase bottled rub)  for the dry brining/marinating process as it contains very minimal salt.
If you find that it needs more salt for your taste, feel free to amend the ingredients to include kosher salt but I urge you to be careful as it can get overly salty really fast. Also keep good notes on how much you add so you can adjust as necessary.
Important Information
Prep Time: 20 minutes
Brine Time: 12 hours or overnight
Cook Time: 6 hours
Smoker Temp: 120/140/160°F (49/60/71°C)
Meat Finish Temp: 145°F (63°C)
Recommended Wood: Apple or Alder
What You'll Need
2-3 lb filet of salmon
¾ cup Real Maple syrup
Slice and Remove the Skin
If you have access to fresh, wild salmon then I highly recommend that you use that. You can also use store-bought but you can't expect the same quality and flavor as fresh, wild-caught salmon. I've had both and you can tell the difference. My point is to use the best thing you can get your hands on within your budget and means.
The first thing I do with salmon is to give it a good rinse with cold water and then pat it dry with a paper towel.
Lay it on the cutting board skin side down.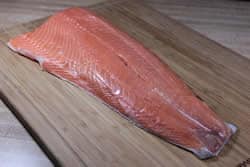 You can cut this as wide as you want and to any size that you want. I chose to go with about 1 inch slices.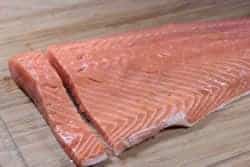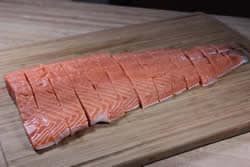 Some folks skin the fish before they slice it but I have found that it is easier to remove the skin from smaller pieces.
Use a sharp knife and with the fish slices laying skin side down, glide the blade between the meat and the skin to separate the two.
My method is to get it started on the thick end then when I have enough to get ahold of, I hold it with the thumb of my left hand (I am right handed) while I glide the blade, angled slightly downward, away from me.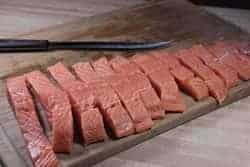 Removing the skin will cause stray scales to end up on the meat of the fish and I like to give it another rinse under cold water to remove anything unwanted.
As you rinse them, pile them on a paper towel to drain.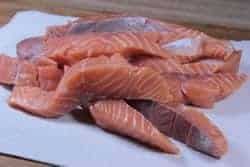 Dry Brine the Salmon
Now we are ready to dry brine the fish with my original rub (Purchase formula here | Purchase bottled rub).
What is dry brining?
In it's most basic terms, dry brining is the act of sprinkling salt (kosher salt is best) on meat. Water from the meat is attracted to the salt and is brought to the surface to meet the salt. The water mixes with the salt and is then reabsorbed back into the meat.
Even though my rub is very low in salt, it is enough to do the job on this fish. The salt in the rub pulls the moisture to the surface where it mixes with the rub and then that flavorful slurry is reabsorbed back into the meat. It's like injecting flavor into the meat except a whole lot better!
To start, I pour enough of the original rub (Purchase formula here | Purchase bottled rub) to create a layer on the bottom of the brining bowl. For this 3 pound salmon, I used a bowl that was about 5″ x 8″ and about 5″ deep with a lid.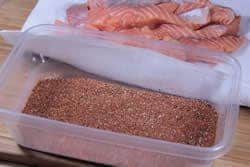 Add the salmon pieces by laying them gently on top of the layer of rub.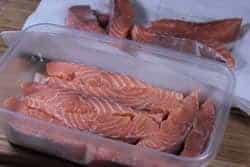 Add another layer of rub.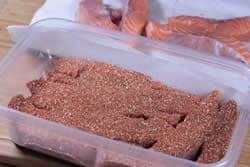 With every layer, add more rub.
Place a lid on the container and place the fish in the fridge overnight or for 8-12 hours while it brines.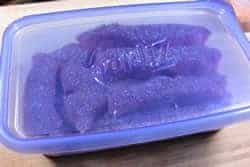 After about 4 hours, you will notice that liquid slurry in the bottom of the bowl, and you may want to stir the fish around a little to make sure it is well coated.
Here is the fish after 12 hours in the fridge..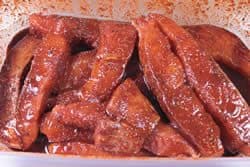 The fish is very firm and smells wonderful.
Rinse the fish under cold water and try to get off as much of the rub as possible. The flavors have already done their job and what is left is not needed. Besides, it's important that the fish is very dry when the smoking begins and we'll add more rub and some maple syrup to the fish toward the end of the process.
Dry the Salmon to Form a Pellicle
Lay the rinsed fish onto a rack for the drying process. I use a second rack over the top so I don't have to worry about anything falling onto the fish in the fridge.
Bradley racks are sometimes hard to find online unless you own a Bradley smoker.. I recommend this pan and rack instead if you're looking for something like this to use.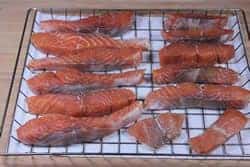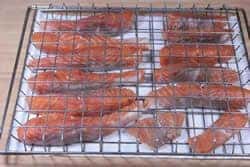 Just a tip: Use wire bread ties to connect the two racks together.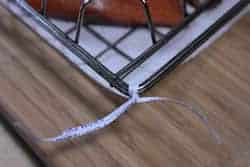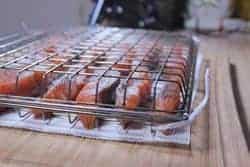 Some folks dry the fish on the counter but I am a safety nut and I prefer to dry it in the fridge.
Why dry the fish?
Salmon have a white protein called albumin and this stuff will ooze out of the fish as it cooks. The albumin also serves to keep the fish more moist while it cooks.
By allowing the fish to dry, it forms a skin called a pellicle which helps to prevent the white albumin from cooking out.
I recommend drying for 2-4 hours if possible. The fish will become tacky and get a translucent look as it dries.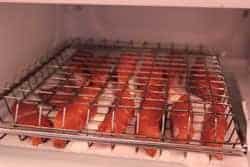 After drying the fish and allowing the pellicle to form they are ready to smoke.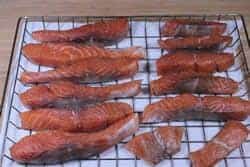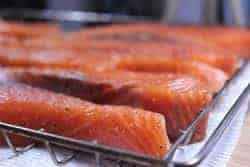 Getting the Smoker Ready
This is a great task to get done while the fish are in the last hour or so of drying.
Winter is a great time to smoke fish since it is normally smoked at lower temperatures anyway and if your smoker has a hard time maintaining normal smoking temperatures of 225°F (107°C), well then, you are in luck because you only need about 120-160°F to get the job done on this smoked salmon candy.
Start the smoker out at about 120°F (49°C) and once it is holding steady, the fish are ready to smoke.
Smoking the Salmon Candy
Place the salmon candy into the smoker. If you are using racks then just lay it on the grate or you can lay the fish directly on the smoker grate. You might consider brushing a little olive oil onto the bottom of the fish pieces just before placing them on the grate to prevent any sticking.
I recommend using apple or alder wood and keep the smoke going the entire time.
Depending on how thick your pieces are cut and how dry you want the smoked salmon candy to be will determine the length of time that it spends in the smoker so you will have to do a little bit of testing after 3-4 hours of time.
Write down how long it took and you'll know next time what to expect.
My fish was about 1 inch thick and I like it pretty dry but not so dry that it becomes chewy. I maintained the following temperatures in my smoker and it took 6 hours to become smoked salmon candy perfection:
2 hours at 120°F (49°C)
then..
2 hours at 140°F (60°C)
then..
2 hours at 160°F (71°C)
If your smoker will not cook lower than 160°F (71°C) then just set it on the lowest setting possible knowing that it will get done sooner than mine did.. probably at least an hour or two sooner.
The Glazing
This important step is what helps to make the smoked salmon candy sweet and gives it that nice sweet and spicy layer on the outside.
Mix the 2 ingredients together well and brush onto the salmon every hour starting at the 1 hour mark. Depending on how much salmon you make and how generous you are with it, you may need to make another batch.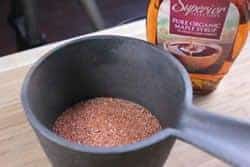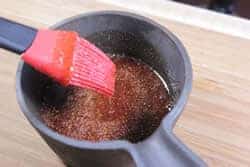 Finishing the Smoked Salmon Candy
What a great snack this is!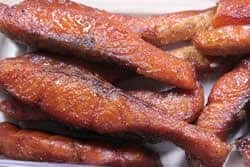 ---
Printable Recipe
Print
Smoked Salmon Candy
Author:
Prep Time:

20 minutes

Cook Time:

6 hours

Total Time:

6 hours 20 minutes

Yield:

6

1

x
Category:

Appetizer

Cuisine:

Hot Smoking
2

–

3

lb

filet of salmon

2

cups

Jeff's original rub

3/4

cup

Real Maple syrup
Instructions
Rinse salmon with cold water
On a cutting board, slice across the fish into 1 inch wide pieces
Remove skin using a sharp knife
Rinse fish under cold water to remove scales
Place a layer of rub into a plastic or glass bowl.
Place the fish onto the rub.
Sprinkle a layer of rub onto the top of the fish pieces.
If you need to double-stack the fish, place another layer of rub then more fish.
Finish this layer with a layer of rub on top.
Place a lid on the container and place in the fridge for 8-12 hours or overnight.
Rinse the rub from the fish using cold water and lay on paper towel to drain.
Place the salmon on a Bradley rack or similar with at least ½ inch between pieces.
Place rack in fridge for 3-4 hours to allow the fish to dry and form a pellicle.
Setup smoker for cooking at about 120°F (49°C)
Place salmon pieces directly on smoker grate for 2 hours.
Increase heat to 140°F (60°C)
Continue to cook salmon for 2 hours
Increase heat to 160°F (71°C)
Continue to cook salmon until it has reached the desired dryness/texture
Mix together ¾ cup of maple syrup with 2 TBS of Jeff's rub to create a glaze.
Brush the glaze on the salmon pieces every hour while they are in the smoker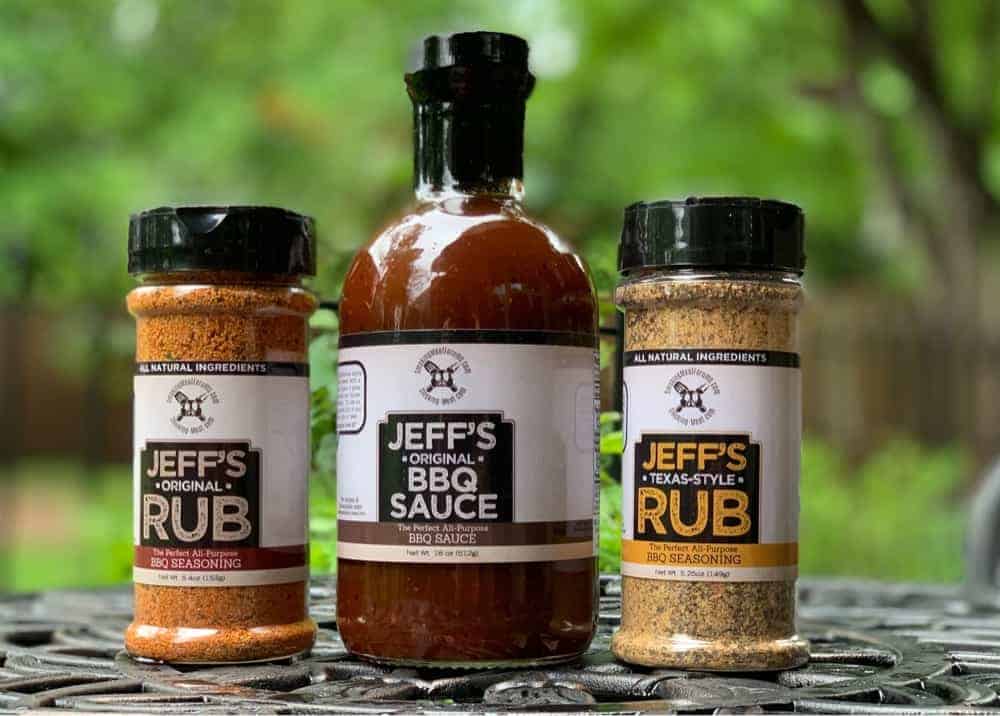 Order Jeff's Rubs and Barbecue Sauce TODAY!
✅ My rubs and sauce will be the best thing you've ever tasted and it's a great way to support what we do!
Note: You can also order the formulas for my rubs and sauce and make these yourself at home. Grab those HERE and download immediately.