Smoked Chicken Cherry Bombs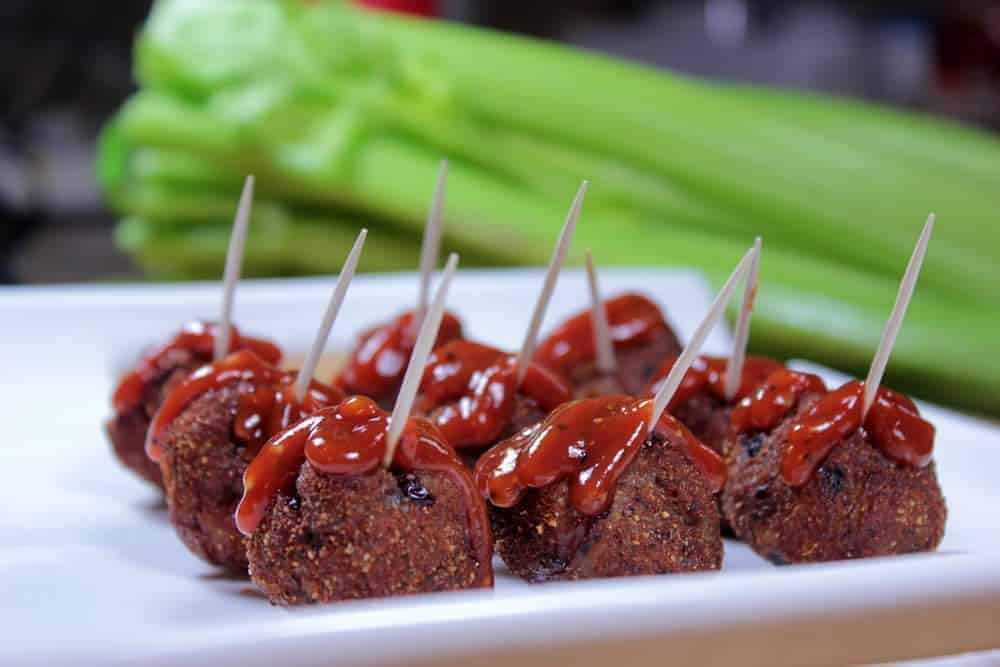 Smoking-Meat.com is supported by its readers. We may earn an affiliate commission at no extra cost to you if you buy through a link on this page.
Super Bowl parties are the perfect time to bring out the appetizers and these smoked chicken cherry bombs and other smoked super bowl snacks will be the perfect way to celebrate as you cheer your team to victory with your family and friends.
I have also included some links to favorite recipes for smoked wings, pulled pork hot dogs, smoked chicken cherry bombs and of course no appetizer or snack list is complete without those cream cheese filled, bacon-wrapped jalapeños.
Here's to hoping your team wins and if nothing else, you'll win the contest for having the best smoked super bowl snacks!
Important Information
Prep Time: 30 minutes
Yield: 38 -48 pieces
Cook Time: 45 min to 1 hour
Smoker Temp: 225°F
Meat Finish Temp: 165°F
Recommended Wood: Cherry
What You'll Need
2 lb ground chicken*
2 eggs
1 cup bread crumbs
15-18 fresh cherries, pitted (seeds removed)
2 habanero peppers, cleaned (seeds and veins removed)**
2 TBS crumbled blue cheese (optional)
Franks Original RedHot Sauce
*purchase pre-ground chicken or grind it yourself in the food processor or meat grinder using half breast tenders and half boneless, skinless thighs with visible fat removed.
**Use less habanero if you don't like your food very hot. See my notes below entitled, "How much habanero to use".
Prepare the Cherries and the Habanero Peppers
Use a hand pitter to remove the seeds from the cherries. You can remove the seeds by any means possible if you don't have a pitter. Use the food processor and just pulse it a time or two to chop the cherries up or you can use a hand chopper. A sharp knife also works.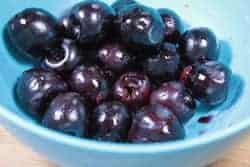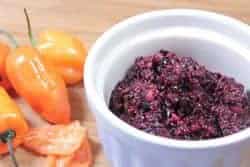 Remove the seeds and veins from a couple of habaneros.
***BE SURE to use GLOVES!***
Add the peppers to the food processor and pulse them just enough to chop them up real fine. A hand chopper or sharp knife works equally well.
Mix it up
Add the bread crumbs, eggs, 3 TBS of the rub, chopped cherries and chopped habanero to the ground chicken. Fold all ingredients together but don't over mix the chicken.
How much habanero to use: I used 1 habanero per lb of chicken and while I really liked it, others told me it was pretty hot.
I tried ½ habanero per lb and could barely taste it. If you really like it hot then use 1 or more habaneros per lb of chicken but if you only want it to be slightly hot, then use ½ habanero per lb of chicken.
I recommend making a batch with ½ habanero per lb and another batch with 1 habanero per lb that way you have something for everyone.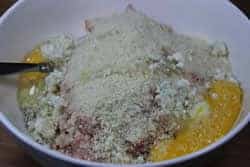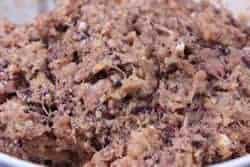 Forming the Cherry Bombs
Form the chicken mixture into ¾ to 1-inch balls then roll them lightly in a plate of my rub.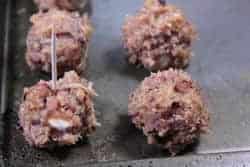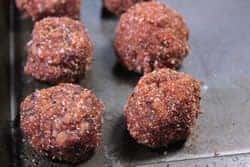 Stick a toothpick into each ball and they are ready for the smoker.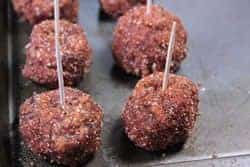 I recommend using a Bradley rack if possible for maximum smoke penetration and ease of transport back and forth from the kitchen to the smoker.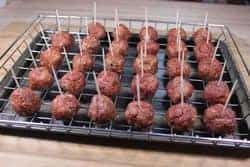 Getting the Smoker Ready
Prepare the smoker for cooking/smoking at about 225°F using dry cherry chips, chunks, splits, pellets or bisquettes if possible. Once the smoker is maintaining it's temperature, the smoked chicken cherry bombs are ready to go on the grate.
Here's some information that I have written on various smokers.
Note: In colder weather, it is advisable to preheat the smoker at least an hour or more before you are wanting to use it. Keep the door closed as much as possible and even skip basting if necessary to maintain proper smoking temperatures.
Smoking the Chicken Cherry Bombs
Place the smoked chicken cherry bombs directly on the grate and let them smoke the entire time using dry cherry wood. They should take around 45 – 60 minutes to reach 165°F in the center of the meat balls.
Making the Sauce
Mix 1 part Jeff's sauce with 1 part Franks Original RedHot Sauce to make a delightful sauce that pairs really well with the smoked chicken cherry bombs.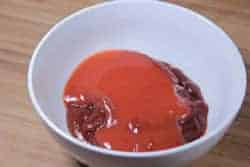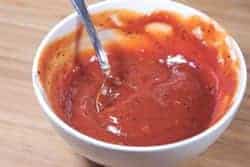 Serving the Smoked Chicken Cherry Bombs
Squirt some of the sauce on each one or you can let folks do it themselves. Grab a few for yourself and watch the others disappear very quickly!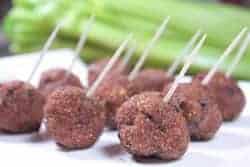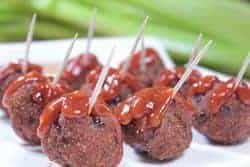 Alternate Method for Smoked Chicken Cherry Bomb
Wrap a third or half piece of bacon around the smoked chicken cherry bombs before you smoke them.
For extra crispiness, cook the bacon about half way before wrapping around the cherry bombs.
Secure with the toothpick and smoke cook for 1 hour or until they reach 165°F in the center.
Printable Recipe 
Smoked Chicken Cherry Bombs
Little balls of chicken, cherries, habanero pieces and flavored inside and out with my rub and sauce for that perfect super bowl or anytime snack that will drive you and your friends wild.
Author:
Prep Time:

30 minutes

Cook Time:

1 hour

Total Time:

1 hour 30 minutes

Yield:

12

-

1

5

1

x
Category:

Appetizer

Cuisine:

Hot Smoking
2

lb

ground chicken*

2

eggs

1

cup

bread crumbs

15

–

18

fresh cherries ((, pitted (seeds removed)))

2

habanero peppers ((, cleaned (seeds and veins removed)**))

2

TBS crumbled blue cheese (((optional)))
Jeff's rub (((purchase recipe here)))
Franks Original RedHot Sauce
Jeff's sauce (((purchase recipe here)))
Instructions
Prep Cherries and Habanero
Chop 18 fresh cherries very fine and set aside
Chop two cleaned/deseeded habaneros very fine and set aside (only use one habanero if you don't want them to be very hot)
Mix it up
Fold in bread crumbs, rub, blue cheese (optional), eggs, cherries and habanero to ground chicken
Form & Season Cherry Bombs
Form 1-inch cherry bombs from the chicken mixture
Pour some rub in a plate and roll the 1-inch balls in the rub to coat lightly
Insert a toothpick into the center of the cherry bombs
Smoke the Cherry Bombs
Smoke the chicken cherry bombs at 225°F for about 1 hour or until they reach 165°F in the center
Make the Special Sauce
Mix up some special sauce for the cherry bombs using one part Jeff's sauce and one part Franks Original RedHot sauce
Finish up and Serve
Drizzle the sauce on the smoked chicken cherry bombs or serve on the side for dipping
Did you know? You can order the MASTER FORMULAS which allow you to make Jeff's rubs and barbecue sauce at home using your own ingredients! Order the Recipes