Hello and welcome to yet another amazing and truly informative edition of the smoking meat newsletter! If you have not tried smoked country style ribs then you are missing out on some of the best tasting grub you could ever find. We've done these before in past articles and in similar fashion but with my new acquisition of a ceramic cooker, I have been wanting to try them and see how it went. I have found that things do tend to cook a little differently on the more efficient cooker.. i.e. the Big Green Egg.
The really cool thing about country style ribs is that they are so versatile. They can easily be grilled at high temperatures, smoked at low temperatures, skewered with vegetables, used in a stir fry or any number of other marvelous ways. Truly a meat that you can't go wrong with.
When you pair these babies with my delicious rub and/or sauce, they come alive like you would never imagine and you'll find it hard to not throw some of these on every time you fire up the smoker or grill.
As an additional benefit, with all of the heat that we are seeing here in Oklahoma and no doubt across the US and abroad, it's nice to have things that cook fairly quick, taste great and you don't have to spend a ton of time preparing.
I love to put my rub on these and then let them marinate overnight in the fridge. The flavor gets all up in the meat and it really does make a difference. You can also throw these together last minute with great results but I have noticed that the marinating seems to take them up a notch or two when it comes to flavor.
I am extremely anxious to get started telling you how to cook these on the smoker so let's get to it right away.
What You'll Need
Get the Recipes for Jeff's Rub and Sauce
---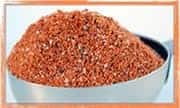 My rub is not only great on ribs and all pork, but it is absolutely amazing on poultry, beef, fish, seafood and even vegetables like corn!
I promise you'll love my dry rub/seasoning recipe and my barbecue sauce recipe or you don't pay!
Reasons to buy: Support the newsletter and the website | Own "the recipes" | Get the email newsletter 100% AD FREE from now on | Includes the Texas style rub recipe

---
How to Prepare
These are just too easy for words but many of you have asked me about them recently so I'm gonna show you just how easy it really is.
I like to rinse the country style ribs real good since they are cut with a saw most likely and there are a few bones here and there which could mean there is bone dust or fragments left on the meat. Rinsing them will take care of this.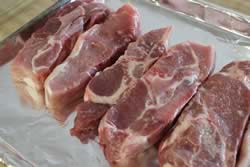 Once rinsed, place them in a lidded container with my rub sprinkled generously all over them. The rub will dissolve and do an amazing job of marinating the meat in flavor. I recommend leaving them in the fridge overnight but 4 hours will also do a pretty good job on them.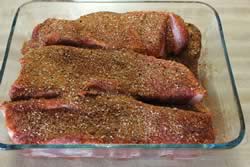 Here's how good they look after they've marinated overnight in my rub😉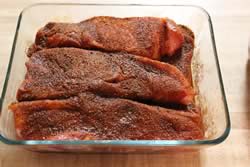 If you are truly in a hurry and don't have time to leave them for any amount of time, then use a sticking agent such as regular yellow mustard on them first, then apply the rub. The mustard will help the rub to stay in place when you are moving the meat around.
Get the Smoker Ready
As I always say, you can use almost ANY heat source with wood smoke to smoke cook meat. This includes electric, gas and charcoal smokers not to mention the large wood burning smokers.
How you get them up to temperature and where you place the wood may differ from smoker to smoker but the idea is the same.. add heat, add wood smoke and you're cooking with smoke.
For the Big Green Egg as well as other ceramic cookers, it is pretty simple:
I've been cooking in my Big Green Egg so often that this has become a routine that I do without even having to think about it. Very easy and great results every single time.
Once the smoker/cooker is maintaining the proper temperature we are ready to move forward.
Smoking the Meat
Place the country style ribs directly on the grate for best results.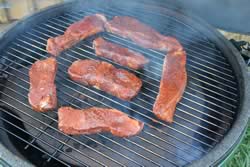 Note: I also love to use a Bradley rack to make it really simple to move the meat to and from the kitchen and the smoker. These are fairly cheap on Amazon and are very nice to have.
I recommend that you try to keep the smoker around 225-240 degrees for best results and you should be looking at around 2 hours of cook time on the egg. Keep a watch on the internal temperature of the meat using a digital probe meat thermometer and when they reach about 165-167 degrees, they are perfectly done and tender.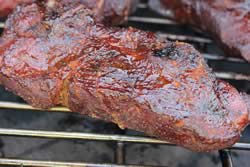 See I told you they were easy!
Notes:
Folks.. I never stop amazing myself at how good my rib rub recipe and sauce recipe is on various kinds of meat and using it on country style ribs is nothing short of heavenly!
Whether it is fish, ribs, brisket, pork shoulder, turkey or even ham, chicken or chops, every time I use my rub and sauce I am blown away by the flavor all over AGAIN!
I always think to myself, "I sure hope everyone can try this.. it is too good to go through life never having experienced this!"
I am not being dramatic.. just try it and you will join the ranks of those who know if I'm lying then I'm dying! This stuff is Fan-flavor-tastic and you need it in a bad-bad way;-)
Here is a few recent testimonies from other folks who decided to go for it and are glad that they did. Be sure to send my your testimony once you try it and realize that you have just tasted of HEAVEN.
—————————————————
Did a Ham and using your rub it was as my wife and friends said the best tasting ham they have ever had. We are into our late years so that's saying a lot .Thanks for sharing ~ Jack
—————————————————
Wow! wow! wow! The best rub and sauce I have ever had. Also did the turkey for thanksgiving and it was the best turkey I ever had. I usually only eat dark meat and this turkey was so good I ate only white meat ~ Andy
—————————————————
I purchased the rub and sauce and I have to say that I love it and so has everyone that has tried it, just like you and others said they would. ~ Matt
—————————————————
Jeff I have to tell you that your rub and sauce recipes are the best. I had never smoked a rib or anything until last weekend and by fallowing your directions on your site I was the RIB KING for a day. Thanks a bunch pal, ~ Harold
—————————————————
Let me say that I've been using your Rib Rub for a couple years now. I use it on ribs (obviously), but I also use it on steak, ham, chicken, and everything else I smoke. My family and I absolutely LOVE it! It rocks! ~ Trapper
—————————————————
Jeff, I did a smoked pork roast yesterday and used your recipe both for the pork and for your Smoky Barbecue Sauce. Everyone loved it. My wife said the sauce was the best she had ever tasted and I have to agree. Fantastic. ~ Barry
—————————————————
I have hundreds of these testimonies from folks just like you who were skeptical at first then decided to go for it.. now they are so glad they did!
You deserve the very best and is is completely within your grasp! Only $18.95 and worth every penny. Not only do you get the best rub recipe and sauce recipe available, you are supporting this website and helping to make sure the bills get paid so we can keep on doing what we do to teach thousands and thousands of people across the world the art of smoking meat.
What to Expect Once you Order
My system is automated which means you should get a download email within mere MINUTES of ordering.. check your spam/junk folder first then, if you can't find them, contact me to get the recipes sent to you as an attachment. The download email will allow you to log in and save a copy of my recipe file to the hard drive of your computer. This recipe file is a PDF and contains my very own rub recipe and sauce recipe. Please let me know if you have other questions about these recipes.
My Book is Getting Lots of Love!!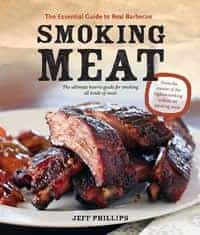 There is no hiding the fact that I am very proud of my book, "Smoking Meat: The Essential Guide to Real Barbecue" and the fact that it is a fantastic looking book.. the best looking one I have ever seen in fact and, while I am partial, I am speaking to the artwork, the binding, the way the cover is put together, etc.
Something that impresses me a lot and I have received a lot of positive comments on is the fact that It is paperback but it looks like a hardcover. The cover is some sort of special process that makes it more durable than a normal paperback and it looks super sharp!
I appreciate everyone who has purchased the book and all of you have taken the time to email me and express your kind words on how much you love the book.. that really means a lot to me.
For all of you who have not ordered the book, I really want you to have this book and I can't tell you how much you will enjoy the recipes that are inside. Some of the recipes are my own and some of them were submitted by folks at the forum but we only included the very best ones and I am already getting emails letting me know that the recipes are simply amazing.
As you can see.. I am like a father with a new baby and all of the time and effort that went into this project are finally being realized in the pages of this book.
Having said that.. folks are buying this book like crazy and Amazon and Barnes & Noble are out of the book again. No one expected this book to sell as well as it has and to have the kind of reception that it has seen. We are on the 2nd printing already and moving toward the 3rd. More books are expected to be in house around August 1 which is just a few days away.
The book can be ordered on almost any book store online including Amazon.com, Barnes & Noble and Books-a-Million and it will ship just as soon as the new ones come in.
I highly recommend that you get your order in today to ensure that you get your book quickly once new books arrive in a few days.
Digital Versions of the Book
Some Testimonies
*********************************************************************
I received your book today!! Haven't been able to put it down. ~ Becky
*********************************************************************
Jeff when I got the email from you I ordered the book from Amazon and 2 days later it was in my hands. All I can say is AWESOME book. ~ Willie
*********************************************************************
Just got my copy of Smoking Meat, purchased from Amazon. I can't seem to put it down. Good Job!! ~ Charles
*********************************************************************
I got your new book last week….it is a beaut. Congratulations and good luck with sales. I am recommending it to all my BBQ buds. ~ Ted
*********************************************************************
Note 1: My (2) recipes that I sell in the newsletter to support the site are not included in the book. I have had several of you ask about this and I thought it might be prudent to make a note on here about that.
In Closing
I so appreciate all of you for being a part of the smoking meat family which includes the newsletter, the forum, the smoking-meat.com website and many other resources that we try to provide to help you and countless others learn this great art.
A HUGE thank you to all of you who support the site by purchasing the recipes and other products that we sell. That is what keeps the wheels turning here at Smoking Meat HQ and it is much appreciated.
By the way, if you shop online, use our Amazon link. It doesn't cost you anything extra and we get a few cents from everything you purchase. I certainly appreciate it. CLICK HERE to shop at Amazon.com.
Until next time.. keep smoking and God Bless.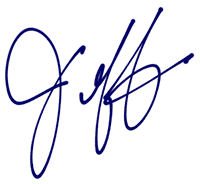 Jeff Phillips