If you have never tried smoking hotdogs then you are in for a real treat! We take it a few steps further and spiral-cut the hotdogs and add some seasoning but you will love them either way.
Hello and welcome to this edition of the smoking meat newsletter where we will put almost any kind of meat, vegetable or other edible products into the smoker or grill in hopes of getting some smoke flavor on it.
I must admit that sometimes we feature things that are grand and sometimes we just take things pretty ordinary and try to make them grand. At any rate, they are almost always better than they started out and I think you will agree when you discover what I did with some hotdogs this week.
Now mind you, I use the more expensive Hebrew National hotdogs since I prefer the kosher aspect of it not to mention the complete absence of MSG but if you like the other types and brands of hotdogs, those will work just the same.
The cool preparation of these hotdogs is not something that I came up with personally (someone else thought of it before I did) however, by putting rub on them and by smoking them in the smoker instead of just grilling them like usual, they become something a lot more special.
If you ever try these spiral cut, seasoned with my rub and then smoked for an hour in the smoker, you will understand why I might decided to do an entire newsletter on something as simple as a smoked hotdog.
Get the Recipes for Jeff's Rub and Sauce
---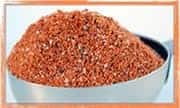 My rub is not only great on ribs and all pork, but it is absolutely amazing on poultry, beef, fish, seafood and even vegetables like corn!
I promise you'll love my dry rub/seasoning recipe and my barbecue sauce recipe or you don't pay!
Reasons to buy: Support the newsletter and the website | Own "the recipes" | Get the email newsletter 100% AD FREE from now on | Includes the Texas style rub recipe

---
How to Smoke Spiral-cut Hotdogs
Here's what you'll need
Hotdogs (I use the jumbo 3 oz hotdogs by Hebrew National)
Long wooden or metal skewer
1 batch of Jeff's rub
Hotdog buns
Condiments (mustard, ketchup, barbecue sauce, etc.)
Onions
Relish
How to Prepare
Remove the hotdogs from the package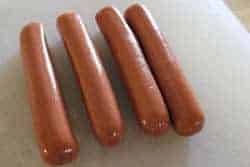 Carefully run a skewer through the center of the hotdog end to end trying your best to keep it in the center. If you make a mistake, pull the skewer out and try again.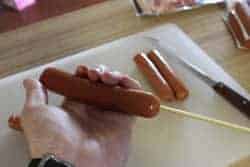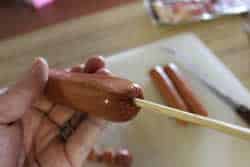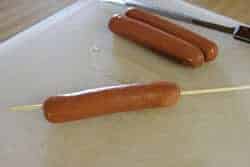 Holding the knife at a 45 degree angle, start on one end cutting through the hotdog allowing the skewer to stop the knife from going all the way through. Roll the hotdog away from you as you press the blade down against the hotdog cutting it through to the skewer.
Continue cutting at an angle until you reach the opposite end of the hotdog.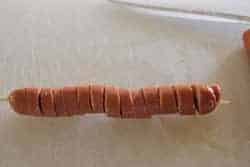 Here's a video from Chow.com that does a great job of showing you how it's done:
My first one did not look so great, I steadily got better after that.
I took my time and tried to do a good job on all of the hotdogs but it's really not important that they look perfect.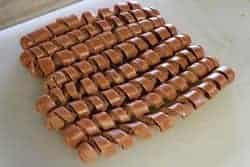 Once all of the hotdogs are spiral-cut, sprinkle my rub all over them allowing it to get down into the cut areas as well as on the outside.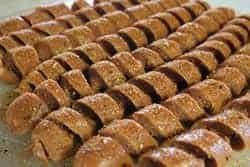 Place the hotdogs on a Bradley rack and let them sit for a bit while you go get the smoker ready to cook at 225 – 240 degrees F.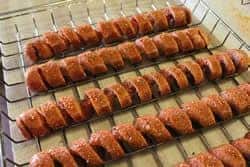 If you don't want to spiral cut all of them, there are no rules that say you have to do that. Here's some extras that I left uncut just to show that it's ok.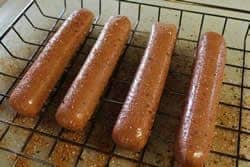 Smoking the Hotdogs
It never fails that I get emails every week asking me if I have special recipes for electric smoking or gas smoking and the answer is, "no, I don't".
In all of my recipes, I give you the heat setting, the smoke recommendation and from that point it absolutely does not matter what type of smoker you are using as long as you have the heat and the smoke.
I have written pages on specific smokers and I am on a mission to write more and will post links to those as I get them finished:
Big Green Egg (coming soon)
Great Outdoors Smoky Mountain Propane (coming soon)
Brinkmann Electric Gourmet (coming soon)
Brinkmann charcoal water smoker – ECB (coming soon)
Whatever type of smoker you are using needs to be set up to cook at 225-240 degrees for about an hour. If you using an electric, charcoal or gas smoker then I recommend keeping the smoke going the entire time. In a wood smoker, this happens by default.
For the smoke, I recommend apple or pecan but other woods like hickory, mesquite, maple, and cherry will also do a wonderful job.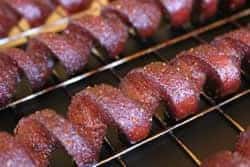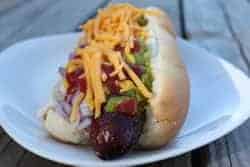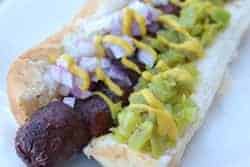 Just like ham, you'll be amazed at how much smoke flavor these hotdogs pick up in the smoker. You will taste the smoky goodness in every bite.
This method of cooking hotdogs is wonderful for large parties where you need a lot of hotdogs done all at the same time. Just put them in about an hour before you need them and serve them right out of the smoker an hour later. Due to their small size, you can do hundreds of these quite easily even if you opt to not spiral cut them.
Enjoy the process.. enjoy the flavor!
Summary
Remove hotdogs from package
Run skewer through center of hotdogs lengthwise
Starting at one end, hold knife at angle and cut while rolling hotdog away from you
Continue rolling hotdog away from you until the knife ends up on opposite end
Remove skewer
Repeat steps 2-5 for all hotdogs
Lay hotdogs on a Bradley rack and apply rub generously
Prepare smoker for cooking at 225-240 degrees F
Smoke cook hotdogs for 1 hour
Serve on bun with condiments and toppings
Tips and Other Thoughts
You could also brush these with barbecue sauce at the 30 minute mark to make them a little sticky and to add to the flavor.
Sprinkle with grated cheese and let the cheese melt onto the hotdogs during the last 20 minutes or so in the smoker.
***Note: you get the Texas style rub recipe free with your order!
If I could give these recipes away, I would do that. I really want you to have them! But, then, this is how I support the newsletter, the website and all of the other stuff that we do here to promote the art of smoking meat.
Read these recent testimonies:
"Love the sauce and rub recipes. So far I have used them on beef ribs, pork ribs, and different chicken parts. Can't wait to do a beef brisket. Texas rub is great as well!" ~Peter S.
"I tried the rub on a beef brisket and some beef ribs the other day and our entire family enjoyed it tremendously. I also made a batch of the barbeque sauce that we used on the brisket as well as some chicken. We all agreed it was the best sauce we have had in a while." ~Darwyn B.
"Love the original rib rub and sauce! We have an annual rib fest competition at the lake every 4th of July. I will say we have won a great percent of the time over the past 15 years so we are not novices by any means. However, we didn't win last year and had to step up our game! We used Jeff's rub and sauce (sauce on the side) and it was a landslide win for us this year! Thanks Jeff for the great recipes. I'm looking forward to trying the Texas style rub in the near future!" ~Michelle M.
You see the raving testimonies and you wonder, "Can the recipes really be that good?"
No worries! Make up a batch and if it's not as good as you've heard.. simply ask for a refund. Now that's a bargain and you know it. Let's review:
You decide you don't like the recipes.. you don't pay!
The recipes are absolutely amazing!
Once you order, there'll be no more recipe ads in the email version of the newsletter
Well.. what are you waiting for.. click on the big orange button below to order the recipes now.

I really, really appreciate the support from my newsletter friends and be sure to let me know if you have any questions about this.
Introducing the Smoking Meat Forums
If you love drool worthy pictures of smoked meat (and I know that you do) and you love instructions on how to smoke meat (and I know that you do) and.. you love to get your questions answered really fast (and I know that you do) then it just seems logical to me that you would absolutely love our forum.
It has been said that we have one of the nicest,  most knowledgeable, most well-run forums on the internet..
I personally invite you to be the judge of that.
Here are some things that you see on other forums that you will NOT see at SMF (as we call it):
Name calling
 Telling you to go search for the answer (my own personal pet peeve)
Treating you like an idiot if you ask a really basic question
Spam (we have excellent spam filters and it gets caught nearly 100% of the time)
Here's what you WILL encounter:
Extremely wonderful and helpful people
3 administrators and 30 moderators just waiting to help you out
Professional, Family friendly atmosphere
Over 1,000,000 posts on smoking meat (everything you can imagine)
It's completely FREE
And, I'm only touching the surface.. you really have to experience it to believe it!
Come on over to the forum, you can browse around without becoming a member but I'd sure like it if you would just take a few minutes to create a username and password, sign in and say hello and give us a chance to welcome you to the forum!
Click Here to go there NOW..
I will look forward to seeing you there!
Other Notable Resources
Note: All off-site links will open a new window or tab. When you are done, simply close the window or tab and you'll be right back here.