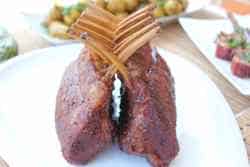 Hello friends and welcome to this special Easter edition of the smoking meat newsletter. Easter, for me, is not only a celebration and remembrance of Christ's resurrection but it marks the end of winter and the beginning of Spring.. my favorite time of year!
In thinking about what to do for Easter, I knew we had to do the traditional double smoked ham but I also wanted to do a cut of lamb that we have not done before in the newsletter. Last year I showed you how to smoke lamb shanks and how to get them tender and tasty and even some folks who do not particularly care for lamb, said the smoke and my rub made them quite tasty.
Be sure to check out my previous newsletter for instructions on double smoking a ham if you just can't afford to spring for the lamb this Easter (pun intended).
Lamb can have a flavor that is a little too odd for some people and I do understand that but this week, I am going to show you how to do a rack of lamb which is a lot more mellow tasting, can be served medium rare and has a buttery tenderness that will melt in your mouth and all of this in about 1.5 hours.
I have included several other helpful recipes that go with the lamb such as a buttermilk brine and an herb paste. Also you will find a delightful recipe for spiced baby potatoes.. an excellent side for the Easter meal.
Now I will admit that rack of lamb is not only a little difficult to find sometimes, but it is also expensive to the tune of $17-$20 per pound here in Oklahoma if you get the good stuff. Fortunately, it's one of those things that you serve in smaller portions with plenty of sides. Like prime rib, you don't have it often but when you do, it's a very special occasion and I can't think of a better occasion than Easter.
Now, if your mouth is watering as much as mine, I think you'll agree that it's high time to get right into the meat of this newsletter!
Using My Rub on Rack of Lamb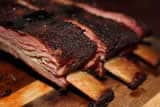 My rub recipe as well as the sauce recipe was initially designed and developed to give pork ribs that certain wow factor that is so often missing.. I spent years putting this recipe together but when I got done tweaking it to perfection.. I knew that I had created a legacy of flavor that would live forever.
Order today and you'll see exactly what I mean.. nothing short of amazing and what's more, both recipes are good on almost everything.
When you purchase the recipes, you are doing your part to promote smoking meat, the website, the forum and this newsletter and I thank you!
My Previous Newsletter: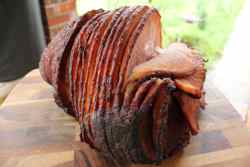 One of the most popular meats to cook on holidays is ham if you can believe that. Double smoked ham takes an ordinary ham and turns it into something beyond amazing. A little rub, a little smoke and about 3 hours in the smoker and your friends and guests will be raving. Try it this Easter!!
Missed a Newsletter somehow? Check out the Archive
Smoked Rack of Lamb
What You'll Need
2-3 racks of lamb*
1 Tbs. extra virgin olive oil or spray olive oil
1/4 c. Jeff's rub
*I generally allow about 3-4 bones per person or 2 people per 8 bone rack
Note: The racks of lamb should already be "frenched" which means the meat is trimmed from the bones leaving the bones clean on one end as you can see in the picture below, if not, you can ask the butcher to do if for you or there are tons of videos online and on youtube.com on how to "french" a rack of lamb and it's pretty easy to do.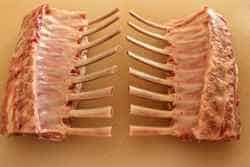 Removing the Membrane
Remove the membrane from the bone side of the lamb. This is just like on pork ribs and requires lifting up a little piece of the skin that is against the bones and peeling it all the way off.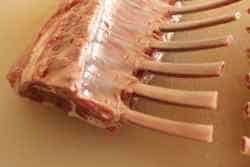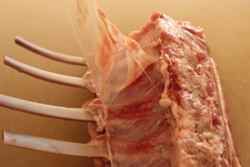 How to Brine the Lamb
(This step is completely optional but I highly recommend it.)
Brining meat gives it great flavor and makes it more juicy but we also know that soaking wild or gamey meat in buttermilk takes the edge off of that strong taste. My buttermilk brine accomplishes both tasks at once.
If you want to get imaginative, you can add other things to the brine such as crushed mint leaves, cinnamon, hot sauce, whatever you think sounds good. My only suggestion would be to try your special creation yourself and make sure it turns out ok before using it on guests.
Buttermilk Brine for Lamb
1/2 gallon buttermilk
1/2 gallon water
1 cup kosher or sea salt
In a large plastic or glass container stir together buttermilk, water and salt until the salt is dissolved.
Place the lamb in a 2-gallon ziploc or in a shallow glass baking dish. Pour the buttermilk brine over the lamb to cover the meat. Close the bag or cover the bowl and refrigerate for 2 hours.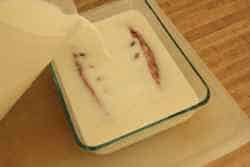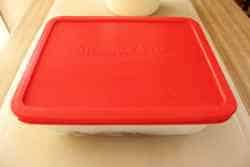 Preheat Smoker
It will take 30 minutes or more for your smoker to get up to temperature so it is a good idea to let this happen while you prepare the meat for smoking.
Preheat a charcoal, gas or electric smoker to 200-225 degrees F using pecan, hickory, or apple wood chips or chunks for smoke. You can also mix all three together for a very nice blend.
If you are using a wood smoker, build a smaller than average fire so you can maintain a lower than average smoking temperature of around 200-225 degrees with the low side of that range being best. I recommend using pecan, hickory or apple for best flavor and mixing the three together is a great idea.
How to Prepare the Lamb
Rinse lamb under cold water and pat dry with a paper towel. Spray or brush on a light coating of olive oil to help the rub adhere to the meat. Sprinkle Jeff's rub onto the meat until you can just barely see the meat. (Coat without caking.)
I use a Bradley rack to carry the lamb out to the smoker. The good thing is that the meat can be left on the Bradley rack if so desired during the smoke making it very easy to remove and carry in once it is finished.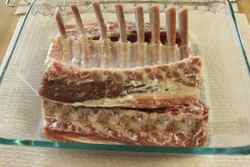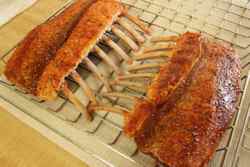 Smoking the Lamb
Once the smoker is running at about 200-225 degrees with 210 degrees being the most ideal temperature, place the lamb on the smoker grate with bone side down. Here you can see that the temperature is at about 180 degrees and it's almost ready.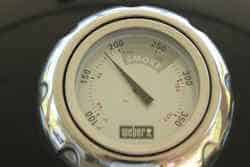 Use a digital probe meat thermometer for accuracy and smoke the racks of lamb to medium rare (135-140 degrees F). I have been using the Maverick ET-732 and I love the way it. It is a wireless remote meaning it has a sending unit that stays at the smoker with 2 probes.. one for the meat and one for the smoker. You put the receiver in your pocket or clip it on your belt and off you go. Whether you are mowing, napping or just piddling around with something else, you always know the temperature of the meat and the smoker and it has up to a 300 foot range.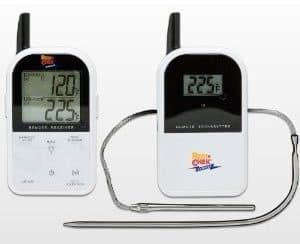 I used my Weber Smoky Mountain smoker (22.5 inch version) for these racks of lamb which is extremely easy to get started using charcoal and it will maintain a steady temperature for hours on end. This also comes in the 18.5″ size but I highly recommend the larger size.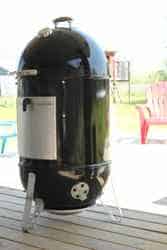 Once the lamb reaches about 135 degrees (should take about 1 hour and 15 minutes or so), remove it from the smoker grate. Let the lamb rest for 5 minutes then cut into individual chops and serve immediately.
I like to spoon a little of my wife's herb paste (recipe below) over the lamb chops just before serving and it looks and tastes fit for a king!
Summary
Remove membrane from bone side of ribs
Brine ribs with buttermilk brine for 2 hours in fridge
Rinse ribs in cold water
Spray or brush on a light coating of olive oil to help the rub to stick
Apply a light dusting of Jeff's rub recipe to both sides of the ribs
Preheat smoker to about 210 degrees (200-225 degrees will work)
Place racks on smoker grate with bone side down.
Leave ribs in place until they reach 135 degrees (about 1 hr and 15 min)
Remove ribs from smoker and let rest for 5 minutes
Cut into individual chops and serve 3-4 per person
Herb Paste for Lamb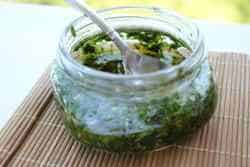 This is our completely original herb paste which is simply delicious and can be served dolloped onto the lamb chops or spooned over the chops and the plate in an artistic fashion if you so desire.
1/4 c. extra-virgin olive oil
3 garlic cloves, pressed
2 Tbs. chopped fresh thyme
2 Tbs. coarsely chopped fresh rosemary
1/4 c. chopped fresh basil
1/4 c. chopped fresh mint leaves
1/4 tsp. salt
Into a small bowl or jar, press the garlic cloves. Add all the chopped fresh herbs. Top off with olive oil and stir just to combine. Add salt and stir again. Add more salt to taste if desired.
Spiced Baby Potatoes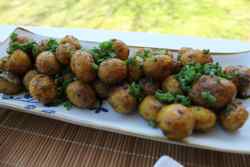 An all original family recipe that I think you will find yourself using again and again.. they are so good! My sister-in-law, PJ, created this recipe and of course shared this with us and now I have her permission to share it with you!
Serves 4-6
1 lb small new potatoes (unpeeled)
2 T. veg oil
1 clove crushed garlic
1 t. turmeric
2 t. ground coriander
2 t. black cumin seeds
2 t. sugar
1 T. chopped chives
1 T. chopped parsley (optional)
Bring a pan of salted water to a boil, put in the potatoes, and boil for about 5 minutes. Drain.
Heat the oil in a metal roasting pan on top of the stove over medium heat; add the garlic, turmeric, coriander and cumin seeds, and cook for about 1 minute. Add the potatoes, rolling them around to coat. Sprinkle with the sugar, and a little salt and pepper. Place in a 350 degree oven and bake for about 30 minutes, turning them occasionally. Just before serving, sprinkle with the parsley and chives.
Folks.. I never stop amazing myself at how good my rib rub recipe and sauce recipe is on various kinds of meat and the lamb and/or ham this Easter should be no exception!
Whether it is fish, ribs, brisket, pork shoulder, turkey or even ham, chicken or chops, every time I use my rub and sauce I am blown away by the flavor all over AGAIN!
I always think to myself, "I sure hope everyone can try this.. it is too good to go through life never having experienced this!"
I am not being dramatic.. just try it and you will join the ranks of those who know if I'm lying then I'm dying! This stuff is Fan-flavor-tastic and you need it in a bad-bad way;-)
Here is a few recent testimonies from other folks who decided to go for it and are glad that they did. Be sure to send my your testimony once you try it and realize that you have just tasted of HEAVEN.
—————————————————
Did a Ham and using your rub it was as my wife and friends said the best tasting ham they have ever had. We are into our late years so that's saying a lot .Thanks for sharing ~ Jack
—————————————————
Wow! wow! wow! The best rub and sauce I have ever had. Also did the turkey for thanksgiving and it was the best turkey I ever had. I usually only eat dark meat and this turkey was so good I ate only white meat ~ Andy
—————————————————
I purchased the rub and sauce and I have to say that I love it and so has everyone that has tried it, just like you and others said they would. ~ Matt
—————————————————
Jeff I have to tell you that your rub and sauce recipes are the best. I had never smoked a rib or anything until last weekend and by fallowing your directions on your site I was the RIB KING for a day. Thanks a bunch pal, ~ Harold
—————————————————
Let me say that I've been using your Rib Rub for a couple years now. I use it on ribs (obviously), but I also use it on steak, ham, chicken, and everything else I smoke. My family and I absolutely LOVE it! It rocks! ~ Trapper
—————————————————
Jeff, I did a smoked pork roast yesterday and used your recipe both for the pork and for your Smoky Barbecue Sauce. Everyone loved it. My wife said the sauce was the best she had ever tasted and I have to agree. Fantastic. ~ Barry
—————————————————
You deserve the very best and is is completely within your grasp! Only $18.95 and worth every penny. Not only do you get the best rub recipe and sauce recipe available, you are supporting this website and helping to make sure the bills get paid so we can keep on doing what we do to teach thousands and thousands of people across the world the art of smoking meat.
What to Expect Once you Order
My system is automated which means you should get a download email within mere MINUTES of ordering.. check your spam/junk folder first then, if you can't find them, contact me to get the recipes sent to you as an attachment. The download email will allow you to log in and save a copy of my recipe file to the hard drive of your computer. This recipe file is a PDF and contains my very own rub recipe and sauce recipe. Please let me know if you have other questions about these recipes.
The Book Has Gone to Print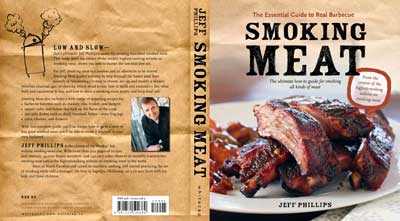 After several years of hard work, waiting and then more hard work, the book that I have been putting together has finally gone to print and will be in major book stores including Barnes and Noble and Books-a-Million as well as online at Amazon.com and most other online sites that sell books. I am extremely happy with the reception that it has received so far and I am looking forward to it's release in early May. The book "Smoking Meat: The Essential Guide to Real Barbecue" is available for pre-sell at Amazon.com if anyone is interested in going ahead and making the purchase. Otherwise, I will let everyone know once it is officially available for shipping or pickup at a local store.
In Closing
Thank you for being a part of the smoking meat family which includes the newsletter, the forum, the smoking-meat.com website and many other resources that we try to provide to help you and countless others learn this great art.
A HUGE thank you to all of you who support the site by purchasing the recipes and other products that we sell. That is what keeps the wheels turning here at Smoking Meat HQ and it is much appreciated.
By the way, if you shop online, use our Amazon link. It doesn't cost you anything extra and we get a few cents from everything you purchase. I certainly appreciate it. CLICK HERE to shop at Amazon.com.
Until next time.. keep smoking and God Bless.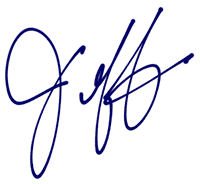 Jeff Phillips