Easter is just around the corner and I'm looking forward to showing you how to smoke up some traditional Easter fare as well as some not so traditional fare.
This week, I am going to show you how to double smoke a store bought ham and really give it that smoky flavor that it is so perfect for. Your friends and family will be amazed at the flavor and especially when you add some of my rub to the outside as well.
Ham is the most requested recipe that I get around Easter and as you will see.. it is extremely easy but you're not required to let everyone else know how easy it is;-)
In my next newsletter just before Easter, I plan to show you some rack of lamb made into lamb chops and perhaps even some smoked eggs. Who knows what else I might think of to throw into the mix. Smoked rabbit perhaps? I have mixed feeling about doing rabbit around Easter due to the "cute factor" that surrounds kids and rabbits although I think it definitely falls into the Easter theme.
Enjoy the newsletter and please let me know if you try this recipe and find it as amazing as I do!
For those of you who do not know what I mean by double smoked ham.. let me explain. When you buy a ham in the store these days, usually it is already cured, smoked and cooked. You'd be surprised at how much flavor you can add by applying a little of my rub on the outside and by placing the ham back in the smoker for about 3 hours and putting some real wood smoke to it. It transforms regular old ham which is pretty good into something that family and friends will rave about.. I promise!
What to Buy
I highly recommend a spiral sliced ham with only natural juices if possible. The fact that it is spiral sliced means that more seasoning and more smoke can get down in the ham and that's a very good thing.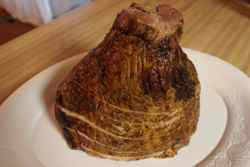 How to Prepare the Ham
This is so simple you will wonder why I even bother showing you pictures..
Unwrap the ham, throw away the glaze if it comes with any since you probably won't need it. You can use it if you like but I don't find that it is necessary.
Lay the unwrapped ham on it's side on a cutting board and apply a light coat of yellow mustard all over the ham. I prefer mustard since it makes such a nice crust but you can also use slightly warmed jelly, honey, olive oil, almost anything that will create a moist, sticky surface for the rub to stick to.
Last year I did a ham like this and used pineapple preserves all over the ham before I applied the rub and it was delicious so feel free to use your imagination a little here.
Once you have a moist, sticky surface all over the ham, apply a generous coating of my rub all over the ham. Top, bottom and all around.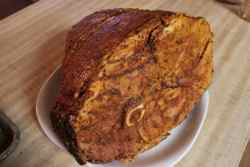 The ham is now ready to smoke.. see what I mean when I said it was really easy?
Smoking the Ham
Prepare the smoker for about 225-240 and once it has reached that temperature the ham can be placed directly on the rack either with the large flat side down or on it's side. Leave the ham in the smoker for about 3 hours or until it reaches a good eating temperature.
I like to use a good heavy duty smoke for ham such as hickory, mesquite or a mix of one of these with some fruit wood to really bring out the wonderful smoky flavor.
I recommend applying smoke for the full 3 hours.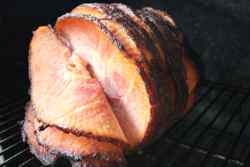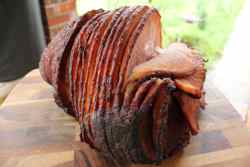 Summary
Remove packaging and discard glaze
Apply yellow mustard all over the ham
Pour on some of my rub and massage it in
Place ham on smoker on preheated smoker grate
Smoke for about 3 hours
Slice and eat immediately or keep warm until meal time
Notes
If you happen to purchase a ham that has been cured but not cooked, cook it until it reaches about 165 degrees adding smoke the entire time.
After removing all of the meat from a spiral sliced ham you will be left with a bone. Keep the bone in the freezer until the next time you make a pot of beans. The smoky ham adds something really wonderful to those beans.
For another layer of flavor and a nice sheen for presentation, mix equal parts of honey and my barbecue sauce and brush it onto the ham about 30 minutes before it is done cooking.
***Note: you get the Texas style rub recipe free with your order!
If I could give these recipes away, I would do that. I really want you to have them! But, then, this is how I support the newsletter, the website and all of the other stuff that we do here to promote the art of smoking meat.
Read these recent testimonies:
"Love the sauce and rub recipes. So far I have used them on beef ribs, pork ribs, and different chicken parts. Can't wait to do a beef brisket. Texas rub is great as well!" ~Peter S.
"I tried the rub on a beef brisket and some beef ribs the other day and our entire family enjoyed it tremendously. I also made a batch of the barbeque sauce that we used on the brisket as well as some chicken. We all agreed it was the best sauce we have had in a while." ~Darwyn B.
"Love the original rib rub and sauce! We have an annual rib fest competition at the lake every 4th of July. I will say we have won a great percent of the time over the past 15 years so we are not novices by any means. However, we didn't win last year and had to step up our game! We used Jeff's rub and sauce (sauce on the side) and it was a landslide win for us this year! Thanks Jeff for the great recipes. I'm looking forward to trying the Texas style rub in the near future!" ~Michelle M.
You see the raving testimonies and you wonder, "Can the recipes really be that good?"
No worries! Make up a batch and if it's not as good as you've heard.. simply ask for a refund. Now that's a bargain and you know it. Let's review:
You decide you don't like the recipes.. you don't pay!
The recipes are absolutely amazing!
Once you order, there'll be no more recipe ads in the email version of the newsletter
Well.. what are you waiting for.. click on the big orange button below to order the recipes now.

I really, really appreciate the support from my newsletter friends and be sure to let me know if you have any questions about this.
Jeff's Smoking Meat Book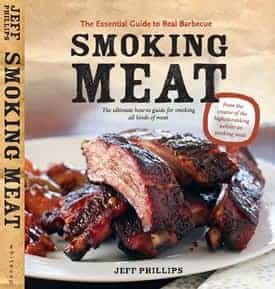 The book is full of recipes and contains tons of helpful information as well. Some have even said that "no smoker should be without this book"!
With more than 800 reviews on Amazon.com and a rating of 4.7 out of 5 stars, it comes highly recommended.
It is a Bestseller in Barbecueing & Grilling books on Amazon.
Amazon | Barnes & Noble | German Edition
Digital versions available via Nook | iTunes | Kindle
Get Almost Anything at Amazon
If you enjoy the newsletter and would like to do something helpful, then..
The next time you decide to order something at Amazon.com, use THIS LINK to get there and we'll get a small commission off of what you purchase.
Thank you in advance for using our special link: http://www.smoking-meat.com/amazon