Just when you thought smoked pork spare ribs couldn't get any better, I start researching, messing with the process, and trying out new methods to come up with the best possible method for not only getting them smoky but in making them perfectly tender and tasty.
I know there are a few of you who seem to not care for the 3-2-1 method but based on the emails and comments that I receive, most of you have found it to be an amazing way to smoke your ribs.
The method that I will show you today uses the 3-2-1 method along with my amazing rib rub to help you turn out the best spare ribs you've ever tasted. I will also show you how to incorporate some added flavors by using butter, brown sugar and more of my rub into the foil wrap.
If you are not familiar with the 3-2-1 method for smoked spare ribs, don't worry. I will go over it step by step below.
Get the Recipes – Banish the Ads
My rub recipe is what the doctor ordered for pork ribs and it really shines big time on these smoked pork spare ribs. A perfect balance of sweet and spicy that does not overpower the wonderful taste of the ribs but rather complements it.
Guaranteed you'll love it or your money back!
Reasons to buy: Support the newsletter and the website | Own the recipes | Get the newsletter 100% AD FREE from now on
Smoked Pork Spare Ribs
Note: This recipe has a LOT of details and explanations. If you just want to follow an easy to read summary to cook these ribs, be sure to see my "Summary" at the end of the recipe for all of the main points without the fluff.
A fellow by the name of Johnny Trigg who competes and is seen regularly on "Barbecue Pitmasters" on TLC is known by many to cook his ribs in stages similar to the 3-2-1 method with part of that process being wrapped in foil. He adds Parkay squeezable margarine, brown sugar, Tiger sauce and honey to the foil and lays the ribs meat side down in this mixture before wrapping them.
I have decided that I like the general idea but felt that the honey would mess up my sweet to spicy ratio. I also prefer to add in a little extra rub instead of using so much brown sugar and while adding Parkay is a great idea, I don't use fake butter at my house, I instead use real sweet cream butter. The Tiger sauce, in my opinion is not needed since you get plenty of kick and flavor from using my rub.
This is MY take on the Johnny Trigg method and I am in no way taking credit for the actual process.. just the ingredients and what I add to the foil. Try it. I think you'll really like it!
Important Information
Prep Time: 1 hour
Cook Time: 6 hours
Smoker Temp: 225 degrees F
Meat Finish Temp: 185-190 or very flexible and lots of bend.
Recommended Wood: Pecan + a fruit wood if possible (50/50 mix)
What You'll Need
2 racks of pork spare ribs
Yellow mustard
Dark brown sugar (light will work if it's all you have)
REAL salted butter
Plenty of heavy duty foil
Prepare the Pork Spare Ribs
After removing the pork spare ribs from the packaging, give them a good rinse under cold water. Then place them on the cutting board for some trim work.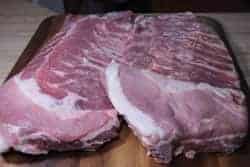 Trimming them St. Louis style
This is a great option but you don't have to do this. This simply means you are cutting off the long brisket bone that runs along one side and you are squaring up the ends. This makes them look more like baby back ribs and is considered to be a more appealing way to prepare them.
To trim them St. Louis style, start by cutting off the big thick piece in the corner of the rack as shown. Use a very sharp knife and bare down to cut through the white cartilage.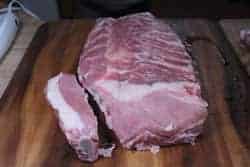 You will then cut off the brisket bone that runs along the left side of the rack in the picture below. If you press down on the meat, you can feel where the actual ribs end and the brisket bone begins. Separate the two pieces with your knife.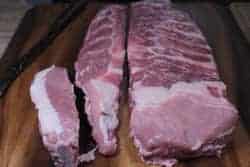 Finish the St. Louis style trim by squaring up the end.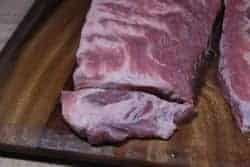 These are the cuts that you should have made..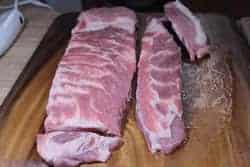 They are now beautifully trimmed St. Louis style ribs.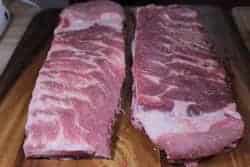 Season and smoke the pieces that you cut off along with the ribs and then freeze them. The pieces are great added to beans, stews, soups, etc.
Now flip the trimmed pork spare ribs over and let's clean up the bone side.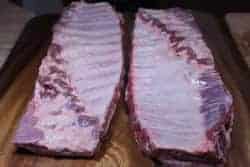 Removing the Membrane
There is a thick membrane attached to the bone side. Starting in the middle of the rack, loosen the membrane using a butter knife or other semi-sharp object and then work your hands under it.
Pull straight up on it while holding down the middle of the ribs with the other hand. The membrane will pull loose from both sides and come clean off.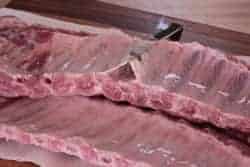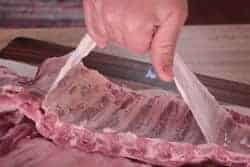 Removing the Flap
Usually there's also a flap of meat that runs along the bone side of spare ribs. This should be cut off close to the base of the meat to allow for more even cooking. For some reason, these ribs had no flap at all so I assume the butcher removed them for some reason.
Here's a picture from some other spare ribs that I have done in the past to show you how it's done. As you can see, these were not trimmied St. Louis style.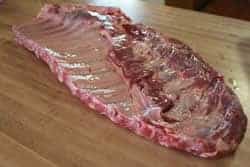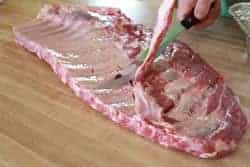 Seasoning the Ribs
As usual, you'll need something to help the rub to stick. I like to use plain yellow hotdog mustard. It leaves no mustard taste once it's all said and done and it works like a charm.
Start by squeezing on a pretty generous helping of the mustard. Feel free to get creative with it. I just usually do a wave pattern. Then rub it in with your hands or use a silicon brush to spread it out.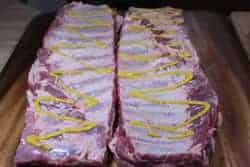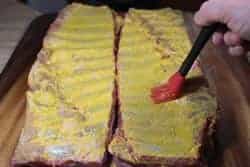 Apply my rub (purchase recipe here) for best results all over the bone side of the ribs. I put the rub in a cheese/rub shaker for nice, even application.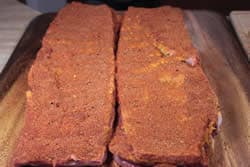 Leave it sitting for about 10 minutes if you have time. Or you can go ahead and turn it over. I like to leave it sitting whenever possible to allow the rub to absorb moisture from the ribs and the mustard causing less of it to fall off when it's flipped over.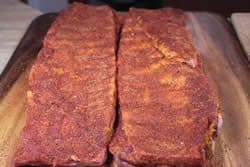 Flip the ribs over to meaty side up. Repeat the mustard/rub process on the meat side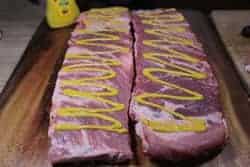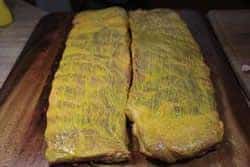 Leave the ribs sitting until they absorb moisture from the ribs and the mustard and get that "wet" look. There was 10 minutes difference between the two pictures below.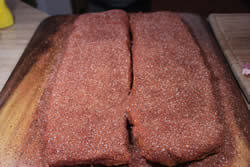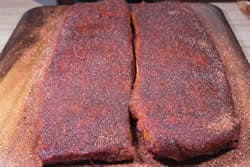 Leave the ribs sitting on the cutting board or cabinet while you go get the smoker ready.
Getting the Smoker Ready
You can get great smoke flavor by using almost any wood, charcoal, gas or electric smoker in spite of what your local smoker snobs might tell you. Some smokers work better than others but only YOU know what works best for you in relation to where you live, how much time you have available to spend and how much time you want to spend tending the heat.
Whatever works best for you is the right smoker for you!
For me it depends on the day and I am fortunate enough to have a collection of different types and styles of smokers at my disposal.
Setup your smoker of choice and get it humming along at about 225 degrees. Have some pecan and some fruit wood (50/50 mix is perfect) handy if possible. If not, you can use whatever smoking wood you have available.
Once it's ready, you are ready to cook!
Here's Some Information on a Few Popular Smokers
Here's some information that I have written on various smokers.
Note: In colder weather, it is advisable to preheat the smoker at least an hour or more before you are wanting to use it. Keep the door closed as much as possible and even skip basting if necessary to maintain proper smoking temperatures.
Smoking the Pork Spare Ribs
This is where the magic happens. Everything up to this point has been pretty normal for the preparation of spare ribs.
To start off and before we go any further, I want to explain a couple of things:
The Normal 3-2-1 Method
I mentioned the 3-2-1 method earlier and to make it real easy to understand, for those of you who may not be familiar with it, it is a 3-step cooking process with 225 degree heat applied the entire time. Smoke is only required during step 1:
Place the ribs on the smoker grate unwrapped and let them smoke for about 3 hours at 225 degrees.
Wrap the ribs in foil or better yet, place them into a foil pan and cover with foil over the top. Place about 1/4 inch of apple juice or other liquid in the bottom just before closing them up. Place them back in the smoker and leave them this way for about 2 hours.
Remove the foil from around the ribs or simply remove the foil from the top of the foil pan that holds the ribs. (it is fine to leave the ribs in the pan as long as the top is open). Continue to cook the ribs this way for about 1 hour with or without smoke depending on what type of smoker you have.
We say 3-2-1 method which indicates number of hours but everyone has their own level of tenderness that they like. Step 2 is where the tenderizing happens and you can easily adjust this number to decrease the tenderness. If you remove say 30 minutes from step 2, simply add an extra 30 minutes to step 3.
It might end up being a 3/1.5/1.5 method if you follow my previous example.
I recommend you try it for the first time at 3-2-1 and then adjust once you see how you like it.
The Advanced 3-2-1 Method
This is the exactly the same as the regular 3-2-1 method except for the fact that we are going to add a few things into the foil in step 2 just before wrapping it all up and putting it back into the smoker.
This is the method I am showing you today and was first introduced to me somewhat by Johnny Trigg on the Barbecue Pitmasters show on TLC. I am simply taking his method very loosely and making it my own.
Now, let's get started making these smoked pork spare ribs!
Place the ribs directly on the grate, bone side down for step 1.
Just maintain the heat for 3 hours and keep the smoke going during this time.
I don't mop, baste or even open the lid during this first stage.
Once 3 hours is up, on a large flat surface, lay out a large piece of foil about 36 inches long and 18 inches wide.
Now sprinkle 1/2 cup of brown sugar, 2-3 tablespoons of my rub (purchase recipe here), and about 4 pats of softened butter onto the center of the foil in an area roughly the same size as a rack of the ribs.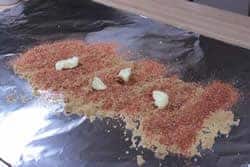 Lay the rack of ribs, meat side down, onto this bed of ingredients.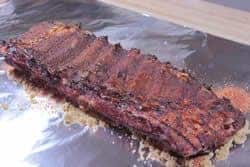 Now, wrap the foil around the ribs carefully so as to not puncture or tear the foil. I fold in the ends first and then the sides but I'm not sure that part matters as long as they are wrapped good.
Tear off another piece of foil of the same size and wrap the ribs in another layer making sure NOT to flip the ribs over. The meat side should remain facing down on top of the brown sugar, rub, etc.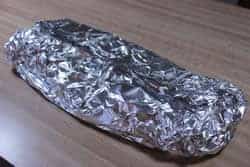 Perform this wrapping operation on every rack of ribs that you have and place them back on the grate of the smoker for about 2 hours at 225 degrees. (smoke is not required during this step)
At the end of 2 hours, remove the wrapped ribs from the smoker and carefully unwrap them. You may want to save the juices that have collected on the inside so open them without tearing the foil if possible.
I poured the juices into a cup and saved it for later use. You might even consider basting the ribs with it during the last stage if you so desire. These tasty juices need to be used for something!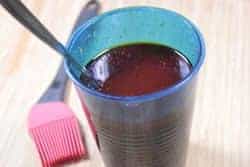 The ribs will be somewhat soft at this point and the 3rd step is necessary to firm them back up after that super tenderizing effect.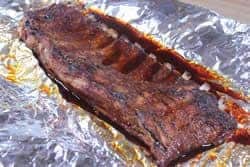 Remove the ribs carefully from the foil and place them back on the grate bone side down for 1 hour at 225 degrees with or without smoke (your choice)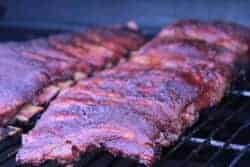 Once you take them off the smoker, let them rest for about 10 minutes then slice them up.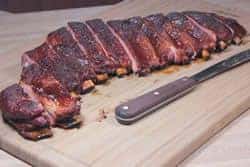 As you can see, I was able to get a beautiful smoke ring and the flavor was out of this world!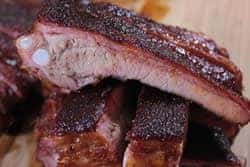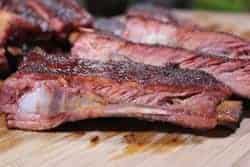 When smoking ribs, you are looking for about 185-190 degrees F for the ribs to be at the proper tenderness. Most of us check the bend on the ribs or pull a couple ribs in opposite directions to see if they are done but you can use the Thermapen to check the ribs if you want to be accurate.
The thermapen is highly accurate, reads within just a second or two and has a smaller diameter probe which makes it easy to insert it between the bones and get a good reading.
Other thermometers won't work quite so well on ribs.
Printable Recipe (Beta)
Smoked Pork Spare Ribs Just Got Better
Just when you thought smoked pork spare ribs couldn't get any better, I decided to take things up a few notches and you will be amazed when you try this.
Ingredients
2 racks of pork spare ribs
Yellow mustard
Jeff's rub (purchase recipe)
Dark brown sugar (light will work if it's all you have)
REAL salted butter
Plenty of heavy duty foil
Instructions
Rinse ribs under cold water
Trim the ribs St. Louis style if desired (instructions above)
Remove membrane and flap meat on bone side of ribs
Apply a coat of yellow mustard then a heavy coat of rub to the bone side
Flip the ribs over and repeat the mustard/rub application on meaty side
Prepare smoker for cooking at 225 degrees with pecan + fruit wood
Place ribs bone side down directly on smoker grate and cook for 3 hours
Make a bed of brown sugar, rub and butter onto 36 x 18 sheet of foil
Lay rack of ribs meat side down onto this bed of ingredients
Wrap foil around ribs carefully then wrap with another equally sized piece
Cook at 225 degrees for 2 hours
Remove ribs from foil carefully saving the juice that has collected
Place ribs, bone side down back onto smoker grate for 1 hour
Rest for 10 minutes then slice and enjoy!
Order Jeff's Rub Recipe and Sauce Recipe
If I could give these recipes away, I would do that. I really want you to have them!
But, then, this is how I support the newsletter, the website and all of the other stuff that we do here to promote the art of smoking meat.
Read these testimonies:
..after buying and using it, all I can say is BRAVO! I've used a number of "home-spun" rub recipes. It seems that they were always a little too sweet, a little too hot, or had a little too much of something in it. Jeff's Rub is just right – and well worth the price to have it just right. I'm glad I bought the recipe! ~John
Jeff, I bought your rub and sauce recipes a few months ago and you were ABSOLUTELY RIGHT! These are the best. Even my very picky wife and mother in law say they love them. I use them on everything I smoke, ribs,chicken.fish,roasts. Every newsletter you have I'm smoking it  a couple days later! I used my smoker 15 times in the snow and it gets you thru winter a lot sooner! THANKS!  ~Brian in Wisconsin
You see the raving testimonies and you wonder, "Can the recipes really be that good?"
No worries!
Make up a batch and if it's not as good as you've heard.. simply ask for a refund.
Now that's a bargain and you know it.
Let's review:
Completely guaranteed.. No worries
The recipes are absolutely amazing
Once you order, every newsletter will be Ad FREE
Well.. what are you waiting for.. click that link below that says "Order the Recipes Here"
Note: This ad should not show up in future newsletters once your purchase the recipes. Let us know if you are having any problems with this.
I really, really appreciate the support from my newsletter friends and be sure to let me know if you have any questions about this.
Have You Ordered My Smoking Meat Book Yet?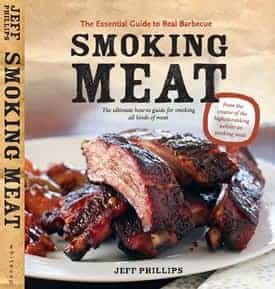 The perfect gift for the smoker friend(s) in your life. The book is full of recipes and contains tons of helpful information as well. Some have even said that "no smoker should be without this book"!
With 128 reviews on Amazon.com and a rating of 4.8 out of 5 stars, it comes highly recommended. It is also listed as a #1 Bestseller in Barbecueing & Grilling on Amazon.
If you are interested in a digital copy, we have versions available via Nook | iTunes
Note: For my German readers, the book is now available under the title "American Smoker" and translated into German at Amazon.de
Need Something? Shop at Amazon
That's right- we get a small commission every time you buy something at Amazon whether it's a piece of jewelry for your wife's birthday, a book or even a grill, smoker or cooking accessory. Use THIS LINK to get there and you'll get what you need, we'll get a small commission and you get to support smoking-meat.com.. everyone is happy!
Thank you in advance for using our special link: http://www.smoking-meat.com/amazon