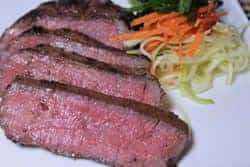 Hello and welcome to this edition of the smoking meat newsletter. I hope all of you had a wonderful Memorial Day weekend and to all of you who have let me know that you now have a new smoker and want to learn how to put out some wonderful smoked food, you have come to the right place!
This week we are talking about smoked London broil and, before anyone corrects me, I am fully aware that this is a cooking method rather than a cut of meat. However, this is how it will most likely be labeled in your meat section or behind the glass case so you'll know what to look for.
This cut is usually a beef top round and regardless of what you call it, smoking it is just what the doctor ordered!
If you want to get technical, we can call it a London smoke or just smoked top round if you prefer.
The Recipes for My Rub and Sauce – Order Now

"The rub and sauce are great! I am still new at smoking, but your site and the recipes are making it easy. I've got the MES and have done baby back ribs twice, chicken twice and did my first brisket last weekend. Everything has turned out so much better than I could have imagined. Thanks again for the recipes, well worth the small price, and I couldn't put a price on what I've learned at the site."
If you have benefited at all from the newsletter and/or the website, purchase the recipes and you'll be glad you did, I promise!!
Amazing, Tasty, Easy to make using ingredients you probably already have and it supports the website and the newsletter.
A wonderful combination!!
Special: Order the recipes for my rub and my sauce and, for a limited time, you get the following gifts for free:
Complete 28 page, 5 chapter eCourse in PDF format
Ad-free Newsletter
Order Recipes | Read Testimonies
NOTE: Watch for an EMAIL with a download link just as soon as you order. Didn't get it? Check your SPAM filter and let me know if you can't find it.
Smoked London Broil (top round)

This recipe is very simple and if you are not careful, you might start thinking that nothing this easy could be so good but then you would be incorrect. This piece of meat does not need a lot to be great. A little oil, my rub and some time in the smoke and you will be very happy that you tried it.
Prep Time: 10 minutes | Cook Time: 1.5 – 2 hours | Smoker Temp: 225 F | Meat Finish Temp: 135-140 F | Recommended Wood: Oak or Pecan
What You'll Need
London broil (top round) 1.5 to 3 lbs
Extra virgin olive oil (EVOO)
Jeff's rub (purchase recipe here)
Foil pan (for easy cleanup)
Prepare the London Broil for Smoking
Remove meat from packaging, rinse in cold water and place on a cutting board or in a foil pan to keep the cabinet nice and clean.
Pour on a little olive oil.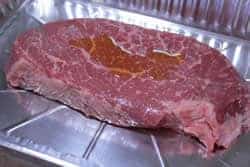 Rub/brush the olive oil all over the top and sides of the meat.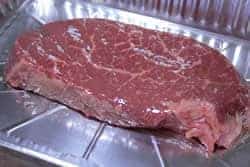 Sprinkle some of my rub on the outside of the meat.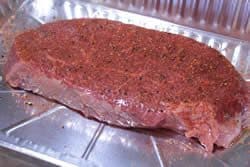 Flip the meat over and repeat with the oil and rub on the bottom side.
Smoking the London Broil
Regardless of whether you are using an electric, charcoal, gas, or wood smoker, prepare it for smoke cooking at about 225 degrees. 215 to 225 is best to give it plenty of time in the smoke before it reaches it's done temperature.
Once the smoker is pre-heated and ready, place the meat on a bradley rack (if you have one) or place it directly on the smoker grate.
Smoke cook the meat for about 90 minutes or until it reaches your desired level of doneness. You will need to test the temperature using a meat thermometer and if you want the very best, then consider purchasing a super fast Thermapen which reads the temperature for me in less than a second. Of course, I have the black model and I am convinced it is the fastest one;-)
If you want a great digital probe meat thermometer that stays in the meat while it cooks, then you need the Maverick ET-732 which keeps you apprised of your smoker temperature as well as your meat temperature via dual probes and a remote unit that you can carry with you up to 300 feet away.
The London broil that I purchased was only about 1.5 lbs so it got to a good medium rare (135 degrees F) in just over an hour.
I threw it in a hot iron skillet with just a little oil for a minute or two per side to give it a good reverse sear. You could also do this on a hot grill or even under the broiler.
The iron skillet works really fat but if you choose to use the grill or broiler method, you might consider removing the meat when it is about 120-125 degrees and let the heat from the grill or broiler bring it up to 135-140 degrees.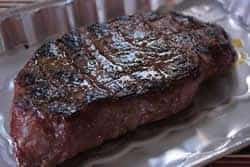 Reverse Sear: This term is used a lot when smoking meat and is simply searing the meat after it is cooked rather than before per the traditional method.
Let the meat rest under foil for a few minutes before slicing.
Slice it thin on the diagonal and across the grain.
Serve with grilled peppers and onion or a nice garden salad for great results!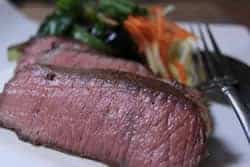 The Recipes for My Rub and Sauce – Make Them Yours!

Many people use the recipes for my rub and sauce exclusively, and even some restaurants and competition teams use them to win customers as well as competitions.
Both the sauce recipe and the rub recipe are a perfect blend of sweet and spicy and this is easy to adjust if you like it more mild or even more spicy.
I also love the fact that my rub and sauce recipes are both low on salt and you can use a lot or a little depending on what you are doing with no fear that it will become overly salty.
On a salt restrictive diet? Use half the salt that the rub recipe calls for and it is still very good. Bottom line.. you need these recipes in your repertoire!
Can you use other rubs and seasonings? Sure you can and that is your prerogative but I feel a responsibility to let you know that if you want your food to be all it can be, then try my rub on it and, like so many other happy customers, I think you'll be very glad that you did.
Try the recipes out.. if you don't agree that they are THE BEST, I'll refund your money just like that!
Here are a few testimonies that clearly speak for themselves:
---
Smoked a Pork Butt last night and applied the mustard and your rub…Just finished it off with your bbq sauce! I have to say that this turned out awesome and much better than I used to make! thanks for the rub/sauce recipes! ~ Troy
---
Hello Jeff I recently purchased your recipe for rub-n-sauce and just wanted to let you know that its off the chart. well worth the cost. I am cooking for about 50 family and friends at lake Texoma this weekend and cant wait to see everybody's reaction ~ Jack
---
Jeff, You truly are the man. Bought your rib rub and your sakes alive sauce and love them both. Keep up the good work helping people like me learn to cook good BBQ with smoke. ~ Matt
---
Jeff, I was smoking a Boston butt Saturday night for dinner Sunday and decided to try your bbq sauce. I have to say this is hands down the best sauce I've ever had and I've tried a lot of them. Its very easy to make, inexpensive and taste excellent. I will be using this recipe for a long time. ~ Doug
---
I've made tenderloins for years both on the smoker and not, but the use of Jeff's rub and sauce made them amazing. my family loved them. ~ Kathleen
---
I think the above testimonies say it better than I ever could.
How can you argue with unsolicited testimonies sent in just because folks who purchased the recipes wanted to let me know how good they were?
You deserve the very best and it is completely within your grasp!
Only $18.95 and worth every penny.
Not only do you get the best rub recipe and sauce recipe available, you are supporting this website and helping to make sure the bills get paid so we can keep on doing what we do to teach thousands and thousands of people across the world the art of smoking meat.
Order Recipes | Read Testimonies
What to Expect Once you Order

When you order, you will get:
The recipes for my very own rub and sauce
The "Smoking Basics eCourse" in PDF Format
Ad-free Newsletter
Here's how you get it:
You order the recipes
My automated system sends you a download link in an email with a password
You click on the link and use the password to download the recipes and the free gifts to your computer
If you DON'T get a download email with the link and a password within 10 minutes:
Check your spam/junk folder (sometimes they get caught there)
If you can't find it, email me and let me know you didn't get it
I will send the recipes and login info to you as an attachment in an email
You let me know you got it, we are both happy campers!
Smoking Meat Forums Has a New Sponsor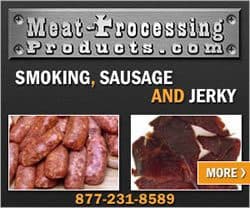 We are always very grateful for the companies and individuals who sponsor the website and/or the forum. One of our newest sponsors at the forum is MeatProcessingProducts.com
Be sure to visit their website for some of the best deals around on all meat processing products. You can also give them a call at 877-231-8589.
Be sure to tell them thank you for being a much needed and valuable sponsor!
Check out the forum HERE
Smoking Meat: The Essential Guide to Real Barbecue

An Excellent Father's Day gift!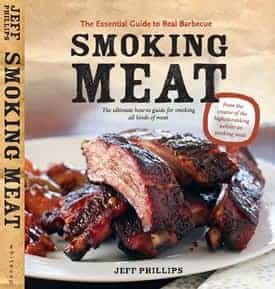 We have plenty of books at Amazon.com, Barnes and Noble, Books-a-Million, etc. Almost any store that sells books whether brick and mortar or online can get it for you within a few days even if they do not have it on the shelf. Get your copy today!
I am being told that most Barnes and Noble stores are now stocking the book for immediate sell.
Amazon.com | Barnes & Noble | Nook | iTunes
Amazon.com Orders

If you enjoy the newsletter and would like to do something helpful, you can do so without sending me a dime.
The next time you decide to order something at Amazon.com, use THIS LINK to get there and we'll get a small commission off of what you purchase.
Thank you in advance for using our special link: http://www.smoking-meat.com/amazon
Free Smoking Meat Newsletter