Braided and Smoked Pork Tenderloin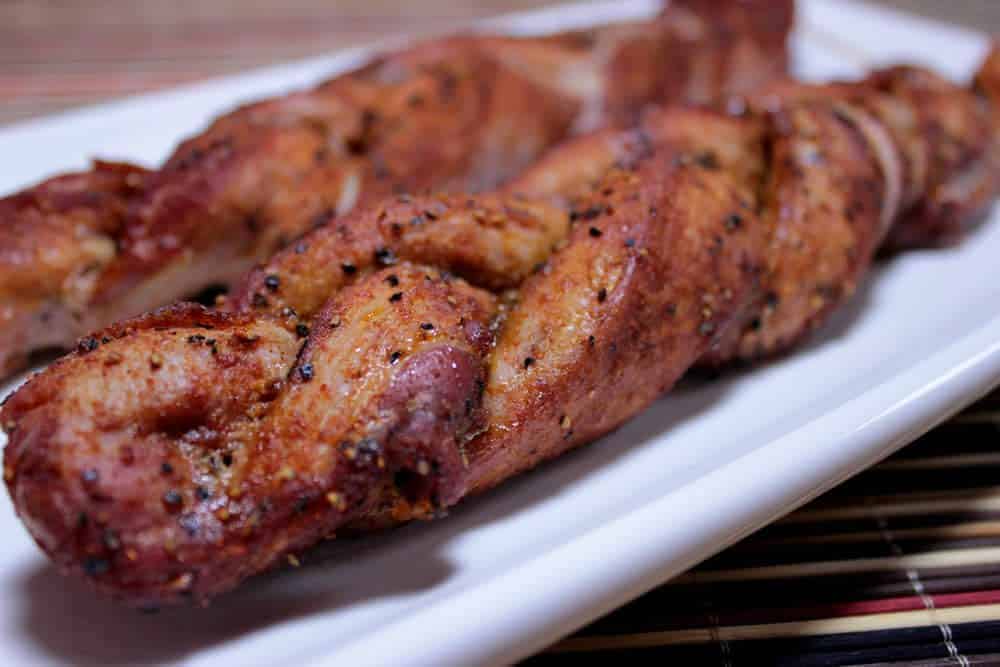 Smoking-Meat.com is supported by its readers. We may earn an affiliate commission at no extra cost to you if you buy through a link on this page.
Read this article without ads
I'll make no bones about the fact that I really love smoked pork tenderloin but when I saw a picture a while back of it cut into partial strips and then braided, I knew I had to give it a try in the smoker.
I will be the first to admit that this is a beautiful presentation but my thinking is that by doing it this way, each little strand will also get a little extra one on one time with the delicious smoke flavor that can only be imparted in a real live smoker.
My 10 year old son helped me with this experiment and you will notice in the pictures below that he just had to try a little something extra with his pork tenderloin.
He really put a lot of himself into his multi-tentacled piece of meat and it ended up looking more like a strange sea creature than anything else. He really enjoyed it and I loved the fact that he was helping me and at least being interested in the art of cooking.
In the end, all of the braided and smoked pork tenderloins were amazingly tender, flavorful and moist beyond words and I must have devoured at least half a pound while I sliced it up.
Braided and Smoked Pork Tenderloin
 Prep Time: 20 minutes | Cook Time: 2.25 hours | Smoker Temp: 225 F | Meat Finish Temp: 145 F | Recommended Wood: Apple and/or Cherry
What You'll Need
2 pork tenderloin
Extra virgin olive oil (EVOO)
Toothpicks
Foil pan
How to Prepare the Meat
In my neck of the woods, the pork tenderloins usually come (2) to a package and they are relatively inexpensive.
Remove from package and rinse under cold water. Pat dry with a paper towel.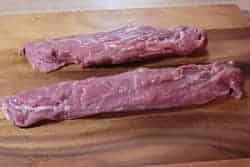 Using a very sharp knife, cut each tenderloin in half lengthwise.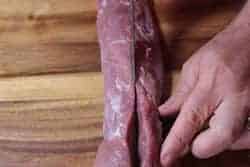 The (2) halves laid out nicely;-)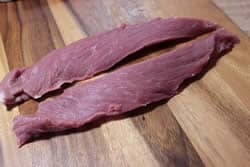 Very carefully slice each half into three equal strands. This does NOT have to be perfect but just do the best you can.
Start cutting about 1 inch from one end to keep the strands together.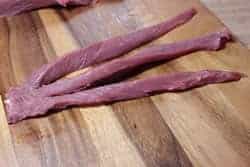 Braid the three strands of the pork tenderloin.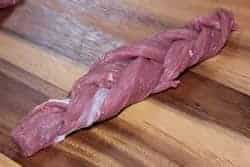 Poke a toothpick through all of the strands at the end to keep them intact.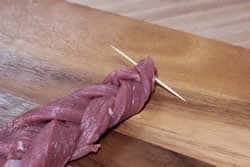 Place the braided pork tenderloin in a foil pan if you wish to keep the work area cleaner and apply some olive oil to the meat.
Note: you can also use mustard, jelly, honey, etc. instead of the oil to help the original rub to stick better.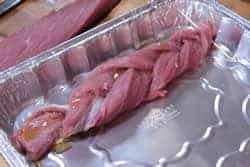 Adding the Rub
On my first one, I applied the oil and the rub after it was braided. On my second time around, I applied the oil and rub BEFORE braiding and it worked so much better.
My rub is not overly salty and adds just the right amount of flavor to the meat.
Perfect and ready for smoking!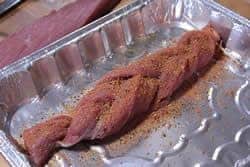 You will notice that I did (2) regular braided pork tenderloins then (1) was wrapped in bacon. My son's version is the 3rd one in, next to the bacon wrapped version.
As usual, I placed them on a Bradley rack to make it super easy to carry them to and from the smoker.
A note on the Bradley racks: I have had a few of you email me and ask me why I promote the Bradley smoker in almost every newsletter. The answer is that I don't. I do have a Bradley and it is an excellent electric smoker in my opinion but it is the Bradley racks that come with the smoker that I am constantly mentioning.
Note 1/23/17: These Bradley racks are difficult to find sometimes and so I ordered a few of the Weber grill pans as a replacement and they also work very well. If you do not want to purchase these special pans, a cooling rack will work just fine.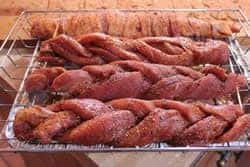 Once the tenderloins are ready to go, leave them on the cabinet for a few minutes while you go get the smoker ready.
Smoke Time
You will want to maintain about 225°F on these for about 2 hours and 15 minutes. It may take slightly more or less time depending on how well you hold your temperature, how accurate your thermometer is, how big the tenderloins where starting out, and any number of other factors.
Use apple and/or cherry wood for smoke for great results.
The MOST important thing to know is the internal temperature of the meat.
The pork is done and should be promptly removed from the heat when they reach an internal temperature of 145°F.
At this temperature the meat is juicy, tender and full of flavor. Go past this point and this very lean meat will begin to dry out.
It took mine 2 hours and 15 minutes to reach 145°F.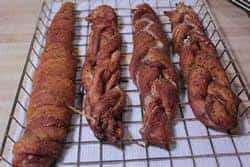 Finish and Serve
My two normal braided and smoked pork tenderloins.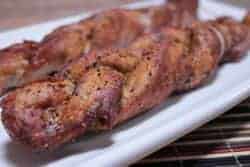 Smoked pork tenderloin is often sliced and used on a slider or just by itself with a couple of sides but this time I wanted to use the meat on an awesome salad. I simply sliced the meat as I normally would and because of the way it was braided, it fell apart into perfect little bite-sized pieces that would be perfect atop a salad.
Here's a closeup..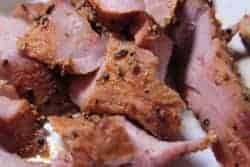 Here is all of the meat in a serving dish so everyone can top their salads as they see fit.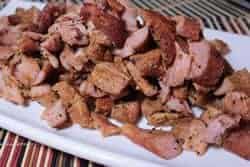 Oops! (No picture of the salad… I do apologize for that)
Another serving idea: This would be awesome served on top of a bed of rice or even some noodles. This meat is so tender and delicious and would probably work in many different dishes if you just let your imagination run wild a little bit.
Jeffrey's Braided Pork Tenderloin (alias: Sea Creature)
He to them generously.
They were then separated them with 3 on the left and 3 on the right.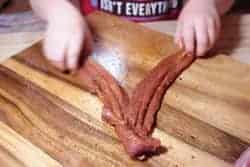 Each group was braided..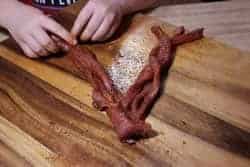 Then the (2) braided groups were braided together..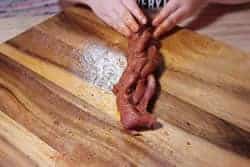 Smoked at 225 for 2.25 hours;-)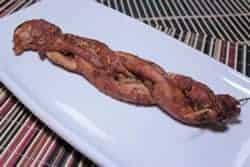 Be sure to let your kids/grandkids help you in the kitchen and outdoors with the cooking. Who doesn't like to play with their food and it is something that they will treasure for life.
Get Jeff's Products!