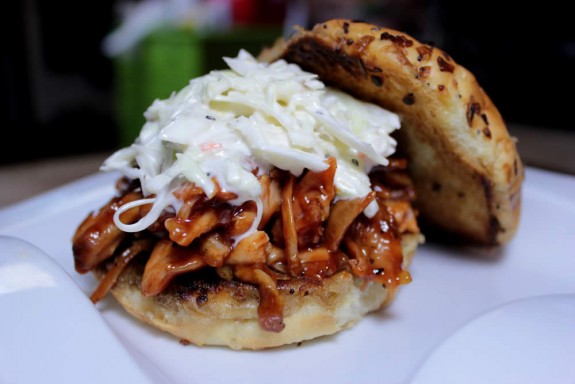 Hello and welcome to another exciting edition of the smoking meat newsletter! This week I will be walking you through a step-by-step recipe for smoked pulled chicken that I have perfected just for you.
Recently I got an email from Chris, a subscriber, about smoked pulled chicken and he was telling me how it turned out to be the most amazing thing. He did it sort of like the 3-2-1 method for ribs except that it was more like 1-1-1 with beer in the pan for the 2nd part of that equation.
Well, I guess I got inspired to show you my version of this wonderful dish and here it is. Thank you, Chris!
If you have something that you love to do in your smoker, let me know about it and who knows, it may just inspire an entire newsletter on the subject.
My wife likes most of what I cook, but pork and beef are not her favorite things. She'd always rather have chicken and she absolutely loves this pulled chicken that I make, piled high on a bun with cole slaw and my barbecue sauce mixed in.
If you are cooking for Mother's day, then consider making some of this for the main course or in addition to whatever else you are cooking. I feel certain that if your mom or your kids' mom loves chicken, then they will go crazy over this stuff!
Let's get started!
The Recipes for My Rub and Sauce – Order Now
"The rub and sauce are great!  I am still new at smoking, but your site and the recipes are making it easy.  I've got the MES and have done baby back ribs twice, chicken twice and did my first brisket last weekend.  Everything has turned out so much better than I could have imagined.  Thanks again for the recipes, well worth the small price, and I couldn't put a price on what I've learned at the site."
If you have benefited at all from the newsletter and/or the website, purchase the recipes and you'll be glad you did, I promise!!
Amazing, Tasty, Easy to make using ingredients you probably already have and it supports the website and the newsletter.
A wonderful combination!!
Special: Order the recipes for my rub and my sauce and, for a limited time, you get the Complete 28 page, 5 chapter eCourse in PDF format FREE!
Order Recipes | Read Testimonies
NOTE: Watch for an email with a download link just as soon as you order. Didn't get it? Check your SPAM filter and let me know if you can't find it.
Smoked Pulled Chicken
Brine Time: 3 hours | Prep Time: 15 minutes | Cook Time: 3 hours | Smoker Temp: 230 F | Meat Finish Temp: 170 F | Recommended Wood: Mesquite
What You'll Need
5 lbs of chicken thighs, about 24 pieces (I like the boneless, skinless variety)
Brine (recipe below)
Yellow mustard or Olive Oil (optional)
Large buns (for the sandwich)
Creamy coleslaw
Jeff's barbecue sauce recipe 

(

purchase recipe here

)
Making the Brine
1/2 gallon water
1/2 cup kosher salt
1/2 cup dark brown sugar
3 TBS Louisiana hot sauce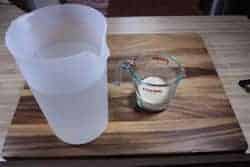 ​​
Pour the salt into the water
Note: you might notice that the salt is not "white" like normal. I used some smoked salt that I had made up a while back which tends to be a light brown color.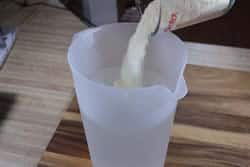 Mix well until the salt is completely dissolved. Usually the water becomes clear when the salt is dissolved but since this is smoked salt, the water became a sort of pink color.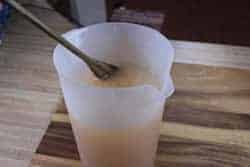 Brining the Chicken
24 boneless, skinless chicken thighs
Note: I used the boneless, skinless chicken thighs which is fine but if you do not protect them a bit, the outside will dry out and get tough. I would say the regular thighs probably make a lot more sense that way the skin protects the meat while it smokes. When you're done, you simply remove the skin and you have nice tender chicken thighs for pulling.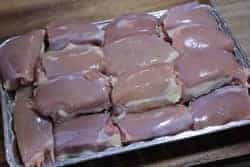 Place the thighs into Ziploc bags inside of mixing bowls to prevent leakage. I was able to get 12 thighs into a 1-gallon Ziploc. I used 2 bags to contain the 24 thighs that I needed to brine.
Pour 1/2 of the brine (about 1 quart) over the chicken thighs and seal up the Ziploc bag. Be sure to press all of the air out of the bag as you seal it up.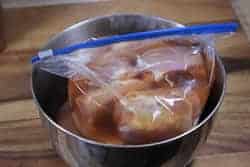 Place the bowl(s) with the bags of thighs into the fridge to keep them nice and cold while they brine.
Preparing the Chicken Thighs for Smoking
Once the thighs have brined for 3 hours, remove them from the fridge and rinse them well under cold water. Drain well using a colander and place them into a mixing bowl or another Ziploc bag for seasoning.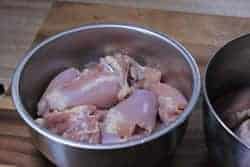 Add some mustard to the chicken and make sure all of the chicken is well coated with the mustard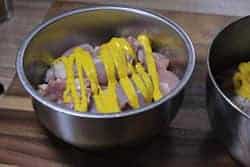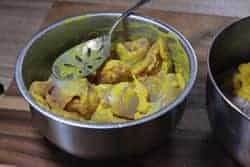 Add about 1/4 cup of rub (purchase my rub recipe) and make sure the chicken is well coated with the rub/mustard mixture.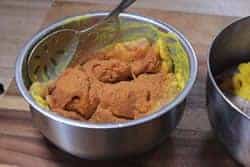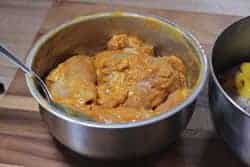 Repeat the last step by adding in another 1/4 cup of rub and stirring it in well.
You should end up using 1/2 cup of rub on the chicken thighs
The chicken is now ready to smoke.
Place them on Bradley racks for easy transport to and from the smoker.
Note: I use Bradley racks with almost everything I cook regardless of what smoker I use.They make it so easy to carry food to and from the smoker and it allows you to place the food directly onto the smoker grate with absolutely no hindrance to the flow of smoke. They make my cooking so much easier and you will see what I mean once you have a set of you own to use.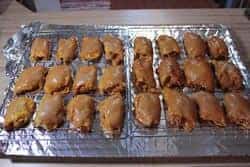 Smoking the Chicken Thighs
Set up your smoker for cooking at about 230 degrees. I highly recommend a robust wood like mesquite for that great smoke flavor that we all love and enjoy. You can also use hickory, pecan or a fruit wood of your choice.
Once the smoker is preheated and maintaining 230 degrees, place the chicken thighs directly on the smoker rack.
Let them smoke cook until they reach 170 degrees.
Why 170 degrees instead of the normal 165 that we usually cook chicken to?
The thighs definitely have more fat than the other parts of the chicken and can handle longer cook times. The brining also adds more moisture to the meat and reduces the chance of them drying out in the heat. By cooking them just a little longer they end up a lot more tender.
The chicken thighs are done cooking and can be brought in and cooled for a few minutes before pulling.
You will notice that I brushed a little sauce onto mine about 30 minutes before they were finished cooking. Just personal preference here.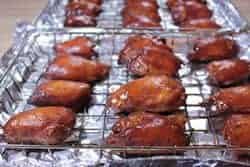 How to protect the meat if you want to use boneless, skinless chicken thighs
Let the chicken thighs smoke for about 1.5 hours then place them into foil pans covered with foil. A little beer and/or apple juice in the bottom of the pan will create some steam and help to tenderize the meat.
Pulling the Chicken
Let the chicken cool for about 5 minutes once you bring it in then simply pull the meat from the bone (if not boneless) and tear it into small pieces.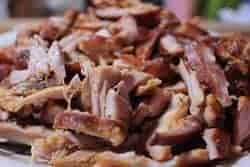 Saucing up the Meat
With pulled pork, I prefer to drizzle the sauce on top of the meat but, with smoked pulled chicken, I think the sauce just pairs really well with the meat and I like to mix it all in together. I don't like to add too much but just enough so that it is moist through and through.
Making the Sandwich
Toast the buns then add a healthy portion of sauced pulled chicken on the bottom of the bun. Spoon on some slaw and top it with the other half of the bun. Add a pickle or two if you like and serve.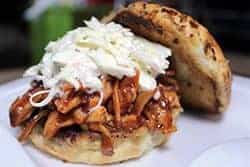 The Creamy Cole Slaw
I used a recipe from my book for the "Creamy Cole Slaw". I can't post it here since it's from the book. However, if you have a great cole slaw recipe that you love, that will work. Don't be tempted to skip the slaw — it really makes the sandwich.
And, of course, if you have the book then you have the recipe;-)
The Recipes for My Rub and Sauce – Make Them Yours!
Many people use the recipes for my rub and sauce exclusively, and even some restaurants and competition teams use them to win customers as well as competitions.
Both the sauce recipe and the rub recipe are a perfect blend of sweet and spicy and this is easy to adjust if you like it more mild or even more spicy.
I also love the fact that my rub and sauce recipes are both low on salt and you can use a lot or a little depending on what you are doing with no fear that it will become overly salty.
On a salt restrictive diet? Use half the salt that the rub recipe calls for and it is still very good. Bottom line.. you need these recipes in your repertoire!
Can you use other rubs and seasonings? Sure you can and that is your prerogative but I feel a responsibility to let you know that if you want your food to be all it can be, then try my rub on it and, like so many other happy customers, I think you'll be very glad that you did.
Try the recipes out.. if you don't agree that they are THE BEST, I'll refund your money just like that!
Here are a few testimonies that clearly speak for themselves:
---
Smoked a Pork Butt last night and applied the mustard and your rub…Just finished it off with your bbq sauce! I have to say that this turned out awesome and much better than I used to make!   thanks for the rub/sauce recipes! ~ Troy
---
Hello Jeff I recently purchased your recipe for rub-n-sauce and just wanted to let you know that its off the chart. well worth the cost. I am cooking for about 50 family and friends at lake Texoma this weekend and cant wait to see everybody's reaction ~ Jack
---
Jeff, You truly are the man. Bought your rib rub and your sakes alive sauce and love them both. Keep up the good work helping people like me learn to cook good BBQ with smoke. ~ Matt
---
Jeff, I was smoking a Boston butt Saturday night for dinner Sunday and decided to try your bbq sauce. I have to say this is hands down the best sauce I've ever had and I've tried a lot of them. Its very easy to make, inexpensive and taste excellent. I will be using this recipe for a long time. ~ Doug
---
I've made tenderloins for years both on the smoker and not, but the use of Jeff's rub and sauce made them amazing.  my family loved them. ~ Kathleen
---
I think the above testimonies say it better than I ever could.
How can you argue with unsolicited testimonies sent in just because folks who purchased the recipes wanted to let me know how good they were?
You deserve the very best and it is completely within your grasp!
Only $18.95 and worth every penny.
Not only do you get the best rub recipe and sauce recipe available, you are supporting this website and helping to make sure the bills get paid so we can keep on doing what we do to teach thousands and thousands of people across the world the art of smoking meat.
Order Recipes | Read Testimonies
What to Expect Once you Order
When you order, you will get:
The recipes for my very own rub and sauce
The "Smoking Basics eCourse" in PDF Format

Ad-free Newsletter
Here's how you get it:
You order the recipes
My automated system sends you a download link in an email with a password
You click on the link and use the password to download the recipes and the free gifts to your computer
If you DON'T get a download email with the link and a password within 10 minutes:
Check your spam/junk folder (sometimes they get caught there)
If you can't find it, email me and let me know you didn't get it
I will send the recipes and login info to you as an attachment in an email
You let me know you got it, we are both happy campers!
Smoking Meat: The Essential Guide to Real Barbecue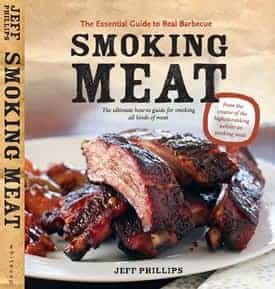 We have plenty of books at Amazon.com, Barnes and Noble, Books-a-Million, etc. Almost any store that sells books whether brick and mortar or online can get it for you within a few days even if they do not have it on the shelf. Get your copy today!
I am being told that most Barnes and Noble stores are now stocking the book.
Amazon.com | Barnes & Noble | Nook | iTunes
Amazon.com Orders
If you enjoy the newsletter and would like to do something helpful, you can do so without sending me a dime.
The next time you decide to order something at Amazon.com, use THIS LINK to get there and we'll get a small commission off of what you purchase.
Thank you in advance for using our special link: http://www.smoking-meat.com/amazon
Free Smoking Meat Newsletter