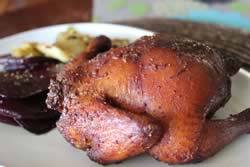 Hello and welcome to this edition of the smoking meat newsletter.
As the days get hotter and hotter here in Oklahoma, I am thinking more and more about what to cook that is quick and easy and does not require me to be outdoors any more than I have to.
Couple this line of thinking with my love for smoked cornish hens and you have a recipe for some good eatin' in the making!
I ran to the store last night and picked up enough cornish hens for everyone in my family to have their very own hen including my 8 year old son. He won't eat the whole thing but then perhaps I'll want a little extra and the world will once again be in balance.. sounded good to me anyway.
It supposed to get up to 108 today, pretty usual temperature around here for the last several weeks and it don't look like it's gonna cool down anytime soon but then I'm pretty hardcore about my barbecue so I figure I can handle a little heat as long as I have plenty of cold drinks and perhaps a shady spot somewhere if I'm really lucky.
I got up early and put the chickens in the brine and by dinner time we should be sitting pretty with some tasty grub in front of us.
Read on for how to do this at your house:
Don't forget to order..

My rub recipe is absolutely what makes these cornish hens what they are.. the wow factor is off the charts and I promise that you will not be disappointed.
My Previous Newsletter: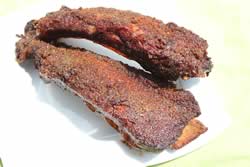 These beef back ribs seasoned up nice and pretty were as easy on the stomach as they were on the eyes. Delicious, super tender and very easy to make!
How to Smoke Cornish Hens.. my way

What to Purchase
Around here, the cornish hens are almost always frozen and are sized at right around a pound. I found some that are all natural, minimally processed by Tyson in a sort of gold and red colored package.
Thawing them Out
If you have time to wait then you can buy them a few days early and they'll thaw out in a day or so in the fridge. If you do what I did and buy them the night before you need them, then you can quick thaw them in a couple of hours by placing them unwrapped in a large bowl or container. Fill the bowl with cold water and let them sit for about 30 minutes. Replace the water with fresh cold water every 30 minutes until they are thawed. This should not take more than 2 hours considering they are so small.
Brining the Hens
I highly recommend brining these for best flavor and juiciness and it's super easy. Simply mix 1 gallon of fresh cold water with 1 cup of kosher salt until the salt is dissolved in the water.
Unwrap the hens, rinse them lightly under cold tap water and place them in a plastic, non-reactive container large enough to hold the number of hens that you purchased. You can also use multiple containers if you like and if that makes it easier for you.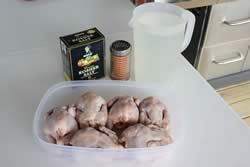 Once the hens are unwrapped and rinsed and sitting pretty in the brining container, sprinkle about 2 TBS of my rub recipe over the top of each one (adds a lot of great flavor)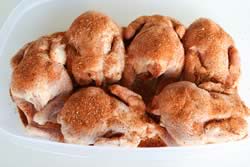 Then pour enough brine mixture over the hens to cover them. Most of the ingredients in the rub will dissolve into the liquid and will help to add a lot of great flavor to the hens.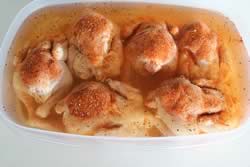 Place a lid or cover on the container and put them in the fridge to stay cold while they brine.
I usually brine these for about 4 hours but I recommend stirring them around a little every hour or so to make sure you are getting full coverage. I even go so far as to flip them over every hour to make sure that I am getting even brining.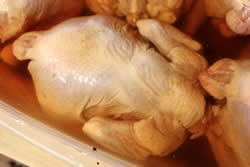 Preparing the Hens for Smoking
Once the hens are done brining, you will want to rinse them real well under cold water to make sure there is no residual salt on the outside of the birds. After rinsing, pat them dry with a paper towel and place them into a large ziploc bag.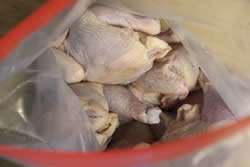 Pour about 1/4 cup of olive oil (any cooking oil will work) and about 1 cup of my rub recipe over the birds. Close the bag and roll the bag end over end to combine the oil and rub onto the meat.
This method will do a great job of getting the rub mixture under the skin as well and you will notice a huge difference when you eat them.
Once you are sure they are well coated, remove the birds from the bag and set them aside.. they are now ready for the smoker.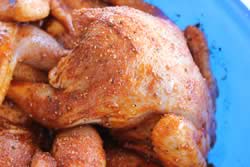 Getting the Smoker Ready
While the hens are sitting on the counter, warming up from their time in the fridge, go out and get the smoker ready. Note: if this is going to take more than about 20-30 minutes, place the birds back in the fridge until you are closer to being ready for them or alternatively you can get the smoker ready before the birds are finished brining.
In this kind of weather, I like to use my propane smoker as I can get excellent smoke flavor and it's a little more hands off i.e. I can stay in the house a little more and be outside a little less and still end up with food that could win a competition in my opinion.
One thing you will notice is that in hot weather, it takes a lot less flame to get the smoker up to 225-240 degrees. I get the water pan full of water and set it into place, I then fill the smoke box with dry wood chunks but I set it aside. I like to put the smoke box in about 3 minutes before adding the meat so that I have time to get the meat into the smoker without getting a lot of smoke in my eyes. This works for me.. you may have to work out what works best for you and your smoker.
When the smoker is purring along at my target temperature of about 240 degrees for cornish hens, I go ahead and place the smoke box into the smoker and go get the meat for smoking.
Smoking the Hens
Place the cornish hens on the grate perpendicular to the bars of the grate. This ensures that the wings and legs do not fall between the bars and below the grate and make your bird look deformed when it is done smoking. Allow about 1 inch of space between the birds to make sure that the smoke can flow easily around them.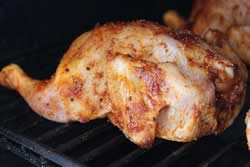 Close the door of the smoker and watch for a few minutes to make sure the smoker is going to maintain your target temperature.
I used a 50/50 mix of pecan and orange and the smoke smelled wonderful!
When I fill the smoke box of my Great Outdoors Smoky Mountain smoker, it will smoke for about 90 minutes. I expect them to take about 2 hours or so to reach 165 degrees.
According to plan, at about the 2 hour mark the digital probe meat thermometer that I had placed in the thickest part of the thigh of one of the birds read 166 degrees which is a couple of degrees higher than what I like but since I had brined them, I knew that would not be a problem at all.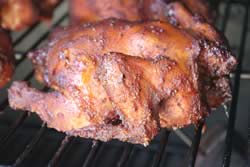 Serve the Cornish Hens
Get the cornish hens onto plates and serve immediately for best results. You will not need any sauce for these however, if your family and friends are like mine, there are those who feel that they must have sauce with all barbecue so be sure to have some warm and ready standing by.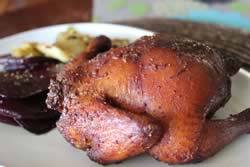 Notes:
– If your cornish hens are larger than the ones I purchased, they could very well take a little longer than 2 hours. I recommend the smaller ones if you can find them.
– The pecan and orange wood combination was simply amazing however, I know that orange wood is not readily available for most so in the absence of orange, try cherry, pear, apricot, plum or some other fruit wood to give you that nice fruity essence that goes so well with the pecan and the chicken.
– I highly recommend using my rub recipe on these exactly as I did to duplicate the color, texture and amazing flavor of the hens. Your friends and family will not be able to believe how good these are and you are under no obligation to tell them how easy it was;-)
Abi's Sauteed Beets and Parsnips with Leeks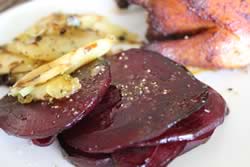 While I was preparing the cornish hens , my lovely wife was in the kitchen busy coming up with perfect side recipes for this cornish hen dinner and I think she hit the ball out of the park using fresh beets, parsnips and leeks with a little salt and pepper for seasoning. It was beautiful, tasted great with the cornish hens and most of all, it was very simple.
Sauteed Beets
3 fresh beets, trimmed, peeled and thinly sliced
olive oil
kosher salt and coarse pepper
Heat a cast iron skillet or heavy bottomed pot over medium-low heat for about 5 minutes. Add 3 Tbs. of olive oil and beets. Saute for 7-8 minutes, turning often to prevent scorching. Cover and turn heat to low. Cook until just tender, about 15 minutes, turning occasionally. Drizzle with a bit more olive oil and season with kosher salt & coarse pepper.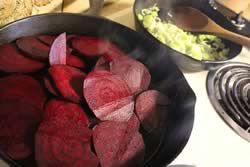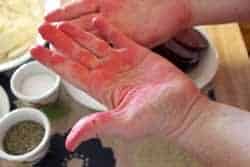 Parsnips with Leeks
5 parsnips, trimmed, peeled and thinly sliced diagonally
3 leeks, thinly sliced, white ends only
olive oil
kosher salt
coarse pepper
In a medium bowl, soak sliced leeks in cold water to get rid of grit; scoop the leeks off the top, leaving the grit in the bottom of the bowl. Drain on paper towels.
Heat a cast iron skillet or heavy bottomed pot over medium-low heat. When the pan is hot, add 3 Tbs. of olive oil and leeks. Saute for 2-3 minutes. Add parsnips and toss with leeks. Continue to cook, stirring often, for 5 minutes. Cover and cook for 10 more minutes or until parsnips are tender. Season with kosher salt and coarse pepper.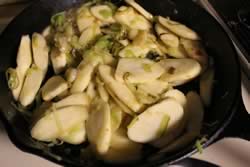 My Recipes

Folks.. I never stop amazing myself at how good my rib rub recipe and sauce recipe is on various kinds of meat.
Whether it is ribs, brisket, pork shoulder or even something simple like chicken or chops, every time I use my rub and sauce I am blown away by the flavor all over AGAIN!
I always think to myself, "I sure hope everyone can try this.. it is too good to go through life never having experienced this!"
I am not being dramatic.. just try it and you will join the ranks of those who know if I'm lying then I'm dying! This stuff is Fan-flavor-tastic and you need it in a bad-bad way;-)
Here is a few recent testimonies from other folks who decided to go for it and are glad that they did. Be sure to send my your testimony once you try it and realize that you have just tasted of HEAVEN.


—————————————————
Jeff, your Rib Rub is to die for, I have used it on all meats including Venison and I have to say you have created a master piece, Thank you for letting us common folk in to your smokin life ~ Kevin
—————————————————

I would like to Thank You for the Rib Rub Recipe, I made this for my family and the results were unanimous, everyone said that the ribs were the BEST they ever tasted, and the meat was very tender and moist. I haven't tried the BBQ sauce recipe yet, but I will in the near future. ~ Jerome

—————————————————

I purchased the rub and sauce and I have to say that I love it and so has everyone that has tried it, just like you and others said they would. ~ Matt

—————————————————

Jeff I have to tell you that your rub and sauce recipes are the best. I had never smoked a rib or anything until last weekend and by fallowing your directions on your site I was the RIB KING for a day. Thanks a bunch pal, ~ Harold

—————————————————

Let me say that I've been using your Rib Rub for a couple years now. I use it on ribs (obviously), but I also use it on steak, ham, chicken, and everything else I smoke. My family and I absolutely LOVE it! It rocks! ~ Trapper
—————————————————
Jeff, I did a smoked pork roast yesterday and used your recipe both for the pork and for your Smoky Barbecue Sauce. Everyone loved it. My wife said the sauce was the best she had ever tasted and I have to agree. Fantastic. ~ Barry
—————————————————


You deserve the very best and is is completely within your grasp! Only $18.95 and worth every penny. Not only do you get the best rub recipe and sauce recipe available, you are supporting this website and helping to make sure the bills get paid so we can keep on doing what we do to teach thousands and thousands of people across the world the art of smoking meat.
Order Recipes | Read Testimonies
Note:

My system is automated which means you should get a download email within mere MINUTES of ordering.. check your spam/junk folder first then, if you can't find them, contact me to get the recipes sent to you as an attachment.
Here's a Quick Tip

If your smoker(s) are like mine.. sometimes they get old or they're cheap and for whatever reason the built-in thermometers just stop working correctly. To quickly remedy this problem, buy a digital probe meat thermometer locally or on Amazon.com for about 15 bucks. Stick the probe through a potato and set the potato on the grate. You'll always know exactly what temperature your smoker is at and you'll always have a smoked potato to eat when you're done cooking.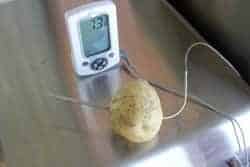 In Closing

Thank you for being a part of the smoking meat family which includes the newsletter, the forum, the smoking-meat.com website and many other resources that we try to provide to help you and countless others learn this great art.
A HUGE thank you to all of you who support the site by purchasing the recipes and other products that we sell.
Until next time.. keep smoking and God Bless.
Jeff Phillips