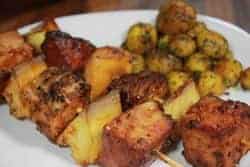 I am always trying to figure out new ways to serve smoked meat to keep things exciting for you and your guests and this Easter, instead of serving the ordinary ham with pineapple slices on it, why not turn the ham into smoked ham and pineapple kabobs?
The instructions are easy to follow, it smokes up faster than a whole ham and your guests will rave about it.
Not to mention, doing things this way means you get more smoke and more rub per bite and that is always a good thing!
Well.. you do have options. I have also included instructions below for smoking a whole ham just in case you are not up for something new.
The Lineup
Kabobs Recipe | Spiced Potatoes | Beer Barbecue Sauce | Smoked Eggs | Whole Ham
Free Gift when you Order the Recipes for My Rub and Sauce!

"Jeff, Words can't describe how good your rub and sauce are. I just purchased your recipes last week and cooked outside three times already using the rub and sauce. I have never tasted anything that even comes close to this. Thanks so much for sharing this with us!" ~ Steve
If you have benefited from the newsletter and/or the website, purchase the recipes and you'll be glad you did, I promise!!
Amazing, Tasty, Easy to make using ingredients you probably already have and it supports the website and the newsletter.
A wonderful combination!!
Special: Order the recipes for my rub and my sauce and, for a limited time, you get the Complete 28 page, 5 chapter eCourse in PDF format FREE!
What You'll Need
Ready to Heat n' Serve Ham
Skewers (wooden or metal) note: no need to soak due to low smoker temperatures
Fresh Pineapple
Yellow mustard
Jeff's Rub (purchase recipe)
Unwrap ham and set on a cutting board. I bought one to show you the smoked pineapple kabobs and another one to smoke whole.
I prefer the smaller ones and if I need more ham, I simply buy two smaller ones instead of one large one.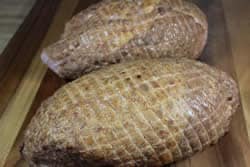 For the kabobs, cut the ham into chunks.
Slice them first (as shown) then cut each slice into thirds then in half.
Make the chunks any size you want but try to keep them all uniform if possible.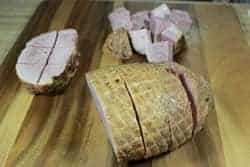 Once the ham is all chunked up, you'll need to cut the pineapple into chunks as well.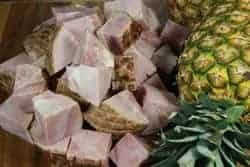 I like to peel it then remove the "eyes" but as my wife tells me, this is just being overly meticulous, it's completely unnecessary unless you just want to do it.
"For goodness's sake, just peel it and cut it into chunks", she says;-)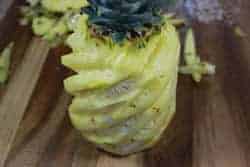 Pineapple cut into chunks.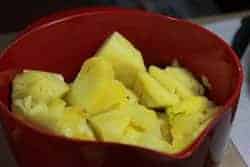 Squirt some mustard on the ham and stir it around to coat each piece.
Note: It would probably be easier to put the ham in a ziploc bag instead of a bowl if you have a large one available.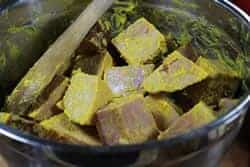 Pour about 1/4 cup of my rub onto the ham and stir it around. Add another 1/4 cup if you want more. Be generous with it.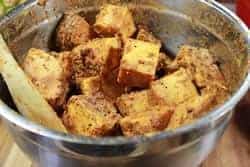 Using wooden skewers, place alternating pieces of ham and pineapple until you have a total of 6 pieces on each skewer.
If you are using longer skewers, you may want to add more to each one, it's your call.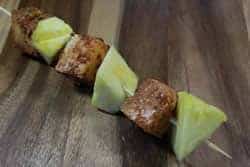 I made skewers until I ran out of pineapple. I'll place the leftover pieces of ham on a separate Bradley rack and smoke them alone.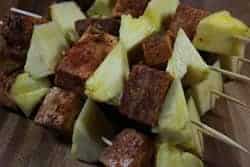 I place the ham and pineapple kabobs on Bradley racks for easy mobility.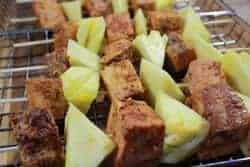 Tip: If you have leftover pieces of ham, place them on a Bradley Rack and smoke them right along with everything else.
Set up your smoker for about 200 degrees if possible.
Why so low, you ask..
Well.. you want the little chunks of ham and pineapple to get plenty of smoke but you know it's going to get done fast since they are small.
To give them more time in the smoke and slow down the cooking process, you just cook them a little lower and slower then normal.
200 degrees for about 2 hours is perfect but since you know that the ham is ready to eat before you even put it in the smoker, you can cook it more or less depending on what you like.
I like to use pecan, maple or hickory with ham to get a really nice, robust flavor.
Brush with beer barbecue sauce (recipe below) about 20 minutes before they are finished smoking.
Serve with spiced pee wee potatoes (recipe below)
Serves 4-6
1 lb small new potatoes (unpeeled)
2 T. veg oil
1 clove crushed garlic
1 t. turmeric
2 t. ground coriander
2 t. black cumin seeds
2 t. sugar
1 T. chopped chives
1 T. chopped parsley (optional)
Bring a pan of salted water to a boil, put in the potatoes, and boil for about 5 minutes. Drain.
Heat the oil in a metal roasting pan on top of the stove over medium heat; add the garlic, turmeric, coriander and cumin seeds, and cook for about 1 minute. Add the potatoes, rolling them around to coat. Sprinkle with the sugar, and a little salt and pepper. Place in a 350 degree oven and bake for about 30 minutes, turning them occasionally. Just before serving, sprinkle with the parsley and chives.
Ingredients
1/4 cup of Jeff's Barbecue sauce (purchase recipe)
1/4 cup of beer (or less, depending on how thick you want it to be)
Preparation Instructions
Add both ingredients to a mixing container and mix until well blended. Great on the ham and the pineapple!
I promised instructions for smoking eggs and you can find that HERE
The Recipes for my Rub and Sauce – Order Today!

Smoked a Pork Butt last night and applied the mustard and your rub…Just finished it off with your bbq sauce! I have to say that this turned out awesome and much better than I used to make! thanks for the rub/sauce recipes! ~ Troy
—————————————————
Hello Jeff I recently purchased your recipe for rub-n-sauce and just wanted to let you know that its off the chart. well worth the cost. I am cooking for about 50 family and friends at lake Texoma this weekend and cant wait to see everybody's reaction ~ Jack
—————————————————
Jeff, You truly are the man. Bought your rib rub and your sakes alive sauce and love them both. Keep up the good work helping people like me learn to cook good BBQ with smoke. ~ Matt
—————————————————
Jeff, I was smoking a Boston butt Saturday night for dinner Sunday and decided to try your bbq sauce. I have to say this is hands down the best sauce I've ever had and I've tried a lot of them. Its very easy to make, inexpensive and taste excellent. I will be using this recipe for a long time. ~ Doug
—————————————————
I've made tenderloins for years both on the smoker and not, but the use of Jeff's rub and sauce made them amazing. my family loved them. ~ Kathleen
—————————————————
I think the above testimonies say it better than I ever could.
How can you argue with unsolicited testimonies sent in just because folks who purchased the recipes wanted to let me know how good they were?
You deserve the very best and it is completely within your grasp!
Only $18.95 and worth every penny.
Not only do you get the best rub and sauce recipe available, you are supporting this website and helping to make sure the bills get paid so we can keep on doing what we do to teach thousands and thousands of people across the world the art of smoking meat.
Order Recipes | Read Testimonies
Here's What to Expect Once you Order

Here's how it works:
You order the recipes
My automated system sends you a download link in an email with a password
You click on the link and use the password to download the recipes and the free gifts to your computer
If you DON'T get the email with the link within 10 minutes:
Check your spam/junk folder (sometimes they get caught there)
If you can't find it, email me and let me know you didn't get it
I will send the recipes and login info to you as an attachment in an email
You let me know you got it, we are both happy campers!
Yes, I know the hams usually say they are already smoked but they are not smoked in the way that you can do it at home. You will be surprised at the difference in flavor from one that is smoked at the factory and one that you smoke again at home in your own smoker.
What You'll Need
If you'd rather smoke a whole ham this Easter, I completely understand and for some family's this is a tradition that must not be broken.
Unwrapt the ham and lay it on a cutting board or ideally, in a foil pan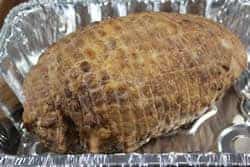 Apply mustard to the the outside of the ham. Don't worry.. it won't taste like mustard when it's all said and done but if you don't want to take any chances, you can use olive oil, honey, maple syrup, pineapple preserves, almost anything sticky that might taste good on the ham.
This is just to help the rub to stick and if it adds a little extra flavor, well then that's a bonus.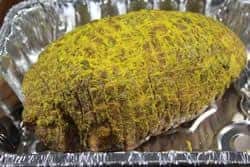 Apply generous amount of my rub to the outside of the ham.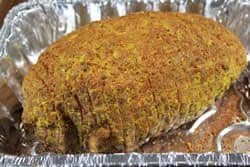 There is pepper in the rub recipe however, if you like peppered ham, you can hammer on the coarse pepper. (this is amazing with my rub and adds a whole new dimension)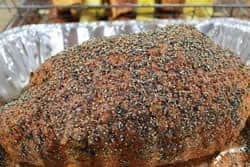 Place in the smoker on a Bradley rack and smoke at 225 for about 3 hours.
Use hickory, pecan or maple for great results and keep the smoke flowing for the entire time if you are using a charcoal, electric or gas smoker.
The smoke permeates the rub, the pepper and the ham and you have never tasted anything this good!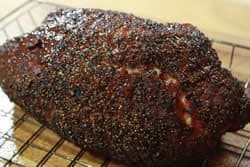 Slice and eat!
Free Smoking Meat Newsletter