I am always trying to figure out new ways to serve smoked meat to keep things exciting for you and your guests and this Easter, instead of serving the ordinary ham with pineapple slices on it, why not turn the ham into smoked ham and pineapple kabobs?
The instructions are easy to follow, it smokes up faster than a whole ham and your guests will rave about it.
Not to mention, doing things this way means you get more smoke and more rub per bite and that is always a good thing!
Well.. you do have options. I have also included instructions below for smoking a whole ham just in case you are not up for something new.
What You'll Need
Ready to Heat n' Serve Ham
Skewers (wooden or metal) note: no need to soak due to low smoker temperatures
Fresh Pineapple
Yellow mustard
Prepare the Ham
Unwrap ham and set on a cutting board. I bought one to show you the smoked pineapple kabobs and another one to smoke whole.
I prefer the smaller ones and if I need more ham, I simply buy two smaller ones instead of one large one.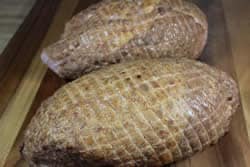 For the kabobs, cut the ham into chunks.
Slice them first (as shown) then cut each slice into thirds then in half.
Make the chunks any size you want but try to keep them all uniform if possible.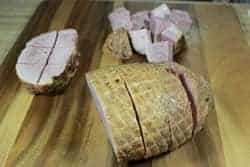 Once the ham is all chunked up, you'll need to cut the pineapple into chunks as well.
Prepare the Pineapple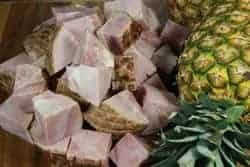 I like to peel it then remove the "eyes" but as my wife tells me, this is just being overly meticulous, it's completely unnecessary unless you just want to do it.
"For goodness's sake, just peel it and cut it into chunks", she says;-)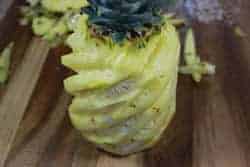 Pineapple cut into chunks.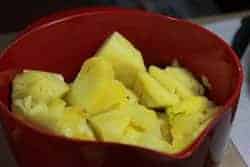 Season the Ham
Squirt some mustard on the ham and stir it around to coat each piece.
Note: It would probably be easier to put the ham in a ziploc bag instead of a bowl if you have a large one available.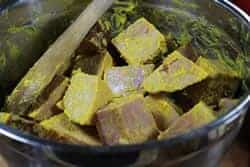 Pour about 1/4 cup of my original rub (purchase the recipes) onto the ham and stir it around. Add another 1/4 cup if you want more. Be generous with it.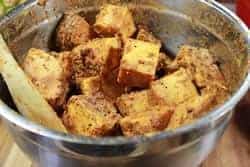 Make the Skewers
Using wooden skewers, place alternating pieces of ham and pineapple until you have a total of 6 pieces on each skewer.
If you are using longer skewers, you may want to add more to each one, it's your call.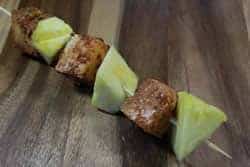 I made skewers until I ran out of pineapple. I'll place the leftover pieces of ham on a separate Bradley rack and smoke them alone.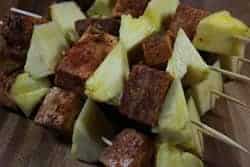 I place the ham and pineapple kabobs on Bradley racks for easy mobility.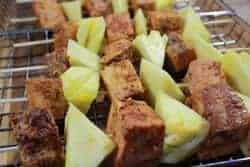 Tip: If you have leftover pieces of ham, place them on a Bradley Rack and smoke them right along with everything else.
Smoke Time
Set up your smoker for about 200°F if possible.
Why so low, you ask..
Well.. you want the little chunks of ham and pineapple to get plenty of smoke but you know it's going to get done fast since they are small.
To give them more time in the smoke and slow down the cooking process, you just cook them a little lower and slower then normal.
200°F for about 2 hours is perfect but since you know that the ham is ready to eat before you even put it in the smoker, you can cook it more or less depending on what you like.
I like to use pecan, maple or hickory with ham to get a really nice, robust flavor.
Brush with beer barbecue sauce about 20 minutes before they are finished smoking.
Serve them Up
Serve with spiced pee wee potatoes (recipe below)
---
Spiced Pee Wee Potatoes
Serves 4-6
1 lb small new potatoes (unpeeled)
2 T. veg oil
1 clove crushed garlic
1 t. turmeric
2 t. ground coriander
2 t. black cumin seeds
2 t. sugar
1 T. chopped chives
1 T. chopped parsley (optional)
Bring a pan of salted water to a boil, put in the potatoes, and boil for about 5 minutes. Drain.
Heat the oil in a metal roasting pan on top of the stove over medium heat; add the garlic, turmeric, coriander and cumin seeds, and cook for about 1 minute. Add the potatoes, rolling them around to coat. Sprinkle with the sugar, and a little salt and pepper. Place in a 350°F oven and bake for about 30 minutes, turning them occasionally. Just before serving, sprinkle with the parsley and chives.
---
Special Beer Barbecue Sauce for Kabobs
Add both ingredients to a mixing container and mix until well blended. Great on the ham and the pineapple!
---
***Note: you get the Texas style rub recipe free with your order!
If I could give these recipes away, I would do that. I really want you to have them! But, then, this is how I support the newsletter, the website and all of the other stuff that we do here to promote the art of smoking meat.
Read these recent testimonies:
"Love the sauce and rub recipes. So far I have used them on beef ribs, pork ribs, and different chicken parts. Can't wait to do a beef brisket. Texas rub is great as well!" ~Peter S.
"I tried the rub on a beef brisket and some beef ribs the other day and our entire family enjoyed it tremendously. I also made a batch of the barbeque sauce that we used on the brisket as well as some chicken. We all agreed it was the best sauce we have had in a while." ~Darwyn B.
"Love the original rib rub and sauce! We have an annual rib fest competition at the lake every 4th of July. I will say we have won a great percent of the time over the past 15 years so we are not novices by any means. However, we didn't win last year and had to step up our game! We used Jeff's rub and sauce (sauce on the side) and it was a landslide win for us this year! Thanks Jeff for the great recipes. I'm looking forward to trying the Texas style rub in the near future!" ~Michelle M.
You see the raving testimonies and you wonder, "Can the recipes really be that good?"
No worries! Make up a batch and if it's not as good as you've heard.. simply ask for a refund. Now that's a bargain and you know it. Let's review:
You decide you don't like the recipes.. you don't pay!
The recipes are absolutely amazing!
Once you order, there'll be no more recipe ads in the email version of the newsletter
Well.. what are you waiting for.. click on the big orange button below to order the recipes now.

I really, really appreciate the support from my newsletter friends and be sure to let me know if you have any questions about this.
Jeff's Smoking Meat Book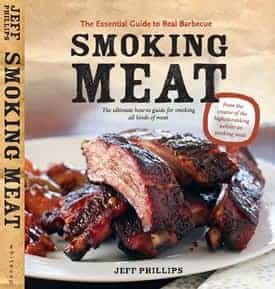 The book is full of recipes and contains tons of helpful information as well. Some have even said that "no smoker should be without this book"!
With more than 800 reviews on Amazon.com and a rating of 4.7 out of 5 stars, it comes highly recommended.
It is a Bestseller in Barbecueing & Grilling books on Amazon.
Amazon | Barnes & Noble | German Edition
Digital versions available via Nook | iTunes | Kindle
Get Almost Anything at Amazon
If you enjoy the newsletter and would like to do something helpful, then..
The next time you decide to order something at Amazon.com, use THIS LINK to get there and we'll get a small commission off of what you purchase.
Thank you in advance for using our special link: http://www.smoking-meat.com/amazon