Smoking-Meat.com is supported by its readers. We may earn an affiliate commission at no extra cost to you if you buy through a link on this page.
Read this article without ads
Did you know that you can easily make smoked eggs in your home smoker? Yes you can and to me, the smoked flavor really sets them off.
I am not one to eat boiled eggs however, with the smoky flavor on these, I will sit down and eat several.
They can also be made into deviled eggs, egg salad etc. and the smoke really compliments the recipe.
The first thing you want to do is to boil the eggs for but don't get them over done. Try to boil them so that they are just to the point of being done but no more.
[cp_popup display="inline" style_id="55533″ step_id = "1"][/cp_popup]
At that point, peel the eggs carefully so that you do not mess up the white stuff.
Lay the boiled and peeled eggs on a Bradley rack to make it easy to carry them to and from the smoker. They can even stay on the rack while they are smoking due to how it's made.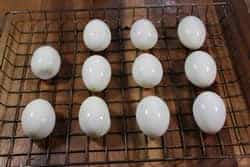 Setup the smoker for cooking at very low temperatures since you only need to smoke the eggs rather than cook them. The lower the better but as high as 200 degrees will also work since you are not leaving them in there very long.
Place the eggs in the smoker for about 30 minutes.
Use pecan, cherry, oak, whatever smoking wood you have available and it will be good.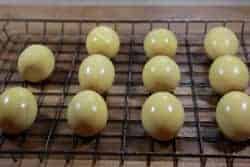 I cut one open and while the brown only permeated to about 1/16 below the surface, you could taste the smoke throughout.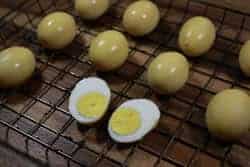 I have heard of folks smoking eggs right through the shell but I always peel them first. I want that smoke to really make it's mark on the eggs.
For a rare treat, smoke the eggs then pickle them.
Get Jeff's Products!