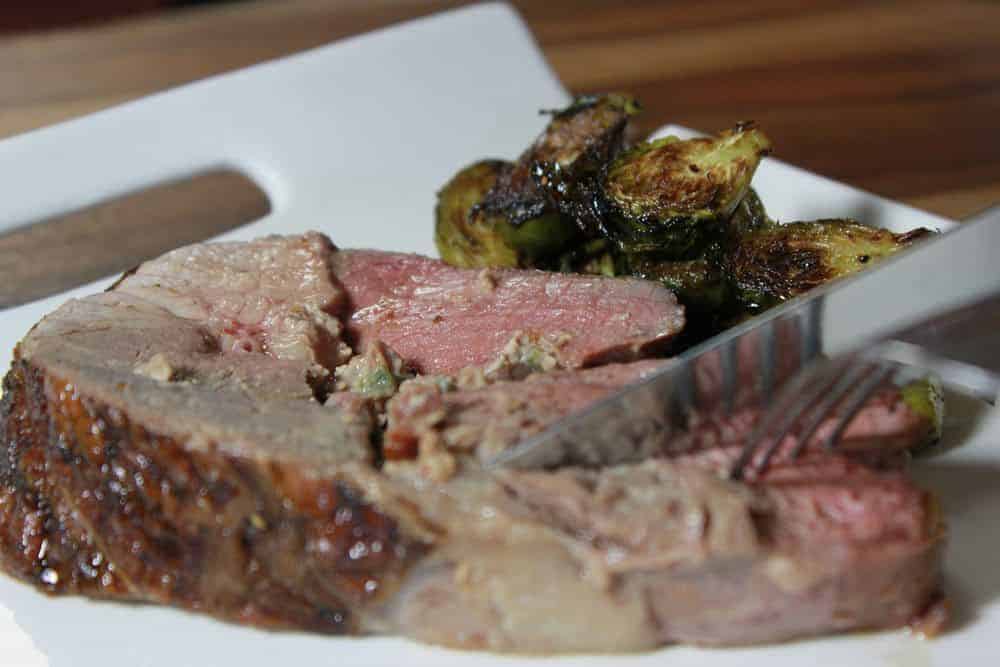 Smoking-Meat.com is supported by its readers. We may earn an affiliate commission at no extra cost to you if you buy through a link on this page.
Easter is upon us and this year we are doing smoked leg of lamb with a really nice twist. It is boneless, butterflied, stuffed with cream cheese, jalapenos and crumbled bacon and I have to say that this was the most Easter worthy lamb I have done so far.
You still have time to find a leg of lamb for smoking for this weekend and even if you or your family thinks you do not care for lamb, this might just change your mind about lamb altogether.
If your mind is completely made up against lamb this Easter or perhaps ANY Easter for that matter, then I have plenty of great recipes here on the site that are great when the family gets together for a special time and I will share a few of those links with you as well.
Let the fun begin!
Prep Time: 30 minutes | Cook Time: 2.5 hours* | Smoker Temp: 225°F | Meat Finish Temp: 135 °F | Recommended Wood: Oak/Cherry mix
What You'll Need
4-5 lb Leg of lamb, boneless and butterflied (usually the butcher will do this for you if you ask)
Cream cheese, 8oz package, softened
1 jalapeno, cleaned, seeded and chopped
1/4 cup of crumbled bacon
Olive oil, extra virgin
Butcher's twine
Make Stuffing for Smoked Leg of Lamb
Mix cream cheese, jalapenos and bacon crumbles together in a medium sized bowl and combine well to make the stuffing that will go inside of the leg of lamb.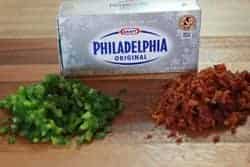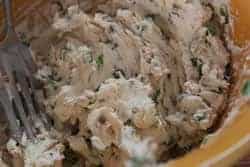 Set the mixture aside for a few moments.
Prepare the Lamb
Place leg of lamb on countertop and unwrap, remove netting (if any) and lay it out as flat as possible.
Note: if there are any large areas of meat, make shallow cuts into it so that you can lay it out flat.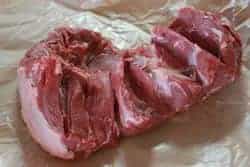 Sprinkle a little of my original rubonto the inside of the leg of lamb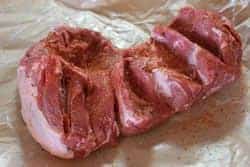 Spread the cream cheese mixture onto the inside surface of the leg of lamb.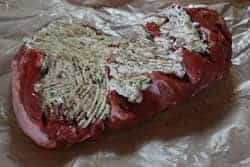 Roll the lamb up as tightly as possible and tie with butcher's twine.
Note: There is a right way to do this but don't fret if you are not a pro at tying up meat. The objective is to hold the lamb and stuffing together while it cooks. If you have to do multiple pieces of string and a separate knot for each one then that will work just fine. If you really want to learn how to do this correctly, there are lots of videos on youtube.com showing this up close and personal and you will quickly see how easy it is.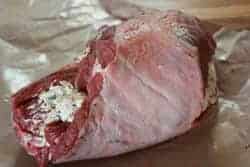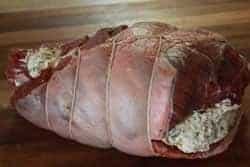 Pour/brush some olive oil onto the meat then sprinkle some of my original rub and it will be the perfect amount of seasoning.
Tip: place the lamb into a pan to add the oil/rub and it will make cleanup a breeze.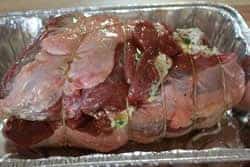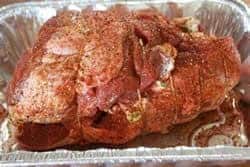 Now it is time to go get the smoker ready.
Smoke Time
Prepare the smoker for cooking at about 225°F.
I decided to use the Bradley Digital Smoker for this cook and I have to say that the Bradley smoker absolutely shines on things like this.
Read my page on the Bradley smoker if you need more details or tips about this smoker.
Preheat the smoker to about 225-240°F and allow me to recommend either oak/cherry mix or either one of these by themselves if you have it available.
Once the smoker is at the goal temperature, you are ready to smoke.
Place the lamb directly on the smoker rack.
You can expect the lamb to take about 2 to- 2-1/2 hours depending on how well you hold the temperature, how large the leg of lamb is and other variables such as wind.
Be sure to use a tried and true digital probe meat thermometer placed in the thickest part of the lamb to let you know when the lamb is finished cooking.
I like to cook this cut to about 135°F and allow it to come up a little bit during the resting period. You can adjust this depending on how rare or medium you want it.
Finish and Serve
Once the lamb is finished cooking and has reached the goal temperature, quickly place it into a foil pan and cover with foil, Bring it into the house and let it rest with the foil just slightly open for about 20 minutes.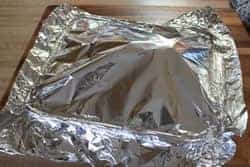 This allows the juices to redistribute throughout the meat and ensures that you end up with a piece of meat that is not only tender and tasty but also juicy.
Once the resting period is over or the natives get too restless, slice the lamb into 1/2 inch slices and serve immediately.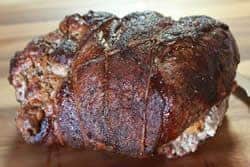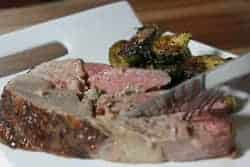 We served this with delicious roasted brussel sprouts in a balsamic reduction sauce that my wife made. ( Brussel sprouts recipe courtesy of GarnishWithLemon.com)
Notes:
1. I had quite a bit of the cream cheese mixture that cooked out of the lamb. Though, I have not tried this, I am thinking that a piece of cheese cloth just over the ends of the rolled up leg of lamb, perhaps tucked under the twine a little bit to keep it in place would keep the cheese in place.
The cheese cloth would still allow the smoke to get through as well.
2. To save time, you could easily stuff the lamb, roll it up and tie it the day before and store it in the fridge ready to go.
3. The smoked cream cheese married up with the lamb really well. Someone who was taste testing our lamb for this newsletter mentioned that the cream cheese tasted like really good smoked chèvre i.e. goat cheese due to the lamb flavor and the smoke. I agree and found myself eating some of the cheese by itself.
4.Pay really close attention to the temperature of the lamb. This is best at medium rare and while you can always cook the slices a little more if someone doesn't like it rare, you can never uncook it if you get it too done. Lamb is not cheap so grab the drinks and the snacks and stay close by while it smoke cooks. Be sure to use an accurate digital meat thermometer that you have personally tested in boiling and/or ice water to make sure it is registering the correct temperature. (212/33°F respectively)
Speaking of thermometers, I recommend the "Smoke" by Thermoworks, with dual probes, easy to set alarms and a range of 300 feet, you'll know exactly what's going on in the smoker without having to be out there the entire time.
Did you know? You can order the MASTER FORMULAS which allow you to make Jeff's rubs and barbecue sauce at home using your own ingredients! Order the Recipes