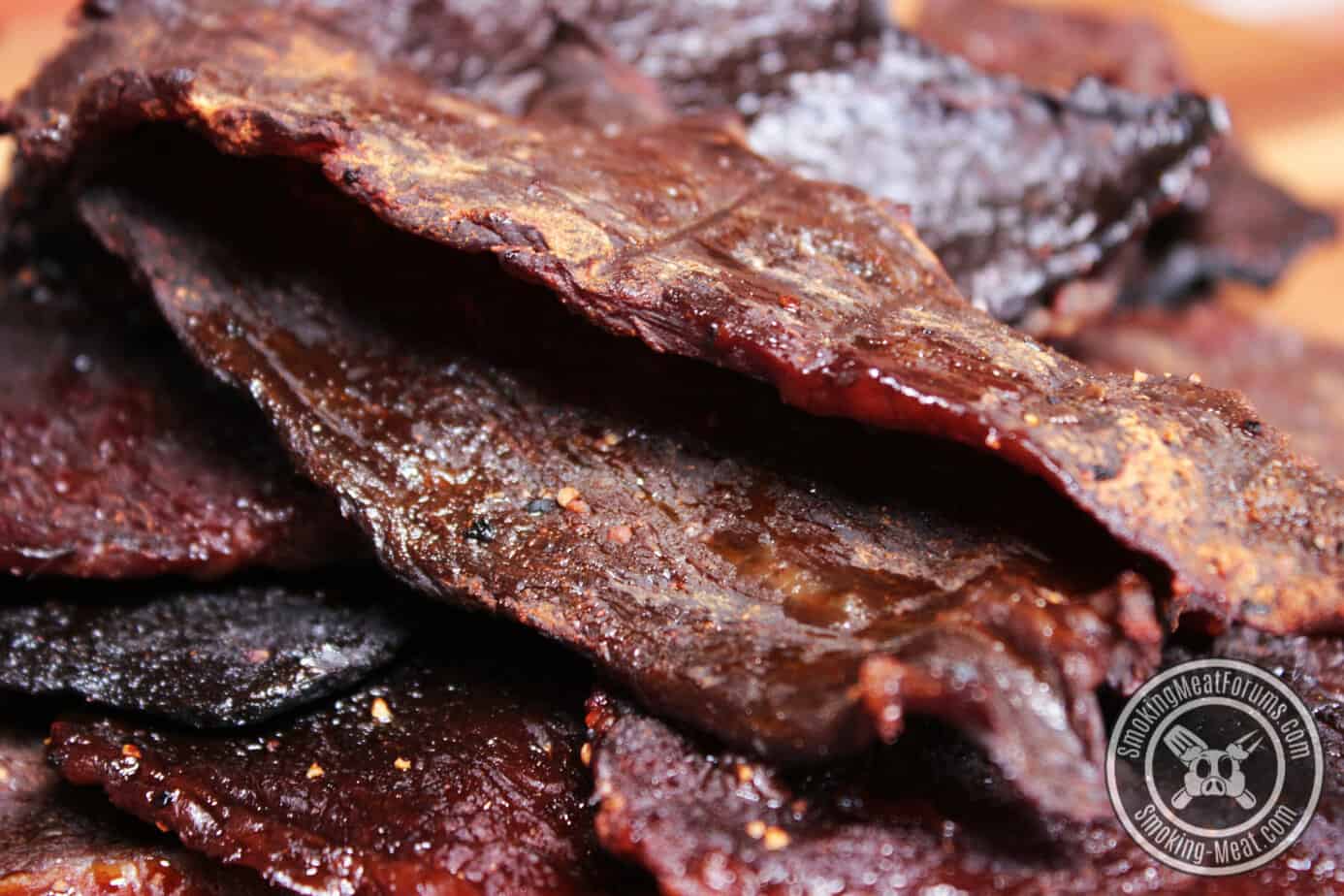 Smoking-Meat.com is supported by its readers. We may earn an affiliate commission at no extra cost to you if you buy through a link on this page.
Read this article without ads
In this recipe, I am going to show you how to make beef jerky my way and I am going to share the marinade that I use and a few tips and tricks to help you be successful.
If you have never made beef jerky before then you might have the erroneous idea that it is difficult or that you need special equipment to make it but, on the contrary, you can make it with a smoker, your home oven or a dehydrator.
I have made multiple batches of this smoked beef jerky recipe to perfect the process and you are the lucky recipients of all of that hard work, time and dedication.
I love this stuff!
Disclaimer: This beef jerky recipe does not use the traditional cure and therefore must be cooked to 160°F internal temperature before you call it done and it must maintain 140°F or above while it is drying. While dried beef jerky will last outside of the fridge much longer than meat with the moisture still intact, it is best to store it in the refrigerator to keep it safe and fresh.
Helpful Information
Prep Time: 30 minutes
Marinade Time: 24 hours
Cook Time: 6-10 hours
Smoker Temp: 180°F (82°C)
Meat Finish Temp: 160°F (71°C)
Recommend Wood: Oak, Hickory or Pecan
What You'll Need
3 lbs eye of round or similarly lean beef
Low-sodium soy sauce (you can use regular but I prefer less salty beef jerky)
Bourbon or whiskey (alcohol evaporates but leaves great flavor behind)
Honey
Jeff's original rub
Jeff's original barbecue sauce
About the Meat for Making Jerky
I always use eye of round but you can also use top round, bottom round and possibly others. The eye of round is lean, has a small bit of fat on the top but it is easily trimmed off leaving you with the best meat for beef jerky in my opinion.
The butcher will usually slice this for you if you ask and I usually tell them to cut it at about 1/8 inch thick. If you think about it, you can ask them what number they used on the slicer and you can then give them the the slicing number the next time which is more accurate than giving them a thickness in inches.
Note: A commenter below let us know that 1/8 inch is just under a number 3 on most slicers. Great information!
Be sure to tell them whether you want it cut with or against the grain. I like it super tender so I have it cut against the grain most of the time.With the grain will make it more chewy if that is the way you like it.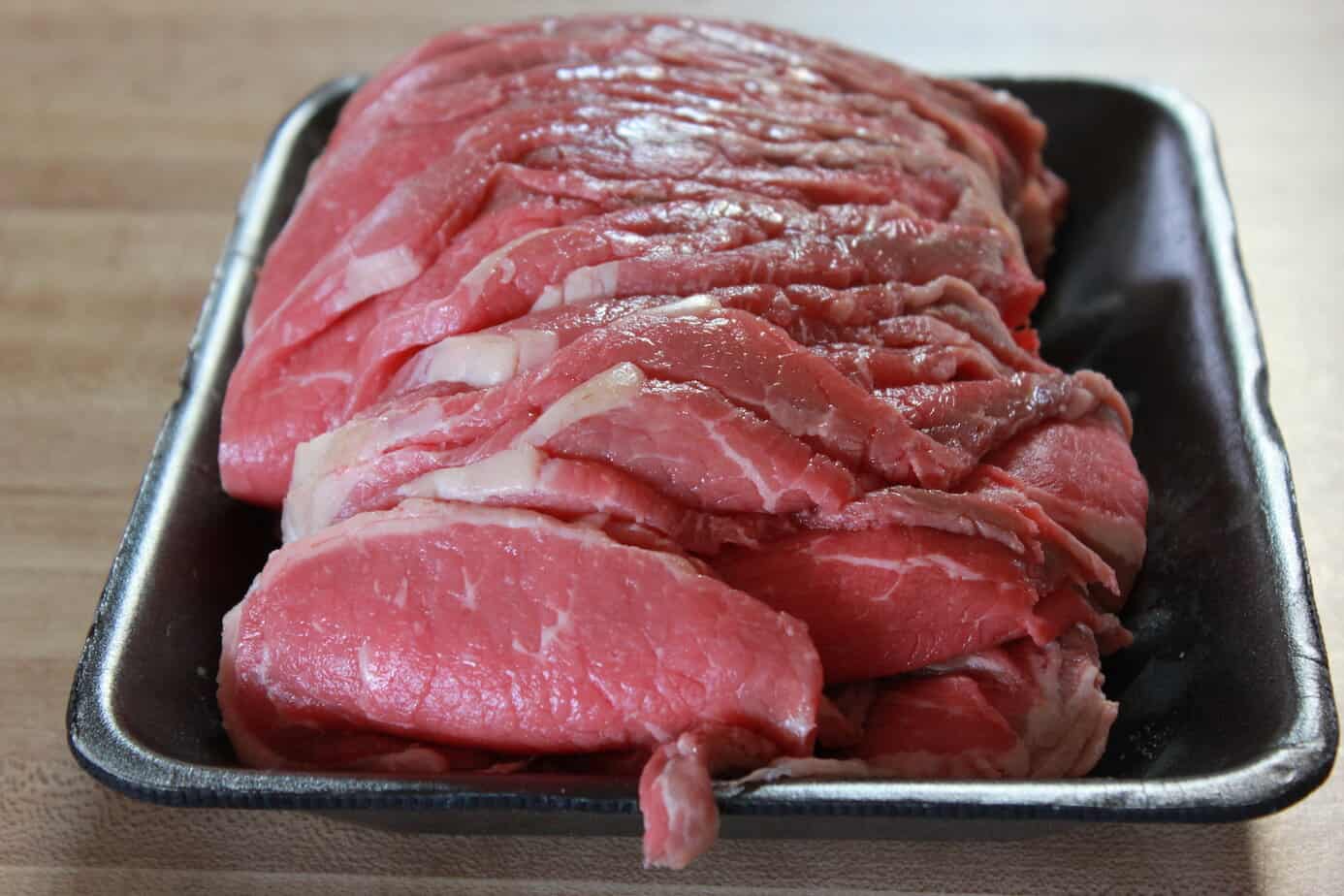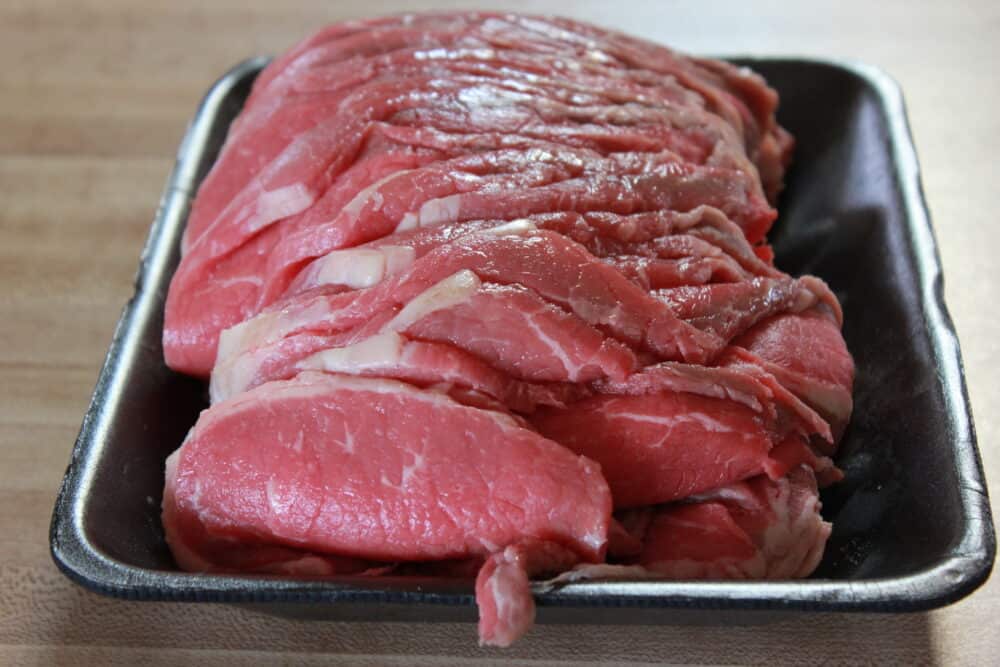 If you want to slice it yourself, use a very sharp knife and try to keep your slice thickness very consistent. Some will tell you to place the meat in the freezer for 30 minutes before slicing and this does help but it's not a substitute for an extremely sharp knife.
Marinate the Meat
Note: you do NOT have to marinate the meat but I highly recommend it.
This is a great way to get some great flavor into the meat and if you follow my instructions, you will not have to season the meat at all after it marinates.
I have played around for several years with using my original rub and my original barbecue sauce along with other ingredients to create a marinade that just works.. perfectly.. every time and I think I have finally come up with something that you will really like.
My family and friends (my most honest critics) are telling me to not change a thing with this latest iteration and I have to agree that it is near perfect.
And yes, you can use a different rub, a different sauce and even a different marinade altogether but don't complain to me when it's not as wonderful as you had hoped;-)
Here's the recipe:
Jeff's Beef Jerky Marinade
1 cup (8 oz) low-sodium soy sauce (you can use regular but I prefer less salty beef jerky)
1/2 cup of Jim Beam Bourbon*
1/4 cup raw honey
1/3 cup Jeff's original rub
1/4 cup Jeff's original barbecue sauce
Measure all ingredients into a small bowl and whisk everything together to combine.
*You can substitute apple juice for the bourbon if you are so inclined, however, the bourbon does add a lot of flavor and the alcohol has plenty of time to evaporate before it is to the eating stage.
This recipe makes a little more than 2 cups of marinade and should be plenty to handle about 3 lbs of meat.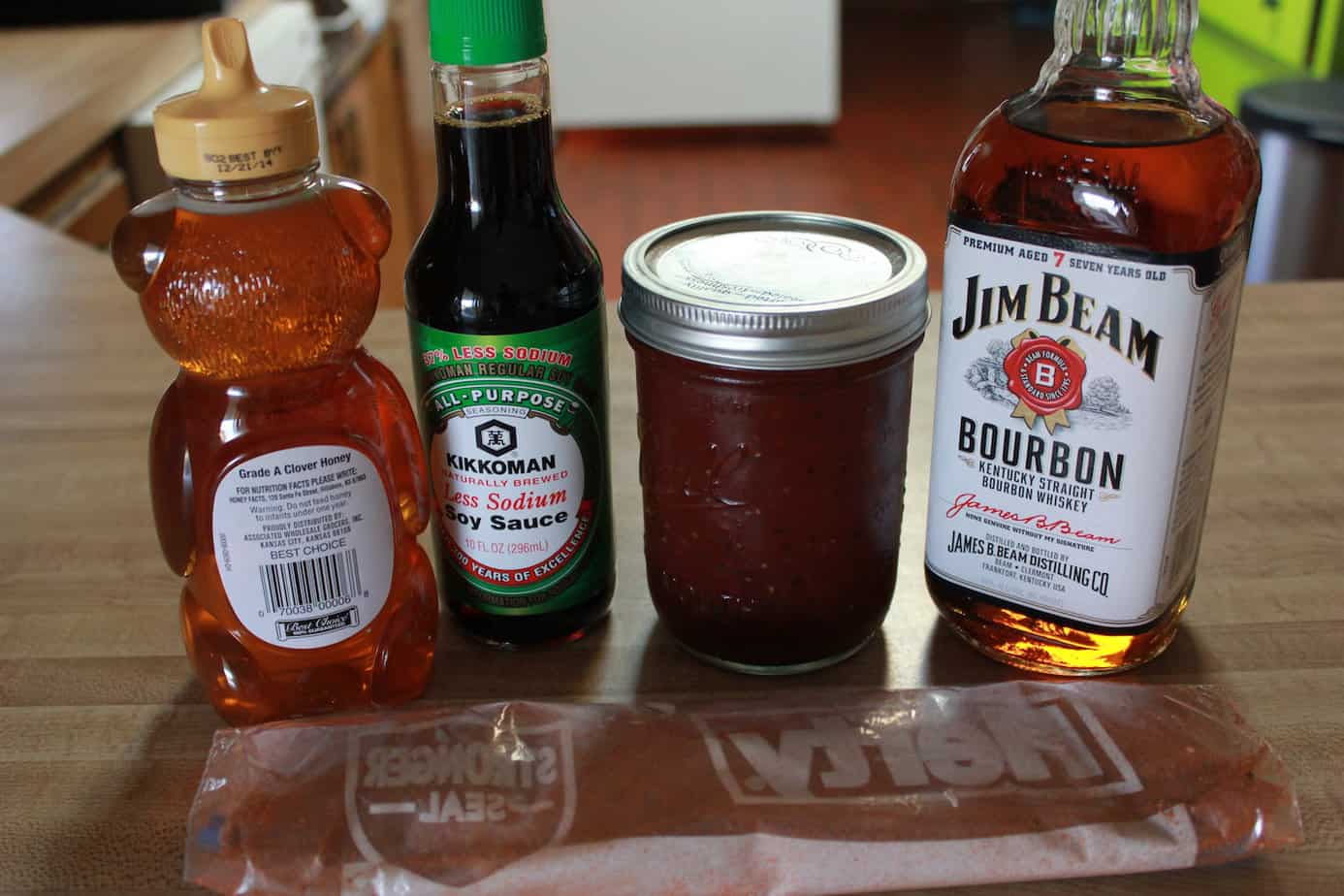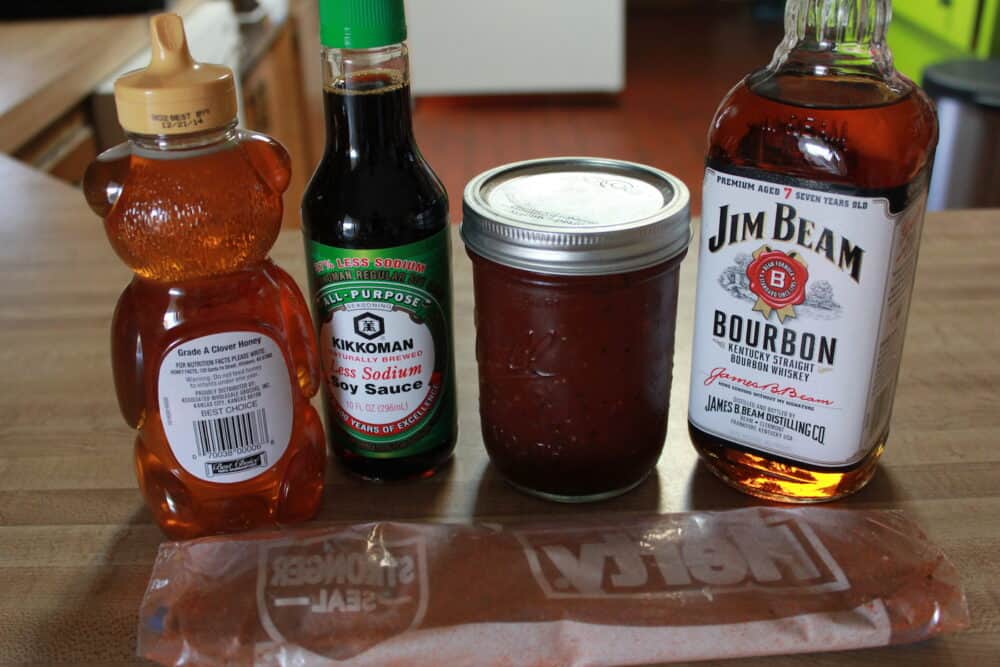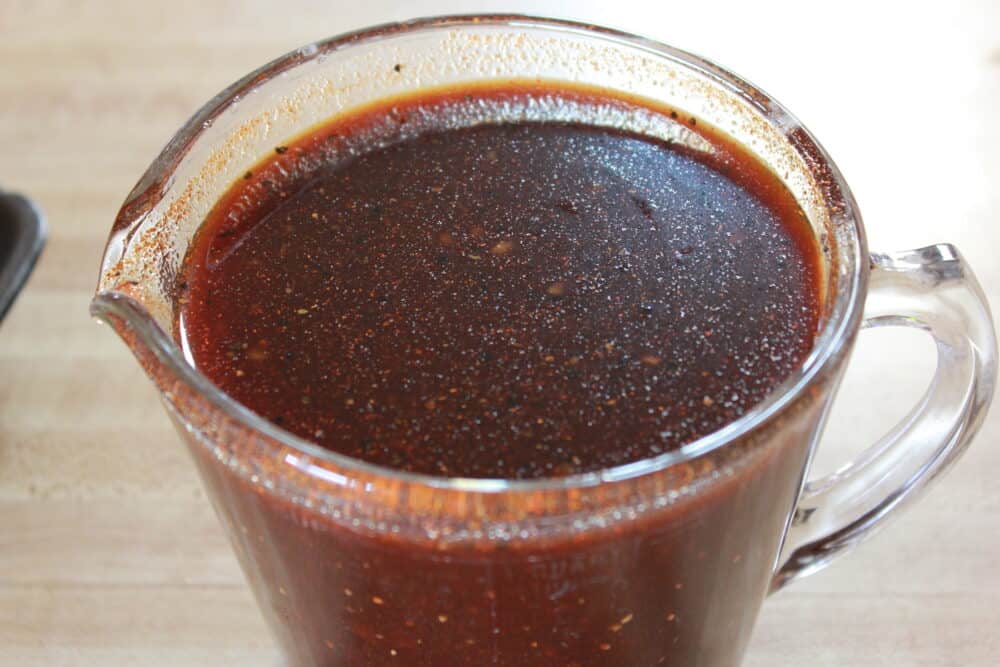 Once the marinade is complete, stir well then add the meat and the marinade into a 1-gallon ziptop bag.
Seal the bag closed and tumble/massage the meat and the marinade gently to make sure all of the meat is in contact with the marinade.
Note: Be sure to press out as much of the air as possible so that the bag and the marinade stay pressed up close to the meat.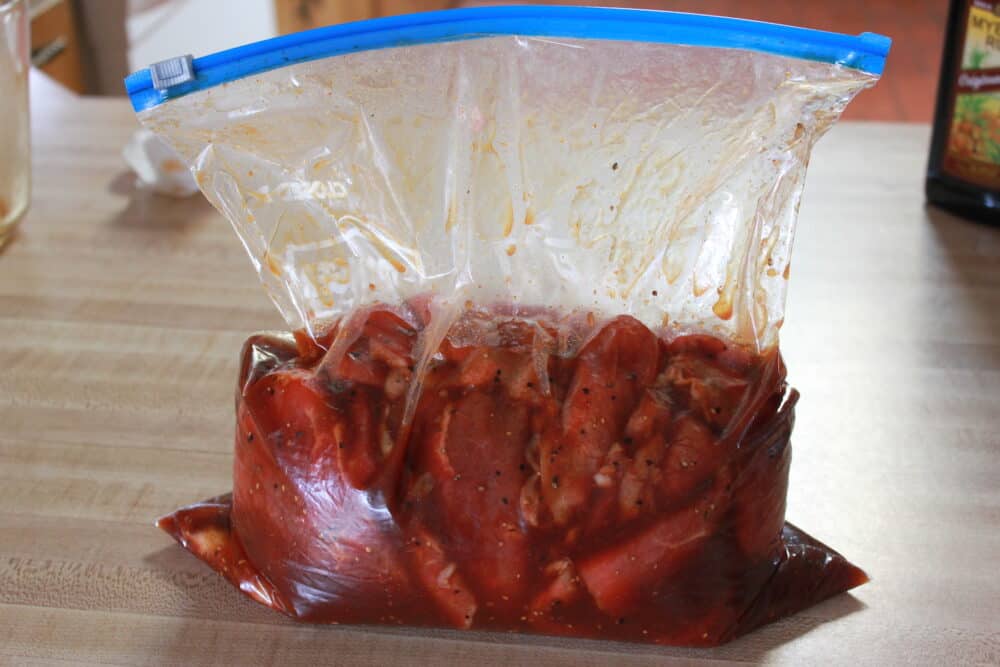 Place the bagged meat/marinade into a bowl to prevent leakage (this is always a great idea) and place the bowl into the fridge for 24 hours.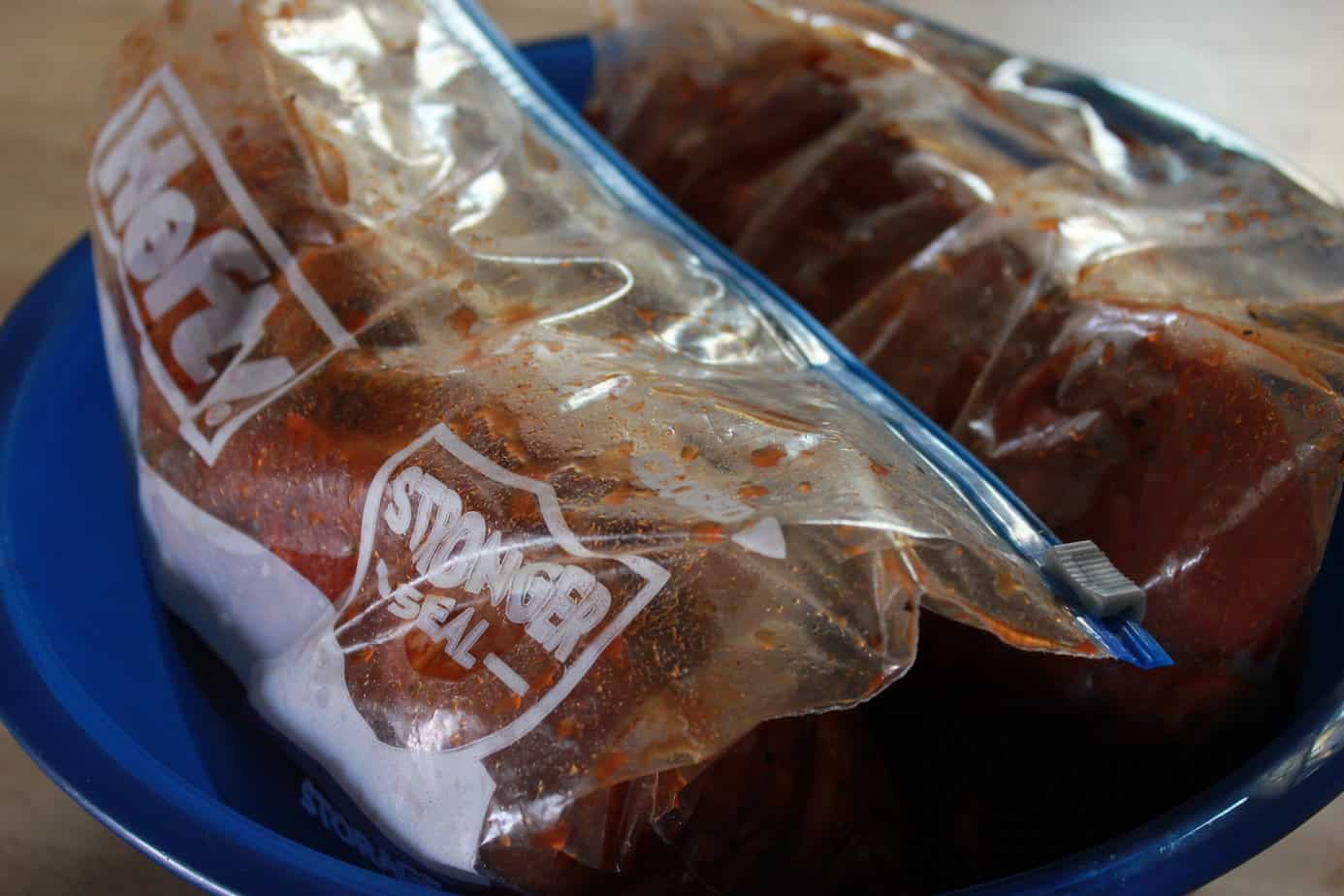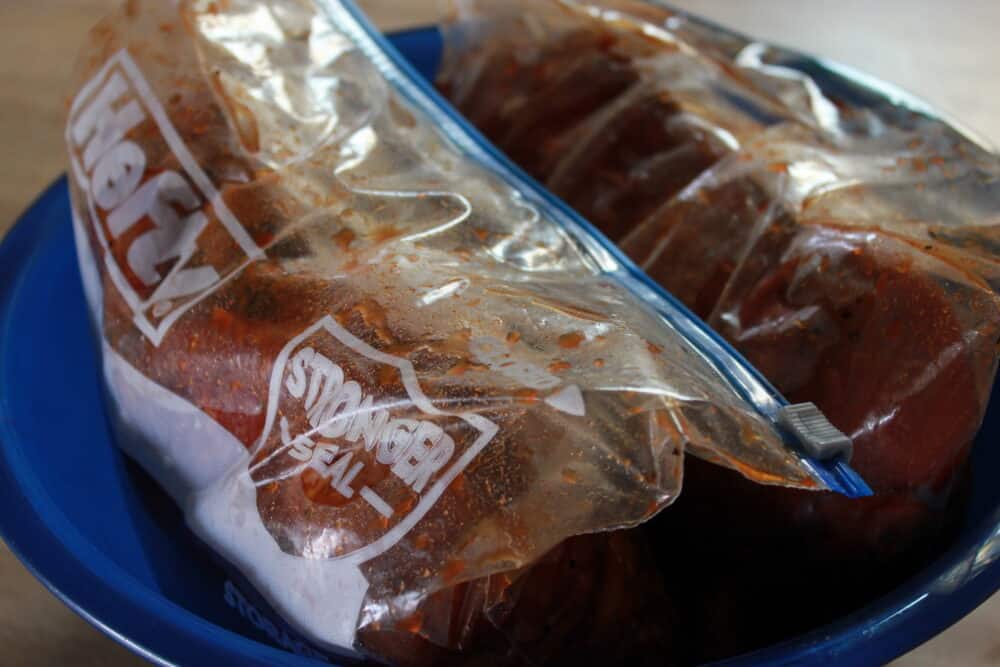 Every few hours or whenever you think about it, take the bag and massage it around a little bit to make sure the marinade is able to affect all of the meat equally.
Dry/Smoke the Strips of Meat
Once the meat has marinated for 24 hours or so, discard the marinade and place the slices of meat onto racks.
Here's the racks that I like to use:
This is a pan with a rack that I've been using for several years now and they are super nice to have. These are heavy duty stainless steel, very resistant…
You can also just place the meat directly onto the grate of your smoker.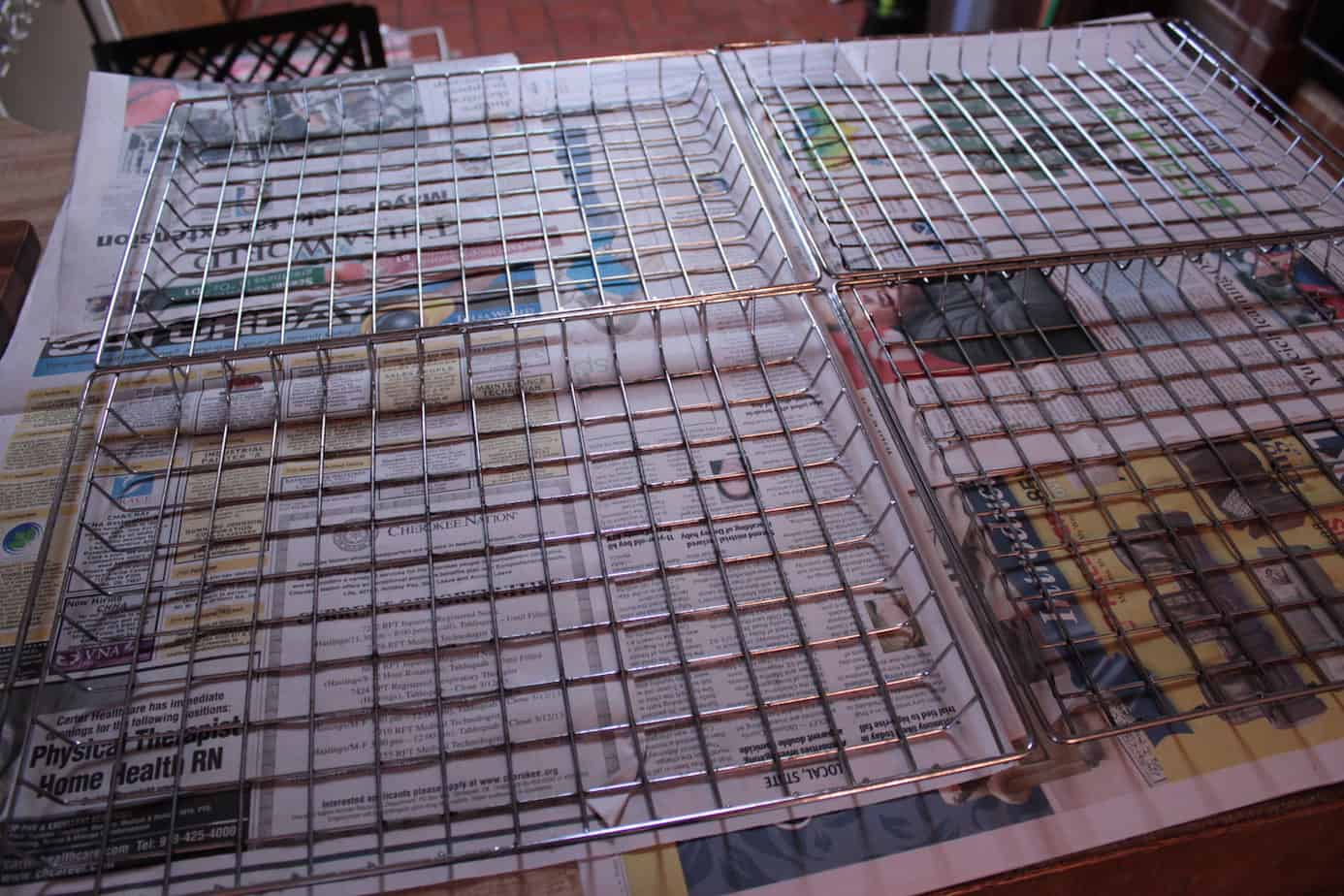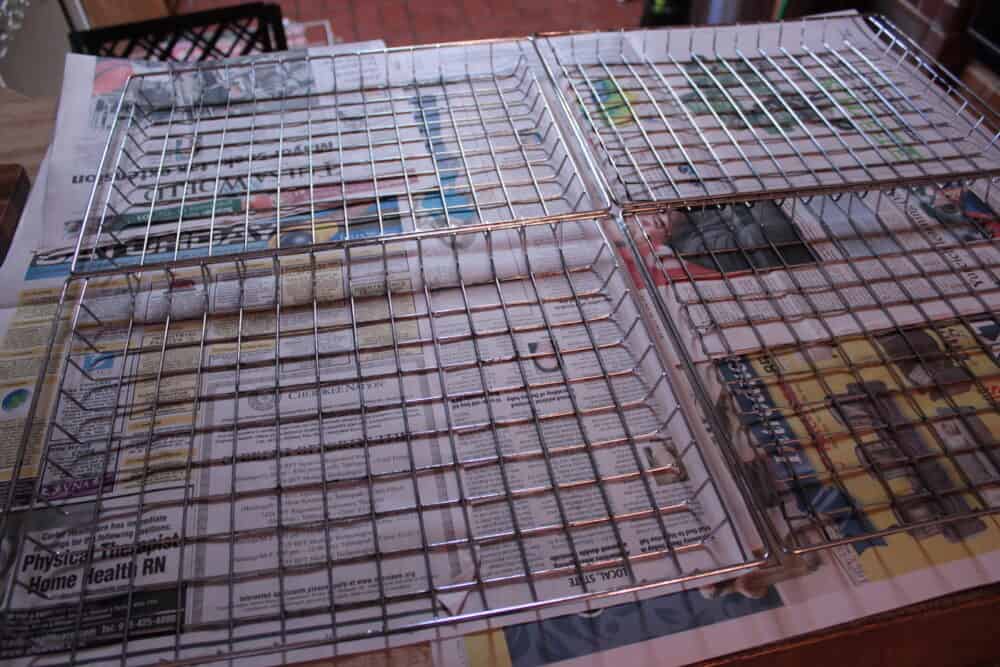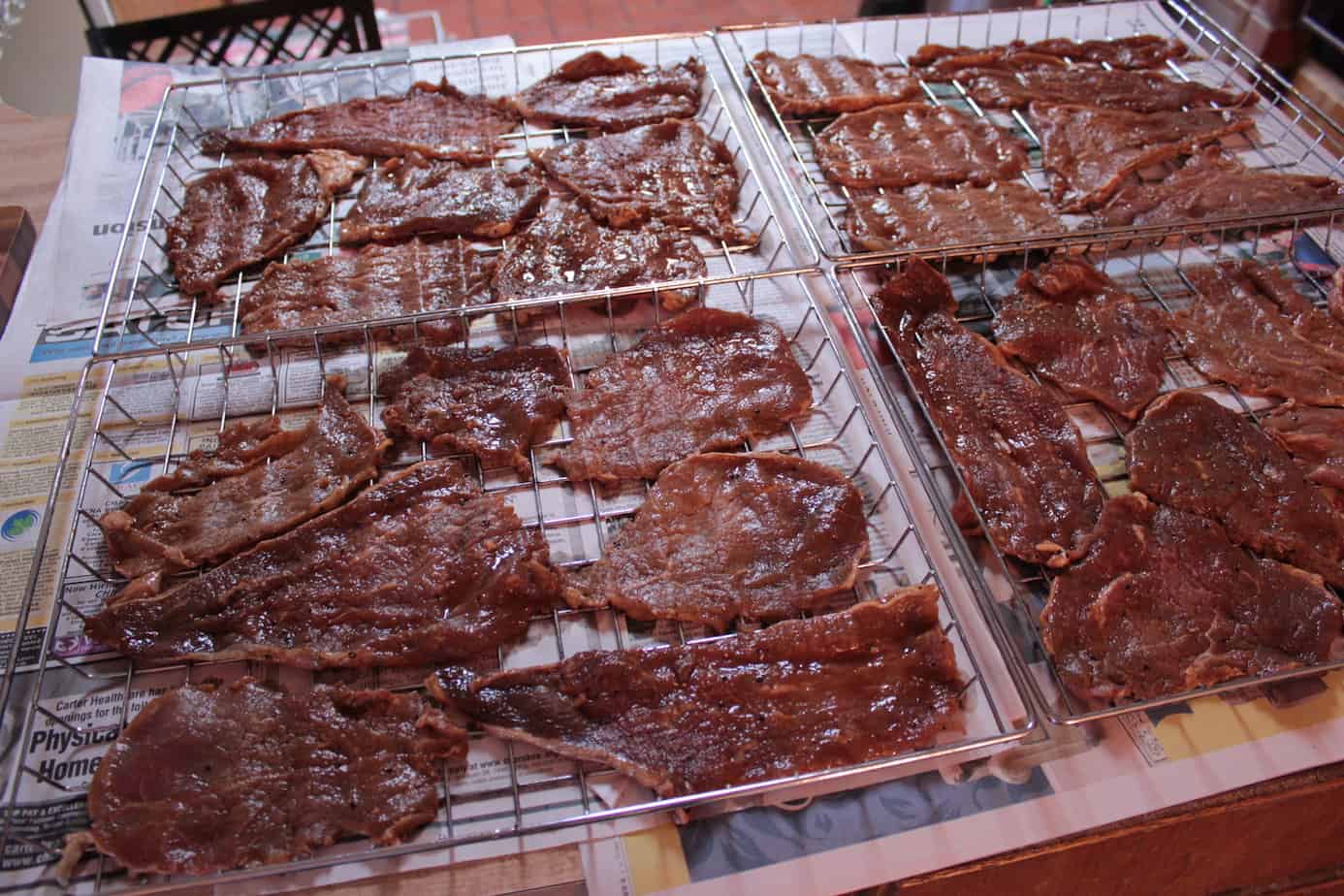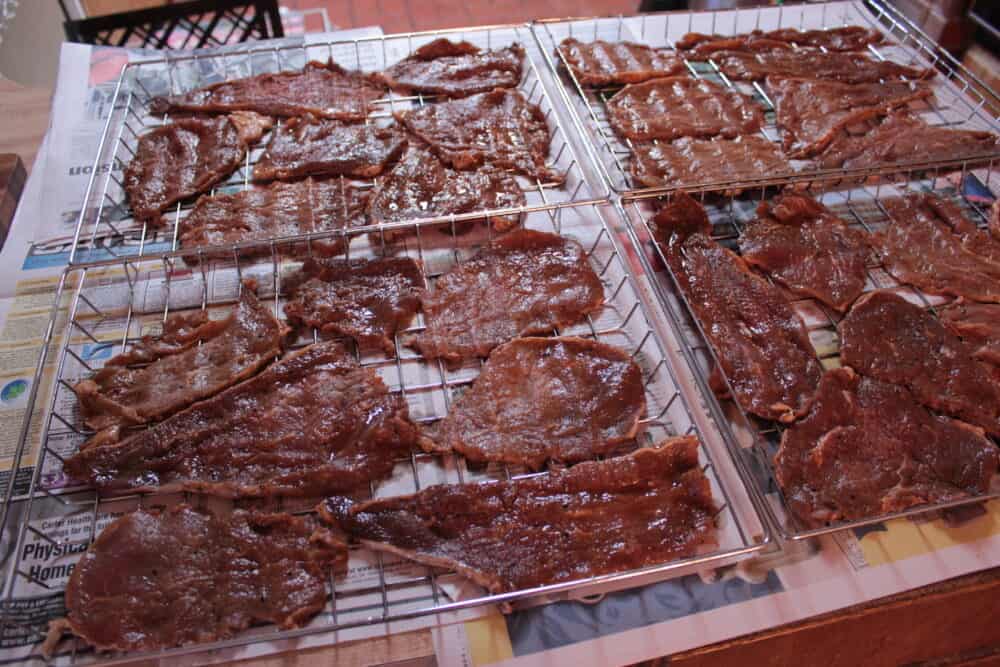 Place the racks in the smoker and smoke the meat at 160-180°F for 6-10 hours** or until the meat has reached the proper level of "dry" that you like.
**Why the wide range on the cook time? the thickness of the beef jerky, how wet it is when you place it on the grates, how "dry" the smoker is and how well the smoker or oven expels humidity will all play a part in actual cook time.
In essence, it's done when it's done and not a minute before.
For safety reasons, you will also want to ensure that it has reached at least 160°F (71°C) internally using a high quality instant-read thermometer.
I use the the Thermapen One which reads in only 1 second (you read that correctly). It also has a very small tip which allows you to easily check the temperature of things that are thin such as beef jerky.
To dry and cook the jerky, you will utilize one of the following:
Leave it in the smoker the entire time
Leave it in the smoker for a few hours then transfer it to a dehydrator to finish
Dry it in the oven (if you don't have a smoker or dehydrator)
Note: If you are using the smoker or oven, it is a great idea to keep the environment as non-humid as possible. For this reason, I recommend you leave the water pan/bowl dry so as to not create steam. You can also leave the door of the smoker or oven slightly ajar so the humidity can escape.
Check the meat every hour or so until it gets close then you will want to check it every 30 minutes or so until it has the dryness, and texture that you are looking for.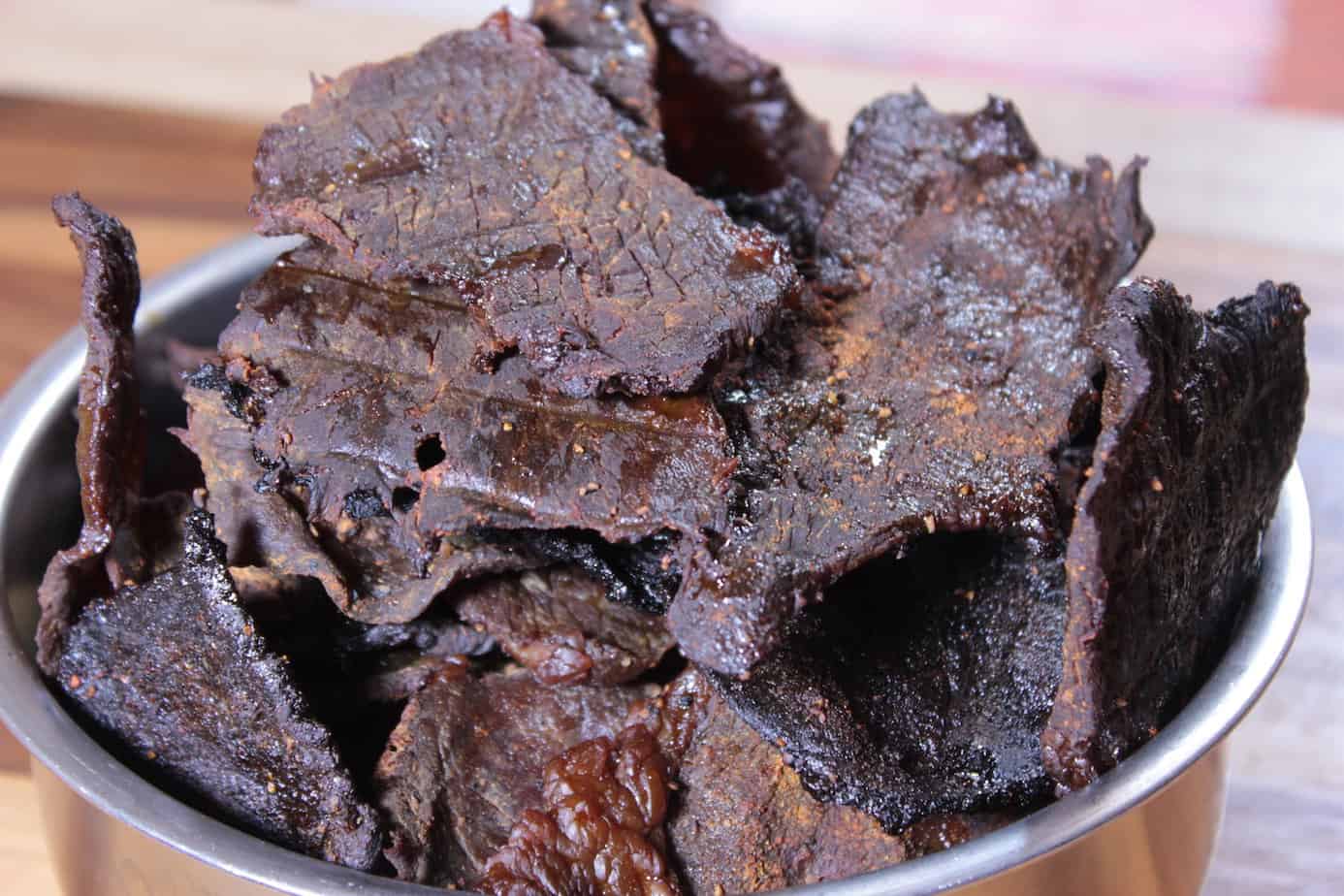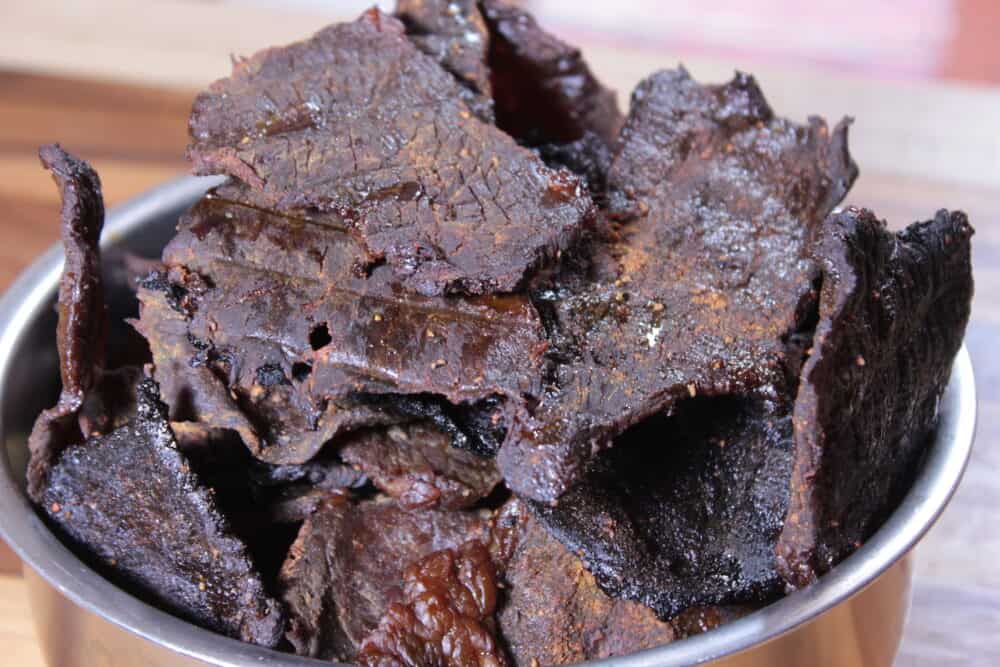 It is difficult to describe beef jerky that is done perfectly other than the fact that you should be able to bend it without it breaking in half.
I like to see some white fibers when I bend "properly done" beef jerky.
Once the meat is dry to your liking and cooked to at least 160°F (71°C) internally, it can be transferred to paper towels to cool.
Once cool, store it in zip top bags in the fridge for several weeks or the freezer for longer term storage.
My most important tip of the day: Do not overdry the jerky. It will always be more dry than it seems once it cools so take it out just shy of that point. Once it cools down, it will be more brittle, more dry and more done than you thought it was. Ask me how I know this?!
A Word on Dehydrators
I have the 2900ECB-9 Dehydrator by Excalibur. I've had it since 2010 and it still works as good as the day I got it.
With a 7-inch fan, adjustable thermostat (95-155°F) and 9 trays, it is wonderful for doing dried fruits as well as jerky. I just can't say enough good things about it.
One of my favorite features is that the fan blows air across the shelves rather than from the bottom. This dries meats and fruit much more evenly.
Also, because the shelves are not stacked like many dehydrators, I can easily pull out each individual shelf to check on it.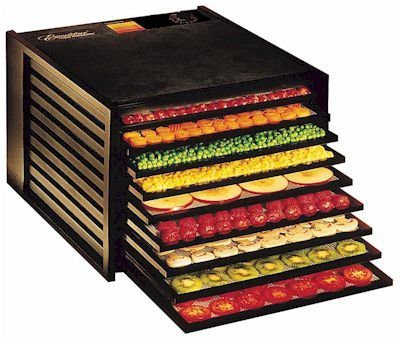 How to Make Beef Jerky
My version of beef jerky that is not overly salty and doesn't use Worcestershire like most recipes.
Ingredients
3

lbs

Eye of round

(most lean cuts will work fine)
Jeff's Beef Jerky Marinade
1

cup

Soy Sauce

(I prefer low-sodium)

½

cup

Jim Beam Bourbon

(Substitute with sparkling apple juice if desired)

⅓

cup

Jeff's original rub

¼

cup

Jeff's original barbecue sauce

¼

cup

Raw honey
Instructions
Slice the meat or have your butcher do it for you. About 1/8 inch thick or a #3 on most slicers is what I like.

Make the marinade by adding all of the marinade ingredients to a small bowl and stirring well to combine.

Place the sliced meat into a large zip top then pour the marinade over the top.

Massage the bag for several minutes to make sure you have full coverage. Press out the air and seal well. Place the zip top bag in the fridge for 24 hours. Massage the bag several times during it's time in the fridge.

Discard the marinade and lay the sliced meat onto racks or directly onto the grates of your smoker.

Smoke the meat at around 160-180°F for 6-10 hours or until it starts to get close to the level of dry that you like. Once it gets close, check it often.

Transfer the finished smoked beef jerky to paper towels for cooling.

Once fully cool, store in zip top bags in the fridge for 2-3 weeks or in the freezer for several months.
Get Jeff's Products!