Hello newsletter friends and welcome to this edition of the smoking meat newsletter where we will be discussing smoked pork chops and not just any pork chops – these are extra thick, man sized chops and this recipe will show you how to make them into something extraordinary.
I don't know about you but I've never gotten real excited about pork chops. Without gravy and a lot of sides, they've always seemed to be a little on the dry side, not a lot of flavor sometimes and just sort of boring.
These chops are brined overnight, seasoned with my rub and cooked to perfection in the smoker to produce a pork chop that is unlike anything you've probably ever tasted.
In case you can't tell, I'm a little excited about these and I can hardly wait to show you how I did it!
The Recipes for My Rub and Sauce – Order Now
"The rub and sauce are great!  I am still new at smoking, but your site and the recipes are making it easy.  I've got the MES and have done baby back ribs twice, chicken twice and did my first brisket last weekend.  Everything has turned out so much better than I could have imagined.  Thanks again for the recipes, well worth the small price, and I couldn't put a price on what I've learned at the site."
If you have benefited at all from the newsletter and/or the website, purchase the recipes and you'll be glad you did, I promise!!
Amazing, Tasty, Easy to make using ingredients you probably already have and it supports the website and the newsletter.
A wonderful combination!!
Special: Order the recipes for my rub and my sauce and, for a limited time, you get the Complete 28 page, 5 chapter eCourse in PDF format FREE!
Order Recipes | Read Testimonies
NOTE: Watch for an email with a download link just as soon as you order. Didn't get it? Check your SPAM filter and let me know if you can't find it.
Smoked Pork Chops (Extra Thick)
Brine Time: 5-9 hours | Prep Time: 15 minutes | Cook Time: 2 hours | Smoker Temp: 220 F | Meat Finish Temp: 150 F | Recommended Wood: Apple or Cherry
What You'll Need
4-6 extra thick pork chops (center cut or whatever your preference is)
64 oz apple cider (apple juice will also work)
1/2 cup kosher salt
Olive oil
Brining the Pork Chops
You don't always hear a lot about brining pork like you do with poultry but I think it makes a big difference on things like pork chops. It adds lots of moisture to the meat and it adds flavor so it's well worth your time to do it.
Add 1/2 cup of kosher salt to 1/2 gallon of apple cider and stir until all of the salt is dissolved.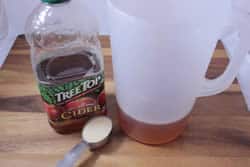 Once the brine is made up, place the pork chops into a large Ziploc bag sitting down in a large bowl for leak protection.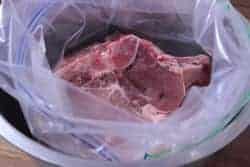 Pour enough brine into the bag to cover the chops and seal them up. Be sure to press all of the air out of the bag.
Place the bowl with the bag into the fridge so it can remain cold during the brining process.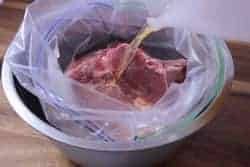 Let the pork chops brine for at least 4-5 hours but you can even leave them overnight if you desire.
Once they are done brining, take them out of the fridge and rinse them well under cold water.
Note: you will notice that they sometimes get a grey color after brining.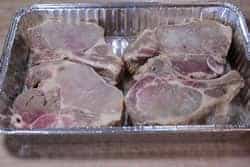 Seasoning the Pork Chops
As most of you know, my rub is extremely versatile and can be used with so many things and in so many ways. These chops are no different and my rub is used to lightly season the tops and bottom.
To accomplish this, pour a little olive oil on the pork chops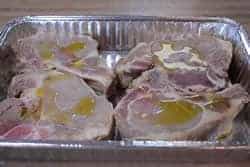 Spread out the oil with a basting brush and sprinkle my rub all over the tops and bottoms of the chops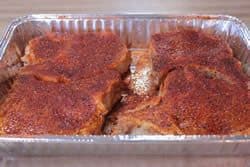 The pork chops are now ready to smoke. I like to leave them sitting on the counter for a few minutes while I go get the smoker ready. If it will take more than about 20-30 minutes then it might be smart to just place them in the fridge to be on the safe side.
About the Smokers I Use
You may have noticed that I don't always mention the smoker that I used for each particular recipe. I have had a slight issue with folks feeling that the recipe is intended for a particular smoker if I mention it. To clear things up, I try to keep it generic as much as possible.
I have quite a large arsenal of smokers at my disposal including but not limited to the following:
As you can see, I use a lot of them and all of my recipes can be smoked on any of the above smokers as long as I maintain the temperature and the smoke for the allotted amount of time prescribed in the recipe.
I am constantly adding to my repertoire, not so that I can have a lot of smokers to repair, keep clean, etc. but because I feel that it is important that I use the type of smokers that my readers are using.
I have my favorites and I have ones that I do not like to use at all but I continue to use them all for the sake of research.
Smoking the Pork Chops
Set the smoker up for cooking at 225-240 degrees F.
Once the smoker is up to temperature and ready to smoke, place the pork chops on a Bradley rack or right on the smoker grate for maximum smoke exposure.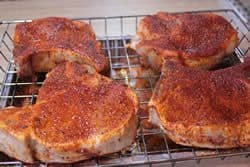 Be sure to leave about an inch between each chop to make sure the smoke has great access to each one.
My pork chops where around 1-1/2 inches thick and took about 2 hours to reach 150 degrees. Technically pork chops are done and safe to eat per the USDA at 145 degrees F but I like to take chops just slightly higher to give them a little more time in the smoke and to help them tenderize.
If your pork chops are really lean, you might consider removing them at 145 to ensure they are not allowed to dry out.
Be sure to keep an eye on the temperature using a digital thermometer such as the Maverick ET-732 or my new toy the amazing Thermapen (which I love by the way).
Speaking of the Thermapen – I used my black one this week on the smoked pork chops and several other things that I cooked and I was amazed at the speed by which it read the temperature.
The company touts that it is "super fast" and reads in a mere 3 seconds but I was getting readings in less than a second.
Check out the thermapens and get one in your favorite color HERE. HIGHLY RECOMMENDED!
Finishing the Pork Chops
When the pork chops reach 145-150 degrees F they are finished cooking and can be removed from the smoker. I recommend placing them in a foil pan and covering it with foil to keep them warm and allow them to rest for a few minutes before serving.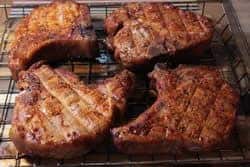 Serve the smoked pork chops with a salad or go all country and home style by serving them up with mashed potatoes, green beans, grilled or smoked corn and the works!
They are shown here with corn on the cob, and smothered potatoes.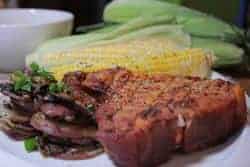 The Recipes for My Rub and Sauce – Make Them Yours!
Many people use the recipes for my rub and sauce exclusively, and even some restaurants and competition teams use them to win customers as well as competitions.
Both the sauce recipe and the rub recipe are a perfect blend of sweet and spicy and this is easy to adjust if you like it more mild or even more spicy. I am even happy to help you modify them to your liking once you purchase.
I also love the fact that my rub and sauce recipes are both low on salt and you can use a lot or a little depending on what you are doing with no fear that it will become overly salty.
On a salt restrictive diet? Use half the salt that the rub recipe calls for and it is still very good. Bottom line.. you need these recipes in your repertoire!
Can you use other rubs and seasonings? Sure you can and that is your prerogative but I feel a responsibility to let you know that if you want your food to be all it can be, then try my rub on it and, like so many other happy customers, I think you'll be very glad that you did.
Try the recipes out.. if you don't agree that they are THE BEST, I'll refund your money just like that!
Here are a few testimonies that clearly speak for themselves:
---
Smoked a Pork Butt last night and applied the mustard and your rub…Just finished it off with your bbq sauce! I have to say that this turned out awesome and much better than I used to make!   thanks for the rub/sauce recipes! ~ Troy
---
Hello Jeff I recently purchased your recipe for rub-n-sauce and just wanted to let you know that its off the chart. well worth the cost. I am cooking for about 50 family and friends at lake Texoma this weekend and cant wait to see everybody's reaction ~ Jack
---
Jeff, You truly are the man. Bought your rib rub and your sakes alive sauce and love them both. Keep up the good work helping people like me learn to cook good BBQ with smoke. ~ Matt
---
Jeff, I was smoking a Boston butt Saturday night for dinner Sunday and decided to try your bbq sauce. I have to say this is hands down the best sauce I've ever had and I've tried a lot of them. Its very easy to make, inexpensive and taste excellent. I will be using this recipe for a long time. ~ Doug
---
I've made tenderloins for years both on the smoker and not, but the use of Jeff's rub and sauce made them amazing.  my family loved them. ~ Kathleen
---
I think the above testimonies say it better than I ever could.
How can you argue with unsolicited testimonies sent in just because folks who purchased the recipes wanted to let me know how good they were?
You deserve the very best and it is completely within your grasp!
Only $18.95 and worth every penny.
Not only do you get the best rub recipe and sauce recipe available, you are supporting this website and helping to make sure the bills get paid so we can keep on doing what we do to teach thousands and thousands of people across the world the art of smoking meat.
Order Recipes | Read Testimonies
Smoking Meat: The Essential Guide to Real Barbecue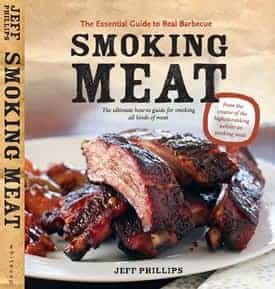 We have plenty of books at Amazon.com, Barnes and Noble, Books-a-Million, etc. Almost any store that sells books whether brick and mortar or online can get it for you within a few days even if they do not have it on the shelf. Get your copy today!
I am being told that most Barnes and Noble stores are now stocking the book.
Amazon.com | Barnes & Noble | Nook | iTunes
Amazon.com Orders
If you enjoy the newsletter and would like to do something helpful, you can do so without sending me a dime.
The next time you decide to order something at Amazon.com, use THIS LINK to get there and we'll get a small commission off of what you purchase.
Thank you in advance for using our special link: http://www.smoking-meat.com/amazon