Smoked cornish hens are not only perfectly sized so that each person gets their own "little chicken" but they are easy to smoke in just a few hours and they are amazingly delicious, tender and juicy when you follow my simple instructions.
Helpful Information
Prep Time: 10 minutes
Brine Time: 1.5 hours
Cook Time: 1.5 – 2 hours
Smoker Temp: 230-260°F
Meat Finish Temp: 165°F
Recommended Wood: Pecan
What You'll Need
Cornish (game) hens (1 per person + a few extra for the bigger appetites)
Brine (recipe below)
Mayonnaise
Get the Recipes for Jeff's Rub and Sauce
---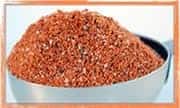 As you can see from the picture above, my rub adds a beautiful and delicious crust of flavor to the outside of the chicken. Combine this with an hour or two of brining and you won't believe that chicken can taste this good.
I promise you'll love my dry rub/seasoning recipe and my barbecue sauce recipe or you don't pay!
Reasons to buy: Support the newsletter and the website | Own "the recipes" | Get the email newsletter 100% AD FREE from now on | Includes the Texas style rub recipe

Step 1: Make Brine
Make a typical brine and, of course, you can add anything you like to it so feel free to "color outside of the lines" here.
My basic brine recommendation for 2 birds and 1/2 gallon of brine is the following:
1/2 gallon of cold water
1/2 cup of coarse kosher salt
1/2 cup brown sugar
Fill a gallon pitcher with cold water. Add the salt and stir until it is dissolved.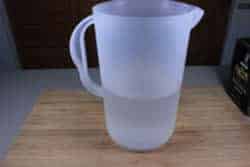 Add the brown sugar and once again stir until the sugar is dissolved into the water.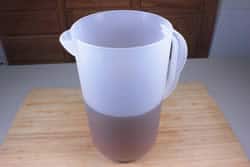 If you want to add herbs you will probably want to heat a pint of the water from the pitcher, add the herbs, let them simmer for a few minutes to extract the flavor then, let the water cool completely before adding it back into the brine solution.
Place the brine in the fridge to cool before adding the chickens.
Step 2: Brine the Birds
If the birds are frozen as they usually are, take them out of the freezer and put them in the fridge a couple of days before you plan to cook them.
Remove them from the plastic wrap and give them a good rinse under cold water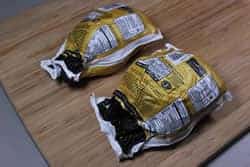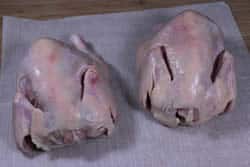 I used a 1-gallon pitcher but only made 1/2 gallon of brine so I simply dropped them down into the brining container.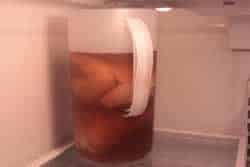 If you have more of the cornish hens, you will need to make more brine and use a larger container for the brining. A food grade bucket, container or even large zip top bags will work.
Place the birds in the container and pour enough brine over them to cover.
Place the container in the fridge for the entire time they are brining.
Step 3: Rinse and Dry
When the little chickens are finished brining (about 1.5 – 2 hours is usually plenty of time), remove them from the brine solution and rinse them really well under cold water.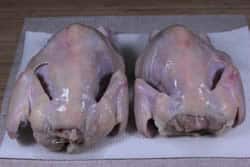 Pat them dry with a paper towel..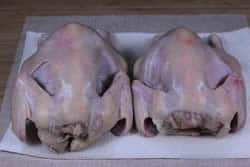 Optional
In order to help the skin to end up more crispy, consider drying the skin before adding the rub.
To dry the skin, place the hens into the fridge on a couple of folded paper towels for about 2 hours. Dryer skin will end up with more "bite thru" and won't have that chewy texture that is typical for smoked chicken.
Step 4: Add Seasoning
Mayonnaise is basically oil and egg and it is an excellent base for applying rub on poultry. Apply the mayo generously to the outside of the chicken.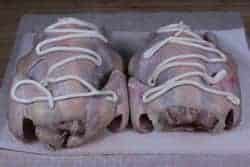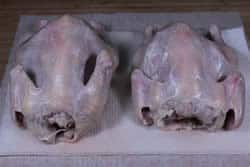 Sprinkle rub (purchase recipes here – xcasinobonuses) onto the chicken top, bottom, sides and anywhere else you can get it. If you are using my own rub recipe, you can be very generous with it due to the low salt.
Remember that this is a finger food and lots of my rub is a good thing.. while you are eating the chicken the delicious rub transfers from your fingers to the pieces of meat to your lips and the world is a happy place!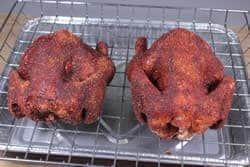 As always, I used my trusty Bradley racks to carry the cornish hens out to the smoker. The whole rack is laid on the smoker grate and this makes it easy to carry them back into the house once the meat is done cooking.
Step 5: Smoke
Set up your smoker for cooking with indirect heat at about 260°F if possible. The slightly higher temperature will get them done faster, helps to crisp the skin and still gives them about 90 minutes of smoke time.
If your smoker will not go above 225-230°F, that's not a problem, just plan on about 2 hours of cook time.
Place the cornish hens on the smoker grate breast side down. Keep the smoke going with pecan or your favorite smoking wood for at least an hour.
It is vital to monitor and check the temperature of the chicken. Every outdoor cook or chef should have a good digital meat thermometer. There are lots of good ones on the market and the ones I use right now are the Maverick ET-733 and the Thermapen for a quick and final check of all meat once it's done.
The Maverick ET-733 is wireless in that it checks the temperature of the meat and the smoker and sends the signal wirelessly to a monitor which you carry with you into the house or in your pocket wherever you are within about 300 feet of the smoker.
The Thermapen is a great tool to carry with you anytime you are cooking as it allows you to do a final check of all meat in the smoker. With readings in around 2 seconds you can quickly and easily check everything to make sure it is safely and properly done.
The hens are done when they reach 165°F in the thickest part of the breast and thigh.
Step 6: Serve
Serve the chickens by placing one on each plate with sides. Be sure to make a few extra for those who are extra hungry.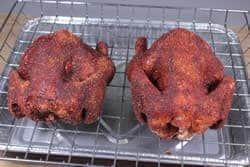 ***Note: you get the Texas style rub recipe free with your order!
If I could give these recipes away, I would do that. I really want you to have them! But, then, this is how I support the newsletter, the website and all of the other stuff that we do here to promote the art of smoking meat.
Read these recent testimonies:
"Love the sauce and rub recipes. So far I have used them on beef ribs, pork ribs, and different chicken parts. Can't wait to do a beef brisket. Texas rub is great as well!" ~Peter S.
"I tried the rub on a beef brisket and some beef ribs the other day and our entire family enjoyed it tremendously. I also made a batch of the barbeque sauce that we used on the brisket as well as some chicken. We all agreed it was the best sauce we have had in a while." ~Darwyn B.
"Love the original rib rub and sauce! We have an annual rib fest competition at the lake every 4th of July. I will say we have won a great percent of the time over the past 15 years so we are not novices by any means. However, we didn't win last year and had to step up our game! We used Jeff's rub and sauce (sauce on the side) and it was a landslide win for us this year! Thanks Jeff for the great recipes. I'm looking forward to trying the Texas style rub in the near future!" ~Michelle M.
You see the raving testimonies and you wonder, "Can the recipes really be that good?"
No worries! Make up a batch and if it's not as good as you've heard.. simply ask for a refund. Now that's a bargain and you know it. Let's review:
You decide you don't like the recipes.. you don't pay!
The recipes are absolutely amazing!
Once you order, there'll be no more recipe ads in the email version of the newsletter
Well.. what are you waiting for.. click on the big orange button below to order the recipes now.

I really, really appreciate the support from my newsletter friends and be sure to let me know if you have any questions about this.
Jeff's Smoking Meat Book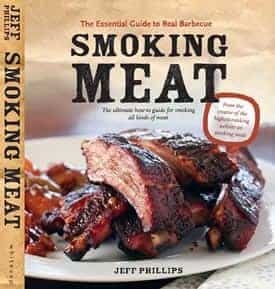 The book is full of recipes and contains tons of helpful information as well. Some have even said that "no smoker should be without this book"!
With more than 800 reviews on Amazon.com and a rating of 4.7 out of 5 stars, it comes highly recommended.
It is a Bestseller in Barbecueing & Grilling books on Amazon.
Amazon | Barnes & Noble | German Edition
Digital versions available via Nook | iTunes | Kindle
Get Almost Anything at Amazon
If you enjoy the newsletter and would like to do something helpful, then..
The next time you decide to order something at Amazon.com, use THIS LINK to get there and we'll get a small commission off of what you purchase.
Thank you in advance for using our special link: http://www.smoking-meat.com/amazon
Printable Recipe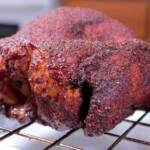 Print Recipe
Smoked Cornish Hens
Smoked cornish hens are not only perfectly sized so that each person gets their own "little chicken" but they are easy to smoke in just a few hours and they are amazingly delicious, tender and juicy when you follow my simple instructions.
Ingredients
Cornish

(game) hens (1 per person + a few extra for the bigger appetites)

Brine

(recipe below)

Mayonnaise

Jeff's original rub recipe
Instructions
Step 1: Make the Brine
Add 1 cup of salt to 1 gallon of cold water

Stir until the salt is dissolved

Add 1 cup of brown sugar and stir until sugar is dissolved.
Step 2:Brine the Birds
Rinse cornish hens under cold water

Place birds in food safe container such as a bowl or zip top bag

Pour brine over birds to cover

Place brining container with cornish hens into fridge for 1.5 hours

When brining time is elapsed, rinse birds under cold water

Pat dry with paper towel
Step 3: Season the Hens
Apply mayonnaise liberally to cornish hens

Sprinkle rub on top, bottom and sides of chickens
Step 4: Smoke 'Em
Set up smoker for cooking at 230 to 260°F. If you can maintain the higher temperature, the hens will only take about 1.5 hours. At the lower end, they will take about 2 hours.

Once smoker is ready, place birds on smoker grate breast side down
Step 5: Serve
Remove the chickens from the grate when they are done and place one cornish hen on each person's plate with sides.