Steve at Smokin-it sent me a 2D to use and review a while back and I have had a ton of fun using this awesome electric smoker.  I decided to use this smoker for the pan smoked shrimp in this recipe.
To say these smoked shrimp turned out great would be an understatement.. they were inspirational and awesome and the smokey flavor that happened upon these creatures of the gulf waters in that smoker is something you really have to experience.
Please note: In the pictures you will notice that I added some sliced sausage to make the shrimp go further but it's not featured in the text of this recipe. 
Helpful Information
Prep Time: 20 minutes
Marinate Time: 1 hour
Cook Time: 45-60 minutes (varies based  on size of shrimp)
Smoker Temp: 225°F
Meat Finish Temp: N/A
Recommended Wood: Hickory/Pecan
What You'll Need
2 lbs shrimp (colossal 16-22)
Jeff's original rub recipe (Purchase formula here | Purchase bottled rub)
1/4 cup parsley, chopped
1/2 poblano pepper, chopped (jalapeno also works great)
1 orange
1 lemon
2 sticks of butter (½ pound)
Peel and Devein Shrimp
If the shrimp are frozen, which is very likely, put them in a colander and run cold water over them until they are thawed. This should only take a few minutes.
Peel the shrimp and remove the vein that runs under the surface of the skin on the back of the shrimp. If you did not grow up doing this or do not have experience with this, you can probably find some videos online to make this a much easier learning experience.
I cut about ¼ inch into the back of the shrimp with a small knife. You can use the tip of the blade to remove the vein.
If you buy them locally and they are already shelled and/or deveined then you can save yourself some work, however, the best shrimp, in my opinion, are from the Texas gulf and are fresh and still in the shell.
Season and Marinate Shrimp
It is important to get the seasoning and/or marinade onto the shrimp several hours before you plan to cook them. There is nothing better than my original rub* on these shrimp so that is obviously what I highly recommend.
*Purchase formula here | Purchase bottled rub
Place the shrimp into a disposable aluminum pan.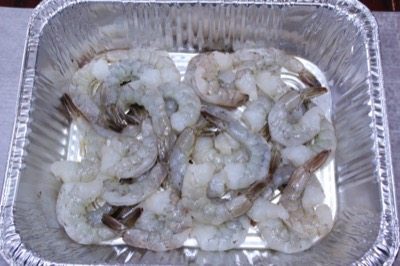 Sprinkle the top with my original rub*.
*Purchase formula here | Purchase bottled rub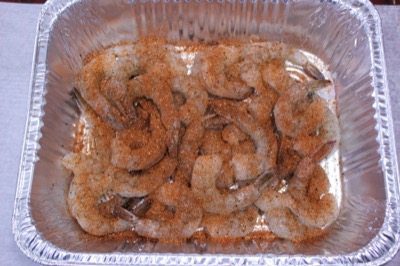 Toss the shrimp or you can just manually turn each one over to ensure a more even coverage.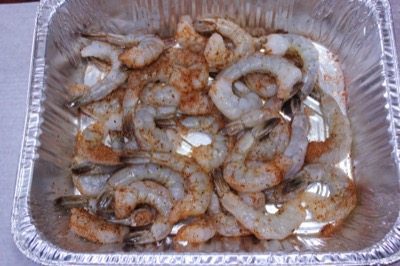 Sprinkle my original rub* on the shrimp again making sure all of them are well coated.
*Purchase formula here | Purchase bottled rub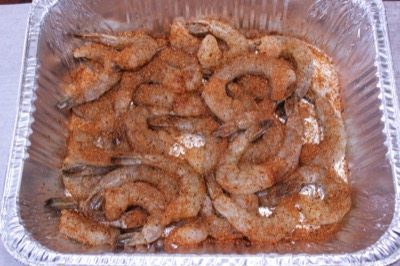 Chop the poblanos, jalapeños or whatever pepper you choose to use depending on how spicy you want it to be. My favorite is jalapeño but if you have tender mouths eating, poblanos are a milder option.
Add the chopped peppers to the top of the shrimp.
Note: You can also use about 2 TBS of red pepper flakes if you prefer.
Chop ¼ cup of parsley and add half of it to the top of the shrimp.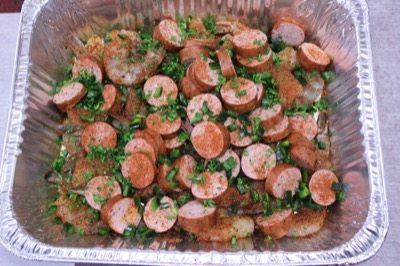 Cut the lemon and orange in half and squeeze the juice from the halves onto the shrimp.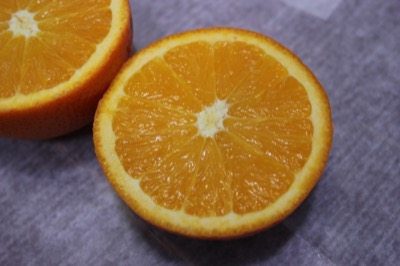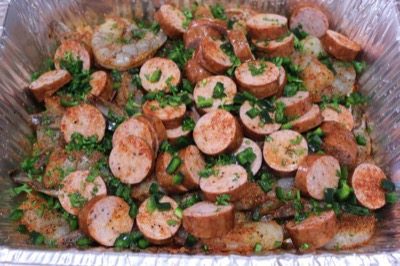 Give the shrimp a good toss and place the shrimp in the fridge for about 2 hours to marinate.
Add the Butter
I never said this recipe was healthy and butter is a very important ingredient in this recipe. I have not tried using artificial butters so if you need to do that, proceed cautiously.
One thing to remember is that most of the butter stays in the pan in the end, not on the shrimp.
I used 2 sticks (½ pound) initially and realized that it needed another stick (¼ pound) to cover properly. If you don't use sausage in yours, 2 sticks may be plenty.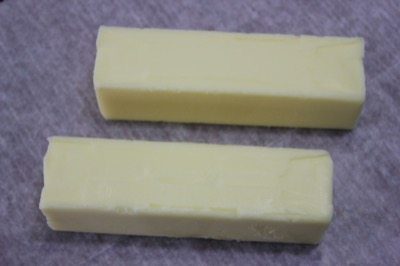 Melt the butter in a pan on the stove or in the microwave to make it easier.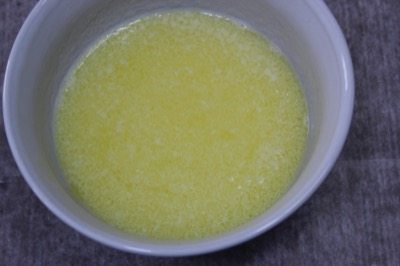 Pour the melted butter over the shrimp, add another sprinkling of my original rub* and it's ready for the smoker.
*Purchase formula here | Purchase bottled rub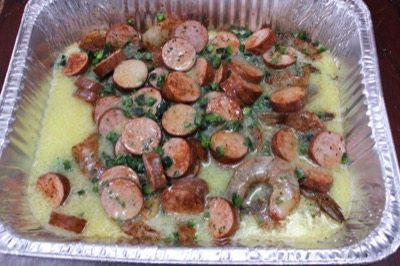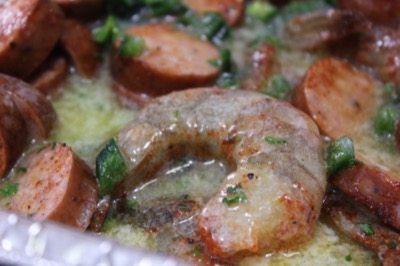 Smoke the Shrimp
Setup your smoker for cooking at about 220°F using indirect heat.
If your smoker has a water pan, fill it with hot water. For the Smokin-it 2D electric smoker, I placed a small rectangular pan of water on the floor of the smoker right next to the wood box and only 1 chunk of hickory wood.
These shrimp will only take about an hour if you keep the heat really low so no need to overdo the smoke.
Once the smoker is ready, place the pan of shrimp in the smoker and close the door/lid.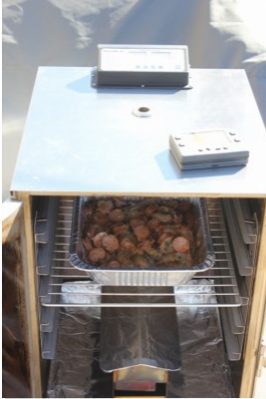 In the Smokin-it 2D, I used a pan that was quite a bit smaller than the grate so the heat could easily flow around the pan. I also placed the pan in the upper third of the smoker so the heat would be further away from the bottom of the pan.
Check the smoked shrimp at about 35-40 minutes into the cooking session so as to not overcook them.
When the flesh is slightly opaque (no longer transparent) and the tail has turned pink, they are done. When you bite into it, it should be crisp, not rubbery.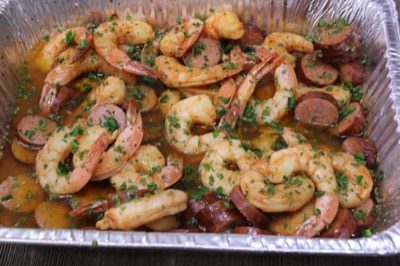 Finish and Serve
Garnish with the remaining chopped parsley just before serving.
Serve immediately as an appetizer with the barbecue cocktail sauce (below) or with a side or two if you want to make it an entree.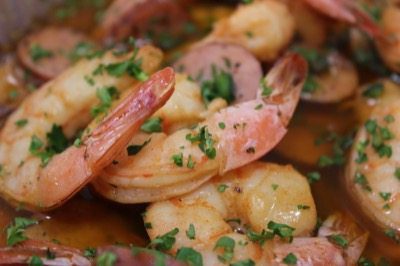 Jeff's Barbecue Shrimp Cocktail Sauce
Mix until well blended.
Notes: I really like horseradish, if you don't like it as much as I do, you might want to start with 1 TBS, taste it, then add more to taste.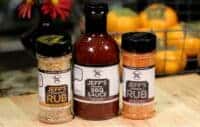 Please note that my rubs and barbecue sauce are now available in 2 formats– you can
purchase the formulas
and make them yourself OR you can
buy them already made
, in a bottle, ready to use.
Purchase the
Formulas
 for Jeff's Rub and Sauce
***Note: you get the Texas style rub recipe free with your order!
If I could give these recipes away, I would do that. I really want you to have them! But, then, this is how I support the newsletter, the website and all of the other stuff that we do here to promote the art of smoking meat.
Read these recent testimonies:
I recently purchased both recipes. The files did not come thru right but Jeff was prompt to get it fixed. I tried them both last weekend and they were a huge hit. I followed his burnt ends recipe to the letter and my neighbors thought I was some master chef! Thanks Jeff!  -Susan T.
Thank you for the great advice. Followed your rib recipe and everyone loved them. Used your rub and sauce. On point!  -Charles W.
Love the sauce and rub recipes. So far I have used them on beef ribs, pork ribs, and different chicken parts. Can't wait to do a beef brisket. Texas rub is great as well!  -Peter S.
Love the original rib rub and sauce! We have an annual rib fest competition at the lake every 4th of July. I will say we have won a great percent of the time over the past 15 years so we are not novices by any means. However, we didn't win last year and had to step up our game! We used Jeff's rub and sauce (sauce on the side) and it was a landslide win for us this year! Thanks Jeff for the great recipes. I'm looking forward to trying the Texas style rub in the near future!  -Michelle M.
I tried the rub on a beef brisket and some beef ribs the other day and our entire family enjoyed it tremendously. I also made a batch of the barbeque sauce that we used on the brisket as well as some chicken. We all agreed it was the best sauce we have had in a while.  -Darwyn B.
You see the raving testimonies and you wonder, "Can the recipes really be that good?"
No worries! Make up a batch and if it's not as good as you've heard.. simply ask for a refund. Now that's a bargain and you know it. Let's review:
You decide you don't like the recipes.. you don't pay!
The recipes are absolutely amazing!
Once you order, there'll be no more recipe ads in the email version of the newsletter
Well.. what are you waiting for.. click on the big orange button below to order the recipes now.
I really, really appreciate the support from my newsletter friends and be sure to let me know if you have any questions about this.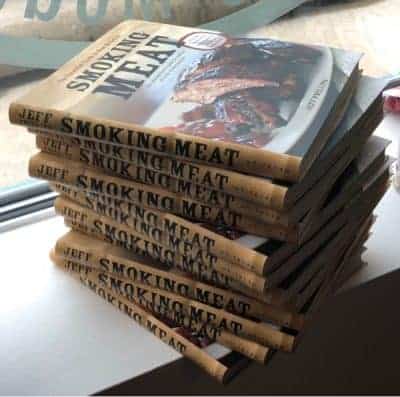 The book is full of recipes and contains tons of helpful information as well. Some have even said that "no smoker should be without this book"!
With more than 900 reviews on Amazon.com and a rating of 4.7 out of 5 stars, it comes highly recommended.
It is a Bestseller in Barbecueing & Grilling books on Amazon.
Thin Blue Foods Store | Amazon | Barnes & Noble | German Edition
Get Almost Anything at Amazon
If you enjoy the newsletter and would like to do something helpful, then..
The next time you decide to order something at Amazon.com, use THIS LINK to get there and we'll get a small commission off of what you purchase.
Thank you in advance for using our special link: http://www.smoking-meat.com/amazon
---
Printable Recipe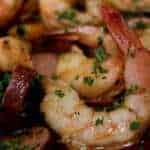 Print Recipe
Pan Smoked Shrimp with Butter
These smoked shrimp are reminiscent of shrimp scampi with a highly seasoned, smoked flavor. Easy to make and it's great as an entree or an appetizer.
Ingredients
2

lbs

shrimp

colossal 16-22

1/4

cup

Jeff's original rub

(purchase recipes here)

1/4

cup

parsley

chopped

1/2

poblano pepper

chopped (jalapeno also works great)

1

orange

halved

1

lemon

halved

3

sticks

butter

¾ pound
Instructions
Peel and devein shrimp.

Place shrimp into a foil pan.

Add ¼ cup of chopped parsley to the top of the shrimp.

Add ½ chopped poblano or 1 chopped jalapeno to the top of the shrimp.

Cut the lemon and orange in half and squeeze the juice from the halves over the shrimp.

Sprinkle about 2 TBS of Jeff's original rub onto the shrimp.

Turn the shrimp over or just toss them with a spoon.

Sprinkle another 2 TBS of Jeff's original rub onto the top of the shrimp.

Give the shrimp another toss and place the pan into the fridge for 2 hours to marinate.

Melt 2 sticks of butter and pour it over the shrimp. If you need more to cover better, melt another stick.

Set up the smoker for cooking at about 220°F using indirect heat.

Keep a light hickory or pecan smoke going for at least 30 minutes.

Check the shrimp after 40 minutes to make sure they aren't getting done to quick. When shrimp are done, the flesh will be slightly opaque (no longer transparent) and the shell will be pink to bright pink. The bite should be crisp, not rubbery.

Serve immediately when finished.