Nearly every New Years day and St. Patrick's day season, the corned beef briskets show up in stores and I start getting emails about smoked corned beef brisket or making homemade pastrami.
Pastrami is simply a corned beef brisket seasoned with a special blend of spices and then smoked until tender. In this variation, I am going to show you how to amp up the flavor with my original rub (Purchase formula here | Purchase bottled rub) and finish with a tasty horseradish mustard sauce.
It'll be the best smoked corned beef brisket you've ever had.. I have no doubts!
Helpful Information
Prep Time: 10 minutes
Cook Time: 4-6 hours
Smoker Temp: 225-240°F
Meat Finish Temp: 195°F
Recommended Wood: Hickory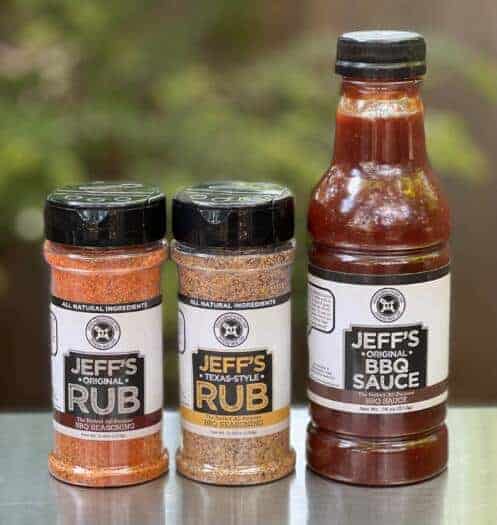 Please note that my rubs and barbecue sauce are now available in 2 formats– you can
purchase the formulas
and make them yourself OR you can
buy them already made
, in a bottle, ready to use.
Picking Out the Best One
When you go to purchase a corned beef brisket, there will be every size and shape and weights ranging from 2.5 to 4 lbs usually with most of them right around 3 pounds.
Look for one that is of even thickness side to side and end to end and has a nice fat cap of about ¼ inch thick.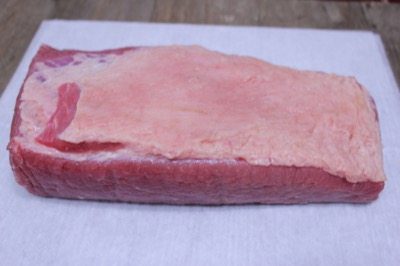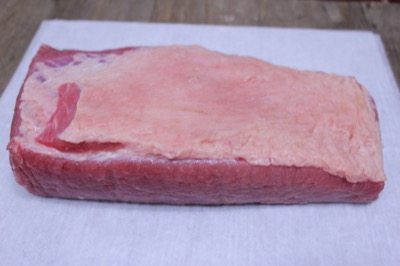 Soaking to Remove Some Salt (optional)
Corned beef briskets are very salty and if you like it that way, then you can skip this step but if you want to remove some of that salt, it's pretty easy to do by simply soaking it in cold water in the fridge for several hours.
Change out the water every 30-45 minutes.
The longer you soak, the more salt is removed but typically 3-4 hours is plenty.
Prep the Corned Beef Brisket
I don't use the seasoning packet that is often included in the package but if you want to use it, do so before you add the rub and rub it all over the meat to get even distribution of the spices, herbs and seeds.
If you see any clumps or patches of fat on the corned beed brisket other than the on the fat cap side, you might consider removing it with a sharp knife. It's not something you have to do but it will improve the aesthetics and I am of the persuasion that we eat with our eyes as much as anything else so it's important for the end product to look as good and "well put together" as it possibly can.
Now we are ready to season the meat, place it fat cap down on a cutting board or down in a pan to contain the mess.
Add the Seasoning
Apply a good coat of horseradish mustard such as Dijon, Grey Poupon, etc. onto the top and sides of the brisket (fat cap side is down).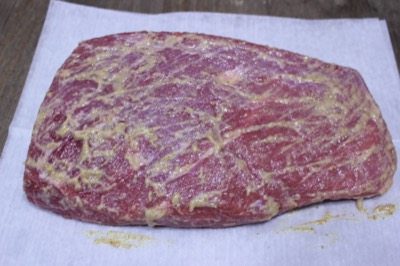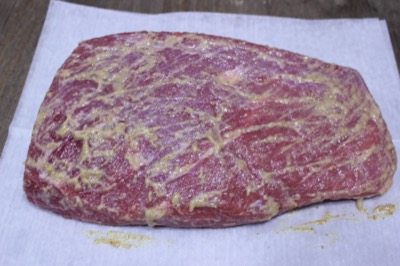 Sprinkle Jeff's original rub (Purchase formula here | Purchase bottled rub) liberally onto the top and sides of the brisket and pat it into place lightly with your hands or a fork but do not rub it in. We want to create a nice flavorful crust.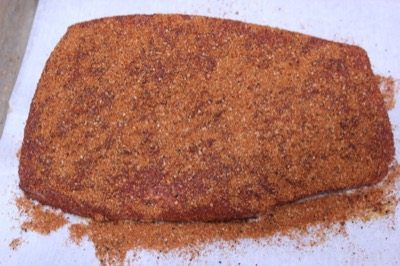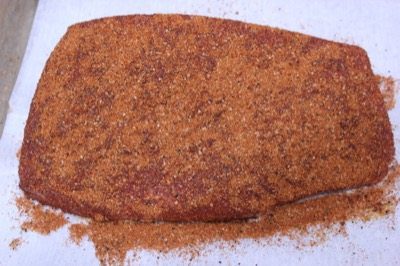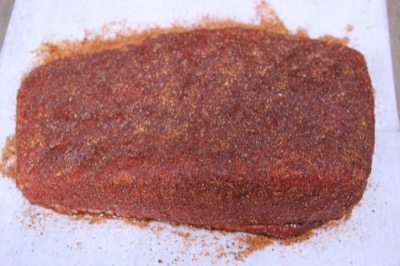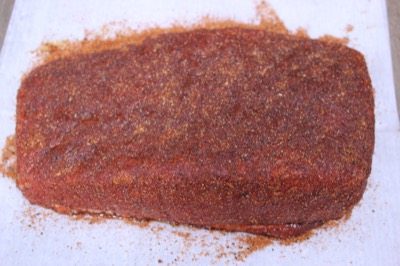 Turn the meat over carefully to fat cap side up.
Repeat the horseradish mustard and Jeff's original rub (Purchase formula here | Purchase bottled rub) on the fat cap side.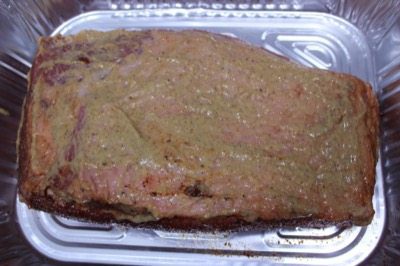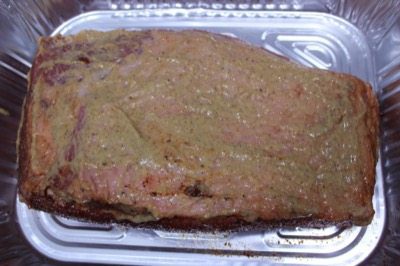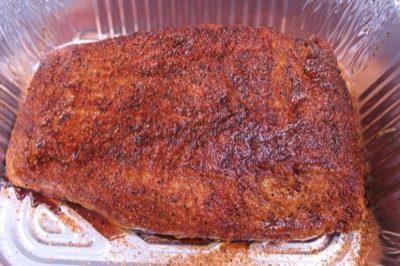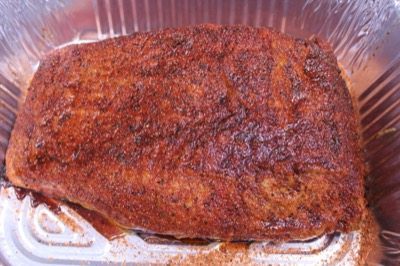 The corned beef brisket flat is ready to go into the smoker.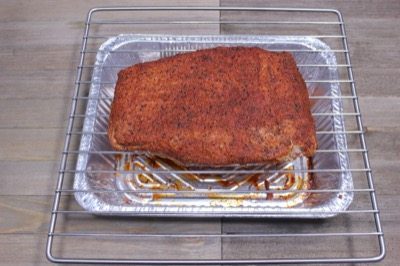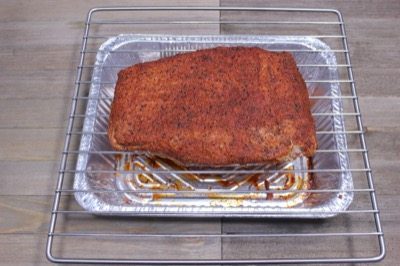 I did mine the night before so it went over a pan, fat cap up, and into the fridge ready to go into the smoker the next morning.
Smoke Time
Place the meat directly on the rack or you can leave it on a pan with rack, a cooling rack or a grill pan depending on what is convenient for you.
If you're using a smoker with multiple racks, you might consider placing the meat on an upper rack with a pan just below it to catch drippings.
Allow the meat to cook in the smoker for about 3 hours or until it reaches 140°F in the thickest part of the meat.
I use the "Smoke" thermometer by Thermoworks almost exclusively to monitor temperature.
You can continue to add smoke throughout this initial smoke time.
Braise in Foil
When the corned beef brisket has reached 140°F and has been cooking for about 3 hours (varies by meat thickness), it is time to do some braising to tenderize the meat.
The horseradish mustard really goes well with the smoked corned beef and in this variation, I have mixed the horseradish mustard with equal parts of my barbecue sauce (Purchase formula here | Purchase bottled sauce). This was so good I was licking the spoon.. of course, I love horseradish so the new combination of flavors was amazing!
Use about ½ cup of Jeff's original barbecue sauce (Purchase formula here | Purchase bottled sauce) with about ½ cup of the horseradish mustard and stir to combine. Make a little extra if you want extra for using later on a sandwich.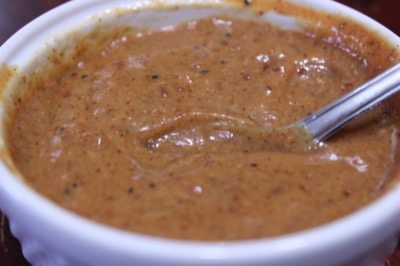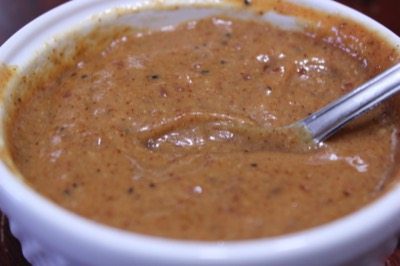 Lay down a pad of the mustard in the bottom of a foil pan and lay the meat, still fat cap up, onto the mustard.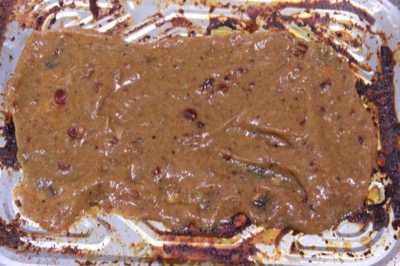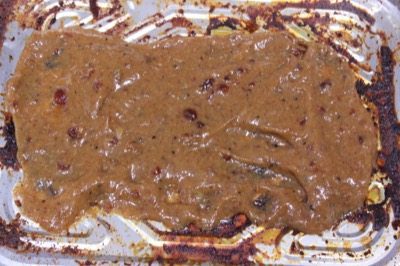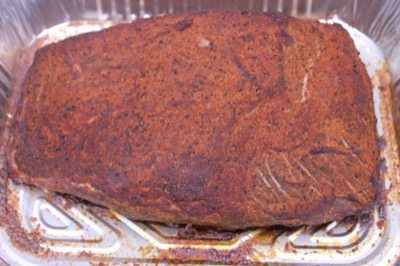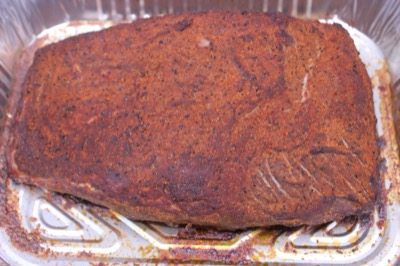 Brush a good layer of the mustard sauce onto the top of the fat cap as well. Be generous!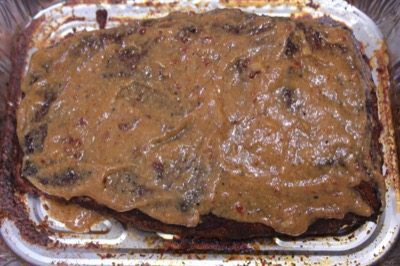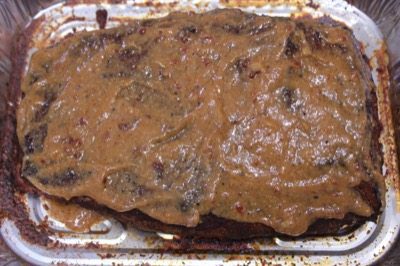 Cover the top of the pan tightly with foil and place it back into the smoker. The oven can also be used in this last stage of the process since the meat is covered in foil.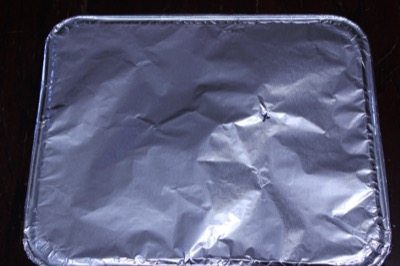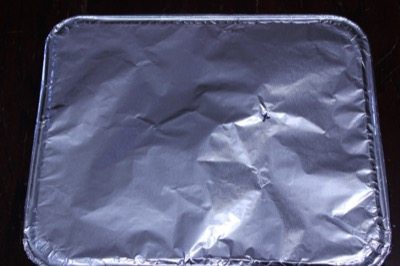 Note: It is important to continue monitoring the temperature of the meat so make sure a probe is inserted into the thickest part of the meat and that the foil is sealed around the probe wire. You can also place a small hole in the foil top to push the probe through.
With the meat covered in foil, there is no need to continue adding smoke, maintain the heat at 225-240°F until the thickest part of the meat reaches about 195°F.
Rest and Slice
Let the meat rest for at least 30 minutes or up to an hour in the foil with a thick towel laid over the foiled top or you can leave it in the smoker or oven at 140-170°F during the resting period if you so desire.
Remove the meat from the pan and onto a cutting board or plate.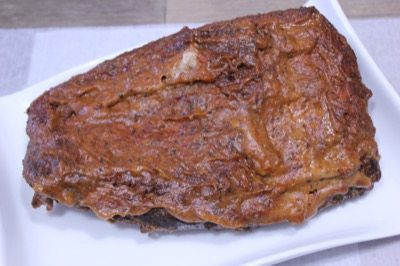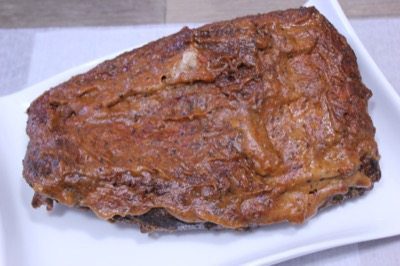 Slice into pieces the thickness of a pencil and across the grain for best results.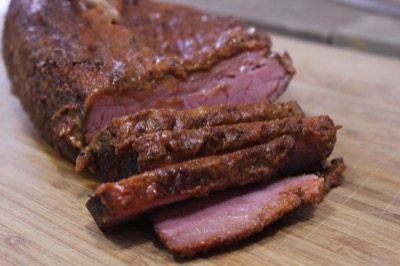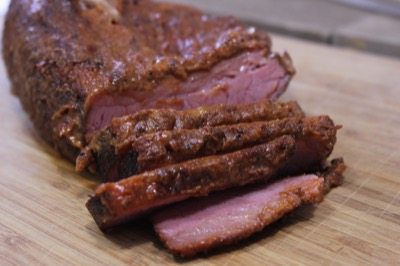 Serve.
Order Jeff's Rubs and Barbecue Sauce TODAY!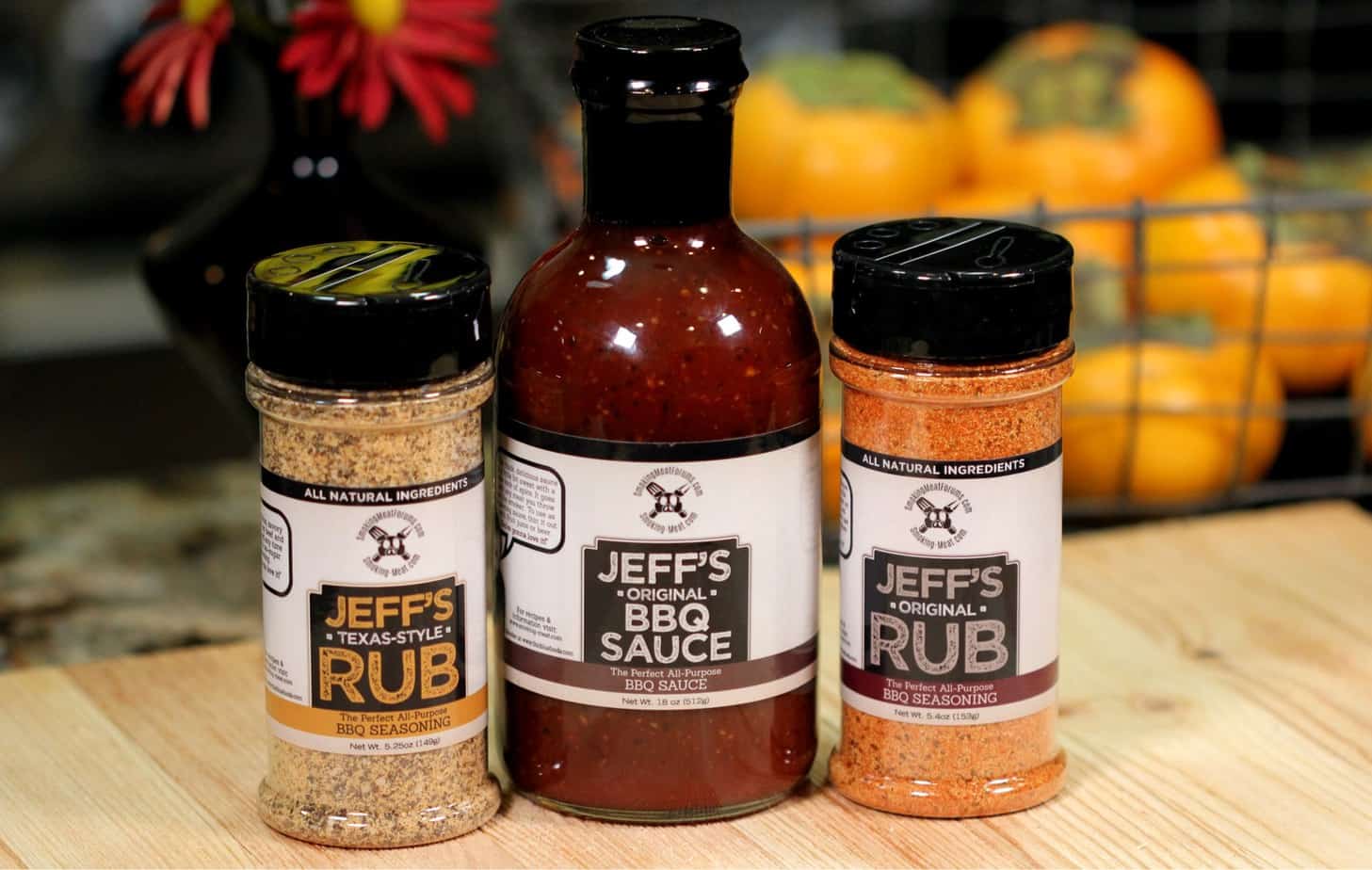 ✅ If you haven't ordered my rubs or sauce yet you can do that HERE. They are the best thing you've ever tasted and it's a great way to support what we do!
We ship blazingly fast and orders over $50 ship free!
You can also order the formulas for my rubs and sauce and make these yourself at home. Grab those HERE and download immediately.
Jeff's Smoking Meat Books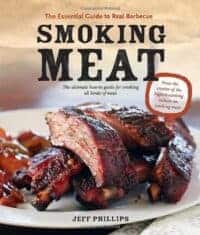 Smoking Meat: The Essential Guide to Real Barbecue – The book is full of recipes and contains tons of helpful information as well. Some have even said that "no smoker should be without this book"!
With more than 1000 reviews on Amazon.com and a rating of 4.7 out of 5 stars, it comes highly recommended and is a Bestseller in Barbecuing & Grilling books on Amazon.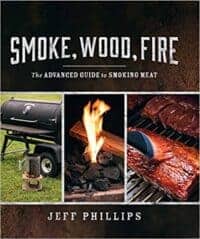 Smoke, Wood, Fire: The Advanced Guide to Smoking Meat – Unlike the first book, this book does not focus on recipes but rather uses every square inch of every page teaching you how to smoke meat. What my first book touched on, this second book takes it into much greater detail with lots of pictures.
It also includes a complete, step-by-step tutorial for making your own smoked "streaky" bacon using a 100 year old brine recipe.
Get Almost Anything at Amazon
If you enjoy the newsletter and would like to do something helpful, then..
The next time you decide to order something at Amazon.com, use THIS LINK to get there and we'll get a small commission off of what you purchase.
Thank you in advance for using our special link: http://www.smoking-meat.com/amazon
---
Printable Recipe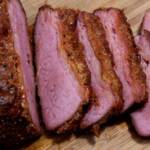 Print Recipe
Smoked Corned Beef Brisket for New Years
Why not make smoked corned beef brisket this New Years day and it's so easy you'll probably find yourself doing this throughout the rest of the year as well.
Ingredients
3-4

lb

Corned beef brisket flat

Horseradish mustard

(((Dijon, etc.)))

Jeff's original rub

Jeff's original barbecue sauce

Stainless steel or foil pan
Instructions
Remove the corned beef brisket from the package.

To remove extra salt, soak the meat in cold water in the fridge, changing out the water every 30 minutes.

Three to four hours should be plenty of soak time to remove the extra salt.

Remove any excess fat on the non fat cap side of the brisket.

Coat the entire corned beef brisket with horseradish mustard then apply Jeff's original rub liberally to all sides.

Pat the rub down as it is applied rather than massaging it in.

Set up smoker for cooking at 225°F with hickory smoke.

Place the corned beef brisket on the smoker grate and smoke cook for 3 hours or until it reaches 140°F in the center of the thickest part.

Make a mustard sauce by mixing equal parts of Jeff's original barbecue sauce with horseradish mustard such as Dijon or Grey Poupon.

Create a pad of mustard in the bottom of a pan and lay the meat on the pad fat cap side up.

Brush more of the mustard sauce onto the fat cap and cover tightly with foil.

Place the meat back into the smoker at 225°F and continue cooking until it reaches 195°F in the thickest part.

Let the meat rest under foil for 30 minutes then slice pencil thick and serve.