Smoked tomahawk steaks are a thick, flintstone-like hunk of ribeye with the "handle" still attached and they taste just as awesome as they look right out of the smoker!
I make no bones about it, these steaks are easy to cook if you follow these instructions and you'll be the steak master in your neighborhood for years to come!
Be sure to use my one and only Texas style rub (Purchase formula here | Purchase bottled rub) just before placing them in the smoker if you really want to knock the socks off =)
Helpful Information
Prep Time: 10 minutes
Dry Brine Time: 4 hours
Cook Time: 1.5 – 2 hours
Smoker Temp: 225-240°F
Meat Finish Temp: 130-135°F (medium rare)
Recommended Wood: Pecan/Cherry Mix
---
We are running a limited-time 
25% off sale on the DOWNLOADABLE RECIPES
.
Click HERE
to purchase the instantly downloadable
recipes (formulas)
 for both of my rubs and barbecue sauce at an unbeatable discount. Somebody pinch me! Or better yet, just
go get them
😉
Note: The coupon should be automatically applied OR use SM25 during checkout if necessary.
About Smoked Tomahawk Steaks
These are simply rib eye steaks cut on each side of the bone with the "handles" still attached. It ends up looking like a tomahawk and thus the name was born.
You won't likely see these in your local grocery store but the butcher will cut them this way for you if you ask.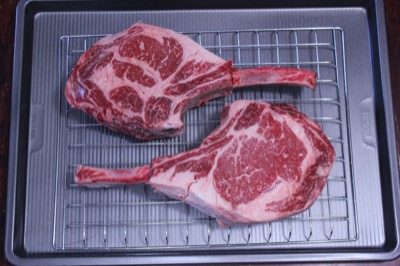 Dry Brine These Bad Boys
As with any good beef steak, it's a great idea to dry brine them before serving. I've talked about this on many occasions but it's worth repeating.
Dry brining introduces salt to the interior of the steak. You sprinkle it on the top, it draws steak juices to the surface where it mixes with the salt to create a slurry. The salty liquid is then pulled into the steak and that's all there is to it!
To dry brine, you simply lay the steaks flat down, sprinkle them with coarse kosher salt and place them in the fridge for an hour or two. The thicker the steak, the longer I like to leave them.
I don't usually measure it but rather eyeball it however, professional chefs recommend ½ teaspoon of kosher salt per pound of meat. These tomahawks normally weigh in at about 2 lbs each so about 1 teaspoon of kosher salt should do it if you want to measure. Since we'll do both sides, you can do ½ teaspoon per side.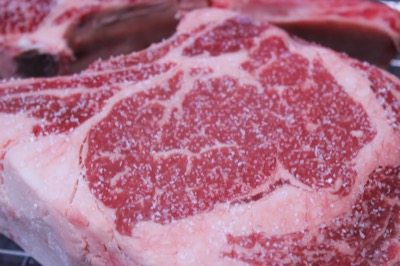 These are about 2.5 inches thick so I recommend 2 hours on each side for best results.
Place the meat onto a Bradley rack or cooling rack placed over a large pan to catch any liquid that might drip off and then into the fridge for 2 hours.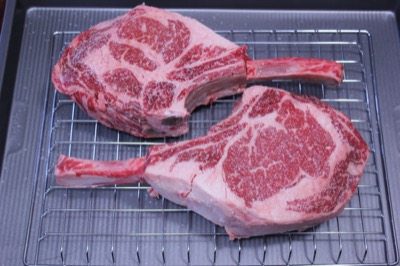 At the end of 2 hours, remove the meat from the fridge, flip it over and repeat the dry brining process on the reverse side then back into the fridge for another 2 hours.
Please note, the steak will not be salty and there is no need to rinse. It's enough salt to really bring out the flavor but it won't be overly salty at all.
It's now ready to be seasoned and cooked.
Season with the Texas Style Rub
My Texas style rub (Purchase formula here | Purchase bottled rub) is a perfect combination of salt and pepper with additional spices that compliment the beef and bring out the very best in it. Fortunately, it doesn't have a lot of salt so you can use it in moderation with the dry brining and still not oversalt the meat. You'll see what I mean once you use it.
Apply a little olive oil to the top and sides of the tomahawk steaks.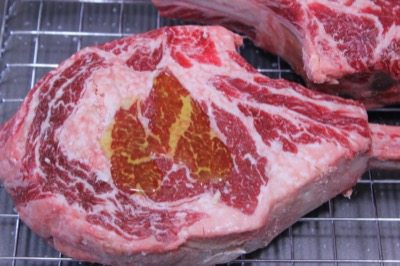 Sprinkle the Texas style rub (Purchase formula here | Purchase bottled rub) onto the top of the steak and rub it in/spread it around with your hands. Pull some of it onto the sides of the steak as well.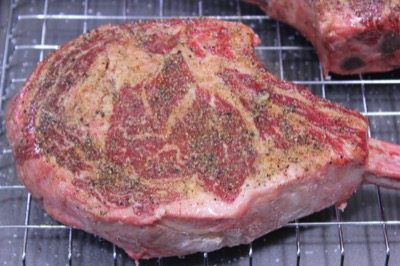 Flip the steaks over and do the same Texas style rub (Purchase formula here | Purchase bottled rub) seasoning on the reverse side.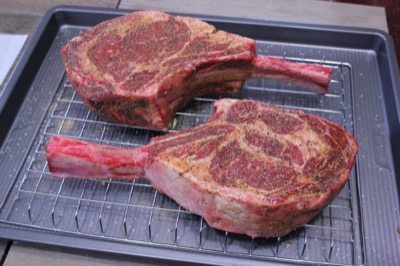 The steaks are now ready for the smoker.
Smoke them to 100-110°F
Set up the smoker for cooking at about 225°F with indirect heat. If your smoker has a water pan, fill it with water.
I used a mix of pecan and cherry wood for smoke. Any good smoking wood will work fine.
Once the smoker is ready, place the steaks directly on the smoker grate.
Let the steaks smoke cook until they reach an internal meat temperature of 100-110°F, I highly recommend using a leave-in thermometer such as the "Smoke" by Thermoworks to monitor the temperature while the steaks cook. You can also just watch them very carefully and use a Thermapen to check the temperature every 30 minutes or so. Once it gets close, you'll need to check it more often.
This should take about 1.5 hours at 225°F.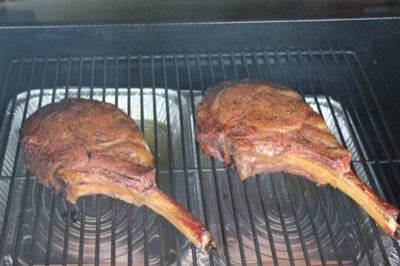 Reverse Sear to Medium Rare
Before the steaks are finished cooking, fire up the grill or even a charcoal chimney starter so you can reverse sear these once they have reached the target temperature of 100-110°F.
Note: You can also reverse sear these on both sides in the oven under the broiler if that is easier or the only option you have available. Be sure to place the steaks on a pan to prevent grease from dripping onto the bottom of the oven.
Once again, monitor the temperature carefully using a leave-in thermometer such as the "Smoke" by Thermoworks or by using a quick reading digital thermometer such as the Thermapen.
Once the steaks are the color you like and have reached your desired level of doneness (medium rare or less is best) remove them from the heat immediately.
I usually shoot for 138°F based on my family's preference.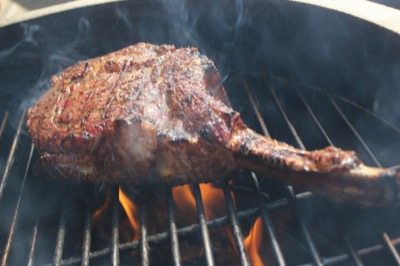 Rest for 10 Minutes
Sit the finished steaks on the cabinet top with foil tented over it for about 10 minutes to rest. This allows the juices in the meat to redistribute throughout the entire steak.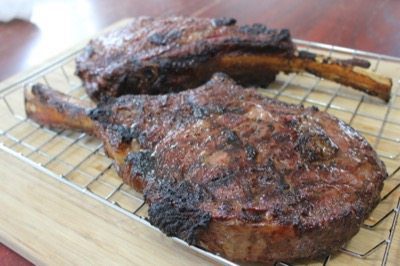 Serve and Be Proud
Slice the meat into thin pieces that are about ¼ inch thick or the thickness of a pencil. (I somehow failed to get pictures of the glorious edge to edge medium rare that was produced in the smoker.. it was so beautiful I had tears in my eyes!)
Well, don't just stand there.. let the hungry crowd dig in!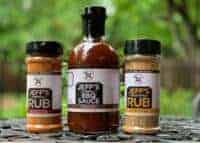 Please note that my rubs and barbecue sauce are now available in 2 formats– you can
purchase the formulas
and make them yourself OR you can
buy them already made
, in a bottle, ready to use.
---
Don't Miss This Special Deal on the Rub/Sauce Recipes (Formulas)
CLICK HERE to get a whopping 25% off when you order the recipes for Jeff's rubs and barbecue sauce! Great Deal!
Purchase the
Formulas
 for Jeff's Rub and Sauce
***Note: you get the Texas style rub recipe free with your order!
If I could give these recipes away, I would do that. I really want you to have them! But, then, this is how I support the newsletter, the website and all of the other stuff that we do here to promote the art of smoking meat.
Read these recent testimonies:
I recently purchased both recipes. The files did not come thru right but Jeff was prompt to get it fixed. I tried them both last weekend and they were a huge hit. I followed his burnt ends recipe to the letter and my neighbors thought I was some master chef! Thanks Jeff!  -Susan T.
Thank you for the great advice. Followed your rib recipe and everyone loved them. Used your rub and sauce. On point!  -Charles W.
Love the sauce and rub recipes. So far I have used them on beef ribs, pork ribs, and different chicken parts. Can't wait to do a beef brisket. Texas rub is great as well!  -Peter S.
Love the original rib rub and sauce! We have an annual rib fest competition at the lake every 4th of July. I will say we have won a great percent of the time over the past 15 years so we are not novices by any means. However, we didn't win last year and had to step up our game! We used Jeff's rub and sauce (sauce on the side) and it was a landslide win for us this year! Thanks Jeff for the great recipes. I'm looking forward to trying the Texas style rub in the near future!  -Michelle M.
I tried the rub on a beef brisket and some beef ribs the other day and our entire family enjoyed it tremendously. I also made a batch of the barbeque sauce that we used on the brisket as well as some chicken. We all agreed it was the best sauce we have had in a while.  -Darwyn B.
You see the raving testimonies and you wonder, "Can the recipes really be that good?"
No worries! Make up a batch and if it's not as good as you've heard.. simply ask for a refund. Now that's a bargain and you know it. Let's review:
You decide you don't like the recipes.. you don't pay!
The recipes are absolutely amazing!
Once you order, there'll be no more recipe ads in the email version of the newsletter
Well.. what are you waiting for.. click on the big orange button below to order the recipes now.
I really, really appreciate the support from my newsletter friends and be sure to let me know if you have any questions about this.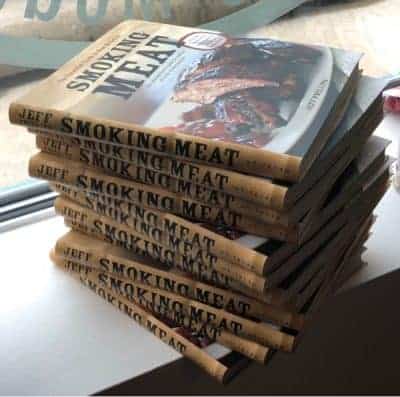 The book is full of recipes and contains tons of helpful information as well. Some have even said that "no smoker should be without this book"!
With more than 900 reviews on Amazon.com and a rating of 4.7 out of 5 stars, it comes highly recommended.
It is a Bestseller in Barbecueing & Grilling books on Amazon.
Thin Blue Foods Store | Amazon | Barnes & Noble | German Edition
Get Almost Anything at Amazon
If you enjoy the newsletter and would like to do something helpful, then..
The next time you decide to order something at Amazon.com, use THIS LINK to get there and we'll get a small commission off of what you purchase.
Thank you in advance for using our special link: http://www.smoking-meat.com/amazon
---
Printable Recipe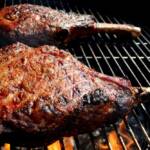 Smoked Tomahawk Steaks: Reverse Seared to Perfection
Smoked tomahawk steaks are a thick, flintstone-like hunk of ribeye with the "handle" still attached and they taste just as awesome as they look right out of the smoker!
What You'll Need
Tomahawk steaks

Coarse kosher salt

(for dry brining)

Olive oil

(helps the rub to stick to the meat better)

Jeff's Texas style rub

(instant download)
Instructions
Sprinkle coarse kosher salt onto the top side of the tomahawk steaks.

Set the steaks on a cooling rack over a large pan in the fridge for 2 hours to let the salt melt and soak in.

Flip the steaks over and repeat the salt and fridge time for 2 hours on the reverse side.

Brush olive oil onto the top and sides of the steak and season liberally with Jeff's Texas style rub. Repeat the oil and seasoning on the reverse side of the steaks and they are ready for the smoker.

Preheat the smoker to 225°F and once it's ready, place the steaks directly on the smoker grate.

Let the steaks cook for about 1.5 hours or until they reach 1100-110°F in the center.

At this point, sear the steaks on a hot grill, over live coals or under the broiler of your oven. The idea is to get a good browning on the outside of the steaks for flavor.

Let the steaks rest under tented foil for 10 minutes then slice ¼ inch thick and serve.