This double smoked ham injected and basted with rum sauce or maple sauce will probably be one of the best thing you'll taste for a long time to come and it is so completely holiday worthy whether it's Easter, Thanksgiving, Christmas or any day of the year.
There is no time to waste.. let's get to it!
Important Information
Prep Time: 20 minutes
Cook Time: 3 hours
Smoker Temp: 225°F
Meat Finish Temp: 140°F
Recommended Wood: Hickory, Pecan, Cherry (I use a mix but all of these stand alone just as well)
What You'll Need
Injecting the Ham
First you'll need to mix up the rum sauce (or maple sauce if you prefer).
Tip: You might want to double the recipe so you'll have enough to brush or drizzle onto the finished ham slices once it's all done.
Rum Sauce for Injecting into Ham
You'll need:
1/3 cup of rum
1/3 cup of brown sugar (I prefer dark but light will work fine)
1/4 lb (1 stick) butter
Pour the rum into a small sauce pan over low heat. Add the butter and let it melt while you stir it around. Add in the brown sugar and let it dissolve while you continue to stir. Once everything is melted and dissolved and warm, remove from the heat.
Do not let the sauce boil or you will end up making candy.
---
Maple Sauce for Injecting into Ham
Very similar to the rum sauce except you leave out the rum and only use 2 TBS of brown sugar:
1/3 cup of Maple syrup (the real stuff)
2 TBS brown sugar (I prefer dark but light will work fine)
1/4 lb (1 stick) butter
Pour the maple syrup into a small sauce pan over low heat. Add the butter and let it melt while you stir it around. Add in the brown sugar and let it dissolve while you continue to stir. Once everything is melted and dissolved and warm, remove from the heat.
Do not let the sauce boil or you will end up making candy.
Injecting the Sauce into the Ham
Once the rum sauce is finished, it is ready to inject into the ham.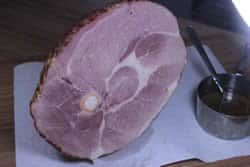 Warning: I highly recommend wrapping the ham in plastic wrap. When you inject it, some of the sauce will squirt out of unsuspected places in a geyser-like fashion and up to 5 feet away– Ask me how I know! 😉
With the ham wrapped in plastic, fill the injector with the warm sauce and inject as much as you can at 1 inch intervals. Some of it will leak out but much of it stays in there and flavors the inside of the ham.
For those who are not familiar with injecting, push the needle into the meat at a 45 degree angle and slowly pull it out of the meat as you depress the plunger.
The injector that I've been using for years and highly recommend can be found on Amazon..the needle is bigger than most and things like coarse pepper, garlic pieces, etc, will not stop it up. You can check it out HERE.
When the injecting is finished, remove the plastic.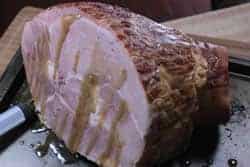 Seasoning the Ham
Now that you have flavored up the inside of the ham, you will also want to do something to the outside as well.
I recommend using my original rub*.
Brush a little of the rum or maple sauce onto the ham to make it nice and sticky then sprinkle the original rub* all over the outside of the ham.
*Purchase formula here | Purchase bottled rub
You will notice that I placed the injected ham on a Bradley rack to make it easy to transport to and from the smoker.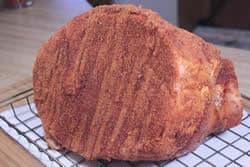 At the point, the ham is ready for the smoker.
Getting the Smoker Ready
You can use whatever smoker you have or even a grill with an indirect setup.
I love to use the Camp Chef Woodwind SG pellet smoker for this awesome double-smoked ham recipe but any smoker will work great as long as it can maintain the temperature adequately.
About the Camp Chef Woodwind SG
Pellet smoking is an ALL WOOD method of smoking.. like a big stick burner, the heat comes from burning real wood and the smoke is just something that naturally happens when you burn wood. There is nothing more "real" than using real wood to cook and smoke your food.
Here is just a few of the features that makes the Camp Chef Woodwind a great smoker to own and use for all of your outdoor cooking:
An ash cup on the bottom of the unit to catch the ashes and make cleanup a lot easier. I am pretty particular and still vacuum out the smoker but you certainly don't have to do that often with this added feature.
A chute opens on the bottom side of the hopper so you can dump the pellets into a container and replace them with a different flavor (nice!).
A 2nd cooking shelf comes standard. You just can't have too much shelf space in my opinion.
Comes with a propane powered sear box capable of 900°F that attaches to the right side of the unit. This allows you to sear burgers, steaks, chicken, etc. once they are done cooking. You could also just use it to cook steaks or other meats at very high heat.
Contains a mechanism that lets you move the flame deflector out of the way while you are cooking so some of that fire can come up through the slotted drip pan and put some direct heat on what you are cooking. Not as effective as the sear box but very nice nonetheless.
3 year warranty and free shipping ain't a bad feature either!
Did I mention that the fire pot where the pellets burn is made from stainless steel.. it will probably outlast me!
Many of you have let me know that you purchased this pellet grill due to my recommendation and that you are having the time of your life using it. I love hearing how you are having fun with your smoker! I only recommend smokers that I love to use and if I love to use it, I just naturally think that you will too.
If you are looking for an easy to use smoker that burns REAL WOOD for heat and smoke, that's versatile enough to smoke, bake, barbecue, grill and even sear, then look no further. This grill is for YOU!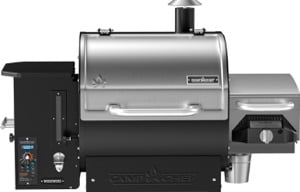 Back to Setting Up the Smoker..
Preheat to about 225°F and when it's holding steady, place the ham directly on the grate.
Smoking the Ham
Apply heat and smoke for about 3 hours or until the internal temperature of the ham reaches 140°F.
If your smoker is having no trouble maintaining the set temperature, consider brushing on rum or maple sauce a couple of times while it smokes.
If it happens to be cold out and your smoker loses heat easily then it is best to leave the door or lid closed as much as possible. In this case, it is fine to brush on some of the rum or maple sauce one time about 30 minutes before the ham is finished.
Serving the Ham
Let the ham rest for about 15-20 minutes then slice it up into 1/4 inch thick pieces piled onto a nice platter.
If you have extra sauce, consider brushing or drizzling some onto the pieces that are sliced.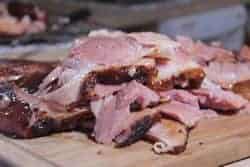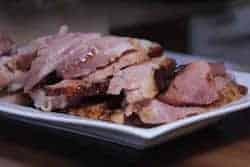 Disclaimer: If you use the rum sauce, I must tell you that not all of the alcohol cooks out of the sauce during the brief warming period and during the time in the smoker. Rum adds a lot of nice flavor but there is still trace amounts of alcohol present when it is being served.
The maple sauce is an excellent alternative and contains no alcohol.
Get the Digital Recipes for Jeff's Rub and Sauce
***Note: you get the Texas style rub recipe free with your order!
If I could give these recipes away, I would do that. I really want you to have them! But, then, this is how I support the newsletter, the website and all of the other stuff that we do here to promote the art of smoking meat.
Read these recent testimonies:
"Love the sauce and rub recipes. So far I have used them on beef ribs, pork ribs, and different chicken parts. Can't wait to do a beef brisket. Texas rub is great as well!" ~Peter S.
"I tried the rub on a beef brisket and some beef ribs the other day and our entire family enjoyed it tremendously. I also made a batch of the barbeque sauce that we used on the brisket as well as some chicken. We all agreed it was the best sauce we have had in a while." ~Darwyn B.
"Love the original rib rub and sauce! We have an annual rib fest competition at the lake every 4th of July. I will say we have won a great percent of the time over the past 15 years so we are not novices by any means. However, we didn't win last year and had to step up our game! We used Jeff's rub and sauce (sauce on the side) and it was a landslide win for us this year! Thanks Jeff for the great recipes. I'm looking forward to trying the Texas style rub in the near future!" ~Michelle M.
You see the raving testimonies and you wonder, "Can the recipes really be that good?"
No worries! Make up a batch and if it's not as good as you've heard.. simply ask for a refund. Now that's a bargain and you know it. Let's review:
You decide you don't like the recipes.. you don't pay!
The recipes are absolutely amazing!
Once you order, there'll be no more recipe ads in the email version of the newsletter
Well.. what are you waiting for.. click on the big orange button below to order the recipes now.

I really, really appreciate the support from my newsletter friends and be sure to let me know if you have any questions about this.
Jeff's Smoking Meat Book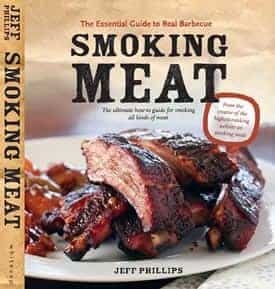 The book is full of recipes and contains tons of helpful information as well. Some have even said that "no smoker should be without this book"!
With more than 800 reviews on Amazon.com and a rating of 4.7 out of 5 stars, it comes highly recommended.
It is a Bestseller in Barbecueing & Grilling books on Amazon.
Amazon | Barnes & Noble | German Edition
Digital versions available via Nook | iTunes | Kindle
Get Almost Anything at Amazon
If you enjoy the newsletter and would like to do something helpful, then..
The next time you decide to order something at Amazon.com, use THIS LINK to get there and we'll get a small commission off of what you purchase.
Thank you in advance for using our special link: http://www.smoking-meat.com/amazon