Hello and welcome to this edition of the smoking meat newsletter! Over the years, I have had a lot of questions concerning the use of a brine on pork ribs and while I have brined ribs, the results were inconclusive and I wanted to take another stab at it.
I decided to use a coffee brine to give the ribs some added dimension and I even went so far as to introduce some coffee grounds into my original rub (purchase recipes here) to bring some cohesiveness to the flavors.
If you haven't tried it, coffee is an excellent flavor to add to meats and the coffee flavor definitely came through in these smoked baby back ribs.
Important Information
Prep Time: 45 minutes
Brine Time: 4-6 hours
Cook Time: 5 hours
Smoker Temp: 225°F
Meat Finish Temp: 195-200°F
What You'll Need
Get the Recipes for Jeff's Rub and Sauce
---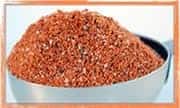 My rub recipe and sauce recipe was designed for pork ribs and when you see how easy they are to make and how amazing they taste, you'll wonder why you waited so long.
I promise you'll love my dry rub/seasoning recipe and my barbecue sauce recipe or you don't pay!
Reasons to buy: Support the newsletter and the website | Own "the recipes" | Get the email newsletter 100% AD FREE from now on | Includes the Texas style rub recipe

Brining the Ribs
Make the coffee brine using:
However you make your coffee in the morning will work. I used a Keurig coffee maker and just made several cups and poured them in until I had enough. (quick and easy)
Pour the coffee into a tall pitcher then mix in the salt, sugar and rub and stir real well until everything is dissolved. Some of the ingredients in my rub recipe will not dissolve but they will leach great flavors into the brine.
Once the brine is made, add a few cubes of ice to cool it down and set it aside.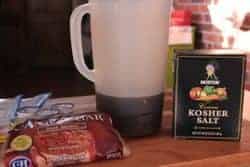 Remove the ribs from the packaging and give them a good rinse under cold water.
Lay them on the cutting board.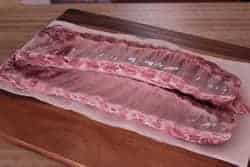 Remove that thick plastic-like skin on the back called the membrane
Note: Here's a new and better way to remove the membrane on ribs:
Pry up the skin in the middle of the rack of ribs and pull straight up once you have a good firm grip on it.
Use your other hand to hold down on the rack of ribs.
Tears less and comes off a lot easier.
Note: You can also use catfish pliers to pull the membrane from the ribs.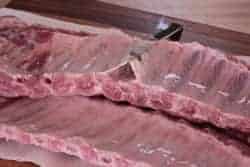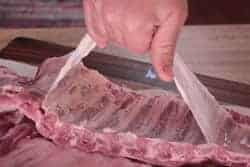 Once the membrane is off, they are ready to go into the brine.
I like to cut the ribs in half when I am brining them to make them fit into gallon-sized bags.
This also makes them easy to work with.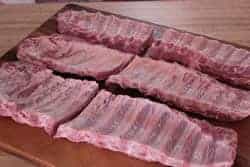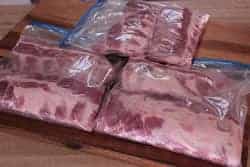 Once the ribs are in the bags, pour enough brine into each one to cover the ribs.
Seal them up pressing out as much air as possible.
Lay them in a pan in case you get a leaker.
Note: I am only brining (2) of these racks of ribs. The 3rd rack of ribs will remain un-brined and will be used as a taste comparison once they are all done cooking.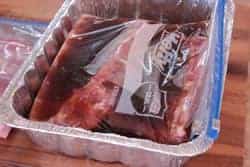 Place the pan of ribs in the fridge for 4-6 hours with 6 hours being better if you can do it.
Once the ribs are finished brining, remove them from the brine.
Discard the brine.
Rinse the ribs under cold water and lay them bone side up on Bradley racks, Weber grill pans or cooling racks set on paper towels to drain.
The racks/pans make it real easy to prepare the ribs and then carry them out to the smoker without having to handle them too much.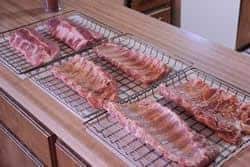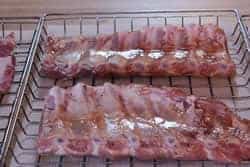 Preparing the Ribs for Smoking
If you have plenty of time, you can apply my rub directly to the wet ribs. If you are in a hurry, apply a light coat of mustard first to help the rub to stick.
I had plenty of time 😉
Be generous with my original rub (purchase recipe here) and you'll be very, very happy later.
Bone side first then wait until it starts looking wet (so it won't fall off) then flip them over meaty side up.
Apply rub generously to the meaty side and once again leave them alone until they start getting that "wet" look.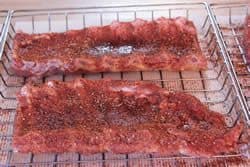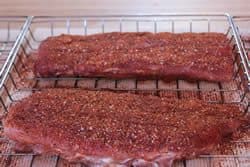 Want to go a little further with the coffee theme?
Mix it together real well and ta-da!
I think you WILL like it!
Upper bag is my regular rub recipe, the lower one has coffee added to it. You can see the difference
Folks have been adding coffee grounds to meat rubs for a very long time but I just tried this recently with my very own rib rub recipe and it really works well with the coffee brined ribs.
Once the ribs are rubbed down real well, they are ready to go on the smoker and get the royal treatment!
Smoking the Ribs
Ribs are pretty versatile and they can be made to turn out really good regardless of whether you have a really expensive rig, an old junker that you found at a yard sale or anywhere in between.
Maintain about 225-240°F indirect heat and apply smoke and you are good to go.
Heres the plan, you can just put the ribs on the grate, smoke them for about 5 hours and they will be very good but I do have  a lot of folks who ask me how to get that really, tender rib where the meat easily pulls free from the bone.
Just remember 2-2-1 when you want a slab of super tender baby back ribs
And I'll walk you through this easy process.
Step 1 – Place the Bradley racks or Weber grill pans with the ribs on the smoker grate and let them cook for 2 hours with plenty of smoke (apple is recommended). You can also just place the ribs directly on the smoker grate.
Step 2 – Wrap the ribs in foil (or place them in a foil pan and cover tightly with foil) Add ¼ inch of liquid to the pan to create a little steam. (apple juice, water, chicken broth, coffee, almost anything) Place back in the smoker at 225-240°F for 2 hours. No smoke is needed since they are wrapped up.
Step 3 – Remove from pan or foil and place them back in the smoker on the Bradley racks and let them cook for an additional hour to firm them up a little and form a little bark (that delicious brown stuff on the outside of meat that's been cooked or grilled.). Smoke is optional.
Alternative for Step 3 – Throw them on a very hot grill and let the high heat give them a good char. Paint on some barbecue sauce if you like sticky ribs. I usually do a rack of sticky ribs and a rack of just dry rubbed ribs to suit everyone's taste.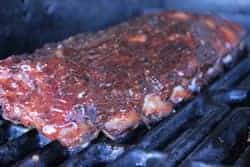 Finishing up
When the ribs are finished, you should see some good pullback of the meat from around the bones and they should be as tender as you like them.
If you have a high quality thermometer like a Thermapen or a ThermoPop that has a  tapered tip, you can check the meat of these ribs right between the bones. 195°F is about perfect tenderness.
Cut them up into individual pieces and call dinner.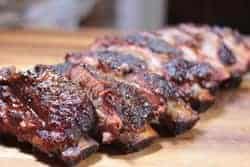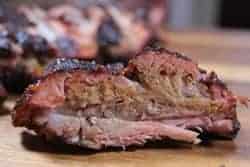 Serving the Ribs
These ribs never even made it to the table. The folks at my house grabbed meaty ribs and threw down bones like a bunch of barbarians. I have to admit, I had a few or 9 myself!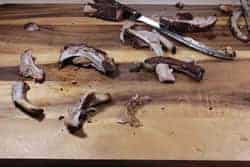 Final Comments
The brined ribs were better textured and more moist than the non-brined ones which is what one would expect.
I could taste the coffee but it was subtle and while it did not overpower the taste of the ribs, it did give them some extra depth which I enjoyed.
I think you could probably brine these overnight if you wanted to with no problem
The brining process did not make them salty in the least.
If you try this, I'd like to hear about it if you get a chance.
***Limited Time Offer***
Get 25% off the RECIPES for Jeff's Rub and Sauce
Use coupon code
SM25
during checkout
***Note: you get the Texas style rub recipe free with your order!
If I could give these recipes away, I would do that. I really want you to have them! But, then, this is how I support the newsletter, the website and all of the other stuff that we do here to promote the art of smoking meat.
Read these recent testimonies:
"Love the sauce and rub recipes. So far I have used them on beef ribs, pork ribs, and different chicken parts. Can't wait to do a beef brisket. Texas rub is great as well!" ~Peter S.
"I tried the rub on a beef brisket and some beef ribs the other day and our entire family enjoyed it tremendously. I also made a batch of the barbeque sauce that we used on the brisket as well as some chicken. We all agreed it was the best sauce we have had in a while." ~Darwyn B.
"Love the original rib rub and sauce! We have an annual rib fest competition at the lake every 4th of July. I will say we have won a great percent of the time over the past 15 years so we are not novices by any means. However, we didn't win last year and had to step up our game! We used Jeff's rub and sauce (sauce on the side) and it was a landslide win for us this year! Thanks Jeff for the great recipes. I'm looking forward to trying the Texas style rub in the near future!" ~Michelle M.
You see the raving testimonies and you wonder, "Can the recipes really be that good?"
No worries! Make up a batch and if it's not as good as you've heard.. simply ask for a refund. Now that's a bargain and you know it. Let's review:
You decide you don't like the recipes.. you don't pay!
The recipes are absolutely amazing!
Once you order, there'll be no more recipe ads in the email version of the newsletter
Well.. what are you waiting for.. click on the big orange button below to order the recipes now.
***Limited Time Offer***
Use coupon code
SM25
 during checkout

I really, really appreciate the support from my newsletter friends and be sure to let me know if you have any questions about this.
Jeff's Smoking Meat Book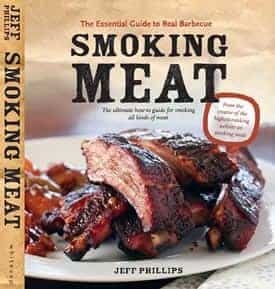 The book is full of recipes and contains tons of helpful information as well. Some have even said that "no smoker should be without this book"!
With more than 800 reviews on Amazon.com and a rating of 4.7 out of 5 stars, it comes highly recommended.
It is a Bestseller in Barbecueing & Grilling books on Amazon.
Amazon | Barnes & Noble | German Edition
Digital versions available via Nook | iTunes | Kindle
Get Almost Anything at Amazon
If you enjoy the newsletter and would like to do something helpful, then..
The next time you decide to order something at Amazon.com, use THIS LINK to get there and we'll get a small commission off of what you purchase.
Thank you in advance for using our special link: http://www.smoking-meat.com/amazon