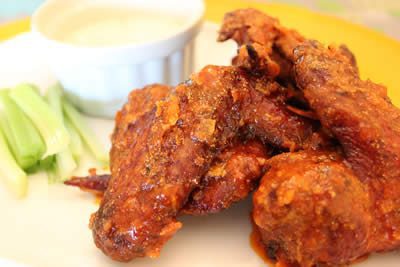 Hello friends and welcome to this edition of the smoking meat newsletter. I have been pondering this month's newsletter topic off and on for the past while and I just wasn't sure when to fit it in but I knew that I wanted to really bad. Well this past week I attended our annual SMF Gathering in N. Florida just outside of Tallahassee and one of the guys (BamaFan from SMF) smoked up some of these and I knew I just couldn't contain it any longer.. I had to show you folks how I do this. The ones I ate in Florida were absolutely delicious and he obviously has his process worked out very well.
I'm referring to smoked hot wings. It's one of my favorite things to eat and I almost always ask my wife to make hot wings on my birthday.
It's easy to see that I like them made the traditional way – fried up and covered in hot sauce and I eat them fairly often that way but since I'm constantly looking for new ways to use the smoker, this just sort of made sense to me;-)
I've essentially taken something that is already great and made it a whole lot better with some smoke. As I mentioned before, there are a few folks that do this, but I started doing this before I knew if anyone else did them or not so I'm just going to walk you through my own personal process.
If you have a different way of doing it and you want to share, feel free to shoot me an email.
You will want my recipes for this..

As always, you are welcome to put your own twist on these instructions if you wish, but if you want to do them exactly like I do it and ensure that they will turn out wonderful and ready for that next party or get together, then my rub recipe and sauce recipe are the thing to use to get the perfect balance of flavor on these hot wings.
Order the recipes for my rub and sauce and you'll see exactly what I mean.. it's a small price for such a big wow;-)
My Previous Newsletter:

Smoked Lamb Shanks – An Excellent Easter Meal!
I must admit that lamb has never been my most favorite meat and probably never will be but the smoke flavor that I incorporated into these, made them better than any lamb I've ever eaten previously. I think you will find these quite enjoyable and especially if you love lamb and want to do something traditional for the Easter holiday meal.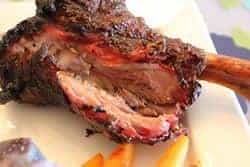 ---
Join Me on Facebook and Twitter!

I'd love to have you follow me on Twitter or join me on Facebook. We just hit 10,000 followers a few weeks ago and we are on the way to 20,000 soon. Tell all your friends about us as well. Here are a couple of links to make that happen:
Follow me on Twitter
Join me on Facebook (Click the "Like" button at the top of the page once you get there)
---
Smoked Hot Wings.. OMG (Oh my Goodness!)

Purchasing the Meat
This part is not rocket science.. I try to find meat that is labeled as "MINIMALLY PROCESSED" but other than that, it's chicken wings and there just aren't a lot of options where I'm from.
Be sure to buy the full sized wings, not the little drumettes. You can buy the smaller ones if you like but I think the full sized wings work best for smoking and they actually look like wings instead of little chicken legs.
Preparation
To prepare the wings for smoking, I like to put some of my rub recipe on them. As many of you know, my rub does not have a lot of salt so it works really well as a layer of flavor even if you are planning to add some sauce or something later. The easiest way to add the rub to the chicken wings is to use a jumbo sized zip-loc bag. This one is 2.5 gallon that I found at Wal-mart.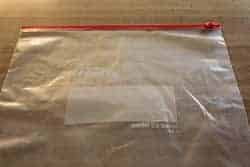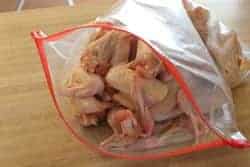 Feel free to use the store-brand of cooking oil, pour about 1/4 cup or so over the top of the chicken wings in the bag. (I used canola oil). Use more oil if you need it to make sure all of the chicken is coated with a thin layer of oil so the rub will stick.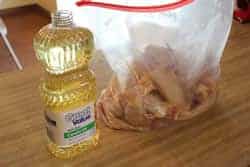 My rub works best when you put it into a shaker with large holes at the top. Perfect for shaking onto ribs, chicken, or whatever.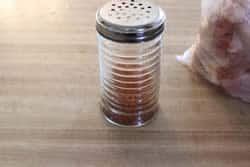 Sprinkle on about 1/4 cup of my rub recipe to start with then toss and roll the wings around in the bag until the wings are well coated. Depending on how many wings you are making, you may need more rub. Feel free to use as much as you like, but I wouldn't go to crazy with it since you do want to minimize burning plus we are just adding a layer of flavor. We will also be adding sauce later for another flavor layer. Once the rub is on all of the wings, I pour them out into a pan for easy transport to the smoker.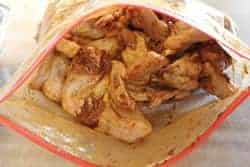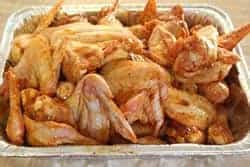 Get the Smoker Ready
This is the variable that just depends on what you have available. I opted to use my WSM 22.5 for these wings but the hot wings work very well in a wood smoker as well as gas or electric so use what you have available and it will work just fine.
No matter what type of smoker you are using, do what is required to get it up to about 250 degrees. I cook very few things on the smoker at more than 225-230 degrees but chicken is one of those things that does not benefit so much from the low heat. The only benefit of the low heat is that it takes it a lot longer to cook which gives it more time in the smoke. This equates to more smoke flavor and that is always a good thing in my opinion.
What kind of wood you decide to use is up to you.. I used a stick of pecan but you could do very well using mesquite, cherry, apple, oak, or hickory.
For the WSM, I filled the charcoal chamber about 1/3 full of charcoal and placed a piece of fire starter on the very top. I let this burn with all vents full open for about 20 minutes before proceeding.
I then, placed the water pan into it's place and filled it with 1 gallon of warm water. I placed the bottom grate into it's place right over the water pan and then put the lid on the smoker with the top vent full open.
I planned to use the bottom grate as well as the top grate for cooking so no use putting the top grate on just yet.
Once the smoker has reached about 220, I start adjusting the vents a little to allow it to settle in nicely at about 250 degrees. This is something that can only be learned by practice. For mine, all 3 vents are open about 1/4 of the way to hold 250 for the amount of charcoal that I used.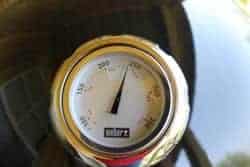 Smoking the Hot Wings
I placed about 15 of the hot wings on the bottom grate, skin side up. Then I added the top grate and put the rest of the wings on the top grate.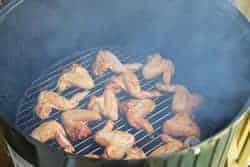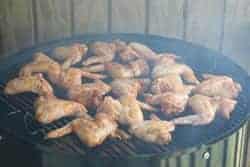 After about 1 hour and 15 minutes the chicken wings have reached 165 degrees and they are technically done.
Use a digital probe meat thermometer to tell you when the wings are done to a safe temperature (165 degrees F)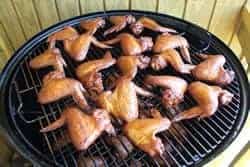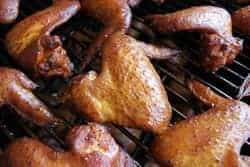 Here's where it gets crazy.. you have a decision to make: sauce them and eat them now or take a little extra time to roll them in flour and do a fry on them then sauce them.
Here is how to do the 2 different processes:
Method #1
Sauce them and Eat Them as they Are
Once the wings are done cooking/smoking, make some of my special wing sauce using the recipe below:
Jeff's Special Wing Sauce

– 1 cup of Jeff's barbecue sauce recipe
– 1/2 cup of Franks RedHot Original Sauce
– 1 stick of melted butter
Note: if you like them a little hotter you can add more of Franks Original sauce to taste. This has a little kick but it may be too mild for those of you who like it really spicy.
Instructions:
Add the ingredients together and mix well.
Brush this mixture on each wing liberally and let them continue cooking for about 20 minutes to help caramelize the sauce a little. At this point they are ready to eat. Serve immediately with blue cheese and celery sticks. I like to have a little of the sauce on hand in case folks want more.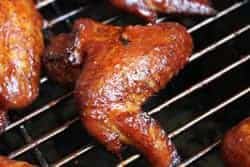 Presto! Ready to Eat.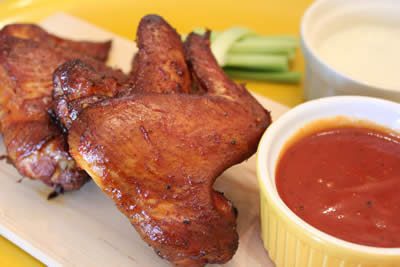 Method #2 (My personal favorite)
Rolled in Flour, Fried and Tossed in Sauce
Once the wings are finished cooking/smoking, bring then into the house quickly. You should already have a deep heavy frying pan or skillet filled up with about 1.5 – 2 inches of oil and preheated for about 10 minutes on medium-low to medium heat. (The chicken is already done so the only goal is to fry the breading on the outside and crisp the skin a little.)
Dip the wings in milk, then roll in the flour mixture* then immediately into the hot oil for about 2 to 3 minutes per side or until they are golden brown. Fry in batches and place into a pan or baking sheet in preheated oven (warm or 200 degrees) to keep them warm until all of the wings are finished.
*flour mixture is 2 cups of all purpose flour, 1 cup of cornmeal, 1 TBS of salt, 1 TBS of black pepper.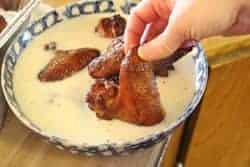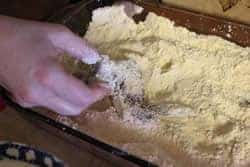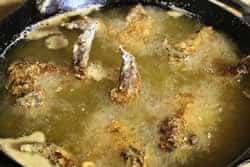 Once the wings are golden brown, place them in a large bowl and pour the Jeff's Special Wing Sauce from the recipe above in method #1 over them. Toss the wings to coat.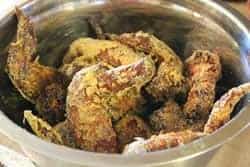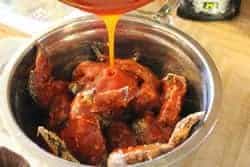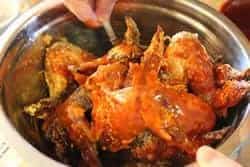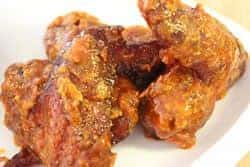 Serve immediately with celery and blue cheese dressing.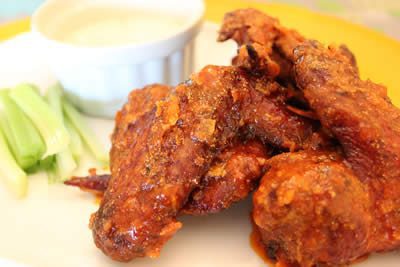 Quick Recap (Preparation and Smoking)
Place wings in large zip loc bag
Pour 1/4 cup of canola oil over wings and toss to coat
Pour 1/4 – 1/2 cup of Jeff's rub recipe over wings and toss to coat
Pour wings into pan for easy transport to smoker
Prepare smoker for cooking/smoking at 250 degrees for about 1 to 1.5 hours
Place wings directly on grate skin side up
Wings are finished cooking once they reach 165 degrees in thickest part.
Using Method #1 (Smoke, Brush on sauce and Eat)
Make Jeff's Wing Sauce per the recipe above
Brush on sauce and continue to cook for about 20 minutes
Serve wings with celery and blue cheese dressing
Using Method #2 (Smoke, Roll in Flour mixture, Fry, Toss in sauce and Eat)
Preheat oven to warm setting or 200 degrees
Put a baking sheet on center rack once oven is warm. (ready for wings)
Preheat 1.5 to 2 inches of oil in large skillet for 10 min over med-low to med heat
Dip wings in milk
Roll in flour mixture (2 cup AP flour, 1 cup corn meal, 1 TBS each of salt/pepper)
Fry in batches for 2-3 minutes per side or until golden brown
Place fried wings in oven on baking sheet to keep warm until all wings are finished
Make a double/triple batch of Jeff's Wing Sauce depending on how much you need
Place wings from oven into large bowl once all are finished
Pour Jeff's Wing Sauce over wings and toss to coat
Serve with celery and blue cheese dressing
Notes: If you decide to use method #1 and the skin is not crispy enough for you, place them in under the broiler for a few minutes. Watch them very carefully so they don't burn. Alternatively you could broil them for a few minutes to crisp the skin then brush on the sauce in the oven and broil them for another minute or so to quick caramelize the sauce.
---
My Recipes

Folks.. I never stop amazing myself at how good my rib rub and sauce is on various kinds of meat.
Whether it is ribs, brisket, pork shoulder or even something simple like chicken or chops, every time I use my rub and sauce I am blown away by the flavor all over AGAIN!
I always think to myself, "I sure hope everyone can try this.. it is too good to go through life never having experienced this!"
I am not being dramatic.. just try it and you will join the ranks of those who know if I'm lying then I'm dying! This stuff is Fan-flavor-tastic and you need it in a bad-bad way;-)
Here is a few testimonies from other folks who decided to go for it and are glad that they did. Be sure to send my your testimony once you try it and realize that you have just tasted of HEAVEN.


—————————————————

I would like to Thank You for the Rib Rub Recipe, I made this for my family and the results were unanimous, everyone said that the ribs were the BEST they ever tasted, and the meat was very tender and moist. I haven't tried the BBQ sauce recipe yet, but I will in the near future. ~ Jerome

—————————————————

Jeff, You truly are the man. Bought your rib rub and your sakes alive sauce and love them both. Keep up the good work helping people like me learn to cook good BBQ with smoke. ~ Matt

—————————————————

Jeff, I was smoking a Boston butt Saturday night for dinner Sunday and decided to try your bbq sauce. I have to say this is hands down the best sauce I've ever had and I've tried a lot of them. Its very easy to make, inexpensive and taste excellent. I will be using this recipe for a long time. ~ Doug

—————————————————

Just wanted to tell you I finally bought your rub and bb sauce recipe. They were as you said a big hit. Good job. Thanks ~ Marilyn
—————————————————
I recently purchased your secret rub & sauce recipies, WOW money well spent my friend. I tweeked it a little being from New Mexico and used to spicy/hot but you werent kidding when you said no sauce needed on these. Everyone was silent except for the lip smaking and finger licking! ~ Joseph
—————————————————


You deserve the very best and is is completely within your grasp! Only $18.95 and worth every penny. Not only do you get the best rub and sauce recipe available, you are supporting this website and helping to make sure the bills get paid so we can keep on doing what we do to teach thousands and thousands of people across the world the art of smoking meat.
Order Recipes | Read Testimonies
Note:

My system is automated which means you should get a download email within MINUTES of ordering.. check your spam/junk folder first then contact me to get the recipes sent to you as an attachment.
---
Got Questions? We Have Answers!!

That's right.. if you have a question about smoking meat then look no further than our online community at SmokingMeatForums.com. With more than 25,000 members and literally hundreds of thousands of posts on every smoking meat subject known to man, you will certainly be in great hands.
What's more.. it's absolutely free and it's just a quick registration away. Once you've registered, don't forget to stop by the "Roll Call" area to introduce yourself and tell us a little about you, what smoker you are using (if any), what kind of work you do, and anything else you want to tell us.
We also have our very own one of a kind product review area, a buy/sell/trade area, a wiki system with lots of how-to information, personal photo galleries and so much more.
I personally look forward to seeing you there!
---
Barbecue Videos

My buddy Bill Anderson is at it again and he is has been making tons of videos on how to smoke meat and barbecue the right way. I can't argue with his methods as he is a 7 times grand champion on the barbecue competition circuit and that's really something. It's quite obvious that he knows what he's doing.
Anyway, the videos are available to watch as much as you like on a subscription type basis.
If you are interested, click here or on the picture at left and it will take you to the barbecuecoach.com website where you can check it out and decide if it's something you'd like to try.
I have watched some of the videos and I can tell you that this guy is very down to earth, knows his stuff and you can't help but learn a whole lot if you watch the videos.
---
In Closing

Thank you for being a part of the smoking meat family which includes the newsletter, the forum, the smoking-meat.com website and many other resources that we try to provide to help you and countless others learn this great art.
A HUGE thank you to all of you who support the site by purchasing the recipes and other products that we sell.
Until next time.. keep smoking and God Bless.
Jeff Phillips