When it comes to the Christmas feast, my theory is "go big or go home". You want to do something that will make folks say, "Wow!" and there is nothing quite like a smoked pork crown roast when it comes time to make a great impression for the folks you love and care about.
A pork crown roast is basically a couple of pork loins with the ribs still attached, formed into a circle and tied together at both ends.
The way the bones jut out on top make it look like a crown and thus the name was given.
You don't usually see these sitting in the store ready to buy, you normally have to special order them a day or two ahead of time from your butcher or high-end grocery store meat market.
A christmas centerpiece like no other, let me show you how to smoke this bad boy!
Get the Recipes – Banish the Ads
Designed for pork but great on nearly everything, my rub recipe really "steps up to the plate" when it comes to flavor for this smoked pork crown roast.
Guaranteed you'll love it or your money back!
Reasons to buy: Support the newsletter and the website | Own the recipes | Get the newsletter 100% AD FREE from now on
Smoked Pork Crown Roast
Smoked pork crown roast is two pork loins with the rib bones still attached formed or rolled into a circle and tied together on the ends using food grade cooking twine (The butcher will normally do this for you). It is then smoke cooked to 140 degrees F, allowed to rest for 30 minutes or so wrapped in foil where it raises another 5 degrees or so and is then served to your hungry guests. Detailed instructions follow:
Important Information
Prep Time: 30 minutes
Brine Time: 6-8 hours
Cook Time: 3.5 – 4 hours
Smoker Temp: 230 degrees F
Meat Finish Temp: 145 F
Recommended Wood: Pecan
What You'll Need
10-18 bone pork crown roast
Spicy mustard
Apple/Honey Brine for Pork Crown Roast (below)
How to Make the Honey/Apple Brine for the Pork Crown Roast
Note: to read about brining, read our page on brining meat.
This recipe makes 1 gallon of brine. Depending on how big your crown roast is, you may need more than this. Adjust recipe as required.
Ingredients:
Instructions
Place 2 quarts of cold filtered water in a gallon-sized pitcher and stir in 1 cup of kosher salt until the salt is dissolved
Add 1 quart of apple juice (or apple cider), 3 TBS of my rub and 1/3 cup of honey to a sauce pan and heat over low heat (a gentle simmer) for about 10 minutes. The heat helps to bring out the flavors of the rub and melts the honey so it can mix better with the liquid.
Add the 1 quart of heated apple juice/cider with the rub and honey in it to the 2 quarts of water in the pitcher.
Add enough ice to fill the pitcher and make it 1 gallon. Stir to melt the ice and potentially cool the brine to less than 40 degrees.
Brining the Pork Crown Roast
Place the pork crown roast down in a large brining bag, lidded plastic container or other non-reactive container. Cover with cold brine and refrigerate for 6-8 hours. I like to use the large 2.5 gallon ziploc bags for this task.
To contain any possible leakage, place the bag with the pork crown roast and brine into a large stock pot or mixing bowl before placing it into the fridge.
After brining, rinse the roast with cold water to remove any salt still present on the outside of the roast.
Preparing the Pork Crown Roast
Place the roast on a Bradley rack or a sheet pan for seasoning.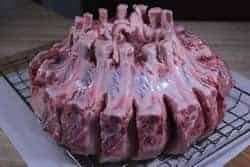 Apply spicy mustard to the top and sides of the pork crown roast to help the rub to stick to the meat.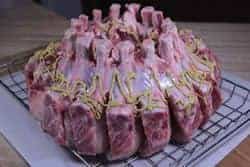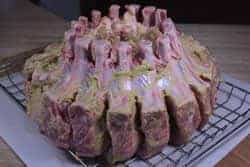 Now for the fun part! Sprinkle my rub (purchase recipe here) all over the pork crown roast and massage it in with your hands. Be sure to get the rub into the narrow cuts between the ribs.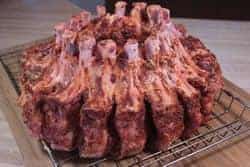 Don't forget the middle..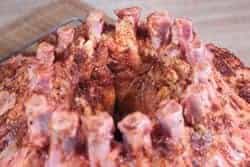 The pork crown roast is now ready for the smoker.. wasn't that easy!?
Getting the Smoker Ready
I wanted a lot of smoke flavor so I decided to use my Meadow Creek wood smoker even though it was 16 degrees F and the ground was snow covered.
The pecan I wanted to use had snow on it as well.
A little snow don't stop me!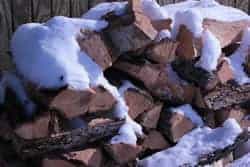 Use whatever smoker you have and set it up for smoking at about 230 degrees F.
Once it is holding steady, you are ready to smoke!
Smoking the Pork Crown Roast
Place the pork crown roast on the grate of the smoker.
If you used a Bradley rack, you can just place the rack on the smoker grate to make it easy.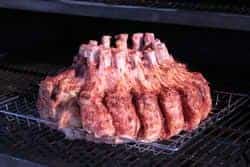 If you used a sheet pan, you will want to transfer the roast to the smoker grate so it can get plenty of smoke on all sides.
I recommend pecan wood but you can also use apple, cherry or even hickory, if you so desire, with great results.
Smoke the pork crown roast until it reaches about 140 degrees in the thickest part of the meat. Our ultimate goal is 145 degrees F but it will go up some during the resting period and we don't want to overcook this at all.
When it reaches 140 degree F, remove it from the smoker and place it on the counter covered with foil for about 20-30 minutes to allow it to rest.
During the resting phase, it will continue to raise in temperature for a few degrees and the internal juices will redistribute throughout the roast.
Serving the Pork Crown Roast
Set the finished smoked pork crown roast on the table and wait for everyone to ooh and ahh a bit before slicing it.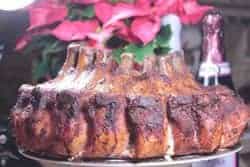 Remove any twine used to hold the smoked pork crown roast together and slice between the bones.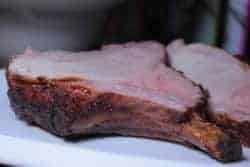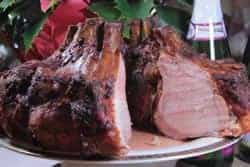 Order Jeff's Rub Recipe and Sauce Recipe
If I could give these recipes away, I would do that. I really want you to have them!
But, then, this is how I support the newsletter, the website and all of the other stuff that we do here to promote the art of smoking meat.
Read these testimonies:
..after buying and using it, all I can say is BRAVO! I've used a number of "home-spun" rub recipes. It seems that they were always a little too sweet, a little too hot, or had a little too much of something in it. Jeff's Rub is just right – and well worth the price to have it just right. I'm glad I bought the recipe! ~John
Jeff, I bought your rub and sauce recipes a few months ago and you were ABSOLUTELY RIGHT! These are the best. Even my very picky wife and mother in law say they love them. I use them on everything I smoke, ribs,chicken.fish,roasts. Every newsletter you have I'm smoking it  a couple days later! I used my smoker 15 times in the snow and it gets you thru winter a lot sooner! THANKS!  ~Brian in Wisconsin
You see the raving testimonies and you wonder, "Can the recipes really be that good?"
No worries!
Make up a batch and if it's not as good as you've heard.. simply ask for a refund.
Now that's a bargain and you know it.
Let's review:
Completely guaranteed.. No worries
The recipes are absolutely amazing
Once you order, every newsletter will be Ad FREE
Well.. what are you waiting for.. click that link below that says "Order the Recipes Here"
Note: This ad should not show up in future newsletters once your purchase the recipes. Let us know if you are having any problems with this.
I really, really appreciate the support from my newsletter friends and be sure to let me know if you have any questions about this.
Christmas Gift Idea: My Smoking Meat Book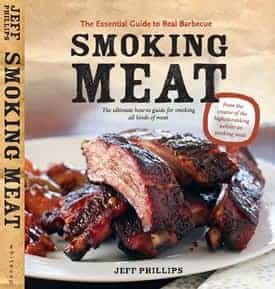 The perfect Christmas gift for the smoker friend(s) in your life. The book is full of recipes and contains tons of helpful information as well. Some have even said that "no smoker should be without this book"!
With 114 reviews on Amazon.com and a rating of 4.8 out of 5 stars, it comes highly recommended. It is also listed as a #1 Bestseller in Barbecueing & Grilling on Amazon.
If you are interested in a digital copy, we have versions available via Nook | iTunes
Note: For my German readers, the book is now available under the title "American Smoker" and translated into German at Amazon.de
Avoid the Hassle and Shop Online for Christmas at Amazon
That's right- we get a small commission every time you buy something at Amazon, using THIS LINK to get there and you know you have Christmas gifts to purchase so it's a win-win situation. You get to support smoking-meat.com while also getting all of those items on your long Christmas list checked off.
Thank you in advance for using our special link: http://www.smoking-meat.com/amazon