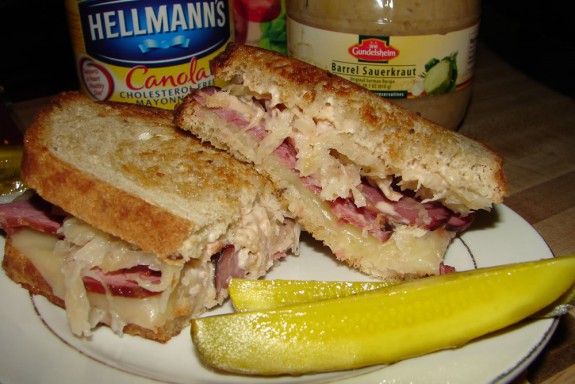 Hello and welcome to the February 2010 edition of the smoking meat newsletter! This month we are talking about a subject that is dear to many people's hearts and super easy to do.. Pastrami.
This may not be exactly the same as the traditional pastrami or reuben that you would find in a New York deli but those of you who know me, know that I am all about getting OUT of the traditional box and doing things a little different.
For this recipe we will be slow smoking a corned beef brisket instead of curing our own beef. This works great for home for this recipe and is great on a sandwich as I will show you later.
Just before we get into that..
Get the Recipes for Jeff's Rub and Sauce
---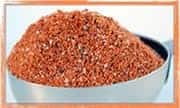 What makes this bacon candy so good is the balance of sweet brown sugar with the spicy aspects of my rub.. both work perfectly together to make the best pig candy you ever ate!
I promise you'll love my dry rub/seasoning recipe and my barbecue sauce recipe or you don't pay!
Reasons to buy: Support the newsletter and the website | Own "the recipes" | Get the email newsletter 100% AD FREE from now on | Includes the Texas style rub recipe

---
How to Make Pastrami (Smoked Corned Beef Brisket)
What is Pastrami?
Pastrami in it's most basic form is simply a process by which turkey or beef is spiced, brined, smoked and then steamed for maximum tenderness. The resulting product is normally placed on some type of rye bread with slaw or sauerkraut and provolone cheese.
There are many variations and ways that pastrami is made and served in the United States and abroad but my favorite is the traditional smoked corn beef brisket served on Jewish rye bread with rinsed sauerkraut and thousand island dressing.. can you say delicious!!?

What to Purchase
Although you can be a purist at heart and do all of the brining of the beef brisket yourself at home, I prefer to take a shortcut and just purchase a corned beef brisket for this task.
For this recipe, I purchased a three pound corned beef brisket. After removing the brisket from the package, rinse the meat well and set it aside.
What if I Don't Want it So Salty?
You must know that the corned beef brisket is very salty at this time and if you prefer less salt, it can be soaked in fresh water for several hours to leach out some of the salt. In my opinion, this is not necessary since the sauerkraut is rinsed, the provolone cheese is not salty and the Jewish rye bread is fairly bland.. it all balances out in the end. About 4-6 hours of soaking should be plenty for a normal 3-4 pound brisket if you decide to soak it. Change the water a couple of times during the soak and make sure to keep it cold in the fridge during this process.

Preparation of the Brisket
After adding a thin layer of Dijon mustard to the brisket, I made up a batch of my rub minus the salt and sprinkled it generously on all sides. The mustard will introduce a great flavor along with the rub. I left out the salt due to the saltiness of the corned brisket. You can also add a tablespoon of coriander seed if you like, this is a common spice for pastrami.
See how easy this is!?
Preparing the Smoker
At this point you will need to go out and prepare the smoker for 225-250 degrees. This is true whether you are using charcoal, gas, electric or wood.
Many folks recommend a very mild wood, I like to use mesquite which is far from mild. You will have to use your own discretion on that. I like to really taste the smoke and I feel that the saltiness of the meat masks the smoke flavor unless I use something a little more robust.
It would also be good with hickory, apple, pecan or cherry in my opinion.
Smoking the Corned Beef Brisket
Like a normal brisket, you can expect the cook time to be fairly extensive. I did a couple of these in getting ready for this newsletter and the first one took nearly 8.5 hours.. it was only a 3 pound brisket. The second one took right at 10 hours but was a tad thicker (same weight). Lots of folks try to determine cook time by poundage however, the time is more relative to the thickness of the meat.
A brisket 3 inches thick, 6 inches wide and 8 inches long should cook in about the same time as an equally thick brisket that is twice as long and twice as wide. poundage is relative but you have to realize that the thickness plays a much larger part.
For this reason, the temperature of the meat needs to be the determining factor for when it is done.. not the time. We try to estimate the time for planning purposes but that just does not always work and you have to be prepared to give it as long as it takes if more time is required.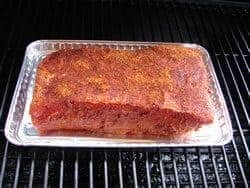 I opted to place the corned beef brisket on a small aluminum tray for ease of mobility but you can just as easily place it directly on the grate.
If you are using charcoal, gas or electric, then apply smoke for at least 4 hours making sure that the smoke is being well vented.. i.e. it can easily escape from the smoker.
After this time of applying smoke, you can simply continue with the heat until it reaches an internal temperature of 190-195 degrees. I know many folks only cook the brisket to about 165-170 degrees when making pastrami but in my opinion this is not enough.

Bring it Into the House
Once the brisket reaches the desired internal temperature, it can be brought into the house for cooling. I recommend letting it rest for 30 minutes to an hour then place it in the fridge until it gets cold. It is so much easier to slice when cold.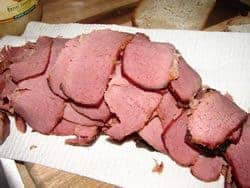 I usually put it in the fridge overnight and use my meat slicer the next morning to slice it up into 1/8 inch thick pieces.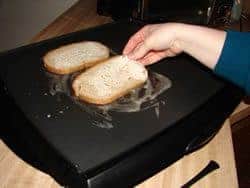 Making a Pastrami Sandwich
Put mayonnaise on two slices of bread. Grease a 300° griddle with butter and lay the slices of bread face up on the griddle.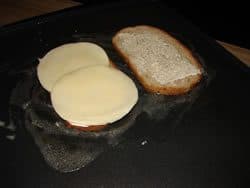 Place a couple slices of provolone on one slice of the bread.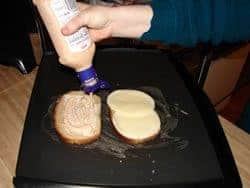 Squeeze some Thousand Island dressing onto the other piece of rye bread.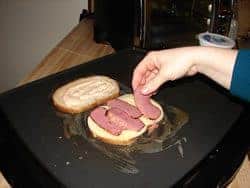 Layer the pastrami on top of the cheese so it covers the entire sandwich.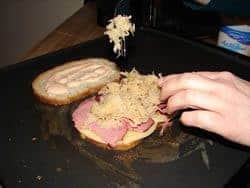 Once the cheese is melted and the pastrami is hot, place a large helping of sauteed sauerkraut on top of the pastrami. (Instructions for sauteed sauerkraut below).
How to Saute the Sauerkraut
I recommend purchasing a large 26 or 40 oz jar of sauerkraut. If the sauerkraut is really sour you can rinse and drain it to make it a little more mild flavored..
Saute one small chopped onion and one TBS of minced garlic in olive oil over medium high heat until the onions and garlic are tender.
Add sauerkraut and saute it together with the garlic and onions for 5-6 minutes.
Season with 1/2 tsp celery seed and add salt and pepper to taste.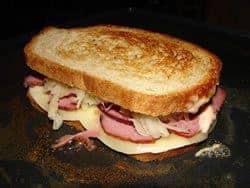 Top the sandwich with the other slice of bread.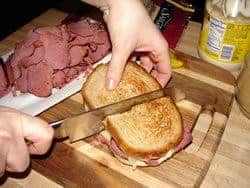 Cut the sandwich in half if you like and garnish with a pickle for a really great lunch or anytime meal.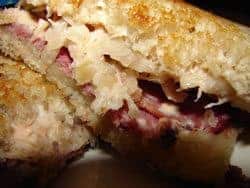 A close up to show the melted cheese, sauerkraut and meat all combined into one juicy and delicious sandwich.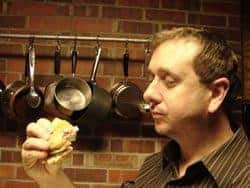 Here I am taking a huge bite of the sandwich.. it was so good!!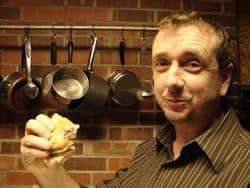 Oh Yeah!!
What About that Steaming Process We Mentioned Earlier?
By cooking it to 190-195 degrees, the steaming process to make it tender is just not necessary. It is tender and delicious as is and can simply be warmed in the microwave, eaten cold, pan fried like bacon, or put on a sandwich just to name a few of the many delicious ways you can enjoy your very own homemade pastrami.
My Famous Rib Rub Recipe and BBQ Sauce Recipe
Folks.. I never stop amazing myself at how good my rib rub is on various kinds of meat.
I almost always use my rib rub with very few exceptions on the stuff that I cook here at home.. this month I only used the rub but if I wanted to make it pop a little, I could have used a little of the sauce on the sandwich as well and it would have been out of this world delicious!
I believe my recipes are the best hand down and here are a few testimonies to prove it:
—————————————————
Hey Jeff, first off i would like to thank you for selling your rub/bbq sauce recipe. I had so many thumbs up new years eve when i used it
—————————————————
I would like to Thank You for the Rib Rub Recipe, I made this for my family and the results were unanimous, everyone said that the ribs were the BEST they ever tasted, and the meat was very tender and moist. I haven't tried the BBQ sauce recipe yet, but I will in the near future
—————————————————
Awesome. We spent New Years day smoking ribs for first time ever and used both your dry rub and BBQ sauce recipes. Everything was great.We're converts!
—————————————————
Jeff, I have tried allot of "bottled" sauces and a few home made ones to……This stuff is GOLD! It was a big hit Labor day..
—————————————————
You deserve the very best and is is completely within your grasp! Only $18.95 and worth every penny. Not only do you get the best rub recipe and sauce recipe available, you are supporting this website and helping to make sure the bills get paid so we can keep on doing what we do to teach thousands and thousands of people across the world the art of smoking meat.
NOTE: My system is automated which means you should get a download email within MINUTES of ordering..check your spam/junk folder first then contact me to get the recipes sent to you as an attachment.
We're on YouTube
If you missed the videos from our last several newsletters then you should definitely take a look. We have had a total of 56,012 views since November 5th and that is remarkable if you ask me!
I will be putting out several more videos in the coming months so be watching for them.
Our channel can be found at http://www.youtube.com/tulsajeff where you can subscribe and you will be notified every time we upload a new video. ENJOY!!
In Closing
Thank you for being a part of the smoking meat family which includes the newsletter, the forum, the smoking-meat.com website and many other resources that we try to provide to help you and countless others learn this great art.
A HUGE thank you to all of you who support the site by purchasing the recipes and other products that we sell.
Thank you!!
Until next time.. keep smoking and God Bless.
Jeff Phillips