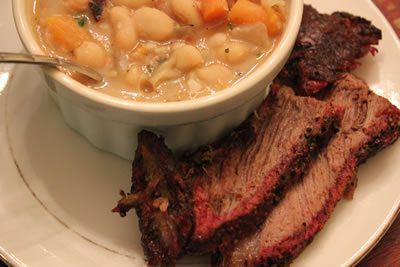 Hello friends and welcome to a brand new year chock full of my favorite smoking recipes and tips on cooking outdoors.
With it being so cold in a lot of areas and this being January, many of you might not think of smoking meat right now but I would like to encourage you to get out there and make it happen. If you're thinking that I'm crazy and it just isn't going to happen then you're not alone but there are lots of gas and electric smokers that do make smoking in the winter time a whole lot easier and more attractive.
When I do smoke meat in the cold of winter, I try to cook things that get done a little quicker and things like briskets and pork shoulders that take 12-16 hours or longer just aren't on the menu quite as often. Enter the chuck roast.. a beautiful piece of beef with plenty of fat marbling to handle the heat and still remain moist. Even better, the cuts are fairly small and you can cook one in 4-6 hours.
A little longer cook time may be required if you are wanting to pull the meat instead of slicing it.
By the way..

As usual, I opted to use of my very own rub recipe and sauce recipe in smoking this chuckie and it was so full of flavor that I can't imagine not using it the next time I do this recipe. If you do not have my rub recipe and/or sauce recipe then I recommend that you take the time to order that now.. like many other happy customers, you will be extremely glad that you did.
Last months Newsletter:

Smoked Ham and Smoked 3-2-1 Ribs
---
Smoking a Chuck Roast (Chuckie)

What you'll need for this recipe:
2.5 – 3 lb Chuck Roast
1/4 lb butter
Yellow mustard
What to Purchase
You'll want to look for a chuck roast or perhaps a chuck arm roast with plenty of fat marbling in the meat. It might even say chuck pot roast depending on where you go to purchase the meat. Most of the cuts will probably be around 3 lbs so just find the one that looks the best. If you are needing more meat, just smoke 2 of them at the same time.
How to Prepare
Preparation is super easy in most cases although I did take the time to inject this one (something I almost never do for beef and pork). Remove the chuck roast from it's package and lay it in a cake pan or even on a cookie sheet while you get it ready to smoke.
You are going to want to add my rub to the roast before you smoke/cook it so you have a couple of options, You can inject it and rub it like I did or you can just apply the rub to the outside.
---
Want to inject it? Here's how..
---
I decided to inject the chuck roast with 1/4 lb (1 stick) of butter and 3 Tbsp of my rib rub. Place the butter and rub in a microwave safe container and heat until the butter is melted and bubbling just a little. Remove and stir the ingredients together until the brown sugar and salt are dissolved (about a minute of stirring should do it). Put the mixture back into microwave for about another 15 seconds or until the butter/rub is bubbling again. The other ingredients in the rub will not dissolve very well but the flavors will be released into the butter when they get hot. Stir the mixture briskly for about 30 seconds and you should be good to go.
Strain the mixture through a fine screen if possible to prevent the rub from clogging your injector. The no-splatter screen that you use while frying will work great. Save the rub for later.
Insert the needle at a 45 degree angle and inject the rub flavored butter into the chuck roast about every inch or so moving the needle around to make sure you get as much liquid into the "chuckie" as possible.
When you are finished injecting, scoop the rub that was removed from the butter onto the top of the chuck roast and spread it out over the entire top and sides of the meat.
---
You'd rather not inject the roast? That's ok;-) Here's how to apply my rub to the outside to add a ton of flavor..
---
Use some regular yellow mustard, like you'd use on a hotdog and squeeze out about 2 Tbsp onto the top of the meat and rub it all over the top, sides and bottom so that you have a thin, even layer all over.
Pour about 1/4 cup of my rub onto the top of the roast and massage it in real good.
That's it! You're ready to smoke that baby!
Set the roast aside and go get the smoker ready.
Smoking the Chuck Roast
Depending on whether you have a charcoal or wood smoker or if your smoker is electric or propane, get it going and allow it to preheat to 210-225 degrees. Once the temperature is holding steady and thin wisps of smoke are coming from the top of the smoker, lay the roast right on the grate.
For this recipe, I used a mixture of 70% mesquite and 30% hickory since I wanted a really nice and robust smoke flavor. Feel free to use any wood that you like such as cherry, pecan, oak or if you prefer a lighter smoke flavor, apple would be a great candidate.
Keep the smoke going for at least 3 hours if possible and maintain a temperature as close to 225 degrees F as possible. Monitor the temperature to make sure it does not get out of hand as you don't want the rub to burn. I like to smoke at around 210 when I have plenty of time as this ensures that the rub does not burn and it gives the meat more time in the smoke. This does add a considerable amount of time to the process but it is well worth it in my opinion.
Use a digital probe meat thermometer inserted into the thickest part of the meat to monitor the temperature of the meat while it cooks. You are looking for a temperature of about 190 -200 degrees F. Pull the meat out of the smoker when it's done but don't get antsy 'cause it's not done yet.. what happens next in the "tenderizing step" is very important for this cut of meat and in my opinion, makes all the difference in the world.
Important Smoking Information

Recommended wood: Mesquite, Hickory or a mix of the two
How long to apply smoke: At least 3 hours
Finish temperature of meat: 190-200 Degrees F
Best smoker temperature: 210-225 Degrees F
Smoker time required: 4-6 hours
Tenderizing the Chuck Roast
Follow these steps:
Wrap the roast in a double layer of name brand heavy duty foil.
Wrap it in a thick towel
Place it in a size-appropriate ice chest or drink cooler.
Fill in any remaining space with more towels, pillows or blankets
Close the lid.
Let the meat sit in the ice chest for at least 2 hours and 3 would not be a bad idea. This is an essential part of the process and I figure it into the cook time just as I do the rest of the process.
If you don't have an ice chest, don't fear. You can also place the double foil wrapped meat in the oven on the warm setting (About 170-180 degrees) for a couple of hours to get a similar effect.
During this time in the ice chest or in the oven, the meat is not increasing in temperature but it is being tenderized and while the chuck roast is safe and can be eaten without this important step, if you can be patient enough to wait it out, you will be glad you did.
Serving the Chuck Roast
Slice the roast as best as you can, it may be so tender that you have to slice it thick, that's ok. Make up a batch of my delicious barbecue sauce and serve it warm on the side for dipping.
In the picture at the top you may note that we served the meat with my wife's bean soup which is perfect on a cold January day but it is good in just about any way you can imagine.. even on a sandwich if you desire.
Enjoy the flavor of the smoke and your hard work and don't forget to let me know if you enjoyed this recipe!
---
My Recipes

My recipes are something out of this world when it comes to flavor and turning something pretty good into something extremely amazing. I created these recipes more than 7 years ago and they are still the best thing out there. The WOW factor is off the charts! It still continues to amaze me when I taste it on things like turkey, ribs, brisket, pork shoulder, chuck roast.. you name it!
You will be amazed as well and I just can't recommend enough using my recipes on this chuch roast as it adds something that you just won't get anywhere else or in any other way.
My recipes are well worth the price that I'm asking and when you are the star of the neighborhood, you can just smile and know that it was so worth it.
Here's a few testimonies that I have received recently from folks just like you who wondered if they should do it but are now so glad they did:
*********************************************
Jeff, All I can say is, WOW!!!!
I have been reading your news letters for over a year and I Just now purchased your rub recipe. I have used it on steak and chicken legs on the grill so far. Both times I have people say that it was the best steak or chicken they had ever had. I can't wait to smoke something with it. Great job, you are THE MAN!!!!
Chris
*********************************************
Jeff,I tried your rib rub recipe on some fresh pork ribs, It was a huge hit everyone loved it. This was my first time using a rub, the flavor was awesome. Although there wasn't much leftovers, it was even better the next day. Well worth the small price. I would recommend everyone to try it. The recipe is perfect, I won't change a thing.I look forward to try the bbq sauce next. Thank You!!!
Pete
*********************************************
I have to admit I was skeptical that the recipes were worth paying money for. But I haven't had a single complaint, in fact my woman says the baby back ribs are the best yet with your rub and sauce. Thanks for your web site. Keep it up!
Charles
*********************************************
I just wanted to let you know that I bought your recipes for your rub and your sauce about a year ago. I have now had the chance to use them on just about every kind of meat imaginable and wanted you to know they are FANTASTIC!!!! Money well spent!!!
James
*********************************************
I purchased your rub recipe and have delighted friends and family with its great flavor. When they ask me for the recipe, I tell them to go to your site and purchase. Something this awesome deserves compensation to the inventor!!! Thanks for all of the smoking tips!
Gary
*********************************************
It had been a while since I had fried chicken tenders for my family. I decided to throw in a couple of handsful of your rib rub into the flour. I salted and peppered the chicken as usual, breaded the chicken in the flour/rib rub combo and then fried the chicken. My family thought it was delicious!
Kynda
*********************************************
Well! Thank you everyone!
You deserve the very best and it is completely within your grasp! Only $18.95 and worth every penny. Not only do you get the best rub and sauce recipe available, you are supporting this website and helping to make sure the bills get paid so we can keep on doing what we do to teach thousands and thousands of people across the world the art of smoking meat.
If you want to amaze your friends with something super special.. order the recipes today!! It's a small price to pay for such a big WOW!!
Order Recipes | Read Testimonies
Note:

My system is automated which means you should get a download email within MINUTES of ordering..check your spam/junk folder first then contact me to get the recipes sent to you as an attachment.
---
In Closing

Thank you for being a part of the smoking meat family which includes the newsletter, the forum, the smoking-meat.com website and many other resources that we try to provide to help you and countless others learn this great art.
A HUGE thank you to all of you who support the site by purchasing the recipes and other products that we sell.
Until next time.. keep smoking and God Bless.
Jeff Phillips