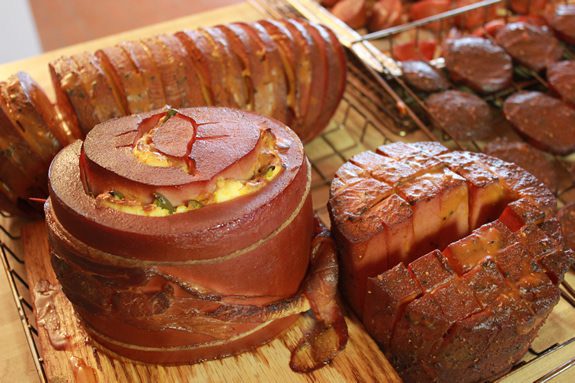 Hello and welcome to this edition of the smoking meat newsletter. I am pulling out all the stops this week to show you just how wonderful smoked bologna or smoked baloney (depending on how you choose to spell it), can really be.
Many folks across the continental U.S. know that this is an Oklahoma thing that we take very seriously. I am a transplant to Oklahoma but it did not take me long to discover that this was a deep-rooted tradition around here and one that I enjoy sharing with my friends in other places.
You might think that we just throw a hunk of bologna in the smoker and that's it but we do some special things to it to make it meaningful and I aim to show you a few of those ways in this edition and even show you something of my own creation that will surely make you look at bologna in a whole new light.
With the upcoming superbowl this weekend, there is not a better time to whip up some smoked bologna snacks to go along with all of your other smoked, and perhaps non-smoked, superbowl food.
I am very anxious to show you this so let's get started.
Try the Recipes for My Rub and Sauce.. Get a Free Gift when you order!  
When you invest in the recipes for my rub and sauce you are getting a lifetime of customer support. Week after week, month after month, I keep coming back with wonderful recipes and instructions on how to smoke meats, vegetables, sides, appetizers, etc. and most of them can be seasoned entirely with the rub or basted with the sauce to create that perfect finish. Nothing else required.
To make things even sweeter, order the recipes for my rub and my sauce and, for a limited time, you get the complete 28 page, 5 chapter eCourse in PDF format absolutely FREE.
Start the new year off right with the recipes for my rub and sauce!
Smoked Bologna "Boloney"
Bologna comes in all shapes and sizes and even in a variety of flavors. You can buy the less expensive stuff in the supermarket or you can go with a higher quality bologna made with all beef if you prefer. In the end it will all be good and my only recommendation is to start with the best that you can afford and the smoke will do the rest.
For this demonstration I purchased a variety of types and sizes to show you what can be done with it. Let your imagination run wild and let me know if you come up with something amazing!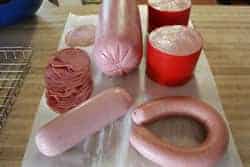 Here are the different things that I made with the bologna and the directions for each one:
Cream Cheese and Jalapeno Stuffed Smoked Baloney Roll-up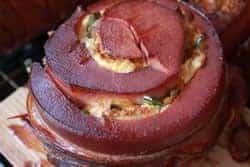 This recipe is my own very own creation and it not only looks really cool, it is extremely tasty
Ingredients
3 lb chub of bologna (or a 5lb chub cut in half)
8 oz package of cream cheese
1/2 cup shredded cheddar cheese
1 jalapeno, cleaned, deseeded and sliced into long, thin spears
5-6 pieces of thinly sliced smoked ham
2 Tablespoons of Jeff's barbecue sauce
2 Tablespoons of yellow mustard (hotdog mustard)
2 slices of bacon
Directions
Using a 3 lb chub or bologna, remove the wax or paper from the outside and use a sharp knife to cut down into the bologna about 3/4 of an inch.
Turn the knife away from you and begin to butterfly the bologna by cutting a spiral into the bologna. Try to keep the thickness even and you should end up in the center when you are finished. It does NOT have to be perfect.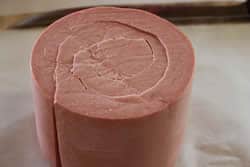 Once the cut is finished, unroll the bologna to lay it open and make it ready for stuffing.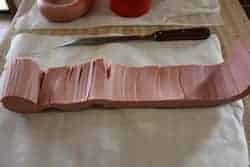 Mix the softened cream cheese and cheddar cheese together to form the mixture which we will spread onto the bologna.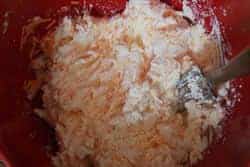 Spread a layer of the cream cheese and cheddar onto the bologna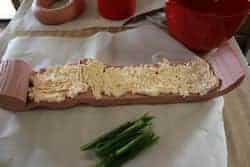 See the spears that I cut from a jalapeno in the picture above, lay them across the cream cheese at 1-inch intervals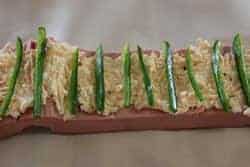 Now layer on the thinly sliced smoked ham.
Note: you could also use prosciutto, sliced turkey, roast beef, corned beef or any other thinly sliced deli meat.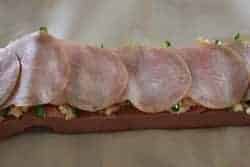 Jeff's Mustard Sauce
Mix equal parts of my barbecue sauce (order the recipe here) with hotdog mustard for a wonderful sauce made specifically for smoked bologna.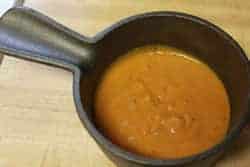 Spoon Jeff's mustard sauce onto the smoked ham
Now you are ready to roll it up. Roll the bologna up carefully just like you unrolled it. Tie (2) pieces of bacon together at one end and set the roll of bologna on top of the bacon. Bring the bacon up around the bologna and secure with a toothpick or two.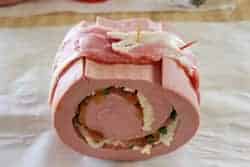 The bacon is mainly for looks so you will probably want to further secure the roll-up with some chef's twine on either side of the bacon.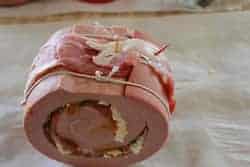 Lay the bologna roll-up on a plank (one flat side down) for great presentation and to keep the cream cheese mixture from oozing out too bad.
Place in a 225 degree smoker for about 2 hours using pecan or your favorite smoking wood.
When it's finished, remove the twine, slice into 1/2 inch pieces and serve.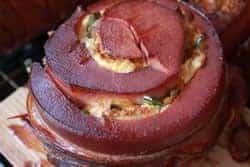 The Smoked Oklahoma Prime Rib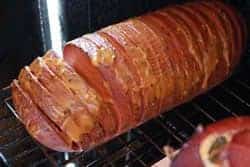 Ingredients
5 lb chub of bologna
1/4 cup of Jeff's barbecue sauce
1/4 cup of yellow mustard (hotdog mustard)
Directions
Remove the wax or paper from the 5 lb chub. Cut the bottom off to give it a flat place to sit and keep it from rolling.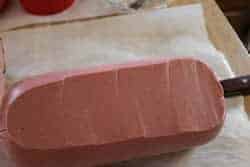 Using a sharp knife, make vertical cuts or slices in the bologna about 3/4 of the way through and at about 1/2 inch intervals.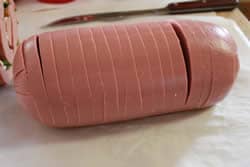 Slather on some of the "Jeff's Mustard Sauce" (recipe shown above) making sure to get it down in between the slices as much as possible. Be generous with this stuff!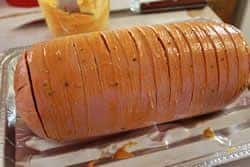 Sprinkle my rub onto the outside of the chub, making sure to get it on the sides and ends as well.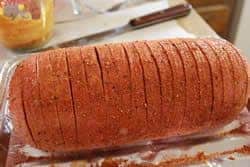 Place the Oklahoma Prime Rib into a 225 degree smoker for about 2 hours using pecan or your favorite smoking wood.
When it's done smoking, slice and serve.
Smoked Blooming Bologna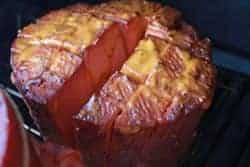 Ingredients
3 lb chub of bologna (or half of a 5 lb chub)
1/4 cup of Jeff's barbecue sauce
1/4 cup of yellow mustard (hotdog mustard)
Directions
This is a simple one.. you simply set the chub on its end and cut a cross hatch pattern in the top down to about half way.
You then slather on the "Jeff's Mustard Sauce" (recipe shown above)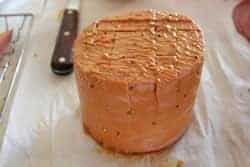 Sprinkle on my rub making sure to get it all over the top, sides and bottom.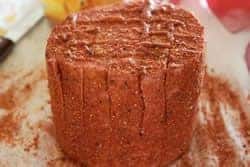 Smoke the blooming bologna for 2 hours at 225 degrees using pecan or your favorite smoking wood.
When it's finished smoking, slice into straws and serve with more sauce for dipping.
Smoked Bologna Medallions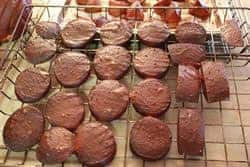 Ingredients
1 lb chub of bologna
1/4 cup of Jeff's barbecue sauce
1/4 cup of yellow mustard (hotdog mustard)
Remove wax or paper from bologna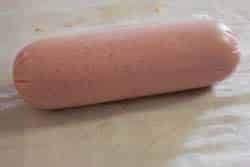 Cut/slice into 1/4 inch medallions at a 45 degree angle.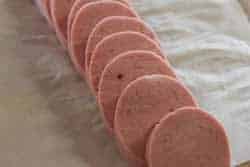 Add Jeff's Mustard Sauce and rub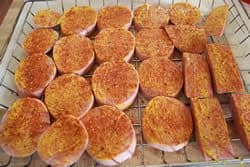 Note: the squared pieces are from the bottom that I cut off of the "Oklahoma Prime Rib" above.
Smoke cook in a 225 degree smoker for 2 hours using pecan or your favorite smoking wood. These will get crispy (almost like beef jerky) on the outside and be nice and tender on the inside.
Delicious!
Serve on biscuits, rolls or eat them just like they are.
Smoked Bologna Bits and Pieces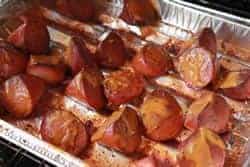 Use links of bologna or even a larger chub of bologna cut up into chunks. Follow the same process as the "Smoked Bologna Medallions" above.
---
Another Option
Use a apple corer to make (1) more holes all the way through a 3 lb chub. Save the plug(s) that comes out.
Fill the hole with plain barbecue sauce or the "Jeff's Mustard Sauce" (recipe shown above).
Cut 3/4 inch pieces from the plug(s) that came out of the hole(s) to plug the ends and keep the sauce from oozing out.
Sauce the outside and coat with rub.
Smoke cook at 225 degrees for 2 hours using pecan or your favorite smoking wood.
Slice and enjoy!
Smokers
All of these recipes are easy to do in ANY smoker. Here's some information that I have written on various smokers.
Note: In colder weather, it is advisable to preheat the smoker at least an hour or more before you are wanting to use it. Keep the door closed as much as possible and even skip basting if necessary to maintain proper smoking temperatures.
The Recipes for my Rub and Sauce – Order Today!
The really wonderful thing about my rub is that it's good on nearly everything. It not only flavors the meat really well but it also helps to bring out the natural flavors of the meat.
The sauce is the icing on the cake and gives the finished product a final layer of flavor for those who like to have warm sauce to dip the meat in.
Both my rub and my sauce work so well on so many things and I'm thankful that I can call them my own creations. I am also happy that I am able to share them with you folks in a way that benefits the website and the newsletter.
You really have to try it to truly experience the "WOW"! and if you've been teetering on the fence about it, then go ahead and try it out!
I am not being dramatic.. just try it and you will join the ranks of those who know if I'm lying then I'm dying! This stuff is amazing and you need it in a bad way;-)
Here are a few testimonies from other folks who decided to go for it and are glad that they did. Be sure to send me your testimony once you try it and realize that you have just tasted of HEAVEN.
—————————————————
Jeff, I did a smoked pork roast yesterday and used your recipe both for the pork and for your Smoky Barbecue Sauce.  Everyone loved it.  My wife said the sauce was the best she had ever tasted and I have to agree.  Fantastic. ~ Barry
—————————————————
Hello Jeff I recently purchased your recipe for rub-n-sauce and just wanted to let you know that its off the chart. well worth the cost. I am cooking for about 50 family and friends at lake Texoma this weekend and cant wait to see everybody's reaction ~ Jack
—————————————————
Jeff, You truly are the man. Bought your rib rub and your sakes alive sauce and love them both. Keep up the good work helping people like me learn to cook good BBQ with smoke. ~ Matt
—————————————————
Jeff, I was smoking a Boston butt Saturday night for dinner Sunday and decided to try your bbq sauce. I have to say this is hands down the best sauce I've ever had and I've tried a lot of them. Its very easy to make, inexpensive and taste excellent. I will be using this recipe for a long time. ~ Doug
—————————————————
Jeff, Your Rib Rub is to die for, I have used it on all meats including Venison and I have to say you have created a master piece, Thank you for letting us common folk into your smokin life.~ Kevin
—————————————————
You deserve the very best and it is completely within your grasp! Only $18.95 and worth every penny. Not only do you get the best rub and sauce recipe available, you are supporting this website and helping to make sure the bills get paid so we can keep on doing what we do to teach thousands and thousands of people across the world the art of smoking meat.
Order Recipes | Read Testimonies
What to Expect Once you Order
Here's how it works:
You order the recipes
My automated system sends you a download link in an email with a password
You click on the link and use the password to download the recipes and the free gifts to your computer
If you DON'T get the email with the link:
Check your spam/junk folder (sometimes they get caught there)
If you can't find it, email me and let me know you didn't get it
I will send the recipes and login info to you as an attachment in an email
You let me know you got it, we are both happy campers!
Other Great Superbowl Food Recipes
3-2-1 Pork Ribs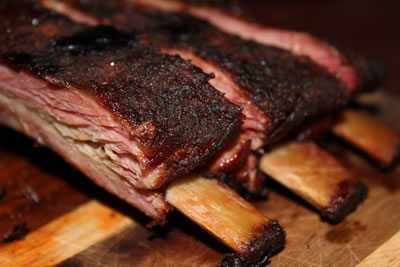 Pulled Pork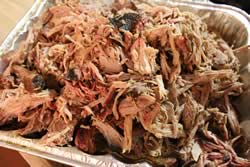 Smoked Brisket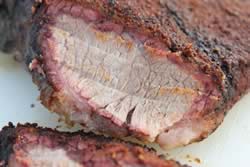 Bacon Wrapped Chicken Breasts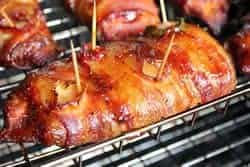 Chicken Pieces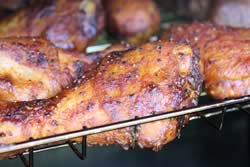 Whole Smoked Chicken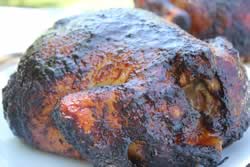 Smoked Shrimp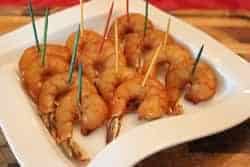 Cream Cheese Stuffed Jalapenos Wrapped in Bacon (ABT's)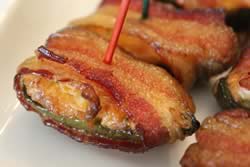 Smoked Tilapia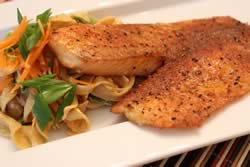 Smoked Jalapeno Stuffed Meatloaf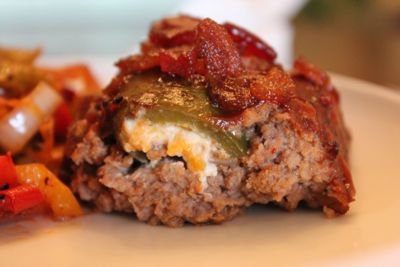 Pulled Pork Hot dogs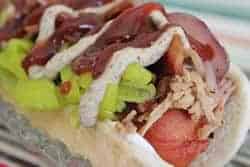 Bacon Explosion (fatty)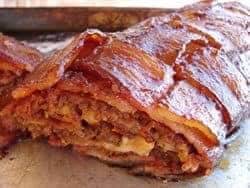 Smoked Burgers & Hot dogs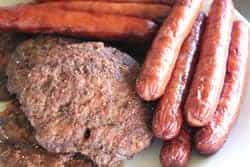 Smoked Corn, Cabbage and Potatoes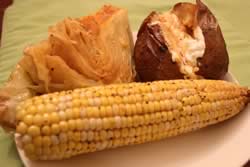 Smoked Chicken Wings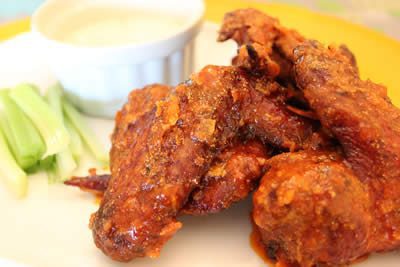 Great Resources for Smoking Meat Enthusiasts
Note: All off-site links will open a new window or tab. When you are done, simply close the window or tab and you'll be right back here.
Free Smoking Meat Newsletter