Smoked Bacon and Sausage Flatty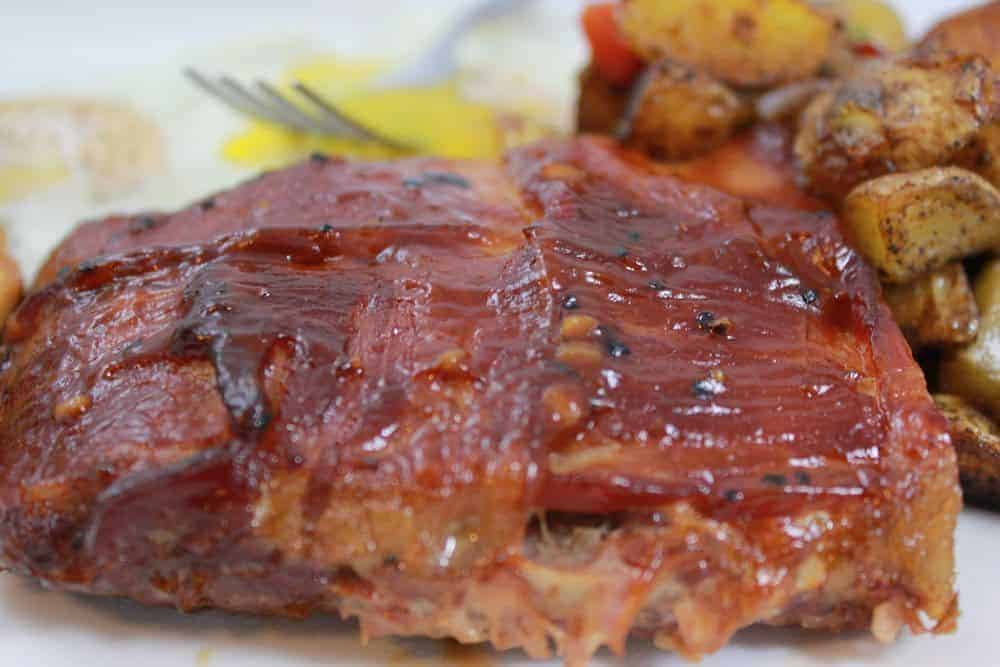 Smoking-Meat.com is supported by its readers. We may earn an affiliate commission at no extra cost to you if you buy through a link on this page.
Read this article without ads
All of you have probably at least heard of the bacon explosion.  It's simply ground breakfast sausage, cheese and a lot of other goodies all rolled up into a chub, wrapped in a blanket of bacon and smoked for 3 hours.
When it's finished the cheese is oozing out and this wonderful piece of goodness is about the best thing you'll ever taste.
We call it a "Fatty" but the name just does not do it justice.
In this newsletter I have decided to follow the same pattern of flavors and ingredients but leave everything flat as opposed to rolling it up.
This amazing layered cake of ground breakfast sausage, red and green bell peppers, onions, lots of cheese, a bacon weave on top and iced with my amazing barbecue sauce is my humble solution for world peace and more than 97 other major international and galactic problems.
Had Luke offered this delectable smoked dish to his father,  Darth would have crossed over from the dark side and became a better man–but that's neither here nor there.
I have chosen to call this a Smoked "Flatty" (only because I haven't come up with a better name yet).
I really think you're gonna want to do this very soon and when you do, you're gonna go ape over it; trust me!
May the pork be with you ALWAYS!
Note: the following ingredients are what I chose to put in mine, it's sort of like pizza in that you can stuff it with almost anything that you like. Some other great stuffing ingredients are eggs, jalapeno or other hot peppers, nuts, spinach leaves, ham, pepperoni, chicken, other pieces of smoked meat, cream cheese, boudin..
Just to name a few!
What You'll Need
2 lbs of ground pork breakfast sausage (I use Jimmy Dean's Hot)
1/4 cup of green bell peppers, diced
1/4 cup of red or yellow bell peppers, diced (for color)
1/4 cup of onions, diced
1/3 cup of sharp cheddar cheese, grated
1/3 cup of mozzarella cheese, grated
1 lb of bacon (thin sliced seems to work better for this)
Parchment paper
(2) 1 gallon ziploc bag
Bradley rack (optional)
How to Prepare
Snip off the bottom (2) corners of the ziptop bags to let some air escape while you roll out the sausage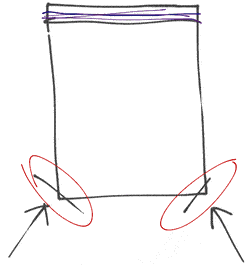 Unwrap one of the sausage chubs and place into ziploc bag. Press all of the air out of the bag and zip closed.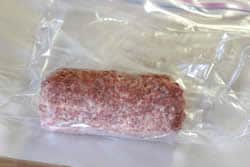 Use a rolling pin or a drinking glass to roll the sausage flat inside of the bag. This does not have to be pretty. Just try to get it uniform in thickness and you'll be good.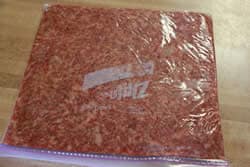 Use a very sharp knife to cut away the top half of the ziploc bag. When you are done the sausage should be laying on the back of the plastic bag.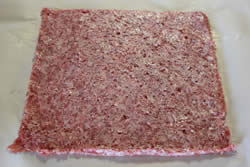 Repeat these step with sausage chub number 2
Lay a piece of parchment paper on the counter that is about 18 inches x 18 inches and then place one of the sausage layers onto the top of the paper (sausage side down). Peel away the plastic and you have your first layer of sausage on the paper.
Note: this is what works for me, if you can accomplish a fairly neat square of sausage flattened out and at the correct size without using the bags then feel free to do so. I am a little anal about making it look good but this does not influence the taste at all.
Spread diced peppers and onions evenly across the bottom later of sausage. Drizzle some of my original barbecue sauce (purchase the recipes) onto it as well.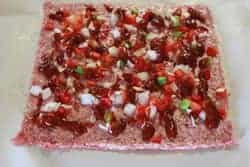 Now sprinkle cheeses onto top of veggies and sauce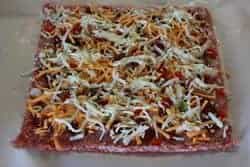 Add some pepperoncini rings if you like.. I love these and put them on everything.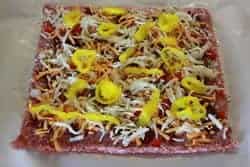 Carefully lay top layer of sausage (sausage side down) evenly on top of bottom layer with vegetables. Try to make the corners line up but it's not too big of a deal if it's not perfect.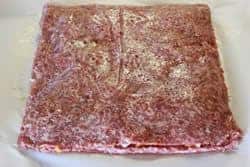 Peel away the plastic from the ziploc bag then apply a generous coat of my original rub (purchase the recipes) to the top of the sausage layer.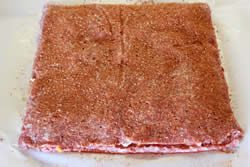 Lay bacon on top of sausage in a basket weave pattern. If you need help with this, see my bacon weave tutorial in the bacon wrapped fatty newsletter from January 2010.
This is where a Bradley rack really comes in handy but if you don't have one, you can cook this right on the grate while still laying on the parchment paper. To get it out to the smoker you can use a cookie sheet.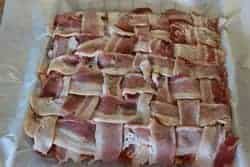 Paint on a coat of my original barbecue sauce (purchase the recipes) for good measure.
Leave the prepared bacon flatty on the counter while you go get the smoker ready to cook.
Getting the Smoker Ready to Cook
Estimated time: 30-60 minutes (depending on what type of smoker you are using)
I smoked this flatty in my Great Outdoors Smoky Mountain propane smoker using cherry pellets for smoke but you can do this using ANY smoker whether it is electric, gas, charcoal or wood.
I recommend cooking this at about 240°F or even a little hotter to try and crisp the bacon a little but I would not go over 275°F at the most.
I have written some helpful information on the operation and getting the most out of several popular smokers below however, there is no substitute for experience. Like anything else, you will find that the more you use your smoker, the better you will get at controlling the temperature and making it work for you in the way that it should.
Note: In colder weather, it is advisable to preheat the smoker at least an hour or more before you are wanting to use it. Keep the door closed as much as possible and even skip basting if necessary to maintain proper smoking temperatures.
Smoking the Flatty
Estimated time: 2.5-3 hours depending on temperature maintained
If you have the flatty sitting on a Bradley rack then place the whole rack on the smoker grate.
If you do NOT have a Bradley rack then carry the flatty on the parchment paper supported by a cookie sheet. Once you get out to the smoker, carefully lift the parchment paper with the flatty onto the smoker grate.
If possible, set a pan under the flatty to catch the grease that drips down. You will also need to poke just a few holes in the edges of the parchment paper to allow the grease to run out so it does not pool on top of the paper with nowhere to go.
My propane smoker has a water pan below the racks so I just let the grease drip into that.
Maintain about 240 degrees in the smoker and let the flatty continue to cook/smoke until the sausage is done. Make sure the sausage is cooked to at least 165°F for safety purposes.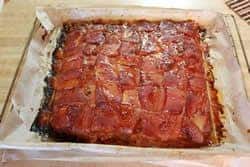 I recommend letting the smoke go for the entire time you are cooking if you are not using a wood smoker.
I also recommend using a good digital probe meat thermometer anytime you are cooking meat to make sure it is cooked perfectly.
About Digital Probe Meat Thermometers
If you do not have a probe thermometer, you can find cheap wired ones on Amazon.com or even at your local store for as little as 15 dollars. If you want one that tells you the temperature wirelessly via a monitor that you carry with you into the house, it will run you between $60 and $100 depending on the quality and features.
I use the "Smoke" by  Thermoworks and because it is wireless, it is a huge time saver for me and worth the cost in my opinion.
The "Smoke" has (2) probes, one for the smoker temperature and another one for the meat temperature. The sending unit sits on top of the smoker and the receiver stays in your pocket or sits on the table top or counter up to 300 feet away.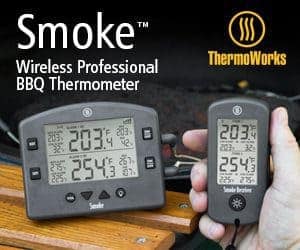 Serving the Flatty
This makes such a wonderful breakfast food but you can serve it anytime. Slice it like a cake with a very sharp knife to keep the bacon intact.
Serve with eggs, fried or roasted potatoes, and buttered toast and you'll be on the way to a great meal that you and your guests will not soon forget.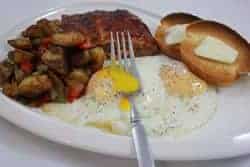 Summary
Place sausage inside ziploc bag and roll flat
Repeat with other chub of sausage
Cut around ziploc bags and remove top sides of plastic
Place parchment paper on counter
Lay bottom layer of sausage onto parchment paper and remove plastic
Layer on onion, peppers, sauce, and cheese
Add 2nd layer of sausage evenly on top of bottom layer and remove plastic
Sprinkle my original rub (purchase recipes) on top of sausage
Use bacon to create bacon weave on top of flatty
Smoke cook flatty on parchment paper for 2.5-3 hours or until sausage is done.
Slice and serve with eggs, potatoes, and buttered toast for a perfect breakfast.
Get Jeff's Products!