Smoked Chicken Satays or "Chicken on a Stick"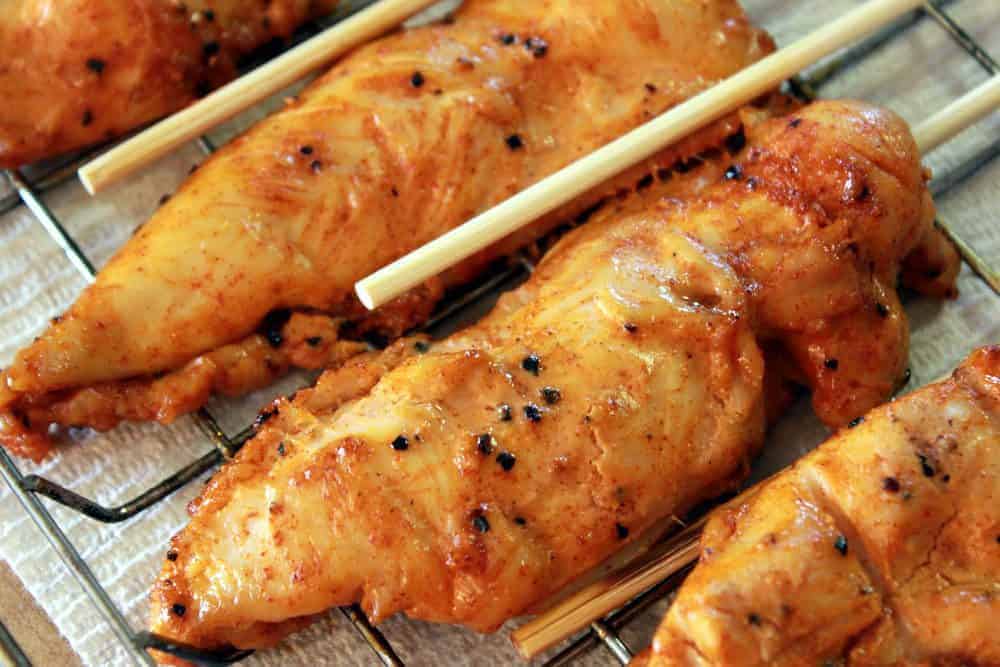 Smoking-Meat.com is supported by its readers. We may earn an affiliate commission at no extra cost to you if you buy through a link on this page.
Read this article without ads
If you've never had satays, they are marinated strips of meat on a stick and it's considered street food in many places. I love any kind of food on a stick and I think you will thoroughly enjoy these either as an appetizer or even as a main course.
You could also create a peanut based dipping sauce for these and it would go really good with the smoke but that is not what I was after in this version. Maybe next time.
Helpful Information
Prep Time: 10 minutes
Brine Time: 2 hours
Cook Time: 25 minutes
Smoker Temp: 240°F
Meat Finish Temp: 165°F
What You'll Need
(2) packages of chicken breast tenders. (mine had 10 pcs per package)
1/2 gallon of water
1/2 cup kosher salt
1/2 cup light brown sugar (dark will work if it's all you have)
1/4 cup of Hellman's or Duke's REAL mayonnaise
(1) batch of Jeff's original rub
(1) batch of Jeff's barbecue sauce
Note: the breast tenders were about 1/4 inch thick or so. You could also buy whole skinless, boneless chicken breasts and cut them into pieces yourself.
Brine the Breast Tenders
Estimated time: 2 hours
Brining chicken and especially the breast meat, is such an important part of making sure it ends up juicy and tender. The fact that it's so easy to do means you never have to serve dry chicken breast meat again in any form.
To brine:
Mix the 1/2 gallon of water with 1/2 cup kosher salt and 1/2 cup of brown sugar until the water is clear and all ingredients are dissolved.
Place the breast tenders in a zip top bag and pour in enough brine to cover. Zip the bag closed.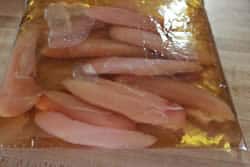 Place the bag down in a bowl to prevent the risk of leakage and place it in the fridge for 2 hours.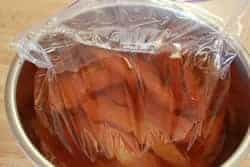 Note: About 1 hour into the brine is a great time to go get the smoker ready. You are looking for about 240°F if possible.
Once the brining process is finished, pour off the brine and rinse the chicken with cold water.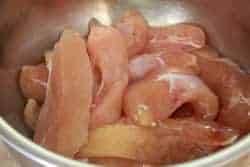 Seasoning the Breast Tenders
Estimated time: 5 minutes
Here lately I have been using mayonnaise instead of mustard on chicken to help the rub to stick. If you think about it, mayonnaise is basically oil and eggs and you really can't ask for a better combination on the chicken.
Since this recipe calls for 20 pieces, you'll need about 1/4 cup of mayonnaise to get the job done right.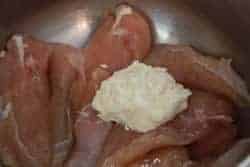 Stir the chicken around mixing it with the mayonnaise using a spoon or your hands if you like to get messy with it.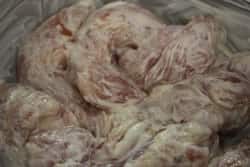 Pour on about ¼ cup of Jeff's original rub for great flavor.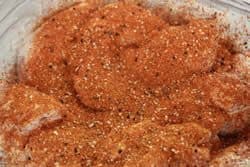 Once again, stir the meat to mix the mayonnaise and rub and get a coating on the chicken.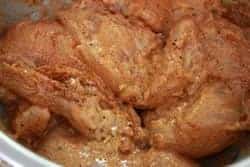 Getting the Chicken onto a Stick
Estimated time: 5 minutes
I did not get a good picture of this but it's pretty easy, just hold one of the breast tenders in one hand and push a stick through the center of the piece lengthwise.
Lay the completed pieces onto a Bradley rack or Weber grill pan as shown in the picture below:
I recommend that you get the smoker going while the chicken is brining but if you did not, you might want to place the chicken back in the fridge if it's going to take more than 30 minutes.
It is very important that the smoking temperature is as close to 240°F as possible and that you are able to hold this for about 30 minutes. Our main concern at this point is that the chicken does not overcook so I highly recommend that you stay right there with it while it cooks.
Note: I usually make a few extra pieces as testers.
Getting the Smoker Ready to Cook
Estimated time: 30-60 minutes (depending on what type of smoker you are using)
As I say in almost every newsletter.. all of my recipes are designed to be used in ANY smoker with no regard to whether it is electric, charcoal, gas or wood.
If your smoker uses a water pan, fill it up.
Note: In colder weather, it is advisable to preheat the smoker at least an hour or more before you are wanting to use it. Keep the door closed as much as possible and even skip basting if necessary to maintain proper smoking temperatures.
Smoking the Chicken Satays
Estimated time: 25-30 minutes
Place the chicken in the smoker
At the 25 minute mark, I quickly opened the lid and grabbed one of the chicken satays from the grate and closed the lid again.
It was perfectly done, and it was very tender. If you check it at 25 minutes and the chicken is not quite done, just put it back in and check it again every 5 minutes or so.
It is very easy to overcook these so be careful or you will have chicken jerky on your hands.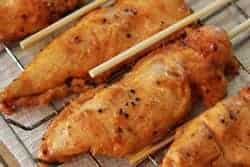 Serve the smoked chicken satays with Jeff's barbecue sauce (Purchase formula here | Purchase bottled sauce) on the side or already brushed on.. your choice.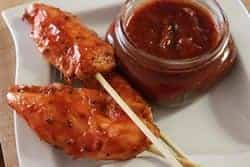 Notes
Due to the meat being so thin and it gets done so quickly, it is imperative to use a probe thermometer to get an accurate reading on the temperature of the chicken– this is the only way to really tell that the chicken is safe to eat.
I recommend using a Thermapen or a ThermoPop for these since these read in mere seconds and both have a really small diameter tip for things like this.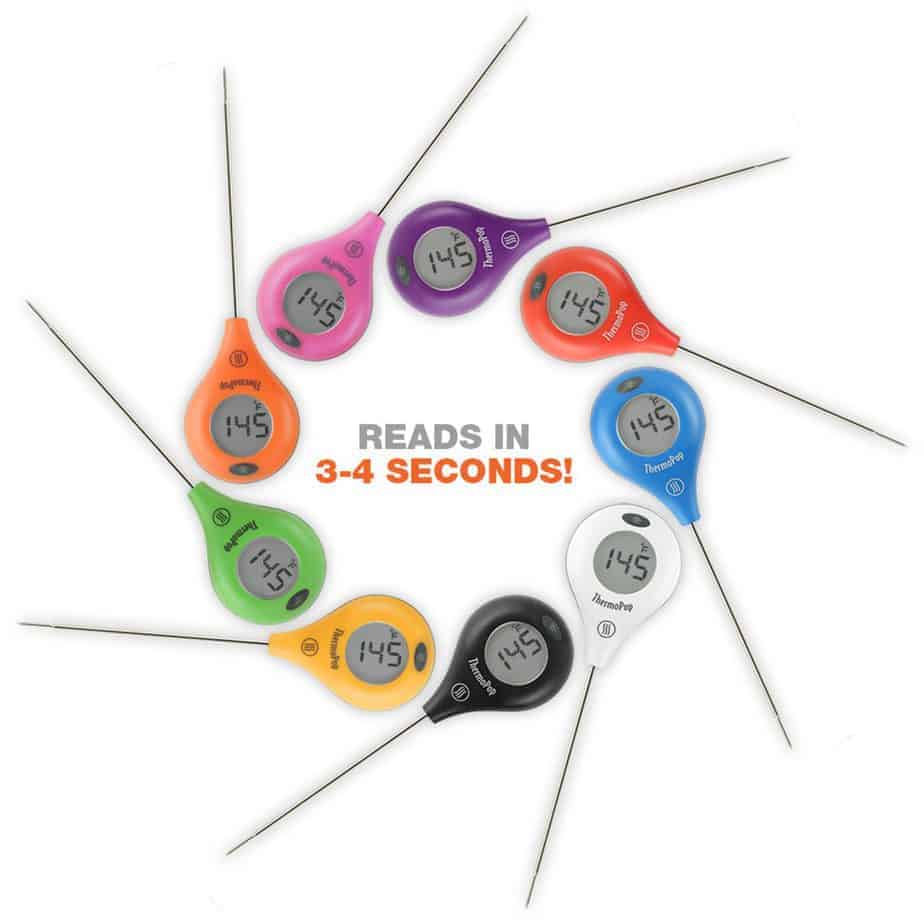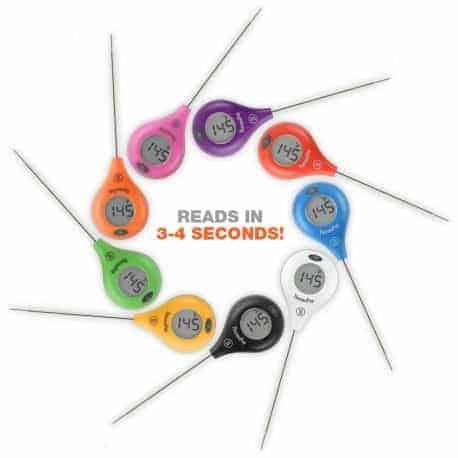 Regardless of what method you use, be sure the chicken reaches 165°F in the center.
If your chicken is a different thickness or the smoker is running at a different temperature, this will affect the length of time that it takes to get the chicken satays done. Make adjustments accordingly.
If you are wanting the charred look on the chicken satay then simply smoke them for about 15 minutes then finish them off on the hot grill with just a couple of minutes per side.
Summary
Brine breast tenders for 2 hours.
Rinse breast tenders and coat with mayonnaise and my original rub.
Place breast tenders onto skewers.
Smoke cook for about 25-30 minutes at 240°F.
Serve with my original barbecue sauce brushed on or on the side.
Get Jeff's Products!