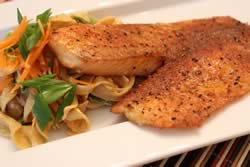 Hello and welcome to this edition of the smoking meat newsletter. This is our first newsletter of 2012 and I am excited about seeing what we can get into this year in terms of smoking meat.
I have had a lot of folks ask me about smoking fish recently and while fish has never been my favorite dish, I aim to please. I have produced a newsletter or two on salmon but I wanted to do something with a more common fish even in places where fish is not such a big part of the diet and something a little easy on the pocketbook.
I have to admit that I was skeptical about something like tilapia being good enough to recommend much less blow me away but alas.. I had nothing to be worried about.
For my experiment I went to my local grocer and ordered a few pounds of tilapia filets, put them in a short brine and smoked them until they just started flaking slightly.. I was quite surprised at the unexpected goodness and my wife exclaimed that they were perfect!
This meal was supremely easy and my goal in this newsletter is to merely show you what I did so you can try this at home.. I think you will be equally impressed and maybe even a little bit enamored if you are a fish connoisseur.
It's All About the WOW!!

My rub recipe was initially designed and developed to give ribs that certain wow factor that is so often missing.. I spent years putting this recipe together but when I got done tweaking it to perfection.. I knew that I had created a legacy of flavor that would live forever. Order today and you'll see exactly what I mean.. nothing short of amazing and what's more, it's good on almost everything!!
My Previous Newsletter: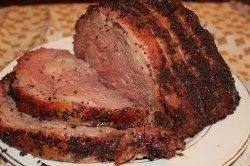 There is nothing better on the holidays than smoked prime rib. It is fancy, delicious and the perfect meal when you are celebrating the holidays or something special. In this newsletter, I walk you through my method of preparing, seasoning and smoking the best prime rib you have ever tasted.
Smoked Tilapia with Tahini Noodles

Ingredients
2-3 lbs Tilapia filets
Jeff's Rub recipe (purchase recipe)
1/2 gallon Brine (recipe below)
Tahini Noodles (recipe below)
What to Buy
Purchase fresh tilapia filets if possible from the local fish market, grocer or wherever you normally purchase fish. Frozen filets should be fine as well if that is your only resort. The filets will normally be about 8-10 ounces each so just purchase one for each person that you are serving and that should be plenty. Kids and very light eaters will probably only eat 1/2 filet.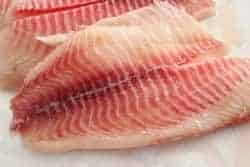 Preparation
place the filets in a large ziploc bag or a lidded non-reactive container such as plastic or glass. Pour enough brine (recipe below) over the fish to cover and place in fridge for about 1 hour.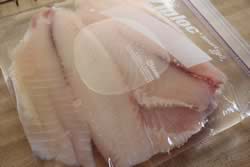 ---
Brine Recipe
Ingredients
1/2 gallon water
1/2 cup kosher salt
Instructions
Put 1/2 gallon of water into a large pitcher or other suitable container. Add the salt and mix until the mixture is completely clear (the salt is dissolved).
Note: Many folks have asked me why I use kosher salt in the brine instead of sea salt and the answer is "no reason". I have always purchased the kosher salt and it works good for me. Sea salt works just as well if not better as long as it is of the coarse variety.
---
Seasoning the Fish
When the fish are finished brining, place the filets on a Bradley rack or a shallow pan. Brush on some melted butter to help the rub to stick or you can spray or brush on some olive oil if you prefer.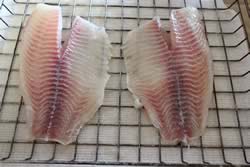 Sprinkle a generous amount of my rub (purchase recipe) onto one side of the fish. Use the picture below to give you an idea of how much. It's not caked on but the fish is completely covered. The rub will create a really nice crust on the outside of the fish while it smokes and the flavor will be amazing.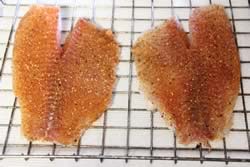 Once the fish are seasoned..leave them on the counter for a few minutes while you go out and get the smoker ready.
Smoking the Fish
I love to use real wood or charcoal for smoking but many of you use gas and electric to smoke and the fish will do really well in that setting. I decided to use the 4-rack digital Bradley smoker for the fish with the special blend smoking biscuits.
If you want to use the gas smoker or even a charcoal or wood burning smoker, that is great also just make sure to use a wood that is lighter in flavor such as alder, apple, or cherry so the smoke does not overpower the fish.
Prepare the smoker for cooking at about 220 degrees and once the smoke is starting to show, place the fish directly on the grate with the seasoned side facing up. I highly recommend spraying a non-stick oil on the grate before placing the fish to help keep them from sticking to the grate.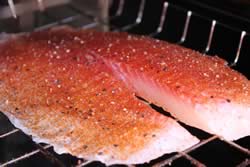 Smoke the tilapia filets for 45-60 minutes or until they just start flaking slightly. My filets took exactly 1 hour and they were perfectly done in that amount of time. The thickness of the fish will determine if they take more or less time to get done.
Keep the smoke going for at least 30 minutes but I recommend the entire time if possible.
Serving the Tilapia
You can serve the tilapia as is but I highly recommend serving it with some pasta such as cold cooked tahini noodles. The noodles are slightly spicy and served cold or at room temperature and go really well with the smoked tilapia laid right on top.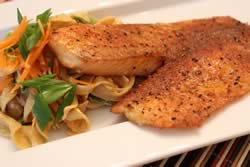 The recipe for my wife's tahini noodles is below:
---
Tahini Noodles
Serves: 4
Ingredients
1/4 cup sesame oil
1/4 cup rice vinegar
1/4 cup soy sauce
3/4 cup tahini (sesame paste)
1 teaspoon Sriracha chili sauce (+ more if you like it hot)
3 cups cooked pasta, rinsed in cold water and cooled
1 cup thinly sliced green onions
1 cup shredded carrots (optional)
Instructions
Be sure to stir up the tahini in the jar before using. It separates as it sits. In a medium bowl, whisk together oil, vinegar, soy sauce and tahini until smooth. Add chili sauce to taste. Toss with the pasta, green onions and carrots. Serve immediately.
---
Summary
Purchase tilapia filets
Brine fish for 1 hour in fridge
Brush melted butter onto 1 side of fish filets
Season buttered side of fish with Jeff's rub (purchase recipe)
Smoke tilapia for 45-60 minutes (until slightly flaky)
Apply smoke for at least 30 minutes (1 hour is better)
Make tahini noodles when fish is almost done
Serve fish over tahini noodles
Notes:
I do not worry about drying the tilapia (forming a pellicle) after brining as you would when cooking salmon and some other fish.
Some folks feel that you should not cook fish in the same smoker that you use for other meats. It is believed that the smells and flavors will get into the walls of the smoker and make everything that you smoke taste like fish. I can only speak of my own experience and I can say that I have smoked fish, beef, pork and poultry in the same smoker and I have never been able to detect this problem. In my experience, this is not a valid concern.
If tahini noodles are not your thing, this smoked fish would also taste great over almost any butter pasta or even pasta with an alfredo type sauce. Feel free to use whatever pasta that you like.
Folks.. I never stop amazing myself at how good my rib rub recipe and sauce recipe is on various kinds of meat.
Whether it is fish, ribs, brisket, pork shoulder, turkey or even ham, chicken or chops, every time I use my rub and sauce I am blown away by the flavor all over AGAIN!
I always think to myself, "I sure hope everyone can try this.. it is too good to go through life never having experienced this!"
I am not being dramatic.. just try it and you will join the ranks of those who know if I'm lying then I'm dying! This stuff is Fan-flavor-tastic and you need it in a bad-bad way;-)
Here is a few recent testimonies from other folks who decided to go for it and are glad that they did. Be sure to send my your testimony once you try it and realize that you have just tasted of HEAVEN.
—————————————————
Jeff, your Rib Rub is to die for, I have used it on all meats including Venison and I have to say you have created a master piece, Thank you for letting us common folk in to your smokin life ~ Kevin
—————————————————
I would like to Thank You for the Rib Rub Recipe, I made this for my family and the results were unanimous, everyone said that the ribs were the BEST they ever tasted, and the meat was very tender and moist. I haven't tried the BBQ sauce recipe yet, but I will in the near future. ~ Jerome
—————————————————
I purchased the rub and sauce and I have to say that I love it and so has everyone that has tried it, just like you and others said they would. ~ Matt
—————————————————
Jeff I have to tell you that your rub and sauce recipes are the best. I had never smoked a rib or anything until last weekend and by fallowing your directions on your site I was the RIB KING for a day. Thanks a bunch pal, ~ Harold
—————————————————
Let me say that I've been using your Rib Rub for a couple years now. I use it on ribs (obviously), but I also use it on steak, ham, chicken, and everything else I smoke. My family and I absolutely LOVE it! It rocks! ~ Trapper
—————————————————
Jeff, I did a smoked pork roast yesterday and used your recipe both for the pork and for your Smoky Barbecue Sauce. Everyone loved it. My wife said the sauce was the best she had ever tasted and I have to agree. Fantastic. ~ Barry
—————————————————
You deserve the very best and is is completely within your grasp! Only $18.95 and worth every penny. Not only do you get the best rub recipe and sauce recipe available, you are supporting this website and helping to make sure the bills get paid so we can keep on doing what we do to teach thousands and thousands of people across the world the art of smoking meat.
Order Recipes | Read Testimonies
What Happens Once You Order?

My system is automated which means you should get a download email within mere MINUTES of ordering.. check your spam/junk folder first then, if you can't find them, contact me to get the recipes sent to you as an attachment. The download email will allow you to log in and save a copy of my recipe file to the hard drive of your computer. This recipe file is a PDF and contains my very own rub recipe and sauce recipe. Please let me know if you have other questions about these recipes.
Introducing Smoking Meat Forums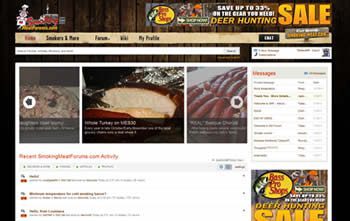 If you are not a member at Smoking Meat Forums then you are missing out on a great experience.
With 46,000 members and more than 900,000 posts, questions are usually answered within minutes and is the single BEST way online to get an answer to your smoking meat questions.. all for free. We are also one of the few forums online where the newbies are allowed to feel as welcome as the seasoned members.
Topics range from how to build your own smoker at home from scratch, to making buck board bacon to what is the best electric smoker and this is only scratching the surface.
I am there every day helping to answer questions and making sure the user experience is top-notch. I look forward to seeing you there.
SmokingMeatForums.com.. a better way to do forums!
Click here to join for free
In Closing

Thank you for being a part of the smoking meat family which includes the newsletter, the forum, the smoking-meat.com website and many other resources that we try to provide to help you and countless others learn this great art.
A HUGE thank you to all of you who support the site by purchasing the recipes and other products that we sell. That is what keeps the wheels turning here at Smoking Meat HQ and it is much appreciated.
By the way, if you shop online, use our Amazon link. It doesn't cost you anything extra and we get a few cents from everything you purchase. I certainly appreciate it. CLICK HERE to shop at Amazon.com.
Until next time.. keep smoking and God Bless.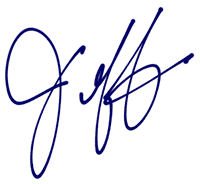 Jeff Phillips