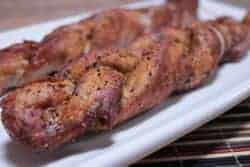 I'll make no bones about the fact that I really love smoked pork tenderloin but when I saw a picture a while back of it cut into partial strips and then braided, I knew I had to give it a try in the smoker.
I will be the first to admit that this is a beautiful presentation but my thinking is that by doing it this way, each little strand will also get a little extra one on one time with the delicious smoke flavor that can only be imparted in a real live smoker.
My 10 year old son helped me with this experiment and you will notice in the pictures below that he just had to try a little something extra with his pork tenderloin.
He really put a lot of himself into his multi-tentacled piece of meat and it ended up looking more like a strange sea creature than anything else. He really enjoyed it and I loved the fact that he was helping me and at least being interested in the art of cooking.
In the end, all of the braided and smoked pork tenderloins were amazingly tender, flavorful and moist beyond words and I must have devoured at least half a pound while I sliced it up.
The Recipes for My Rub and Sauce – Order Now

"The rub and sauce are great! I am still new at smoking, but your site and the recipes are making it easy. I've got the MES and have done baby back ribs twice, chicken twice and did my first brisket last weekend. Everything has turned out so much better than I could have imagined. Thanks again for the recipes, well worth the small price, and I couldn't put a price on what I've learned at the site."
If you have benefited at all from the newsletter and/or the website, purchase the recipes and you'll be glad you did, I promise!!
Amazing, Tasty, Easy to make using ingredients you probably already have and it supports the website and the newsletter.
A wonderful combination!!
Special: Order the recipes for my rub and my sauce and, for a limited time, you get the following gifts for free:
Complete 28 page, 5 chapter eCourse in PDF format
Ad-free Newsletter
Order Recipes | Read Testimonies
NOTE: Watch for an EMAIL with a download link just as soon as you order. Didn't get it? Check your SPAM filter and let me know if you can't find it.
Braided and Smoked Pork Tenderloin

Prep Time: 20 minutes | Cook Time: 2.25 hours | Smoker Temp: 225 F | Meat Finish Temp: 145 F | Recommended Wood: Apple and/or Cherry
What You'll Need
2 pork tenderloin
Extra virgin olive oil (EVOO)
Jeff's rub (purchase recipe here)
Toothpicks
Foil pan
A basic knowledge of braiding with 3 strands
How to Prepare the Meat
In my neck of the woods, the pork tenderloins usually come (2) to a package and they are relatively inexpensive.
Remove from package and rinse under cold water. Pat dry with a paper towel.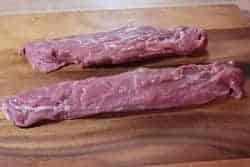 Using a very sharp knife, cut each tenderloin in half lengthwise.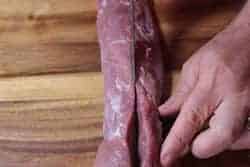 The (2) halves laid out nicely;-)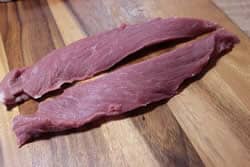 Very carefully slice each half into three equal strands. This does NOT have to be perfect but just do the best you can.
Start cutting about 1 inch from one end to keep the strands together.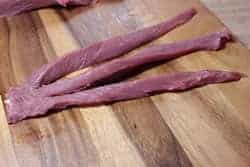 Braid the three strands of the pork tenderloin.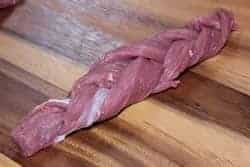 Poke a toothpick through all of the strands at the end to keep them intact.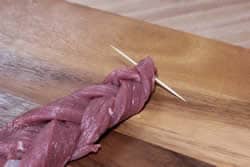 Place the braided pork tenderloin in a foil pan if you wish to keep the work area cleaner and apply some olive oil to the meat.
Note: you can also use mustard, jelly, honey, etc. instead of the oil to help the rub to stick better.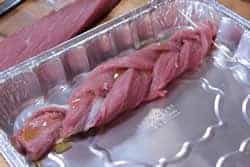 On my first one, I applied the oil and the rub after it was braided. On my second time around, I applied the oil and rub BEFORE braiding and it worked so much better.
My rub is not overly salty and adds just the right amount of flavor to the meat.
Perfect and ready for smoking!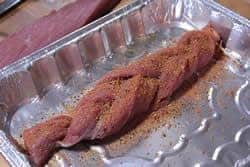 You will notice that I did (2) regular braided pork tenderloins then (1) was wrapped in bacon. My son's version is the 3rd one in, next to the bacon wrapped version.
As usual, I placed them on a Bradley rack to make it super easy to carry them to and from the smoker.
A note on the Bradley racks: I have had a few of you email me and ask me why I promote the Bradley smoker in almost every newsletter. The answer is that I don't. I do have a Bradley and it is an excellent electric smoker in my opinion but it is not the Bradley smoker that I tout so highly all the time. It is the racks that come with the smoker.
Fortunately for you and I, these can be purchased separately on Amazon (in sets of 4) and used in almost any smoker and they are one of my favorite cooking tools.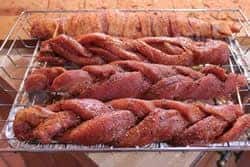 Smoking the Braided Pork Tenderloins
Once the tenderloins are ready to go, leave them on the cabinet for a few minutes while you go get the smoker ready.
You will want to maintain about 225 degrees on these for about 2 hours and 15 minutes. It may take slightly more or less time depending on how well you hold your temperature, how accurate your thermometer is, how big the tenderloins where starting out, and any number of other factors.
The MOST important thing to know is the internal temperature of the meat.
The pork is done and should be promptly removed from the heat when they reach an internal temperature of 145 degrees F.
At this temperature the meat is juicy, tender and full of flavor. Go past this point and this very lean meat will begin to dry out.
It took mine 2 hours and 15 minutes to reach 145 degrees.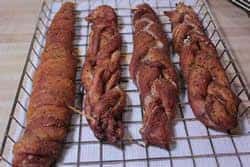 My two normal braided and smoked pork tenderloins.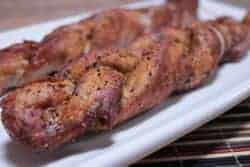 Smoked pork tenderloin is often sliced and used on a slider or just by itself with a couple of sides but this time I wanted to use the meat on an awesome salad. I simply sliced the meat as I normally would and because of the way it was braided, it fell apart into perfect little bite-sized pieces that would be perfect atop a salad.
Here's a closeup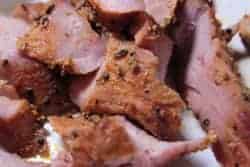 Here is all of the meat in a serving dish so everyone can top their salads as they see fit.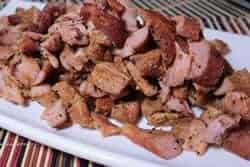 Oops! (No picture of the salad… I do apologize for that)
Another serving idea: This would be awesome served on top of a bed of rice or even some noodles. This meat is so tender and delicious and would probably work in many different dishes if you just let your imagination run wild a little bit.
Jeffrey's Braided Pork Tenderloin (alias: Sea Creature)
He (with just a little help) cut the tenderloin half into 6 strands and applied oil and rub to them generously.
They were then separated them with 3 on the left and 3 on the right.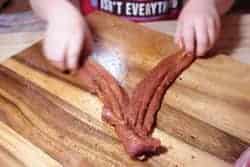 Each group was braided..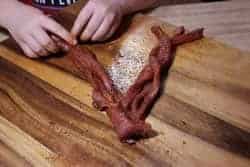 Then the (2) braided groups were braided together..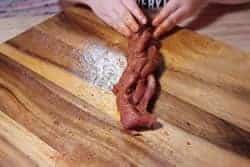 Smoked at 225 for 2.25 hours;-)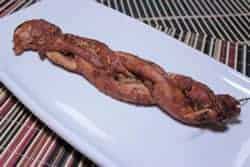 Be sure to let your kids/grandkids help you in the kitchen and outdoors with the cooking. Who doesn't like to play with their food and it is something that they will treasure for life.
The Recipes for My Rub and Sauce – The Perfect Combination!

You cannot get these recipe anywhere else other than in this newsletter and on my website.
Many people use the recipes for my rub and sauce exclusively, and even some restaurants and competition teams use them to win customers as well as competitions.
Both the sauce recipe and the rub recipe are a perfect blend of sweet and spicy and this is easy to adjust if you like it more mild or even more spicy.
I also love the fact that my rub and sauce recipes are both low on salt and you can use a lot or a little depending on what you are doing with no fear that it will become overly salty.
On a salt restrictive diet? Use half the salt that the rub recipe calls for and it is still very good. Bottom line.. you need these recipes in your repertoire!
Can you use other rubs and seasonings? Sure you can and that is your prerogative but I feel a responsibility to let you know that if you want your food to be all it can be, then try my rub on it and, like so many other happy customers, I think you'll be very glad that you did.
Try the recipes out.. if you don't agree that they are THE BEST, I'll refund your money just like that!
Here are a few testimonies that clearly speak for themselves:
---
Smoked a Pork Butt last night and applied the mustard and your rub…Just finished it off with your bbq sauce! I have to say that this turned out awesome and much better than I used to make! thanks for the rub/sauce recipes! ~ Troy
---
Hello Jeff I recently purchased your recipe for rub-n-sauce and just wanted to let you know that its off the chart. well worth the cost. I am cooking for about 50 family and friends at lake Texoma this weekend and cant wait to see everybody's reaction ~ Jack
---
Jeff, You truly are the man. Bought your rib rub and your sakes alive sauce and love them both. Keep up the good work helping people like me learn to cook good BBQ with smoke. ~ Matt
---
Jeff, I was smoking a Boston butt Saturday night for dinner Sunday and decided to try your bbq sauce. I have to say this is hands down the best sauce I've ever had and I've tried a lot of them. Its very easy to make, inexpensive and taste excellent. I will be using this recipe for a long time. ~ Doug
---
I've made tenderloins for years both on the smoker and not, but the use of Jeff's rub and sauce made them amazing. my family loved them. ~ Kathleen
---
I think the above testimonies say it better than I ever could.
How can you argue with unsolicited testimonies sent in just because folks who purchased the recipes wanted to let me know how good they were?
You deserve the very best and it is completely within your grasp!
Only $18.95 and worth every penny.
Not only do you get the best rub recipe and sauce recipe available, you are supporting this website and helping to make sure the bills get paid so we can keep on doing what we do to teach thousands and thousands of people across the world the art of smoking meat.
Order Recipes | Read Testimonies
What to Expect Once you Order

When you order, you will get:
The recipes for my very own rub and sauce
The "Smoking Basics eCourse" in PDF Format
Ad-free Newsletter
Here's how you get it:
You order the recipes
My automated system sends you a download link in an email with a password
You click on the link and use the password to download the recipes and the free gifts to your computer
If you DON'T get a download email with the link and a password within 10 minutes:
Check your spam/junk folder (sometimes they get caught there)
If you can't find it, email me and let me know you didn't get it
I will send the recipes and login info to you as an attachment in an email
You let me know you got it, we are both happy campers!
Father's Day – My Book is An Excellent Gift!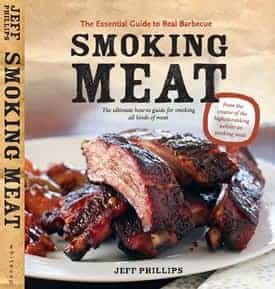 Be sure to get your Dad, Husband, Grandfather, Uncle (you get the idea) my book for Father's day this year.
This book has a rating of 4.8 out of 5 possible points on Amazon and it still amazes me how much folks love this book.
When I was asked to write this book, I really wanted folks to like the finished product. Many books fall flat and never make it very far but we are in our 3rd printing in just over a year and there is no signs of slowing down.
I feel very blessed to have found such an awesome reception among my readers.
We have plenty of books at Amazon.com, Barnes and Noble, Books-a-Million, etc. Almost any store that sells books whether brick and mortar or online can get it for you within a few days even if they do not have it on the shelf. Get your copy today!
I am being told that most Barnes and Noble stores are now stocking the book on the shelf for immediate sell.
Amazon.com | Barnes & Noble | Nook | iTunes
Amazon.com Orders

If you enjoy the newsletter and would like to do something helpful, you can do so without sending me a dime.
The next time you decide to order something at Amazon.com, use THIS LINK to get there and we'll get a small commission off of what you purchase.
Thank you in advance for using our special link: http://www.smoking-meat.com/amazon
Free Smoking Meat Newsletter