What is it about the inner carnivore in humans that make us love to eat things off of a stick? If you think about it, that's exactly what a rib is and if it doesn't come with it's own stick.. well, then we insert one.
This smoked pork tenderloin on a stick can serve as dinner laid across a bed of rice with some summer vegetables or you can eat them by themselves as a game time appetizer or a party dish while your guests wait on the real food.
Extremely versatile and did I mention that these are quick and easy to make?
Smokes to a perfect 145 in about 1 hour and if you want to give them a little smoke then some sizzle on the grill, well, you can do that too.
Get the Recipes – Banish the Ads
My rub recipe mixed with Worcestershire really shines as as an overnight marinade for this pork tenderloin. You have to try it!
Guaranteed you'll love it or your money back!
Reasons to buy: Support the newsletter and the website | Own the recipes | Get the newsletter 100% AD FREE from now on
Smoked Pork Tenderloin on a Stick
Important Information
Prep Time: 30 minutes
Marinate Time: 8 hours (or overnight)
Cook Time: 1 hour
Smoker Temp: 230 degrees F
Meat Finish Temp: 145 F
What You'll Need
2 pork tenderloins (about 1.5 lb each and usually come 2 per pack)
Worcestershire sauce
Jeff's rub and sauce (purchase recipes here)
Red pepper flakes
Wooden skewers
Honey
Cleaning up the Tenderloins
Lay the tenderloins on the cutting board and remove as much of the visible fat and silverskin that you can. Using a very sharp knife will do wonders for you here.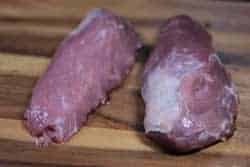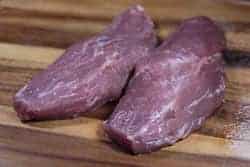 Cutting the Tenderloins into Strips
Press one of the tenderloins down flat with the flat edge of your knife or the palm of your hand.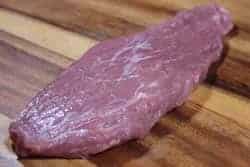 Cut the tenderloin into strips that are about 1/4 inch wide. Don't stress over this as it does not have to be perfect.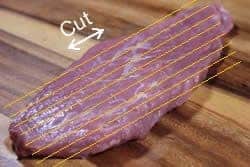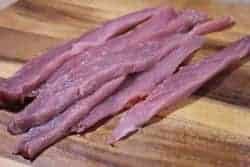 Marinating the Strips of Pork Tenderloin
Place the strips into a gallon sized Ziploc bag or plastic/glass bowl with:
Worcestershire (enough to cover)
1/3 cup of Jeff's rub (purchase recipe here)
2-3 TBS of red pepper flakes (optional and only if you like things a little spicier)
Place the bag or bowl into the fridge overnight (8-10 hours). If you can it is always a good idea to stir things around a little at the halfway point to make sure that everything is getting well marinated in there.
Putting the Meat onto the Sticks
My skewers were about 12 inches long and I wanted the meat to be in the middle so you could hold the stick on both sides.
Place about 2 strips on each stick by pushing the stick through the top of the strip and then through the bottom giving you the fan pattern. Push the meat toward the center of the stick so that it is fairly tight.
You should get about 4 skewers per 1.5 lb tenderloin.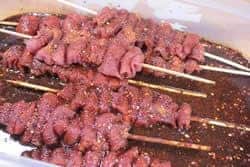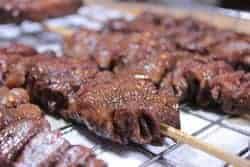 Smoking the Sticks of Pork Tenderloin
Set up your smoker for cooking at about 230 degrees F and enough smoking wood for about an hour of smoke.
Once the smoker is ready and maintaining, place the sticks of pork tenderloin directly on the grate. If you have the Bradley racks like I do, this will be a very easy thing to do.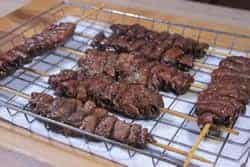 Finishing Up
The new and safe done temperature for pork such as loin and tenderloin is 145 degrees F and this is a wonderful thing since this allows it to be juicy and tender as it should be.
Use a thermometer such as the super-fast thermapen or a remote digital meat thermometer like the Maverick ET-732 to monitor the temperature so you can remove it right when it is in it's most perfect state.
For thin meats like this, the super-fast thermapen will work much better if you have one.
Depending on how thick you ended up slicing the meat, it should take about 45 minutes to an hour to smoke cook these to 145 degrees F.
About 30 minutes into the process, brush the honey barbecue sauce (recipe below) onto the meat. Brush on more about 15 minutes later.
Honey Barbecue Sauce
Mix together well. Works best if the honey is heated just a little.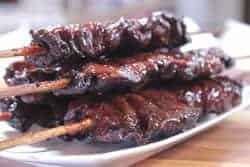 Smoked Onions
This goes great with the pork tenderloin especially if you are eating it over rice as a meal.
Slice red onions about 1/2 inch thick and place a toothpick through it to hold the rings together.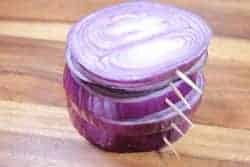 Lay the onion slices on a Bradley rack and coat with olive oil and a good sprinkling of my rub.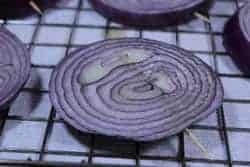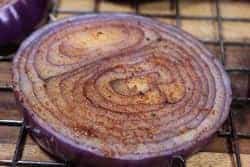 Put the  onions in the smoker at 230 degrees F about 30 minutes before the tenderloins go on if you want them to be really soft (wimpy). 1.5 hours was perfect for me.
If you want them to have a little al-dente to them, then 1 hour is good.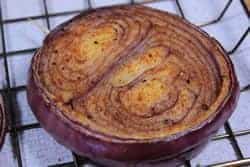 Brush on a little of the honey barbecue sauce about 30 minutes before they are done cooking.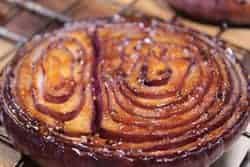 Order Jeff's Rub Recipe and Sauce Recipe
If I could give these recipes away, I would do that. I really want you to have them!
But, then, this is how I support the newsletter, the website and all of the other stuff that we do here to promote the art of smoking meat.
Read these testimonies:
Words can't describe how good your rub and sauce are. I just purchased your recipes last week and cooked outside three times already using the rub and sauce. I have never tasted anything that even comes close to this. Thanks so much for sharing this with us Jeff. ~Steve G.
Jeff, I bought your rub and sauce recipes a few months ago and you were ABSOLUTELY RIGHT! These are the best. Even my very picky wife and mother in law say they love them. I use them on everything I smoke, ribs,chicken.fish,roasts. Every newsletter you have I'm smoking it  a couple days later! I used my smoker 15 times in the snow and it gets you thru winter a lot sooner! THANKS!  ~Brian in Wisconsin
You see the raving testimonies and you wonder, "Can they really be that good?"
No worries!
Make up a batch and if it's not as good as you've heard.. simply ask for a refund.
Now that's a bargain and you know it.
Let's review:
Completely guaranteed.. No worries
The recipes are absolutely amazing
Once you order, every newsletter will be Ad FREE
Well.. what are you waiting for.. click that link below that says "Order the Recipes Here"
Note: This ad should not show up in future newsletters once your purchase the recipes. Let us know if you are having any problems with this.
I really, really appreciate the support from my newsletter friends and be sure to let me know if you have any questions about this.
Favorite Past Newsletters
Smoking Meat: The Essential Guide to Real Barbecue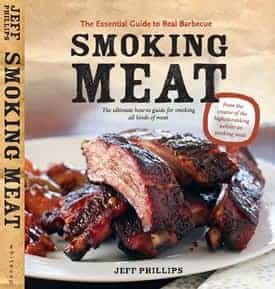 If you do not have a copy of my book on smoking meat, then get a copy today. It is full of recipes and tons of helpful information as well.
With 105 reviews on Amazon.com and a rating of 4.8 out of 5 stars, it comes highly recommended.
If you are interested in a digital copy, we have versions available via Nook | iTunes
Note: For my German readers, the book is now available under the title "American Smoker" and translated into German at Amazon.de
Amazon.com Orders
If you enjoy the newsletter and would like to do something helpful, then..
The next time you decide to order something at Amazon.com, use THIS LINK to get there and we'll get a small commission off of what you purchase.
Thank you in advance for using our special link: http://www.smoking-meat.com/amazon