Smoked beer can chicken is a play on a classic recipe usually done on the grill but it does equally well, if not better, on the smoker and begs the question, why not!
For those of you not yet familiar with this method of cooking chicken, a beer can half full of beer (or root beer, Dr. Pepper, etc.) is inserted into the cavity of the chicken in such a way so as to help it to stand on end with the two legs out in front keeping it stable.
The steam from the liquid is believed by many to add moisture and flavor to the meat while it cooks.
Others will tell you that it does nothing that could not be accomplished by brining.
Regardless of who you choose to listen to, it is a method worth trying for yourself and you may find (like so many others have) that it is a memorable experience and that it tends to please the folks who are eating at your table and your tailgate.
I, for one, am a big fan!
Important Information
Prep Time: 20 minutes
Cook Time: 3 hours 30 minutes
Smoker Temp: 230 degrees F
Meat Finish Temp: 165 F
What You'll Need
1 whole chicken
12 oz can of beer (or root beer, Dr. Pepper, etc.)
Extra virgin olive oil
Get the Recipes for Jeff's Rub and Sauce
---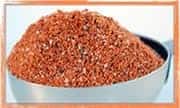 I get questions all the time, "is your rub recipe good on poultry?" Well yes, as a matter of fact, I highly recommend it for poultry including this amazing smoked Beer Can Chicken. Simple to make and easy to use.
I promise you'll love my dry rub/seasoning recipe and my barbecue sauce recipe or you don't pay!
Reasons to buy: Support the newsletter and the website | Own "the recipes" | Get the email newsletter 100% AD FREE from now on | Includes the Texas style rub recipe

Preparing the Chicken
Rinse the chicken under cold water and remove the neck, giblets and anything else that got stuffed into the cavity. Set on the cabinet and pat dry with a paper towel.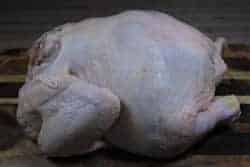 The main event in getting the chicken ready is in getting the rub up under the skin and this is not nearly as hard as it might seem.
Use your hands or even a spoon between the skin and the meat on the back and the breast to separate it being careful not to tear it.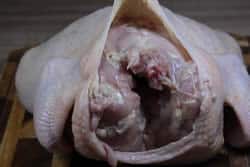 Once it is separated, set the chicken straight up on one end and pour several tablespoons of my rub down into each side of the breast and back.
Massage the outside of the skin to spread it out a little for full coverage.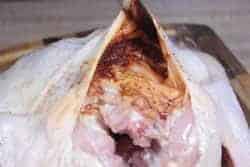 Once the rub is applied, the next step is to open a can of beer or some other liquid and make about half of it disappear by whatever method you choose to employee. (I used root beer on this one but some folks swear by using Dr. Pepper as well.)
Place 2 TBS of my rub down into the can of liquid. Add slowly or it will cause a volcano!
Set the can on the cabinet or cutting board and slowly place the cavity of the chicken over the can with the legs and the can acting as a tripod.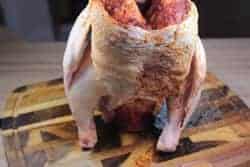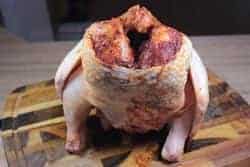 I used a Bradley rack to keep things more stable while carrying it out to the smoker.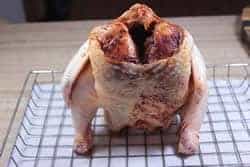 At this point the chicken is ready for the smoker.
Getting the Smoker Ready
I used the Bradley smoker for this smoked beer can chicken but any smoker will work as long as you maintain the temperature and add plenty of smoke to it.
Set up your smoker for cooking at about 230-250 degrees. If you have a water pan be sure to use it and I recommend at least 2 hours of smoke if you are using an electric, charcoal or gas smoker.
Once the smoker is maintaining a steady temperature, it is ready for the chicken to go on.
Smoking the Beer Can Chicken
Place the beer can chicken on the smoker grate very carefully making sure it is stable.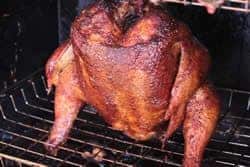 Maintain 230-250 degrees for about 3 hours and 30 minutes or until the chicken reaches 165 degrees in the thickest part of the breast or thigh.
Use a Maverick ET-732 or a Super-fast Thermapen to keep an eye on the temperature of the chicken. When it reaches 145 degrees, you will want to baste it with a oil/rub mixture.
Olive Oil/Rub Mixture
3/4 cup of olive oil
2 TBS of my rub
Mop onto the chicken a couple of times before it finishes to add some good flavor and color to the outside of the chicken.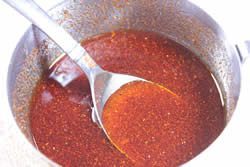 Finishing Up the Beer Can Chicken
The chicken is finished when it reaches 165 degrees in the thickest part of the thigh and breast. I usually check it in both places since they can be different. You want both spots to be at 165 when you take it off the smoker.
---
A few words about a couple of my favorite thermometers..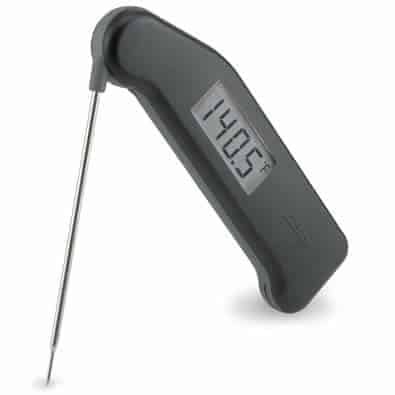 I like to use my Super-fast Thermapen for checking the meat when it gets down to the finish line. The probe is much skinnier than most probes and I can get a reading in under 2 seconds!
I consistently get 1-2 second readings on mine and I have dubbed it the "black ninja" concluding that it slips into the meat, records the temperature and gets out before the meat even knew it was there.
---
Serving the Smoked Beer Can Chicken
I made cream cheese/cheddar stuffed jalapeno's wrapped in bacon and Dutch's Wicked Baked Beans to go with the chicken and it was a wonderful ensemble!
Dutch's wicked baked beans is a recipe from my Smoking Meat book and can also be found at smokingmeatforums.com. This is the most amazing baked bean recipe in the world. If it tells you anything, I don't eat baked beans and never have.. but I eat these.
They are laced with pineapple, bacon and jalapeno and smoked right along with the chicken for about 3 hours.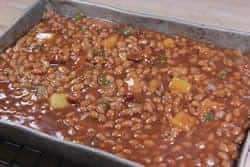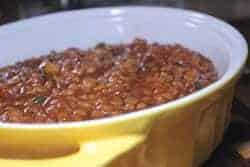 I wrote about the Stuffed Peppers in a recent newsletter HERE.
The only difference I made was in how I wrapped the bacon.. I usually wrap it lengthwise around the pepper and this time I wrapped it widthwise to help hold in the cheese. This also eliminated the need for toothpicks.
Smoked for 3 hours, they are one of my favorite smoked appetizers of all time.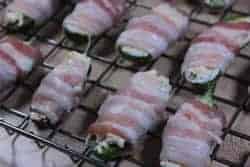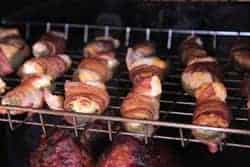 Everything together and ready to eat.. let's carve it up and get started!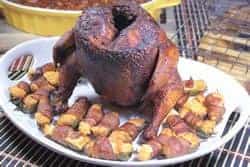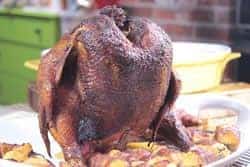 ---
AND
.. we are running a limited-time 
30% off sale on the DOWNLOADABLE RECIPES ONLY
.
Click HERE
to purchase the instantly downloadable
recipes (formulas)
 for both of my rubs and barbecue sauce for the lowest price I've EVER offered. Somebody pinch me! Or better yet, just
go get them
😉
Note: The coupon should be automatically applied OR use JOY30 during checkout if necessary.
***Note: you get the Texas style rub recipe free with your order!
If I could give these recipes away, I would do that. I really want you to have them! But, then, this is how I support the newsletter, the website and all of the other stuff that we do here to promote the art of smoking meat.
Read these recent testimonies:
"Love the sauce and rub recipes. So far I have used them on beef ribs, pork ribs, and different chicken parts. Can't wait to do a beef brisket. Texas rub is great as well!" ~Peter S.
"I tried the rub on a beef brisket and some beef ribs the other day and our entire family enjoyed it tremendously. I also made a batch of the barbeque sauce that we used on the brisket as well as some chicken. We all agreed it was the best sauce we have had in a while." ~Darwyn B.
"Love the original rib rub and sauce! We have an annual rib fest competition at the lake every 4th of July. I will say we have won a great percent of the time over the past 15 years so we are not novices by any means. However, we didn't win last year and had to step up our game! We used Jeff's rub and sauce (sauce on the side) and it was a landslide win for us this year! Thanks Jeff for the great recipes. I'm looking forward to trying the Texas style rub in the near future!" ~Michelle M.
You see the raving testimonies and you wonder, "Can the recipes really be that good?"
No worries! Make up a batch and if it's not as good as you've heard.. simply ask for a refund. Now that's a bargain and you know it. Let's review:
You decide you don't like the recipes.. you don't pay!
The recipes are absolutely amazing!
Once you order, there'll be no more recipe ads in the email version of the newsletter
Well.. what are you waiting for.. click on the big orange button below to order the recipes now.

I really, really appreciate the support from my newsletter friends and be sure to let me know if you have any questions about this.
Favorite Past Newsletters
Order My Smoking Meat Book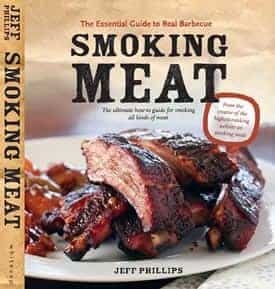 The book is full of recipes and contains tons of helpful information as well. Some have even said that "no smoker should be without this book"!
With more than 590 reviews on Amazon.com and a rating of 4.7 out of 5 stars, it comes highly recommended.
It is also listed as a #1 Bestseller in Barbecueing & Grilling books on Amazon.
Amazon | Barnes & Noble (in stock at most stores)
Digital versions available via Nook | iTunes | Kindle
Note: German version available under the title "American Smoker" at Amazon.de
Amazon.com Orders
If you enjoy the newsletter and would like to do something helpful, then..
The next time you decide to order something at Amazon.com, use THIS LINK to get there and we'll get a small commission off of what you purchase.
Thank you in advance for using our special link: http://www.smoking-meat.com/amazon