This week we are talking about smoked chicken wings and while these are very similar to smoked hot wings, these are not the traditional chicken wings that are rolled in flour, fried then coated in wing sauce.
Instead these are seasoned with my rub (very good by the way), smoked with cherry wood and then brushed with my delicious barbecue sauce recipe about 30 minutes before they are finished.
We always have plenty of these at the N. Florida Gathering every year and it happens to be one of my favorite appetizers followed very closely by ABT's.
For this newsletter, I smoked 15 pounds of wings which ended up being about 50 of them. I love filling up the smoker and now that I have a Meadow Creek wood burning smoker, that takes a little more meat than it would on the WSM or the Bradley.
I had planned to do these on the Weber Smokey Mountain but somewhere between breakfast and halfway to lunch, I got in the mood to fire up the new wood burner(if you had one you'd understand how fun it is!)
Don't worry, you can do these very successfully on any smoker whether it's gas, electric or charcoal. Maintain the recommended heat until the wings reach the goal temperature and you'll be good.
I often get emails asking me if I have special recipes for electric or gas and I really don't.
Heat + smoke x time= smoked food
Any food safe heat source that can maintain about 225 degrees will work. Add smoke by burning chips, chunks, pellets or even sawdust and you are SMOKING!
You won't find a better way to try out my rub and sauce than on smoked chicken wings! It's almost as if they were designed for it. Use the rub generously before cooking them then brush on the sauce about 30 minutes before they are finished and you'll see what I mean. In a word.. AMAZING!
Order the recipes today!!
How to Make Smoked Chicken Wings
Here's what you'll need
5-10 lbs of chicken wings (I recommend doing plenty)
Large foil pan (very helpful)
Large ziploc (2 or 2.5 gallon works great)
Heavy duty foil
Oil, Olive, Vegetable, Canola, etc.
How to Prepare the chicken wings for smoking
This part is extremely easy.. the first step is to put all of the wings as they are into a large ziploc bag.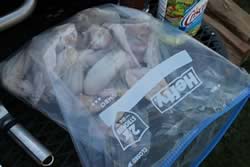 Pour about 1/2 cup of oil over the wings and then roll them around inside the bag to coat.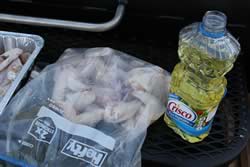 Pour 1/4 cup of my rub (order the recipe) per 3 lbs of chicken wings down into the bag. Zip it up then roll and shake the bag to coat the chicken with the rub.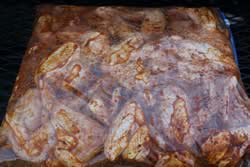 Once the chicken is coated with rub, pour them out into a foil pan for easy access.
Better get the smoker ready..
It does not matter what type of smoker you are using. I decided to use my wood smoker but you can use ANY smoker or gril.
Here's a few examples:
*Our Bradley page
**Weber Smoky Mountain page
As long as you:
Maintain 250-275 degrees (a little higher temperature ensures more crispy skin)
Cook for about 1.5 hours or until the meat reaches 165-170 degrees
Once your smoker is maintaining about 250-275 with 275 being ideal in my opinion,
Lay the chicken wings onto the grate of your smoker trying to keep a little space between them to allow the smoke to circulate over, under and around each piece.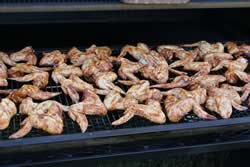 About 30 minutes from the time when the chicken is expected to be finished, you will want to brush some of my extra delicious barbecue sauce onto the wings.
For this purpose, I wanted the sauce to be a little thinner than usual so I mixed in some Lemon-lime soda to help thin it down.
Note: you can use almost anything from water to coffee to pop and even cider or apple juice to thin down my barbecue sauce. Sometimes you just want it to flow a little more.
I just happened to have some SunDrop and that's what I used. The lemon-lime flavor won't hurt anything;-)
Just 2-3 tablespoons of liquid is all it takes in a cup of my barbecue sauce. Use more or less depending on how thin you want it to be.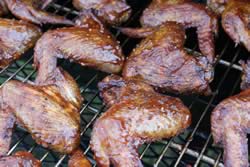 Use a digital probe meat thermometer in the meat of the wings making sure to not touch the bones to make sure that the temperature is right in the chicken. You are looking for 165-170.
When they are done, get them out quickly and place them into a foil pan or other serving platter or bowl.
This one was begging to be eaten!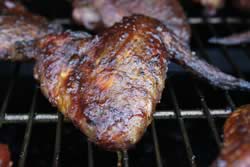 Into the foil pan and into the house for serving to the hungry family and friends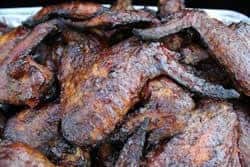 My oldest daughter said they were the best wings she's ever had. Why is this significant? She's very picky about her wings!
Try these and I know you'll love them. I do recommend that you do these exacly as I've instructed the first time.
Enjoy!!
Summary:
Remove wings from package and place in large ziploc
Pour oil onto wings and roll to coat
Spoon rub over chicken in bag
Roll and toss to coat well
Dump wings into large foil pan
Prepare smoker for cooking at 250-275 degrees
Place wings on smoker grate with space between them
smoke for about 1.5 hour
About 30 minutes before finished, brush with my sauce
The wings are done when they reach 165-170 degrees
Notes:
The most popular email question that I receive is how to get chicken skin crispy and this includes whole chicken, pieces and even wings.
There are several methods you can use to help crisp up the skin a little bit
Flash fry the wings (after smoking) in oil that is very hot (400+ degrees)
Place them on a very hot grill for a few minutes after they are done smoking
Place them in a 350-375 degree oven for a few minutes after they're done smoking
Order Jeff's Recipes
I started out more than 8 years ago selling my very own rub recipe and sauce recipe to support the website, forum and newsletter and I am still doing that today.
Folks love the recipes and most of them become raving fans due to how good it is and how well it works on so many things including things like smoked chicken wings.
Tasting is believing and I invite you to prove me wrong.. try the recipes and if it's not the best rub you ever ate simply ask me to refund your money and I'll do it right away.
I have received hundreds and hundreds of testimonies on the recipes over the years completely unsolicited and if that don't speak volumes then nothing will. Here's a few for you to read:
—————————————————
Did a Ham and using your rub it was as my wife and friends said the best tasting ham they have ever had. We are into our late years so that's saying a lot .Thanks for sharing ~ Jack
—————————————————
Wow! wow! wow! The best rub and sauce I have ever had. Also did the turkey for thanksgiving and it was the best turkey I ever had. I usually only eat dark meat and this turkey was so good I ate only white meat ~ Andy
—————————————————
I purchased the rub and sauce and I have to say that I love it and so has everyone that has tried it, just like you and others said they would. ~ Matt
—————————————————
Jeff I have to tell you that your rub and sauce recipes are the best. I had never smoked a rib or anything until last weekend and by fallowing your directions on your site I was the RIB KING for a day. Thanks a bunch pal, ~ Harold
—————————————————
Let me say that I've been using your Rib Rub for a couple years now. I use it on ribs (obviously), but I also use it on steak, ham, chicken, and everything else I smoke. My family and I absolutely LOVE it! It rocks! ~ Trapper
—————————————————
Jeff, I did a smoked pork roast yesterday and used your recipe both for the pork and for your Smoky Barbecue Sauce. Everyone loved it. My wife said the sauce was the best she had ever tasted and I have to agree. Fantastic. ~ Barry
—————————————————
You deserve the very best and is is completely within your grasp! Only $18.95 and worth every penny. Not only do you get the best rub recipe and sauce recipe available, you are supporting this website and helping to make sure the bills get paid so we can keep on doing what we do to teach thousands and thousands of people across the world the art of smoking meat.
What to Expect Once you Order
Here's how it works:
You order the recipes
My automated system sends you a download link in an email with a password
You click on the link and use the password to download the recipes to your computer
If you DON'T get the email with the link:
Check your spam/junk folder (sometimes they get caught there)
If you can't find it, email me and let me know you didn't get it
I will send the recipes to you as an attachment in an email
You let me know you got it, we are both happy campers!
There's a New Barbecue Magazine in Town
In every segment of barbecue–whether backyarders, competitors, caterers, fund-raisers, whatever–there are stories to be told. Stories of genuine success in winning, raising funds, building a sustainable business, enjoying quality time with family and friends, etc. This magazine is dedicated to telling the best success stories in the world of barbecue. If barbecue is your passion, you will love the stories, tips, and recipes in StoryQue.
It's worth noting, that I am now writing a monthly column in the magazine called "Ask Jeff" where I answer questions about smoking meat.
As with many thing these days, it is a digital magazine designed for the iPad but I am hoping it will eventually be available for other tablets and perhaps even in print for the folks who would rather have something a little more "non-digital".
If you have an iPad then you are seriously in luck. If you don't have an iPad then it's time now to put it on your Christmas list;-)
You can try it out before you subscribe so that's a great thing too. I think you will really like it and in my opinion, we need a lot more of this sort of thing in our lives.
My wife reads PEOPLE, I read StoryQue.
Introducing the Smoking Meat Forums
If you love drool worthy pictures of smoked meat (and I know that you do) and you love instructions on how to smoke meat (and I know that you do) and.. you love to get your questions answered really fast (and I know that you do) then it just seems logical to me that you would absolutely love our forum.
It has been said that we have one of the nicest,  most knowledgeable, most well-run forums on the internet..
I personally invite you to be the judge of that.
Here are some things that you see on other forums that you will NOT see at SMF (as we call it):
Name calling
 Telling you to go search for the answer (my own personal pet pieve)
Treating you like an idiot if you ask a really basic question
Spam (we have excellent spam filters and it gets caught nearly 100% of the time)
Here's what you WILL encounter:
Extremely wonderful and helpful people
3 administrators and 30 moderators just waiting to help you out
Professional, Family friendly atmosphere
Over 850,000 posts on smoking meat (everything you can imagine)
It's completely FREE
And, I'm only touching the surface.. you really have to experience it to believe it!
Come on over to the forum, you can browse around without becoming a member but I'd sure like it if you would just take a few minutes to create a username and password, sign in and say hello and give us a chance to welcome you to the forum!
Click Here to go there NOW..
I will look forward to seeing you there!
Thank You!
I appreciate ALL of you for allowing me to come into your homes electronically and do what I love to do.
This newsletter allows me to talk about my passion for cooking with smoke and I can't think of anything I'd rather be doing.
Be sure to shop Amazon.com if you need something for the home, auto, office or outdoors and if you use our special link, we get a few cents commission from it in most cases.
Oh, and by the way, I don't say this too often, but I am on Twitter and Facebook and I would love for you to be a part of that with me.
Until next time.. keep smoking and God Bless.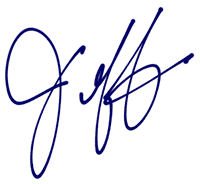 Jeff Phillips