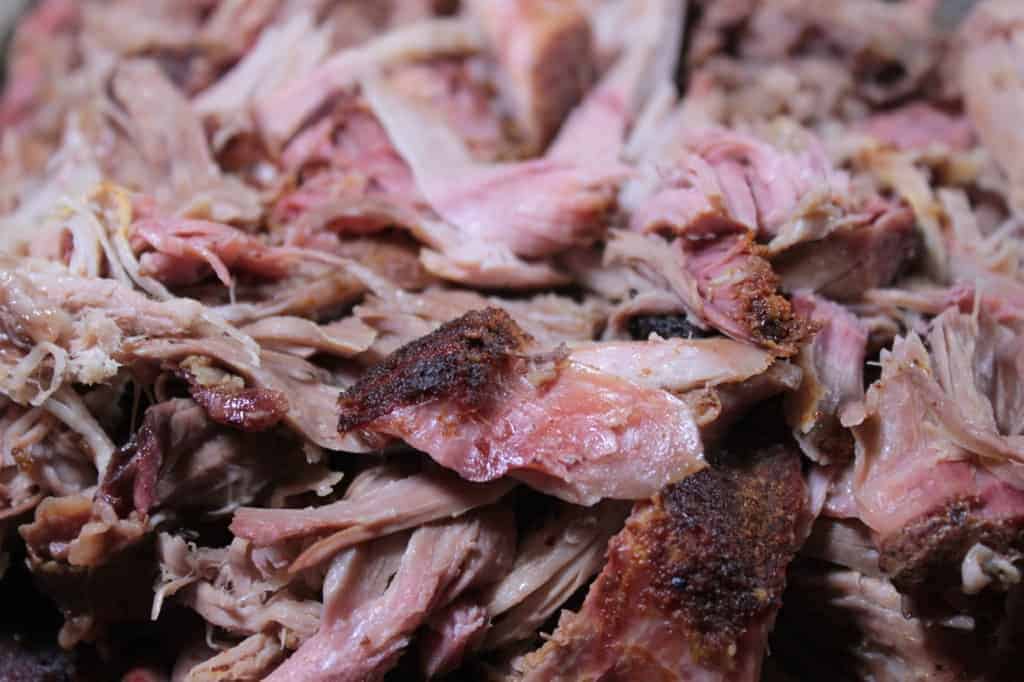 This is my pork shoulder recipe from bringing home a pork shoulder to preparing it with my very own original my very own original rub recipe to smoking it up delicious. Now you must understand that an actual pork shoulder is very big and most of us usually only smoke a pork butt or a pork picnic roast which is the two parts of an actual pork shoulder.
I Prefer the bone in pork butt which normally runs about 8 pounds or so. They say the meat is sweeter when it cooks with the bone in and I happen to agree.
When I get ready to do my favorite pork shoulder recipe which is basically a nice pork butt rubbed down real good with my own proprietary rub recipe and smoked with a good dose of oak and some apricot or peach or some other fruit wood, I like to find a piece of meat that has lots of good fat marbling.
This keeps the meat moist in the smoker and guarantees some excellent flavor.
Apply the Rub with Mustard
I always rub the pork shoulder down with a light layer of French's yellow mustard to help the rub to stick better throughout the smoke and apply about 1/2 to 3/4 cups of my rub to the outside of the meat being careful to massage it into every nick and cranny.
Note: the mustard will lose its flavor during the smoking and will only leave a nice brown crust so you need not worry that your pork will taste like mustard.. it won't.
Smoke the Pork Shoulder
Prepare the smoker as you normally would to maintain a 225 degree temperature and lay the pork shoulder right on the grate for the long smoke.
How Long Does it Take?
Pork shoulder cook time can be figured at approximately 1.5 hours per pound so a 8 pound shoulder will require about 12 hours in the smoker. If you are using propane, electric or charcoal then you can stop smoking it when it reaches about 140 degrees since it should be suitably smoked at that point.. feel free to keep smoking if you are a seasoned smoker and know how to do it without oversmoking the meat.
I have a buddy who only leaves the shoulder in the smoker until it reaches the 140 degree mark and then wraps it in heavy duty foil and finishes it off in the oven for convenience. And that is fine if you need the convenience.
Use My Rub & Sauce Recipes on Pulled Pork.. AWESOME!!
Note: My amazing "Jeff's Naked Rib Rub" recipe is the 2nd most important investment you can make.. 2nd only to your smoker itself.
If you are serious about smoking then you need this rub recipe and you need it now.
Stop procrastinating and order it now to use with this pork shoulder recipe. (If it is not the best rub you have ever tasted let me know within 30 days of purchase and I will refund your money 100% and that is a deal you just can't beat!)
Here's a couple of testimonies that I've received from very happy customers:
Jeff, All I can say is, WOW!!!!
I have been reading your news letters for over a year and I Just now purchased your rub recipe. I have used it on steak and chicken legs on the grill so far. Both times I have people say that it was the best steak or chicken they had ever had. I can't wait to smoke something with it. Great job, you are THE MAN!!!! ~ Chris
~
I purchased your rub recipe and have delighted friends and family with its great flavor. When they ask me for the recipe, I tell them to go to your site and purchase. Something this awesome deserves compensation to the inventor!!! Thanks for all of the smoking tips! ~ Gary
You get the point so what are you waiting on.. order the amazing recipes now!
I am big on doing the entire cook time in the smoker but I understand the need for convenience sometimes.
200 Degrees.. Not a Moment Sooner
When the pork shoulder reaches about 205 degrees, pull it from the smoker and bring it into the house for a resting period. I like to let it rest for 45 minutes or better before I pull it to allow the juices to redistribute throughout the meat.
Pull the Pork
I then use two forks to pull the meat apart into chunks.. be sure and add in the brown bark for added flavor and it makes the finished product look really good.. I have to say that because I have seen folks discard the outside bark thinking it is burnt or something. It is the best part.
This pork shoulder recipe is a winner and will get you rave reviews every time.
To make sandwiches I have a page that tells exactly how to do it Carolina style.. Click here to check it out
Need a digital meat thermometer? For an inexpensive, single probe meat thermometer, I recommend the Taylor .. get it here. I also recommend the Maverick ET-733 if you are looking for a dual probe, remote thermometer that will keep you informed of the temperature of both smoker and meat with a range of up to 300 feet.