Known and loved by many inside barbecue circles, smoked rib tips are as tender and delicious as you can get with  enough natural fat mixed in to keep them moist throughout the entire cooking process.
You may cook spare ribs without trimming them down to St. Louis style but many of us trim them to help them to cook better and for better presentation and when you do, you are left with some tasty scraps that have the potential to steal the show if they are cooked up right.
I am also able to purchase these from my butcher and I've even seen them packaged at the local supermarket ready for sell.
In this write-up, I will be divulging my own method for preparing, smoking and serving these to your family and friends.
Take Smoking Meat to the Next Level
I always use my rub recipe when I make these smoked rib tips and almost anything else that I cook in the smoker and I never get anything but raving reviews. You can fully expect to get the same response and there is nothing that feels better than for everyone to thoroughly enjoy what you cook.
When you order, you instantly receive my very own rub recipe and sauce recipe and both are guaranteed to be the best or else.
You have nothing to lose and everything to gain so order the recipes for my rub and sauce which allow you to mix up a fresh batch anytime the need arises.
You'll be very, very GLAD that you did!
Order Recipes Read Raving Customer Reviews
Note: This ad should not show up in future newsletters once your purchase the recipes.
Smoked Rib Tips
These smoked rib tips or smoked riblets will take about the same amount of time as regular spare ribs and they are what I call a "fun" food. Serve them in a basket with smo-fried potatoes or get them done by the time guests arrive and they will be a party pleaser while you wait on the "real" food to get done.
Important Information
Prep Time: 30 minutes
Cook Time: 6 hours
Smoker Temp: 220 F
Meat Finish Temp: 195 F
Recommended Wood: Mesquite
What You'll Need
What are Rib Tips?
Cut the brisket bone from a rack of spare ribs in such a way so as to square it up. The piece that is cut off is what we are working with in this newsletter today and are called the "rib tips".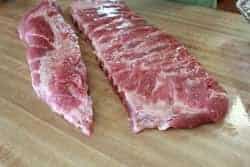 Preparing the Rib Tips
Place the rib tips in a foil pan to contain the mess.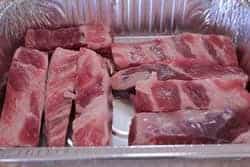 Drizzle honey onto the ribs and brush evenly all over the top and sides of the meat.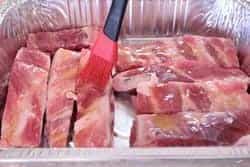 Generously sprinkle my rub (purchase recipes here) onto the ribs making sure you get good coverage on the top as well as the sides.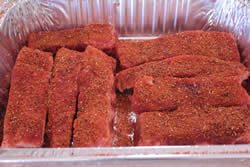 In about 10 minutes, you'll start getting that wet look telling you they are ready for the smoker.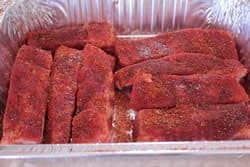 Get the Smoker Ready
I used the Weber Smoky Mountain 22.5 for this cook. This is an excellent smoker and I highly recommend it for anyone who is looking to use a combination of charcoal and/or wood for fuel in an affordable unit that will not cost you an arm and a leg.
Follow the instructions HERE to find out more about setting it up or getting it ready for use.
We are looking to maintain about 220 degrees for these smoked rib tips with about 3 hours of mesquite smoke.
Once the smoker is holding a steady temperature, it is ready for use.
Smoking the Rib Tips or Riblets
Place the rib tips and pieces directly on the top grate of the smoker and close the lid.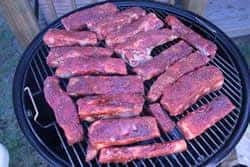 I am doing something similar to the 3-2-1 method on these since it works so well for ribs. It will also work very well on these rib pieces.
Let the rib tips smoke for about 3 hours keeping the temperature at around 220 degrees as much as possible.
After about 3 hours, place the rib tips in single layer in a foil pan and cover tightly with foil. (you may need more than 1 pan)
Note: You can add 1/4 inch of liquid to the bottom of the pan if you like but I decided not to on these. I am not trying to over-steam them, just braise them a little to help with the tenderness.
(Yes, there is one or two missing but we won't talk about those!)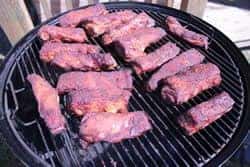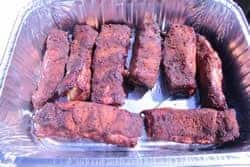 Place the pan into the smoker and let the rib tips continue to cook in the pan for about 2 hours or until you notice some of the bones starting to stick out of the meat. Actually this is the meat shrinking back from around the bones and is a sign that they are getting done.
Remove the foil from the pan and let them continue to cook in the pan for an additional hour.
Note: I don't usually recommend going by meat temperature on ribs however, I have this handy dandy, super-fast, thermapen and it easily gives me a reading on ribs right between the bones. smoked spare ribs and smoked rib tips are both done when the meat reaches about 195 degrees.
Serving the Smoked Rib Tips
When the smoked rib tips are finished cooking, cut them into pieces that are 2-3 inches long and serve with my amazing barbecue sauce on the side.
What About the Smo-Fried Potatoes You Mentioned
I used potato wedges with the peeling left on and put them into a foil pan.
They were tossed with olive oil to coat and kosher salt and coarse ground pepper to taste.
The entire pan was placed in the smoker for about 1.5 hours at 220 degrees and stirred about every 30 minutes to get full smoke coverage.
The potatoes were then dropped into hot oil and fried until golden brown 3-4 minutes.
The potato wedges were drained on a paper towel then sprinkled with my rub (purchase recipes here).
Everyone loved them and they went really well in the baskets with the smoked rib tips. There was a nice hint of smokiness to them and the rub worked great as the only seasoning they needed.
Notes and Recommendations
Along with rib tips, you may have some thinner, odd looking pieces mixed in. These may get done in much less time so keep an eye on them and when they get done, eat them quickly before anyone notices they are missing. My kids use to come out to the smoker about an hour after I started to see if the "rib tips" were done yet. They were referring to these thin pieces that usually get done in about an hour and they are extremely tasty.
You can do these hot and fast if you want to and they should turn out fine but I think they end up having a better flavor done very slowly with plenty of smoke.
Be sure to tell your guests to try these before dumping sauce all over them and especially if you use my rub on them. They are very flavorful and usually no sauce is needed.
If you have leftover rib tips that don't get eaten, freeze them for safe keeping and put them in with that next pot of beans you make. Very good flavor!
Try Jeff's Recipes for Rub and Sauce
You and I both know that there are a lot of rub and sauce recipes out there and I recommend you try as many different ones as you can but I have a couple of recipes that I personally and painstakingly came up with over the course of about 6 years that I'd love for you to try.
I sell these recipes to help cover the cost of producing the newsletter, to provide hosting for the website, the research and development of new recipes, the service charges for automating the newsletter to more than 200k subscribers, and everything else that we do here to promote the learning of how to smoke meat.
You will find that my rub recipe and sauce recipe are extremely unique, better than anything you ever tasted and if your tastebuds don't go incredibly nuts over them, I'll buy them back.
I am very confident that you'll love them and you'll not only end up with a couple of wonderful recipes, you'll feel really good that you helped to support what we do here at smoking-meat.com in teaching the wonderful art of smoking meat.
Almost every review that I get at the online store is 5 stars and if that don't make you want to see what all the fuss is about then I don't know what will.
Here's one of those reviews that just came in recently from Butch:
---
"I tried the rub on chicken, spare ribs, and pork butt and it was amazing. everyone loved it. Haven't tried the sauce yet but it will be soon"
---
And here's an excellent review from John:
---
""Amazing" was the word my family used when first trying the ribs seasoned with your rub and sauce using the 2-2-1 method."
---
I receive raving reviews just like these every single day via email and many more are posted at the online store for you to read.
Give the recipes a shot, support the website and impress your friends and family with the amazing flavor of these recipes. I will owe you a debt of gratitude for allowing me to continue do what I love to do.
Order Recipes Read Raving Customer Reviews
Note: This ad should not show up in future newsletters once your purchase the recipes. Let us know if you are having problems with this.
Other Resources
Smoking Meat Forums – 55 thousand passionate, raving fans all gathered in one place to talk about smoking meat. It's free and if you have not checked it out then you are missing, what could be, one of the best experiences you've had in a while. No junk, spam or creepy stalkers, just good people talking about smoked food! I plan to see you there!
The Smoking Meat Book – My book has more than 90 reviews on Amazon and an average rating of 4.8 out of 5 stars. That's pretty amazing and it makes me proud to have had the privilege to author it. I have put together more smoking meat information than you can shake a stick at plus a really good collection of some of the best smoking meat recipes anywhere. It's been selling like crazy for over a year now and you need to order your own copy today.
Smoking Meat Newsletter Archive – I like to mention this once in a while since some folks still do not know that it exists. We archive every copy of the newsletter on the website just a week or two after it goes out and we've been doing this for 9 years now. We now have more than 170 newsletters archived for your reading and learning pleasure.
Amazon.com Orders
If you enjoy the newsletter and would like to do something helpful, then..
The next time you decide to order something at Amazon.com, use THIS LINK to get there and we'll get a small commission off of what you purchase.
Thank you in advance for using our special link: http://www.smoking-meat.com/amazon