I just never get tired of smoked beef back ribs or as I call them.. "prime rib on a stick". There is nothing more beefy and more delicious that you can cook in your smoker not to mention they are easy to prepare and cook in less than 4 hours in most cases.
Because of the super rich beef flavor, I recommend that you try these with my original rub recipe (purchase recipes here) to add a touch of sweetness to the crust on the outside.
Oh.. and cook up plenty of these because they will go quick.
Get the Recipes for Jeff's Rub and Sauce
---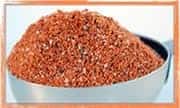 These smoked beef back ribs will pair well with either the sweet and spicy original rub recipe or the savory-only Texas style rub recipe. I used the original and it was simply amazing.
I promise you'll love my dry rub/seasoning recipes and my barbecue sauce recipe or you don't pay!
Reasons to buy: Support the newsletter and the website | Own "the recipes" | Get the email newsletter 100% AD FREE from now on | Includes the Texas style rub recipe | Immediate download + email download

Helpful Information
Prep Time: 15 minutes
Cook Time: 3-5 hours
Smoker Temp: 225-240°F
Meat Finish Temp: 170-190°F
Recommended Wood: Cherry/Oak
What You'll Need
Rinse and Trim the Fat/Skin
Remove the ribs from the packaging and rinse them well under cold water.
Trim away any excess clumps and lumps of fat.
Get hold of the thick skin on the bone side of the beef ribs with a paper towel and pull it clean off. This is not easy so just do the best you can. These things get easier with practice.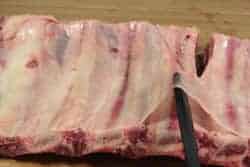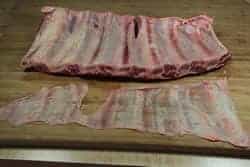 You will notice that I placed the ribs into large foil pans for the prep work. This is to contain the mess.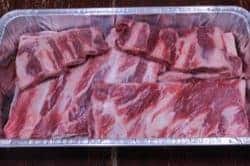 Base and Seasoning
I normally use mustard for a sticky base before adding the rub but I decided to use my barbecue sauce (purchase recipes here) as a base on half of them.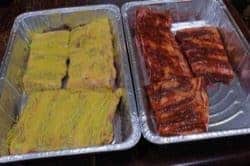 After the fact I can tell you that there was something just a little more special and more flavorful with the ones that used the sauce instead of mustard.
It worked like a charm in mixing with the rub and creating a beautiful paste on the ribs.
Apply the sauce first then sprinkle about ¼ cup of Jeff's original rub (purchase recipes here) on top and work it into the top and sides of the ribs with your hands.
This is mustard as a base with Jeff's original rub (purchase recipes here)..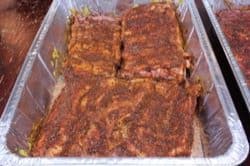 And this is Jeff's original barbecue sauce with my original rub (purchase recipes here).. the awesome smell of the rub and sauce on the ribs was intoxicating and at this point, I couldn't wait until the beef back ribs were finished cooking!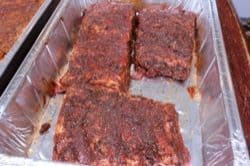 When you're done, set the ribs aside and go get the smoker ready.
Smoke Time
Set up your smoker for cooking at about 225-240°F using indirect heat.
I used an equal mix of cherry and oak but you can use any good smoking wood that you have available.
If your smoker has a water pan, fill it up with water to keep the air inside the smoker nice and humid thereby reducing the drying effect of heated air.
Once the smoker is ready to go, place the ribs directly on the smoker grate or you can use the Weber Grill pan or Bradley Racks to make it easy to move them to and from the smoker.
Finish
Most of the beef back ribs that I have written about has been cooked for around 5 hours and to as much as 190°F internal meat temperature but on these, I wanted to cook them long enough to render some fat but not as long as I have in the past. The texture of these will be more like a good steak with some "chew" to them.
---
Here's a recipe where I cut the ribs into pieces before smoking them. I also cooked them to about 190°F and they were very tender and delicious.
---
Of course if you want to make these more tender, you can cook them longer and even braise them wrapped in foil for a couple of hours if you like similar to 2-2-1 pork ribs*.
This version of smoked beef back ribs will take about 3-4 hours depending on the thickness and how much connective tissue there is. I usually check for tenderness and don't necessarily go by the meat temperature on these but these read in at about 170°F when they reached the tenderness that I wanted.
I recommend checking them after a couple of hours at 225-240°F and see where you are. For this version of the smoked beef back ribs you're looking for prime rib tender, not falling off the bone tender.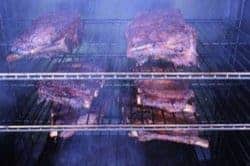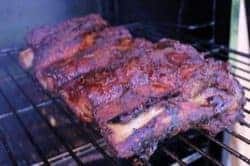 Once they are finished, place them back in the pan with a piece of foil placed loosely over the top or you can just lay them on a cutting board with foil loosely tented over the top.
Let them rest for about 10 minutes then slice them up and go to town on them bad boys!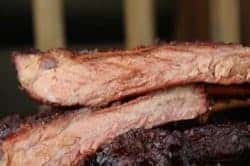 Questions and Comments
*2-2-1 Method.. what is it?
Place the ribs on the smoker grate for 2 hours with smoke and heat. Then wrap them in foil and cook them with heat only for 2 hours. Unwrap them and place them back on the smoker grate for 1 hour with heat and smoke. This is a sort of braising method and is used, much to the the purist community's chagrin, to super tenderize baby back ribs and/or beef back ribs.
The 2-2-1 numbers are not written in stone so you can adjust the times to get them exactly how you want them. Obviously the time in the foil is where they get the most tenderizing so if you want them less tender, just cook them longer in the first step, and give them less time in step 2, the wrapped stage of the cooking process. The opposite would work if you wanted them more tender and you might end up with something like 1.5-2.5-1.
You get the point.
***Note: you get the Texas style rub recipe free with your order!
If I could give these recipes away, I would do that. I really want you to have them! But, then, this is how I support the newsletter, the website and all of the other stuff that we do here to promote the art of smoking meat.
Read these recent testimonies:
"Love the sauce and rub recipes. So far I have used them on beef ribs, pork ribs, and different chicken parts. Can't wait to do a beef brisket. Texas rub is great as well!" ~Peter S.
"I tried the rub on a beef brisket and some beef ribs the other day and our entire family enjoyed it tremendously. I also made a batch of the barbeque sauce that we used on the brisket as well as some chicken. We all agreed it was the best sauce we have had in a while." ~Darwyn B.
"Love the original rib rub and sauce! We have an annual rib fest competition at the lake every 4th of July. I will say we have won a great percent of the time over the past 15 years so we are not novices by any means. However, we didn't win last year and had to step up our game! We used Jeff's rub and sauce (sauce on the side) and it was a landslide win for us this year! Thanks Jeff for the great recipes. I'm looking forward to trying the Texas style rub in the near future!" ~Michelle M.
You see the raving testimonies and you wonder, "Can the recipes really be that good?"
No worries! Make up a batch and if it's not as good as you've heard.. simply ask for a refund. Now that's a bargain and you know it. Let's review:
You decide you don't like the recipes.. you don't pay!
The recipes are absolutely amazing!
Once you order, there'll be no more recipe ads in the email version of the newsletter
Well.. what are you waiting for.. click on the big orange button below to order the recipes now.

I really, really appreciate the support from my newsletter friends and be sure to let me know if you have any questions about this.
Jeff's Smoking Meat Book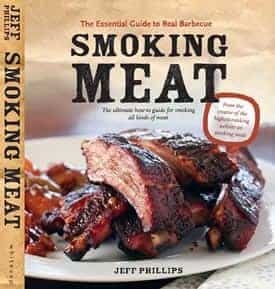 The book is full of recipes and contains tons of helpful information as well. Some have even said that "no smoker should be without this book"!
With more than 800 reviews on Amazon.com and a rating of 4.7 out of 5 stars, it comes highly recommended.
It is a Bestseller in Barbecueing & Grilling books on Amazon.
Amazon | Barnes & Noble | German Edition
Digital versions available via Nook | iTunes | Kindle
Get Almost Anything at Amazon
If you enjoy the newsletter and would like to do something helpful, then..
The next time you decide to order something at Amazon.com, use THIS LINK to get there and we'll get a small commission off of what you purchase.
Thank you in advance for using our special link: http://www.smoking-meat.com/amazon
Printable Recipe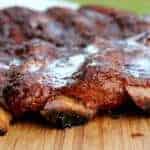 Print Recipe
Beef Back Ribs - Prime Rib on a Stick
I just never get tired of smoked beef back ribs or as I call them.. "prime rib on a stick". There is nothing more beefy and more delicious that you can cook in your smoker not to mention they are easy to prepare and cook in less than 4 hours in most cases.
Ingredients
2-3

racks of beef back ribs

Yellow mustard
Instructions
Remove beef ribs from packaging and rinse under cold water.

Remove excess clumps of fat.

Peel membrane or skin from bone side of ribs.

Brush several tablespoons of barbecue sauce onto the meaty side of the ribs.

Sprinkle about 2 tablespoons of

Jeff's rub

onto the top of the ribs and rub it in to the top and sides creating a paste.

Set up your smoker for cooking at about 225-240°F with indirect heat.

Use a mix of cherry and oak or whatever

smoking wood

you have available for smoke.

Place the ribs on the smoker grate and let them cook until they are tender to your liking.