Barrel Cooked Whole Chicken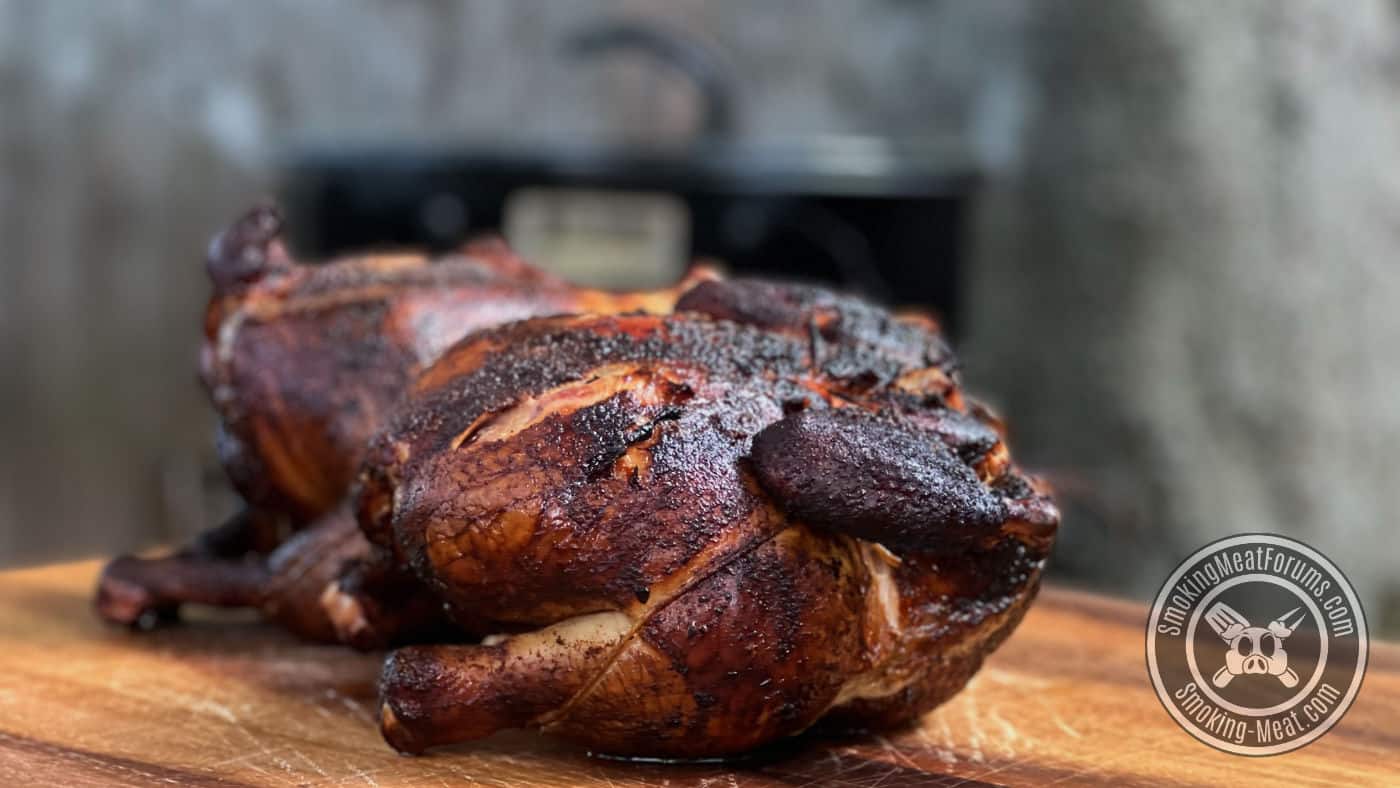 Smoking-Meat.com is supported by its readers. We may earn an affiliate commission at no extra cost to you if you buy through a link on this page.
Read this article without ads
I just cooked a couple of whole chickens in a barrel and they turned out amazing! Barrel cooked chickens are out of this world!
There's nothing quite like cooking whole chickens (or any kind of chicken for that matter) in the smoker but the biggest complaint I hear is the the skin just isn't as enjoyable or that it turned out rubbery.
This is a great reason to not only cook chicken a little hotter but also with a more direct heat.
Helpful Information
Prep Time: 20 minutes
Cook Time: 2 hours
Smoker Temp: 275°F (135°C)
Meat Finish Temp: 165°F (74°C)
Recommended Wood: Mesquite
What You'll Need
2 whole chickens
¼ cup olive oil (any cooking oil will work)
About the Pit Barrel Cooker I used for this Cook
I've recently pulled the Pit Barrel Cooker out of the garage and placed it in my smoker area in the back yard and as you might expect, it's getting a lot more use.
I guess I just forgot how easy it is to load up with charcoal and let it do its thing and this Pit Barrel Cooker does such a great job on chicken!
Because of the higher, more direct heat I was mentioning earlier, the skin is able to get way more crisp than it does in an ordinary smoker and you still get a lot of wonderful smoky flavor.. best of both worlds in my opinion.
Here's a review I did on the PBC a while back if you want to read more about it.
How to Prep and Cook Whole Chickens in a Barrel
Step 1: Oil 'em Up
Unwrap the chicken(s) and place them down in a pan to contain the mess while you season them up.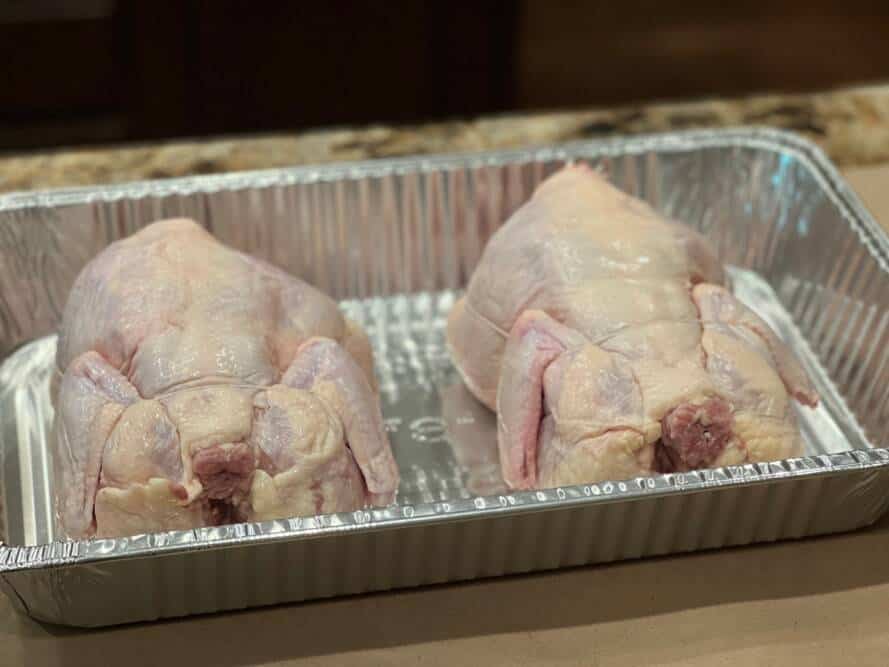 Pour about 2 TBS of olive oil onto each chicken and rub it all over with your hands or a basting brush. This creates a sticky surface that helps the seasoning to stick.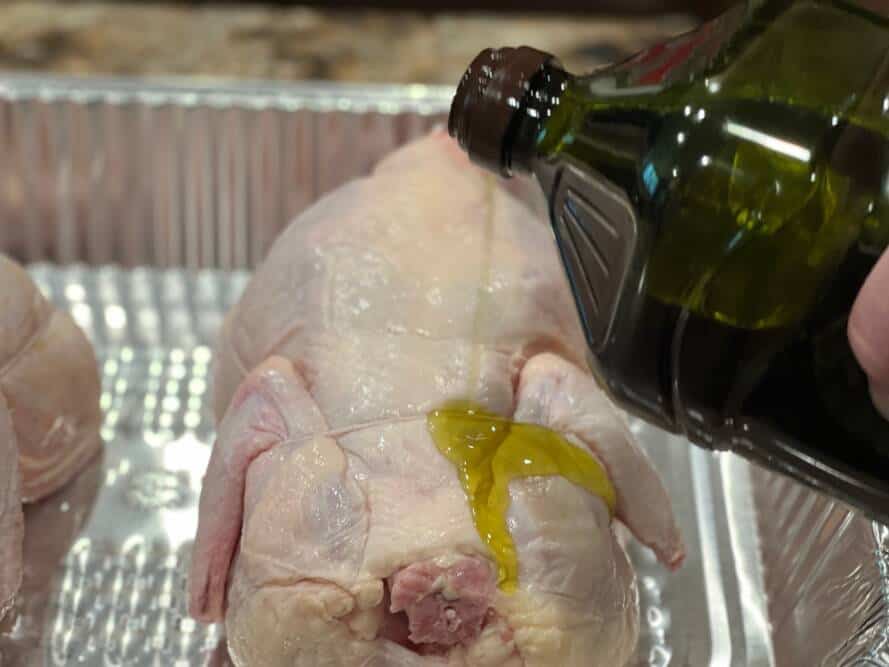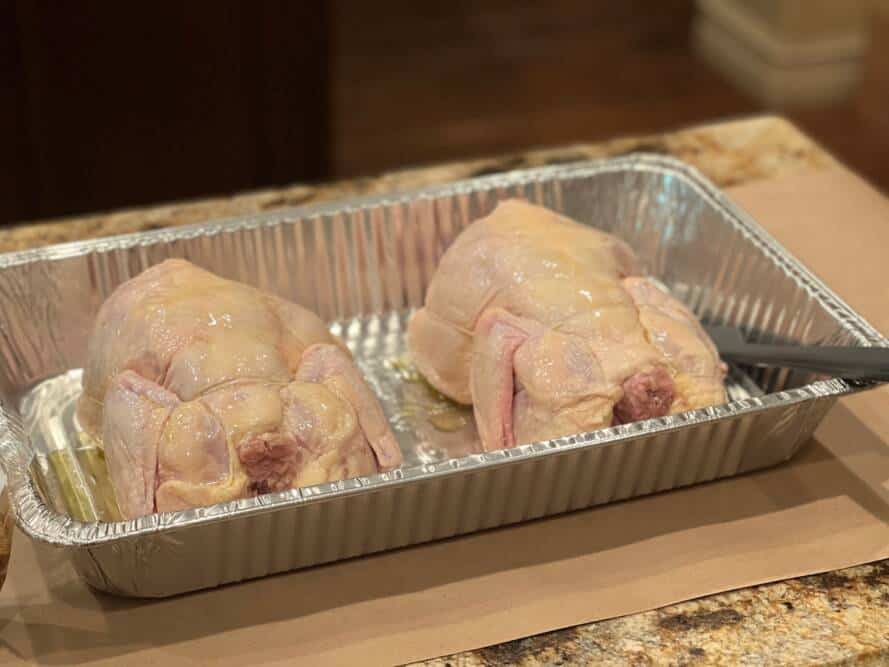 Step 2: Seasoning
Apply a generous amount of Jeff's original rub then a layer of Jeff's Texas style rub for great results.
Of course, if you have another rub or seasoning to try, that'll work just fine. Just keep an eye on the salt level. If it has a lot of salt you'll have to use a lot less than you would since my own rubs are very low in salt.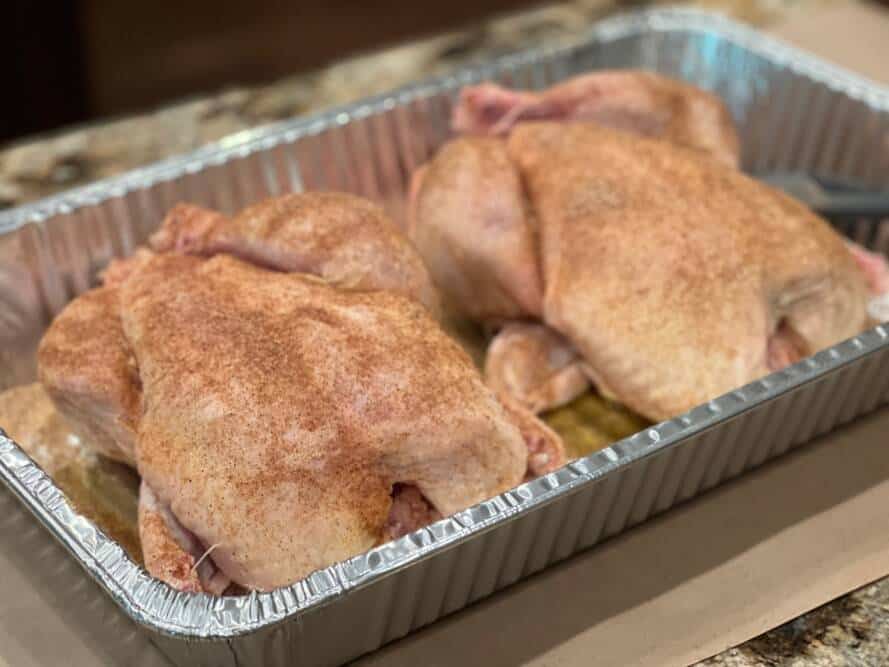 Step 3: Chicken on a Turkey Hanger
I have a special hook for the Pit Barrel Cooker that helps to hang a turkey in the barrel and it works great as you can see HERE. On this adventure, I wondered if it would work to hold (2) chickens and, wouldn't you know it, it worked like a charm!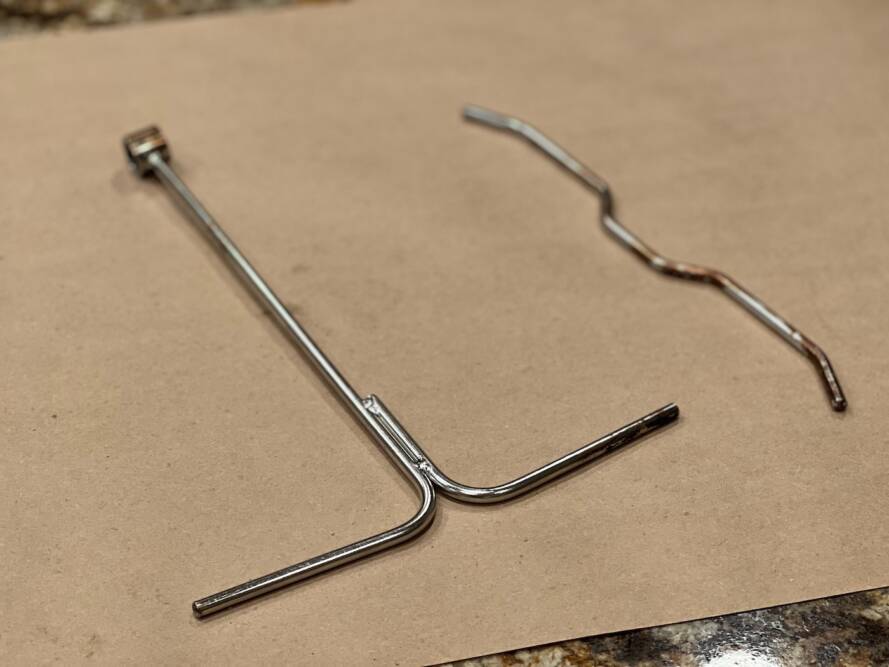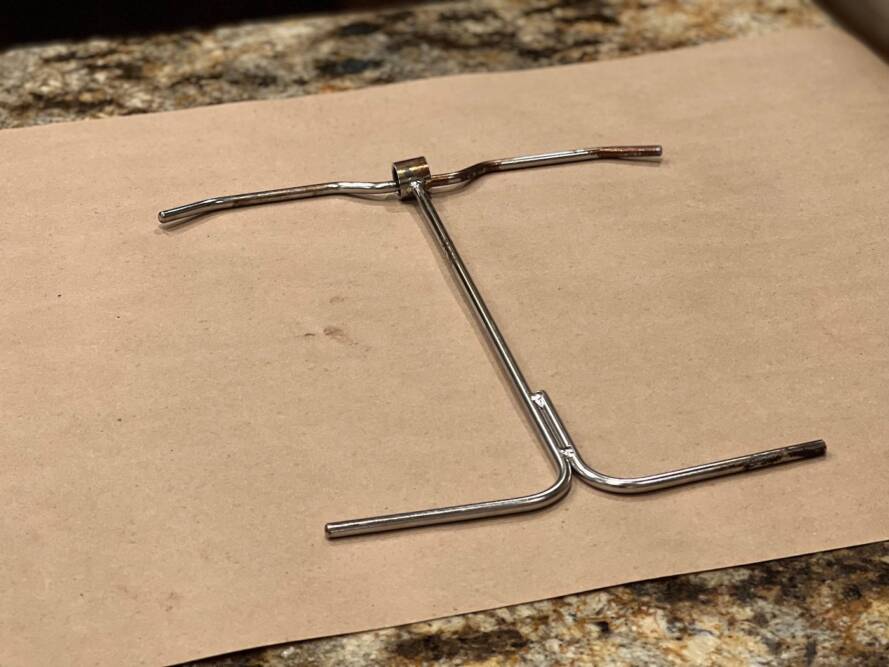 Push the "T" all the way through both chickens then thread the hanging bar through the hole to get it ready to hang in the barrel.
Place the chickens with the hangar back into a pan to get it ready for hanging.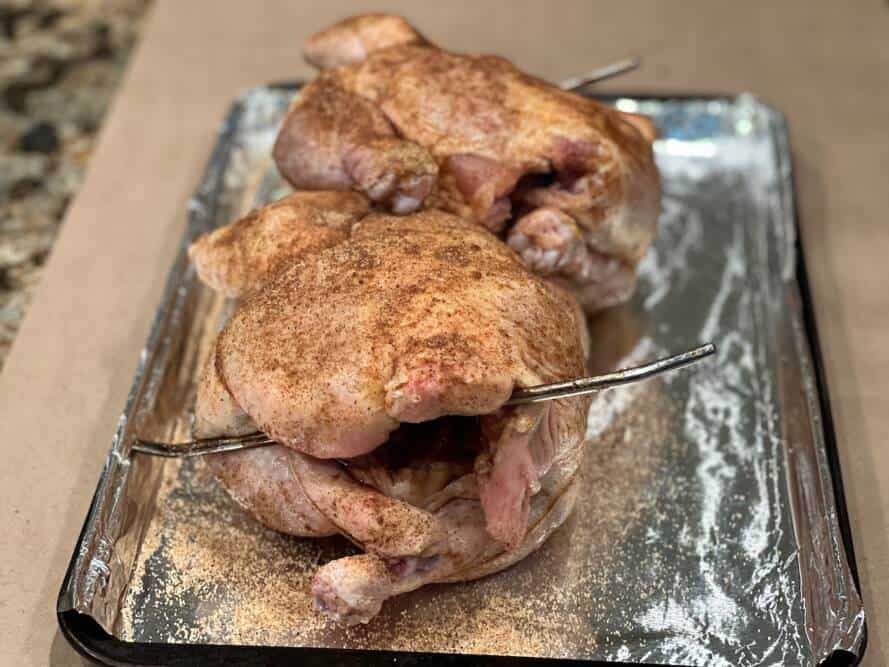 Step 4: Set Up Cooker
I have given more details on the Pit Barrel Cooker setup HERE however suffice it to say it's as simple as filling the charcoal pan with charcoal then lighting some of that charcoal in a chimney and pouring it back on top.
I also added in a few chunks of mesquite wood for smoke. You can also sprinkle a handful of wood chips right on top of the charcoal if you prefer.
After the charcoal is ready, replace the bars into the holes at the top of the barrel and set the lid into place. This keeps the heat in check until you are ready to hang the meat.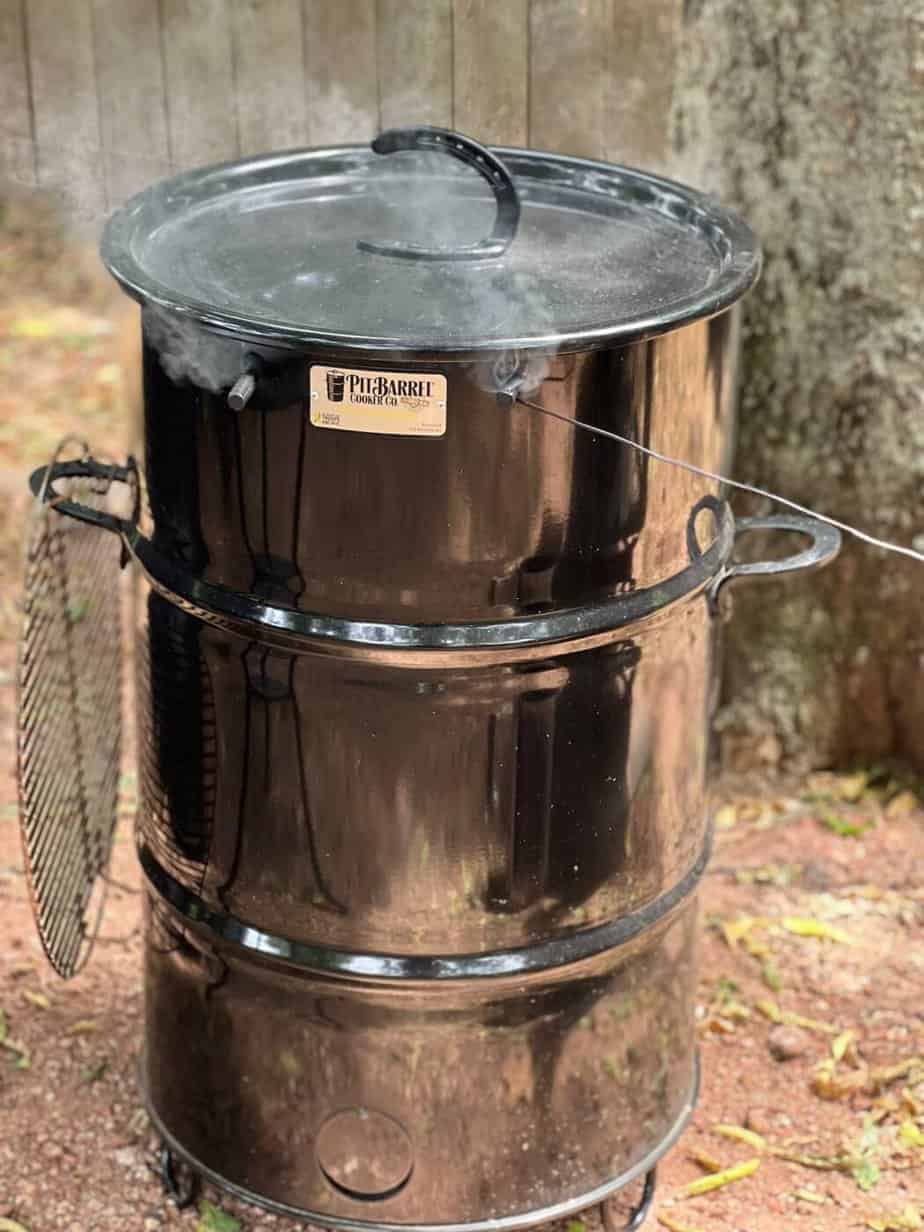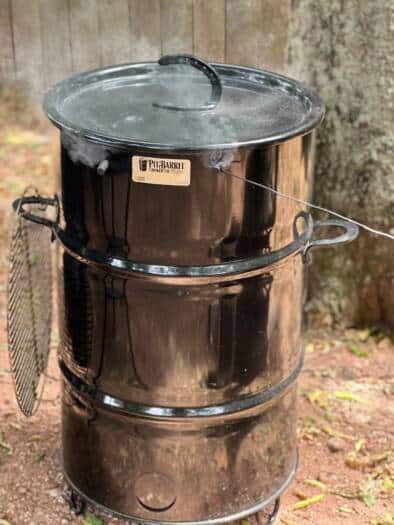 Step 5: Cook Chicken
Go into the house and grab the waiting chicken.
You can now remove the lid from the barrel and hang the "T" hanger with the chicken across the hanging bars. Quickly replace the lid and let the cooking commence.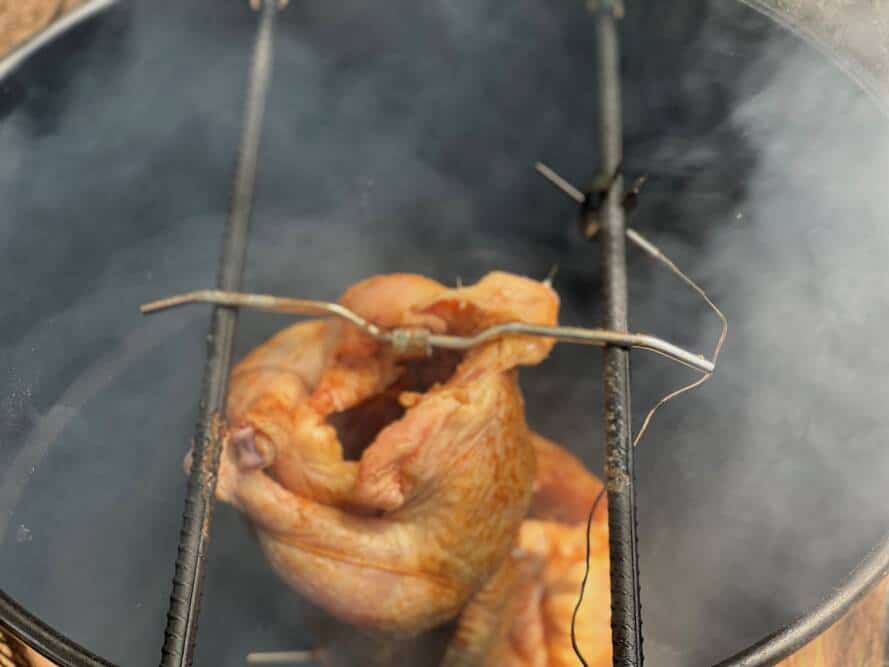 I used the Thermoworks Signals probe to see what kind of temperature I was getting in the barrel although the manufacturer recommends you not worry about the temperature in the Pit Barrel Cooker. The whole point is to set it up and let it just do what it's designed to do.
Note: If you're looking for a digital meat thermometer, my guide called "6 best digital meat thermometers" will help you decide which one is best for you.
I just happen to be a bit of a control freak with my cooking temperatures.. I'm trying to get better about that!
Check the temperature of the chicken after the first hour and then again every 30 minutes until it has reached 165°F (74°C) in the thickest part of the breast and thigh.
I did notice that the chicken hanging closest to the coals cooked a little faster than the upper one but I did not remove the chicken until both had reached temperature.
Step 6: Finish and Serve
By the 2 hour mark, the chickens had reached 165°F (74°C) and they were ready to remove.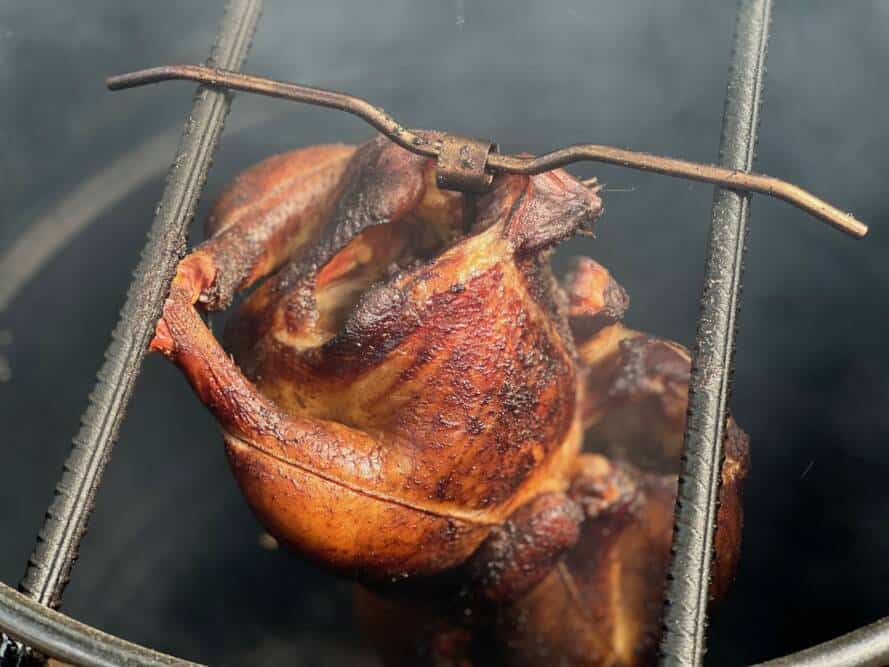 Step 7: Carve and Serve
Bring the chickens into the house and carve them up for serving.
Here's a piece of the breast meat to show you how juicy it was!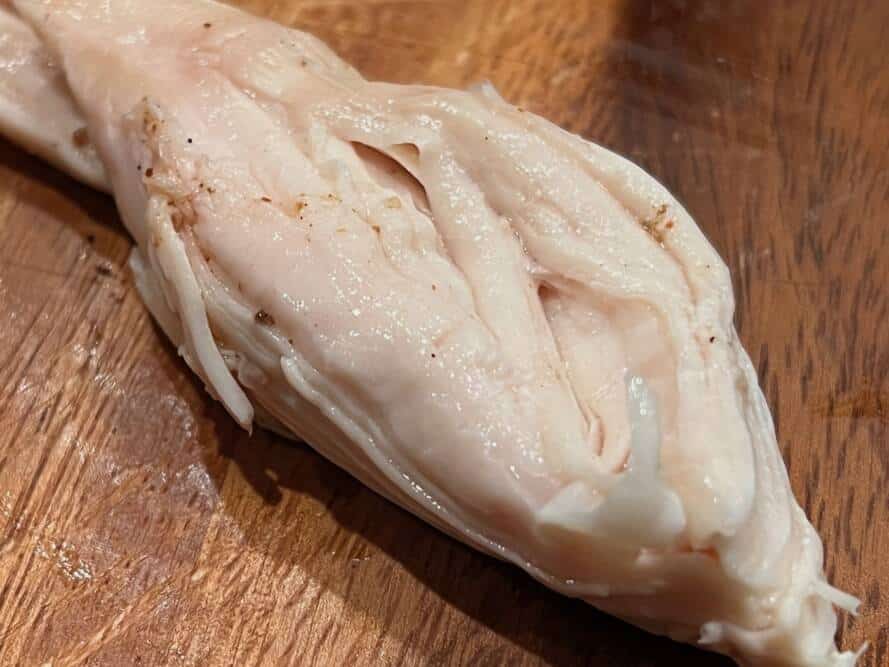 Using a Different Cooker/Smoker
To follow these instructions using a different cooker or smoker, just crank up the heat to a heat level of 275°F (135°C) to 300°F (149°C) and keep an eye on the internal temperature.
Barrel Cooked Whole Chicken
These whole chickens are cooked in the Pit Barrel Cooker to a perfect finish that you can only get from cooking over live coals.
Instructions
Place the chickens into a large pan.

Pour olive oil onto chicken and spread it all over with your hands or a basting brush.

Insert the "T" of the

PBC

turkey hanger through the cavity of both chickens then place the hanger through the hole at the bottom of the "T".

Set up

PBC

with charcoal and several chunks of mesquite wood for smoke. Once it's ready, hang the chickens over the bars at the top of the barrel.

Let the chicken cook for about 2 hours or until it reaches 165°F (74°C) in the thickest part of the breast or thigh.

Carve the chicken and serve immediately.
Notes
To cook this chicken in a different cooker/smoker, crank up the heat to about 300°F (149°C) and let it cook for approximately 2 hours or until it

reaches 165°F (74°C) in the thickest part of the breast or thigh.
Get Jeff's Products!