Smoked pork tenderloins are one of the easiest things you can cook in your smoker when you want something that tastes great, has a "fancy" feel to it and you don't have a lot of time to spare.
In around 2 hours, you can take a pork tenderloin from raw to smoked amazingly delicious and folks will think you slaved over it for hours.
The cherry bourbon compote Abi came up with is a perfect match for this as well.
Helpful Information
Prep Time: 25 minutes
Cook Time: 1.5 to 2 hours
Smoker Temp: 225°F
Meat Finish Temp: 145°F
Recommended Wood: Cherry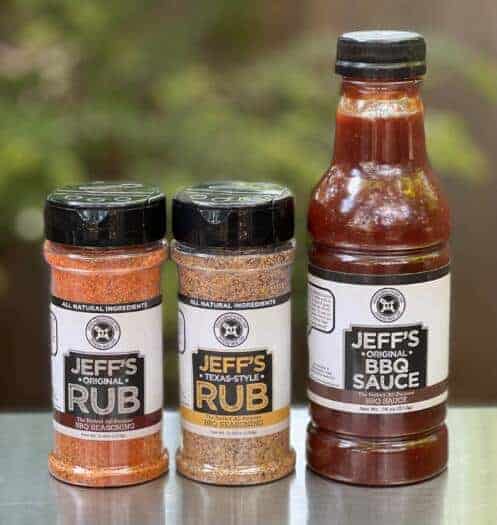 Please note that my rubs and barbecue sauce are now available in 2 formats– you can
purchase the formulas
and make them yourself OR you can
buy them already made
, in a bottle, ready to use.
Clean Up the Pork Tenderloins
Remove the pork tenderloins from the package, give them a rinse under cold water and pat them dry with a paper towel
Lay them on the cutting board and do your best to remove any silver skin, extra fat, etc.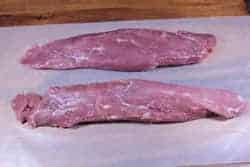 Season the Pork Tenderloins
Now that the meat is all cleaned up and all that extra stuff is removed, you can proceed with the seasoning process.
As usual, I like to use the old trusty yellow mustard base on this pork to help that rub to stick really well.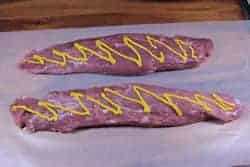 Apply a thin layer all over..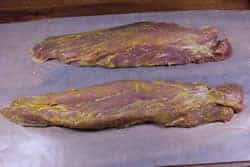 Sprinkle on a few tablespoons of Jeff's original rub (Purchase formula here | Purchase bottled rub).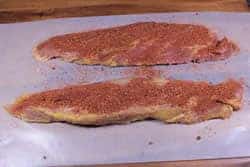 Massage it into the meat all over.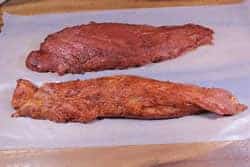 If you are doing these the night before (recommended) simply put them in a big ziploc bag and place in the fridge overnight.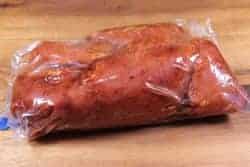 If you are ready to smoke, you can lay them on a Bradley rack or Weber grill pan with a little space between them and you are good to go.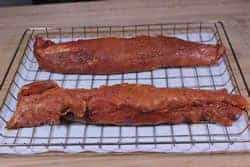 Smoke Time
Set up your smoker for cooking at about 225°F using indirect heat. If your smoker uses a water pan, fill it up. Once the smoker is preheated, it is time to cook.
Place the pork tenderloins directly on the grate or place the Bradley rack with the meat on the grate.
You can probably expect these to take around 1.5 to 2 hours to reach the perfect safely done temperature for pork at 145°F*.
Keep the smoke going for the entire time if you can or for at least an hour to get some good smoke flavor on the meat.
I used cherry to go along with the cherry compote but any fruit wood or even pecan would be really good on these.
When the pork tenderloins reach about 110°F or about an hour into the cook, brush some of the cherry bourbon compote onto the top of each one.
Wait about 20 minutes and repeat.
Be sure to use a tested digital thermometer to monitor the temperature while they cook. You are looking for about 145°F but I often remove them a couple of degrees early if I plan to wrap them in foil and hold them for 30-60 minutes until dinner time.
*The USDA has now assured us that it is perfectly safe to eat pork at medium rare (145°F  ) and if you have not tried this, it makes all of the difference in the world. The pork will be so tender and juicy, you might not be able to believe its lean pork.
Make the Cherry Bourbon Compote
¼ cup Bourbon
¼ cup brown sugar
½ cup water
13 oz jar of cherry preserves (I used Bonne Maman)
Place all of the ingredients into a medium sauce pan. Using medium heat, bring the mixture to a rolling boil then reduce heat slightly to simmer for 10 minutes.
The compote will reduce by about 1/3 by the time it is finished.
When 10 minutes have elapsed, remove the compote from the heat and allow it to cool.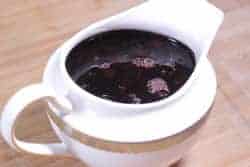 Finish and Serve the Smoked Pork Tenderloin
Remove the pork tenderloins from the smoker and bring them into the house. It is a great idea to immediately wrap them in foil and then in a thick towel on the counter to hold them for 30-60 minutes until dinner time.
When ready to serve, remove from the foil, slice and serve about 1/3 to ½ tenderloin per person.
Be sure to have some of the warm compote on the table so your guests can pour a little over the top of their slices if they want to.
Questions
Can I do the same thing with a whole pork loin?
Yes, but the cook time will increase to around 4 hours or so. You still need to watch the temperature and pull it from the smoker when it reaches 145°F.
Order Jeff's Rubs and Barbecue Sauce TODAY!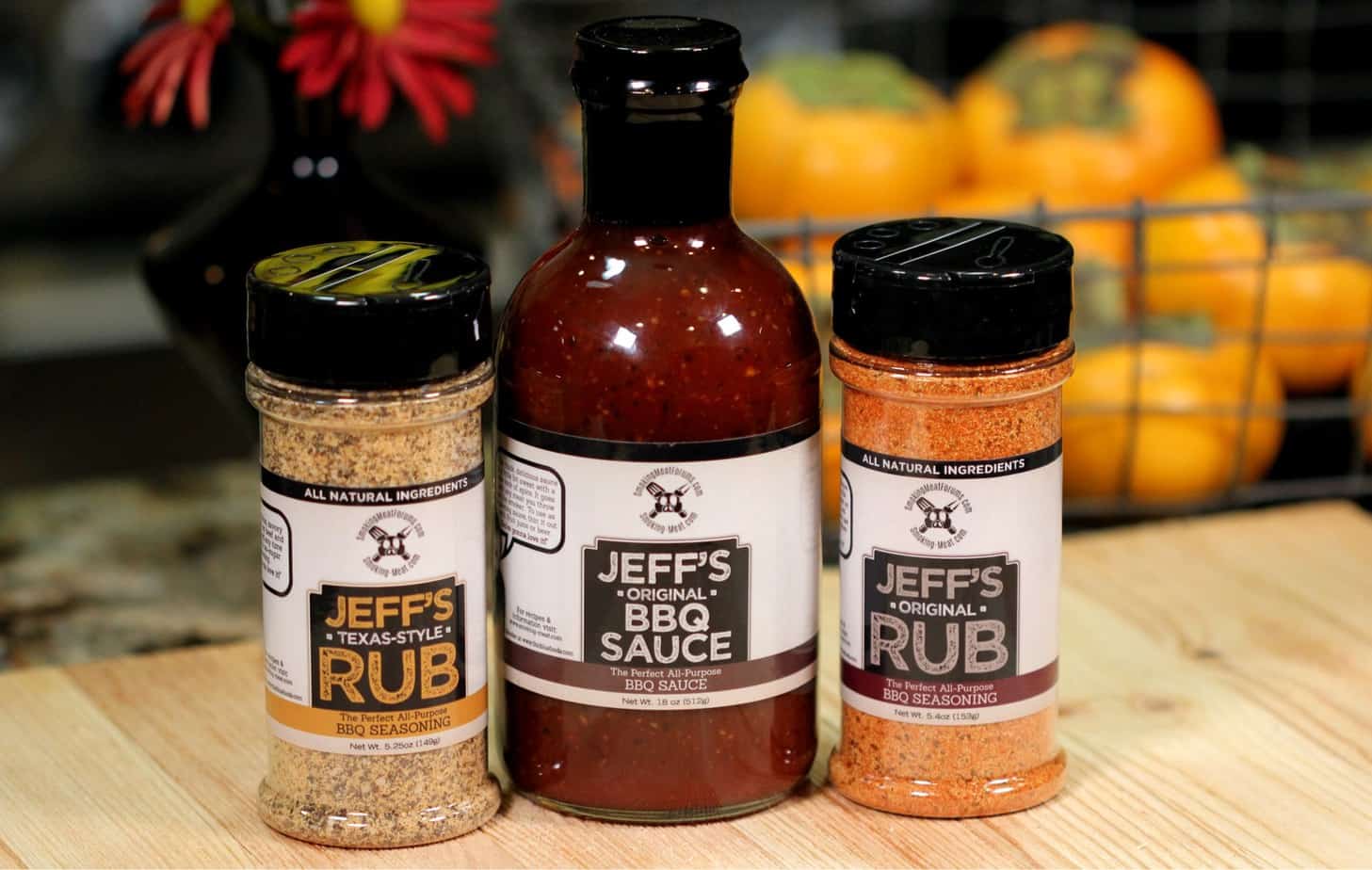 ✅ If you haven't ordered my rubs or sauce yet you can do that HERE. They are the best thing you've ever tasted and it's a great way to support what we do!
We ship blazingly fast and orders over $50 ship free!
You can also order the formulas for my rubs and sauce and make these yourself at home. Grab those HERE and download immediately.
Jeff's Smoking Meat Books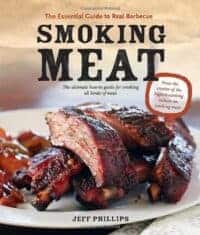 Smoking Meat: The Essential Guide to Real Barbecue – The book is full of recipes and contains tons of helpful information as well. Some have even said that "no smoker should be without this book"!
With more than 1000 reviews on Amazon.com and a rating of 4.7 out of 5 stars, it comes highly recommended and is a Bestseller in Barbecuing & Grilling books on Amazon.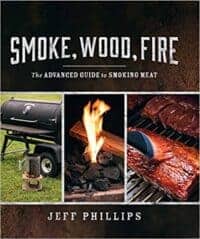 Smoke, Wood, Fire: The Advanced Guide to Smoking Meat – Unlike the first book, this book does not focus on recipes but rather uses every square inch of every page teaching you how to smoke meat. What my first book touched on, this second book takes it into much greater detail with lots of pictures.
It also includes a complete, step-by-step tutorial for making your own smoked "streaky" bacon using a 100 year old brine recipe.
Get Almost Anything at Amazon
If you enjoy the newsletter and would like to do something helpful, then..
The next time you decide to order something at Amazon.com, use THIS LINK to get there and we'll get a small commission off of what you purchase.
Thank you in advance for using our special link: http://www.smoking-meat.com/amazon
---
Printable Recipe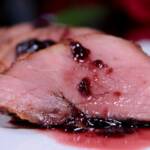 Print Recipe
Cherry Bourbon Smoked Pork Tenderloin
Smoked pork tenderloins are the easiest thing you can cook in your smoker when you want something that tastes great, has a "fancy" feel to it and you don't have a lot of time to spare.
Ingredients
2

Pork tenderloins

2

TBS

Yellow mustard

1/4

cup

Jeff's original rub
Cherry Bourbon Compote
1/4

cup

Bourbon

1/4

cup

Brown sugar

1/2

cup

Water

12-13

ounces

Cherry preserves

(Other berries will work fine)
Instructions
Remove the pork tenderloins from the package, give them a rinse under cold water and pat them dry with a paper towel.

Lay them on the cutting board and do your best to remove any silver skin, extra fat, etc.

As usual, I like to use the yellow mustard base on this pork to help that rub to stick really well.

Sprinkle on a few tablespoons of Jeff's original rub and massage it into the meat all over.

If you are doing these the night before (recommended) simply put them in a big ziploc bag and place in the fridge overnight. If you are ready to smoke, you can lay them on a Bradley rack with a little space between them and you are good to go.

To make the compote: Place compote ingredients into a medium sauce pan.

Using medium heat, bring the mixture to a rolling boil then reduce heat slightly to simmer for 10 minutes. (The compote will reduce by about 1/3 by the time it is finished.)

Remove the compote from the heat and allow it to cool.

Set up your smoker for cooking at about 225°F using indirect heat.

Place the pork tenderloins directly on the grate or place a rack with the meat on the grate.

When the pork tenderloins reach about 110°F or about an hour into the cook, brush some of the cherry bourbon compote onto the top of each one. Wait about 20 minutes and repeat.

You are looking for about 145°F but I often remove them a couple of degrees early if I plan to wrap them in foil and hold them for 30-60 minutes until dinner time.

Remove the pork tenderloins from the smoker and bring them into the house.

When ready to serve, remove from the foil, slice and serve about 1/3 to ½ tenderloin per person