Smoked Ribs with Maple BBQ Glaze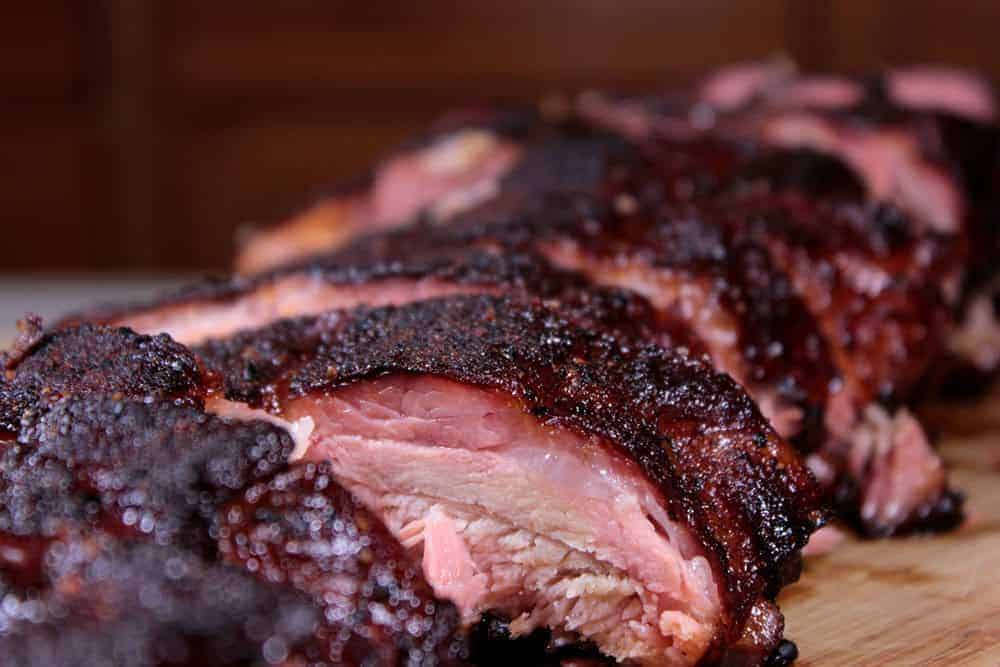 It is no secret that my maple barbecue glaze is amazingly good and has been featured on turkey and even chicken but can it be used on things other than poultry? This week we are brushing it onto smoked baby back ribs while they cook in the Traeger pellet smoker we just received and it has, once again, "hit it out of the ballpark!"
Helpful Information
Preparation time: 20 minutes
Cook time: 5-6 hours
Smoker temperature: 225-240°F
Meat finish temperature: N/A
Recommended wood: Pecan
What You'll Need
2 or more racks of pork baby back ribs
Real maple syrup
Step 1: Remove Membrane
Some folks say remove the membrane on the bone side of the ribs, some say don't. I have tried it both ways and I can't tell a significant difference regarding moisture or flavor. For me it's all about not having to deal with the membrane while I am eating. I just think it's a nice touch to remove it.
To remove it, use a butter knife or similar to lift up one edge or corner then use a paper towel or catfish pliers for a better grip and pull it clean off.
Step 2: Coat with Maple Syrup
There is nothing better than mustard to help the rub to stick and that's normally what I love to use. Since these are going to be getting some maple barbecue glaze later, I opted to use maple syrup as my "sticky" component.
Starting with the side you are already on, the boney side with the membrane now gone..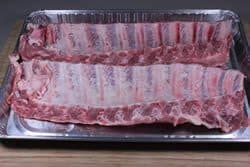 Pour it on and use a silicon brush to spread it all over the ribs and don't forget to get the sides and ends as well.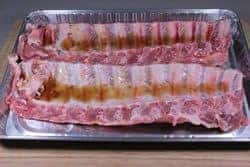 Step 3: Season with Rub
Sprinkle Jeff's original rub  onto the ribs.
Be generous about it.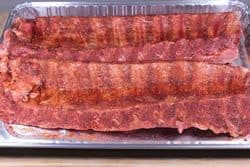 Let the ribs sit for a couple of minutes to absorb some of the moisture from the syrup. Giving this a little time prevents the rub from falling off when you move the ribs or flip them over.
Step 4: Repeat Syrup and Rub on Meaty Side
Flip ribs to meaty side up and apply the maple syrup and rub just like you did on the other side remembering to be generous with the rub.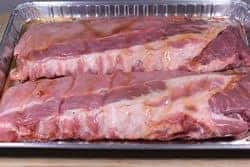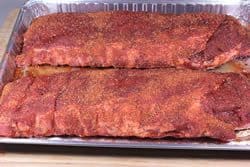 Let the ribs sit for a few more minutes while the rub and syrup combine.
Step 5: Into Fridge Overnight (optional)
I often put the ribs straight into the smoker at this point and there's nothing at all wrong with that but, let it be known, that you can enhance the flavor by placing them into a lidded container and then into the fridge overnight. You can also just wrap them in plastic wrap instead of using a lidded container.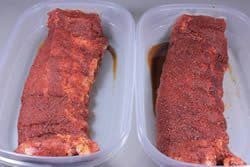 Step 6: Setup Smoker
In the morning, take the ribs out of the fridge and place them on the cabinet for a few minutes while you go get the smoker ready.
Use whatever smoker you have and set it up for cooking with smoke at about 225°F.
I just received a brand new Traeger Lil' Tex from Traeger Grills and so obviously, I am going to break it in right with some smoked pork ribs.
Just an FYI: I've been using it for a couple of weeks now, running it through some paces and I have to say that I am very impressed with the ease of setup and operation and with the final product that it produces. Mind you, this is my first venture into cooking with pellets and therefore I cannot compare it with other pellet smokers. I am simply comparing the Traeger pellet smoking experience with my experiences using other types of smokers such as electric, propane and horizontal stick burners.
I filled the pellet hopper to the top, opened the smoker and set it to smoke. First there's smoke, then you hear the fire roaring and you close the lid and set it to your final temperature. It was that easy!
I am now ready to smoke some ribs.. easy peasy! Once your smoker is ready, you can proceed.
Step 7: Smoking the Ribs
Often I will use racks to make it easy to carry the ribs out to the smoker. I decided to use the new Traeger in a more raw way and just place the ribs right on the grate.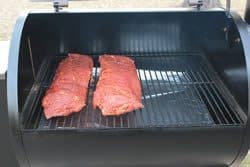 If you want to smoke multiple racks of ribs and you are short on space, it is perfectly ok to put them into one of those rib racks that holds them up vertically. This way you can get a lot more racks of ribs using minimal space.
Traeger says you can fit 5 racks of ribs on the grate.. I probably wouldn't do that since the drip tray is smaller than the actual grate and I'm a little finicky about keeping the smokers clean. I'm thinking 4 would fit over the drip tray if you pushed them right next to each other. Using rib racks, probably 8-10 racks.
Maintain 225-240°F with pecan smoke (other smoking woods will work fine) throughout the entire time. On the Traeger, I just set it to the 225°F marker and it averaged that temperature throughout with small fluctuations up and down.
Use a water pan filled with water if your smoker is designed for this. The Traeger does not use a water pan.
Please note: I did not use the 2-2-1 method for these as I sometimes do. I left these on the smoker grate for the entire time never moving them or flipping them over.
2-2-1 Process Explained (optional process)
If you want to use the 2-2-1 method and you are not familiar with that, it's a 3 step process in succession as follows:
2 hours with heat and smoke on the smoker grate (unwrapped)
2 hours with heat on the smoker grate, wrapped in foil
1 hour with heat and smoke on the smoker grate unwrapped once again.
These times are flexible and can be adjusted to get the perfect rib custom designed to how much tenderness you want. The more time wrapped in foil, the more tender they will be. Total time will still be around 5 hours for baby backs so if you adjust time out of one step, it will just make the first or third step a little longer.
Extra meaty baby backs and spare ribs use a similar process called the 3-2-1 method adding an extra hour into the first step.
Step 8: Glazing the Ribs
To glaze the ribs, you first have to make the maple barbecue glaze using (2) simple ingredients– my original rub  and real maple syrup.
Maple Barbecue Glaze
4 ounces (½ cup) of maple syrup
2 TBS of Jeff's rub 
Mix the components together and stir occasionally while you are using it to keep them combined. This recipe is enough for about 2 racks of ribs to be glazed twice during the cooking process.
Once the ribs have been cooking for about 3 hours, glaze them with the maple barbecue glaze.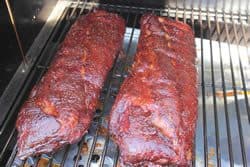 When the ribs are about 30 minutes from being done, glaze them again.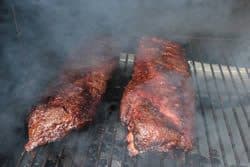 These 2 layers along with the initial layer of maple syrup and my rub gives you 3 layers of goodness and that's a very good thing.
Step 9: Slice and Serve
When the ribs are so tender they are bending in half easily when you lift up one end, they are done and ready to slice and serve.
Lay the ribs bone side up and slice between the bones using a very sharp knife.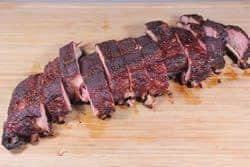 Who says you can't get a nice smoke ring using pellets?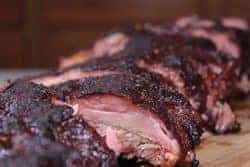 About the Traeger Pellet Smoker
Finally getting a Traeger into my hands has been a wonderful thing. Over the years I have had hundreds of folks ask me about this type of smoker and now I'll be able to answer questions from a personal use standpoint.
It is clear that Traeger has a very large and loyal fanbase and it's no wonder due to how well the smoker works.
In my opinion, the pellet smoker brings together the (2) things that seem to be very important to a lot of smoker enthusiasts:
The ability to cook with all wood as opposed to electric, propane or charcoal
The ability to "set it and forget it" knowing that things will keep on cooking and smoking for hours on end while you sleep, go to work, play golf, etc.
Another great feature is the ability to cook at higher temperatures as well. For instance, chicken and most other poultry benefits from smoke flavor but not necessarily from prolonged periods of low heat.
The Traeger pellet smoker is flexible in this way and allows you to smoke low and slow for a few hours for that nice smoky flavor then crank it on up to say 375 or 400°F for that crispy, delicious finish that everyone wants.
I will be putting up a page soon, just as I have for various other smokers, showing operational techniques, tips, setup help, etc. so be watching for that.
If you are a Traeger user and have some special tips that might help others, feel free to pass those along to me.
For more information on Traeger Pellet Smokers go to http://traegergrills.com
Printable Recipe
Print
Smoked Ribs with Maple BBQ Glaze
It is no secret that my maple barbecue glaze is amazingly good and has been featured on turkey and even chicken but can it be used on things other than poultry? This week we are brushing it onto smoked baby back ribs while they cook in the Traeger pellet smoker we just received and it has, once again, "hit it out of the ballpark!"
Author:
Prep Time:

20 minutes

Cook Time:

5 hours

Total Time:

5 hours 20 minutes

Yield:

4

-6

1

x
Category:

Entree

Cuisine:

Hot Smoking
Instructions
Step 1: Remove the membrane
Remove the membrane from the boney side of the ribs. Lift it up using a butter knife or similar then use a paper towel or catfish pliers to get a good grip and pull it clean off.
Step 2: Maple Syrup and Seasoning
Coat both sides of the ribs with maple syrup and Jeff's original rub (recipe). Brush on the maple syrup then sprinkle on the rub to cover well. Allow the rub to sit on the first side until it starts looking wet then flip it over and repeat on the other side.
Step 3: Into Fridge Overnight (optional)
Place seasoned ribs into a lidded container or wrap them in plastic wrap and place into fridge overnight to enhance the flavor.
Step 4: Smoke the Ribs (part one)
Setup smoker for cooking at about 225-240°F.
Have enough smoking wood on hand to maintain light smoke for about 4 hours.
Once smoker is ready, place ribs directly on smoker grate and close door/lid of smoker.
When the ribs have been cooking for about 3 hours, baste them with the maple barbecue glaze.
Maple Barbecue Glaze
-¼ cup of maple syrup
-2 TBS of Jeff's original rub
Mix ingredients together and stir well to combine. Continue to stir during use to maintain proper mixture.
Step 4: Smoke the Ribs (part two)
Let the ribs continue to cook/smoke for about 1.5 hours then glaze them again with the maple barbecue glaze.
Total time is about 5 hours. If the ribs are extra meaty, they may require additional cooking time.
The ribs are finished when they are tender.
Check for tenderness by lifting up one end. The ribs will bend in half when they are fully done, tender and ready to eat.
You can also pull apart on 2 adjacent rib bones to test the tenderness and looseness of the meat.
Slice and Serve
Place the ribs boney side up on the cutting board.
Slice between the bones using a sharp knife.
Serve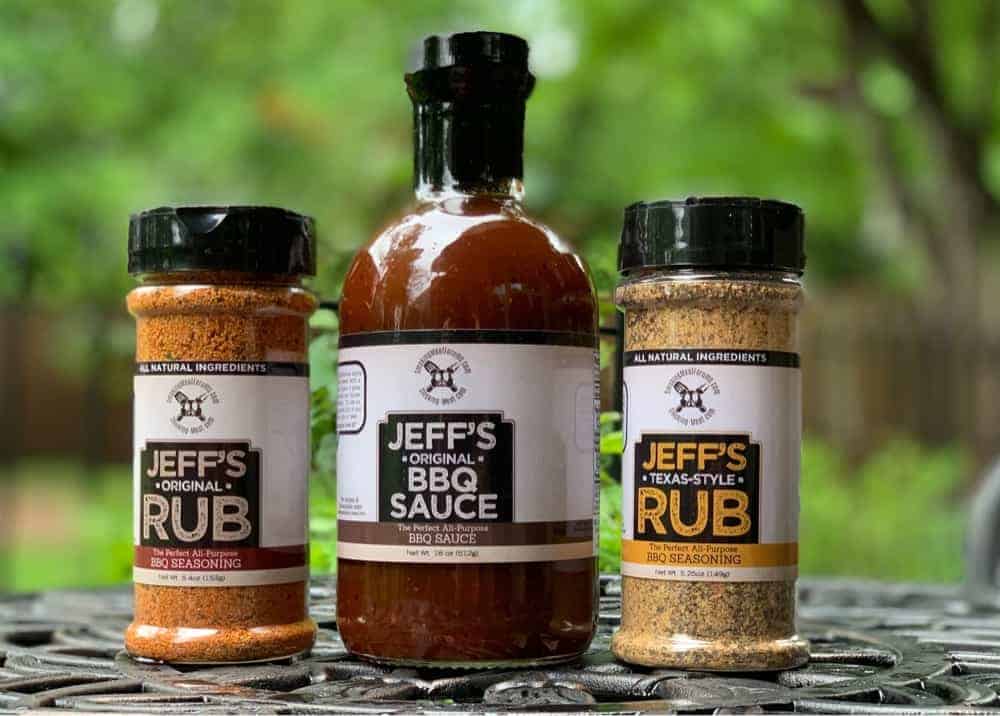 Order Jeff's Rubs and Barbecue Sauce TODAY!
✅ My rubs and sauce will be the best thing you've ever tasted and it's a great way to support what we do!
Note: You can also order the formulas for my rubs and sauce and make these yourself at home. Grab those HERE and download immediately.