I love serving smoked prime rib at Christmas time and the Traeger pellet smoker makes it even more special with it's ability to smoke low and slow for a while then crank it up with the flick of a switch to add a little heat and finish it off right.
Helpful Information
Preparation time: 10 minutes
Cook time: 5 hours
Smoker temperature: 225°F
Meat finish temperature: 135-140°F
Recommended wood: Pecan
What You'll Need
Prime Rib or Standing Rib Roast
Olive or vegetable oil
*This rub comes free when you order the Jeff's original rub recipe and is available by request for all previous customers.
Get the Recipes for Jeff's Rub and Sauce
---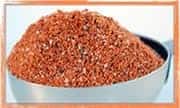 Prime rib or standing rib roast is an extremely flavorful hunk of beef and you don't want to use a seasoning or rub that will override the great flavor that is already present. My Texas style rub recipe is the perfect match and will compliment the flavor perfectly.
I promise you'll love my dry rub/seasoning recipe and my barbecue sauce recipe or you don't pay!
Reasons to buy: Support the newsletter and the website | Own "the recipes" | Get the email newsletter 100% AD FREE from now on | Includes the Texas style rub recipe

Step 1: Prep It
Because time is such a commodity, I always ask the butcher to prep the prime rib for me. They will either remove the bones completely or just barely leave them hanging on. The bones are then put back into place and the prime rib is tied up.
This makes for a nicer presentation in my opinion.
I usually have them french the bones as well which is just a fancy way of saying the meat/fat between the bones is removed so that the bones are sticking out all on their own. It tends to look more elegant that way.. or so I am told.
Here's what it looks like if you "french" the bones.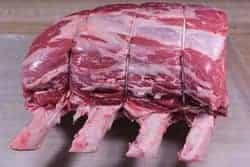 This is not a difficult thing to do but if your butcher will do it, let him.
Step 3: Oil it Down
As usual, I like to add a little something to help the seasoning to stick. There's nothing worse than seasoning an entire roast only to watch half of it fall off when it's moved.
Use a little olive or vegetable oil on the meat. Pour it onto the meat then use a silicone brush to spread it out.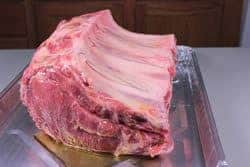 Step 4: Add the Seasoning
I recommend my Texas style rub recipe (purchase recipes here) on this cut of meat. I have used the original rub very successfully as well but most folks seem to enjoy the more savory aspect of the Texas style rub recipe on this robust piece of beef.
Once it's oiled up, just sprinkle the seasoning generously on all sides. Don't forget the ends.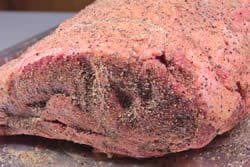 Step 5: Get the Smoker Ready
I made sure the pellet hopper on the Traeger :Lil' Tex Elite was full to the top, opened the smoker and set it to "smoke" using the knob on the controller.
After just a few minutes you see smoke start coming out of the burn pot and then after just a few minutes more, the pellets catch fire.
At this point, I closed the lid and set the knob on the controller to 225°F.
If you are using a different smoker, simply do what is required to maintain the heat at 225-240°F and once it is maintaining the goal temperature, you are ready to smoke some prime rib!
Step 7: Smoke It
Place the prime rib directly on the smoker grate or you can leave it on the Bradley rack if that is what you are using.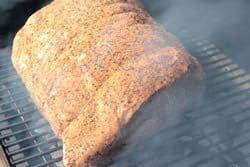 If you are using a smoker which requires wood chips or chunks to be added for smoke, I recommend keeping a light smoke going for at least 3 hours. You can then finish cooking with just heat. Pecan works great but a few more of my favorites such as mesquite, hickory, oak, or cherry will also yield excellent results.
As you can see, it's very easy to get a prime rib ready to cook.. the most important part of the process, monitoring the temperature, starts after you place it on the smoker grate.
I use the Thermoworks "Smoke" thermometer to make sure the meat is monitored while it cooks. This is the best leave-in, digital remote, dual probe thermometer on the market in my humble opinion and if you are serious about smoking meat and want a tough, durable thermometer that will last a very long time, then you need to look into getting one of these very soon! You will love it!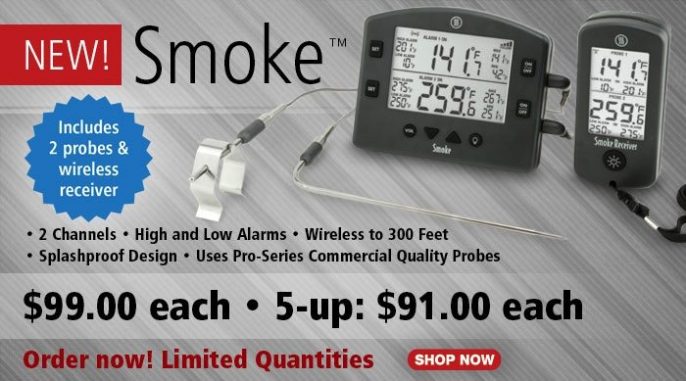 Why is temperature so important? Unlike brisket and many other beef cuts that we cook in the smoker, the prime rib is at it's best at medium rare and this occurs at about 135°F. Some folks like it a little more done than this and that is fine if you must.
Some members of my family prefer the meat to be in the upper range of medium rare, around 140°F, so I usually remove it about 137-138°F and the carry over cooking brings it on up a few degrees after it is removed from the heat.
The slices on the end tend to get a little more done than the slices in the middle so those can also be reserved for those who like it more done.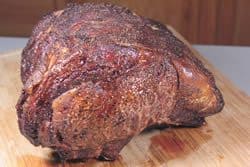 Tent the meat with foil for just a few minutes once it's done to let the juices settle down a bit.
You can expect the cooking time to be around 5 hours but be sure to let temperature be your only guide for determining when the roast is actually done.
Step 9: Slice and Serve
Cut the strings that you used to tie up the rib roast and remove the rack of bones. These are probably pretty spare on meat but I like to gnaw on them and make sure.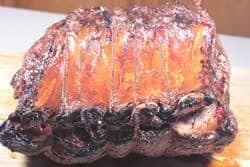 Slice the roast into ½ to ¾ inch slices and lay the pieces on a fancy serving platter.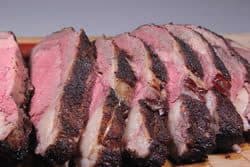 Call dinner and enjoy!
Over the years I have had lots and lots of folks ask me about pellet smokers and usually they mention the Traeger brand. I am happy to be able to answer questions now from a very personal perspective.
It is clear that Traeger has a very large and loyal fanbase and it's no wonder due to how well the smoker works.
This pellet smoker brings together the (2) things that seem to be very important to a lot of smoker enthusiasts:
The ability to cook with all wood as opposed to electric, propane or charcoal.
The ability to "set it and forget it" knowing that things will keep on cooking and smoking for hours on end while you sleep, go to work, play golf, etc.
Another great feature is it's ability to also cook at higher temperatures with a simple turn of the controller dial. For instance, chicken and most other poultry benefits from smoke flavor but not necessarily from prolonged periods of low heat.
The Traeger pellet smoker is flexible in this way and allows you to smoke low and slow for a few hours for that nice smoky flavor then crank it on up to say 375 or 400°F for that crispy, delicious finish that everyone wants. It tops out at around 450°F.
If you are a Traeger user and have some special tips that might help others, feel free to pass those along to me.
***Note: you get the Texas style rub recipe free with your order!
If I could give these recipes away, I would do that. I really want you to have them! But, then, this is how I support the newsletter, the website and all of the other stuff that we do here to promote the art of smoking meat.
Read these recent testimonies:
"Love the sauce and rub recipes. So far I have used them on beef ribs, pork ribs, and different chicken parts. Can't wait to do a beef brisket. Texas rub is great as well!" ~Peter S.
"I tried the rub on a beef brisket and some beef ribs the other day and our entire family enjoyed it tremendously. I also made a batch of the barbeque sauce that we used on the brisket as well as some chicken. We all agreed it was the best sauce we have had in a while." ~Darwyn B.
"Love the original rib rub and sauce! We have an annual rib fest competition at the lake every 4th of July. I will say we have won a great percent of the time over the past 15 years so we are not novices by any means. However, we didn't win last year and had to step up our game! We used Jeff's rub and sauce (sauce on the side) and it was a landslide win for us this year! Thanks Jeff for the great recipes. I'm looking forward to trying the Texas style rub in the near future!" ~Michelle M.
You see the raving testimonies and you wonder, "Can the recipes really be that good?"
No worries! Make up a batch and if it's not as good as you've heard.. simply ask for a refund. Now that's a bargain and you know it. Let's review:
You decide you don't like the recipes.. you don't pay!
The recipes are absolutely amazing!
Once you order, there'll be no more recipe ads in the email version of the newsletter
Well.. what are you waiting for.. click on the big orange button below to order the recipes now.

I really, really appreciate the support from my newsletter friends and be sure to let me know if you have any questions about this.
Jeff's Smoking Meat Book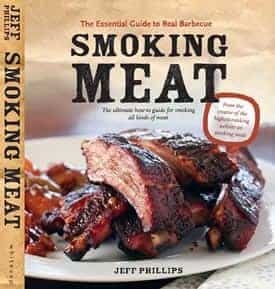 The book is full of recipes and contains tons of helpful information as well. Some have even said that "no smoker should be without this book"!
With more than 800 reviews on Amazon.com and a rating of 4.7 out of 5 stars, it comes highly recommended.
It is a Bestseller in Barbecueing & Grilling books on Amazon.
Amazon | Barnes & Noble | German Edition
Digital versions available via Nook | iTunes | Kindle
Get Almost Anything at Amazon
If you enjoy the newsletter and would like to do something helpful, then..
The next time you decide to order something at Amazon.com, use THIS LINK to get there and we'll get a small commission off of what you purchase.
Thank you in advance for using our special link: http://www.smoking-meat.com/amazon
Printable Recipe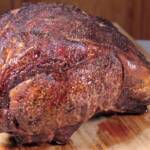 Smoked Prime Rib for Christmas
I love serving smoked prime rib at Christmas time and the
Traeger
Lil' Texas Elite I received just a few weeks back is making it even more special with it's ability to smoke low and slow for a while then crank it up with the flick of a switch to add a little heat and finish it off right.
What You'll Need
Prime Rib or Standing Rib Roast

Olive or vegetable oil
Instructions
Step 1: Prep the Prime Rib
Ask the butcher to cut off the bones and then tie it all back up for you. You can also ask him to "french" the bones for you to make it look real nice.
Step 2: Oil and Seasoning
Apply a good coating of oil to the entire outside surface of the prime rib to help the seasoning to stick.
Step 3: Smoke Time
Setup your smoker for cooking at about 225°F

Apply light smoke for the entire time if possible or for at least 3 hours.

Monitor the temperature and when the temperature reaches about 135 °F, remove it from the smoker.

Tent foil over the top of the meat and let it rest for 10-15 minutes.
Step 4: Slice and Serve
Cut the strings that are holding the roast and bones together.

Remove the rack of bones and set them aside.

Slice the roast into ½ to ¾ inch slices.

Serve to your guests and enjoy!