I love serving smoked prime rib at Christmas time and this one turned out just amazing! Smoked low and slow for about 5 hours with pecan wood to a perfect medium rare and then sliced thick and served to my salivating guests.
Helpful Information
Prep Time: 10 minutes
Cook Time: 5 hours
Smoker Temp: 225°F
Meat Finish Temp: 130°F
Recommended Wood: Pecan and/or Cherry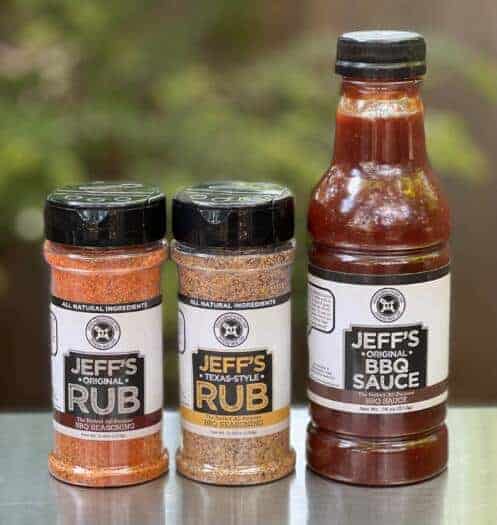 Please note that my rubs and barbecue sauce are now available in 2 formats– you can
purchase the formulas
and make them yourself OR you can
buy them already made
, in a bottle, ready to use.
Step 1: Prep It
Because time is such a commodity, I always ask the butcher to prep the prime rib for me. They will either remove the bones completely or just barely leave them hanging on. The bones are then put back into place and the prime rib is tied up.
This makes for a nicer presentation in my opinion.
I usually have them french the bones as well which is just a fancy way of saying the meat/fat between the bones is removed so that the bones are sticking out all on their own. It tends to look more elegant that way.. or so I am told.
Here's what it looks like if you "french" the bones.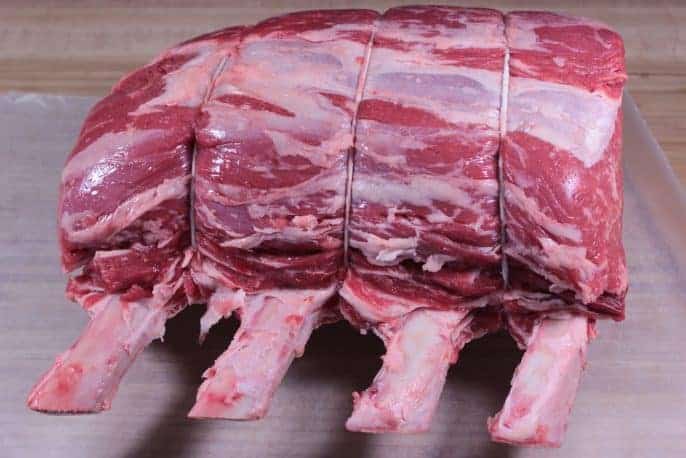 This is not a difficult thing to do but if your butcher will do it, let him.
Step 2: Oil it Down
As usual, I like to add a little something to help the seasoning to stick. There's nothing worse than seasoning an entire roast only to watch half of it fall off when it's moved.
Use a little olive or vegetable oil on the meat. Pour it onto the meat then use a silicone brush to spread it out.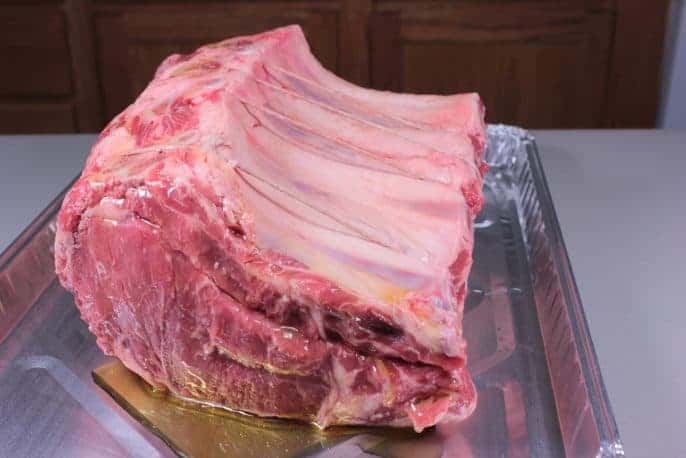 Step 3: Add the Seasoning
I recommend my Texas style rub (Purchase formula here | Purchase bottled rub) on this cut of meat. I have used the original rub very successfully as well but most folks seem to enjoy the more savory aspect of the Texas style rub on this robust piece of beef.
Once it's oiled up, just sprinkle the seasoning generously on all sides. Don't forget the ends.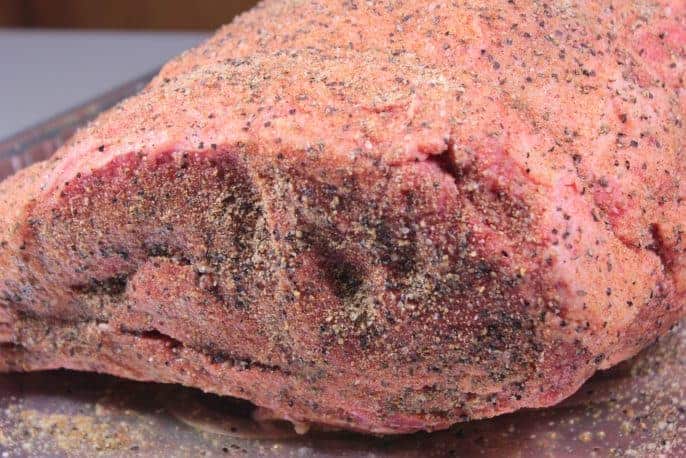 Step 4: Get the Smoker Ready
Set up the smoker for cooking at about 225°F using indirect heat. If your smoker has a water pan, then fill it up.
You can use ANY smoker to cook this successfully as long as you maintain a proper temperature and do NOT overcook it.
Step 5: Smoke It
Place the prime rib directly on the smoker grate or you can leave it on a pan/rack if that is what you are using.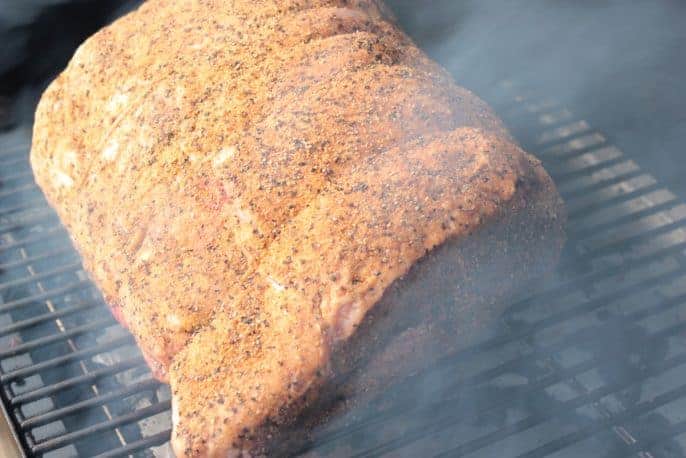 If you are using a smoker which requires wood chips or chunks to be added for smoke, I recommend keeping a light smoke going for at least 3 hours. You can then finish cooking with just heat. Pecan works great but a few more of my favorites such as mesquite, hickory, oak, or cherry will also yield excellent results.
As you can see, it's very easy to get a prime rib ready to cook.. the most important part of the process, monitoring the temperature, starts after you place it on the smoker grate.
I use the Thermoworks "Smoke" thermometer to make sure the meat is monitored while it cooks. This is the best leave-in, digital remote, dual probe thermometer on the market in my humble opinion and if you are serious about smoking meat and want a tough, durable thermometer that will last a very long time, then you need to look into getting one of these very soon! You will love it!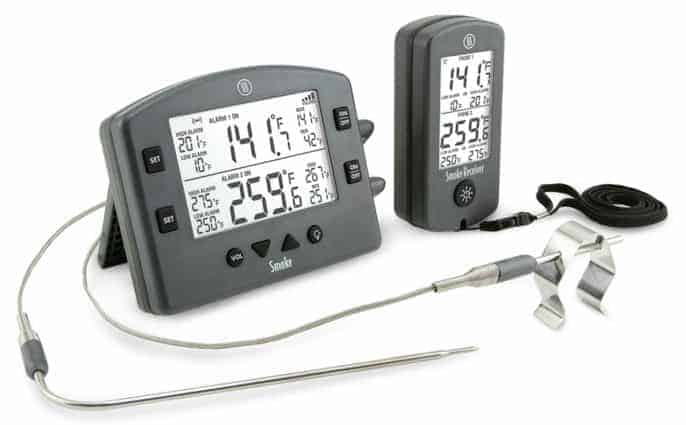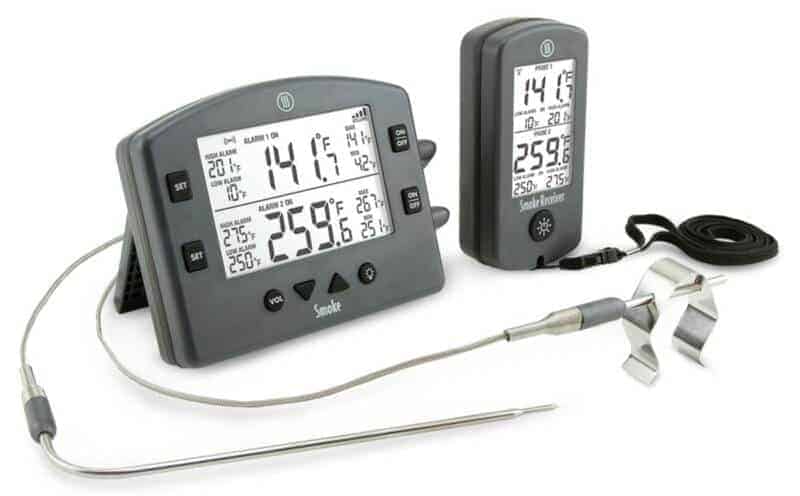 Why is temperature so important? Unlike brisket and many other beef cuts that we cook in the smoker, the prime rib is at it's best at medium rare and this occurs at about 130°F. Some folks like it a little more done than this and that is fine if you must.
Remove it at 127°F and the carryover cooking will bring it on up to a perfect 130°F while it rests on the counter.
The slices on the end tend to get a little more done than the slices in the middle so those can also be reserved for those who like it a little more done.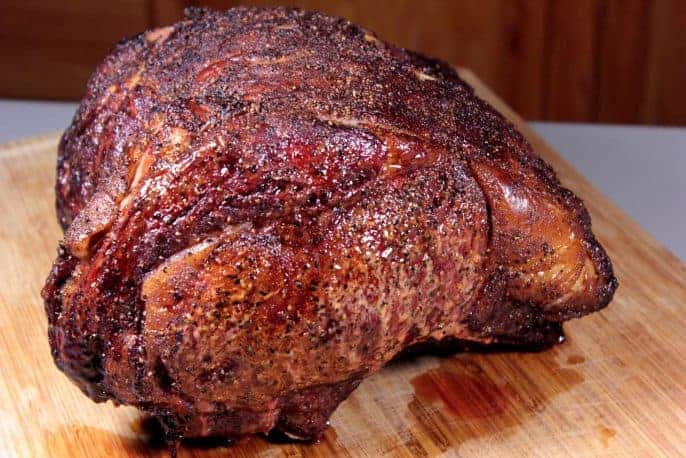 Tent the meat with foil for just a few minutes once it's done to let the juices settle down a bit.
You can expect the cooking time to be around 5 hours but be sure to let temperature be your only guide for determining when the roast is actually done.
Step 6: Slice and Serve
Cut the strings that you used to tie up the rib roast and remove the rack of bones. These are probably pretty spare on meat but I like to gnaw on them and make sure.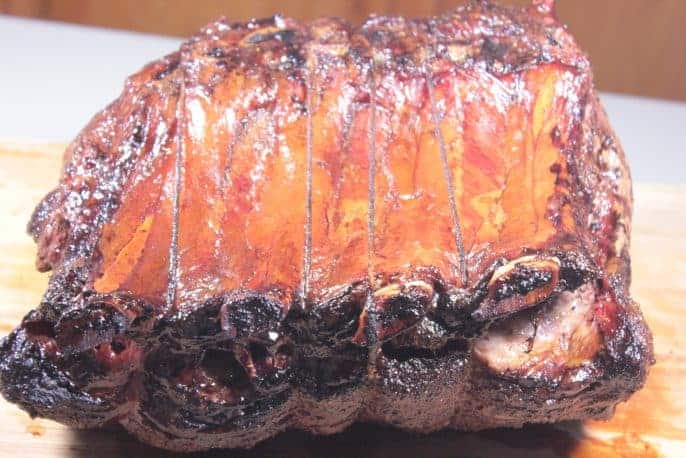 Slice the roast into ½ to ¾ inch slices and lay the pieces on a fancy serving platter.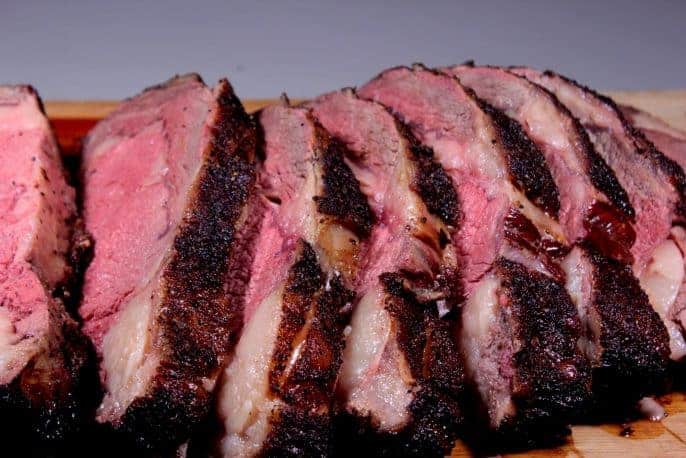 Call dinner and enjoy!
Order Jeff's Rubs and Barbecue Sauce TODAY!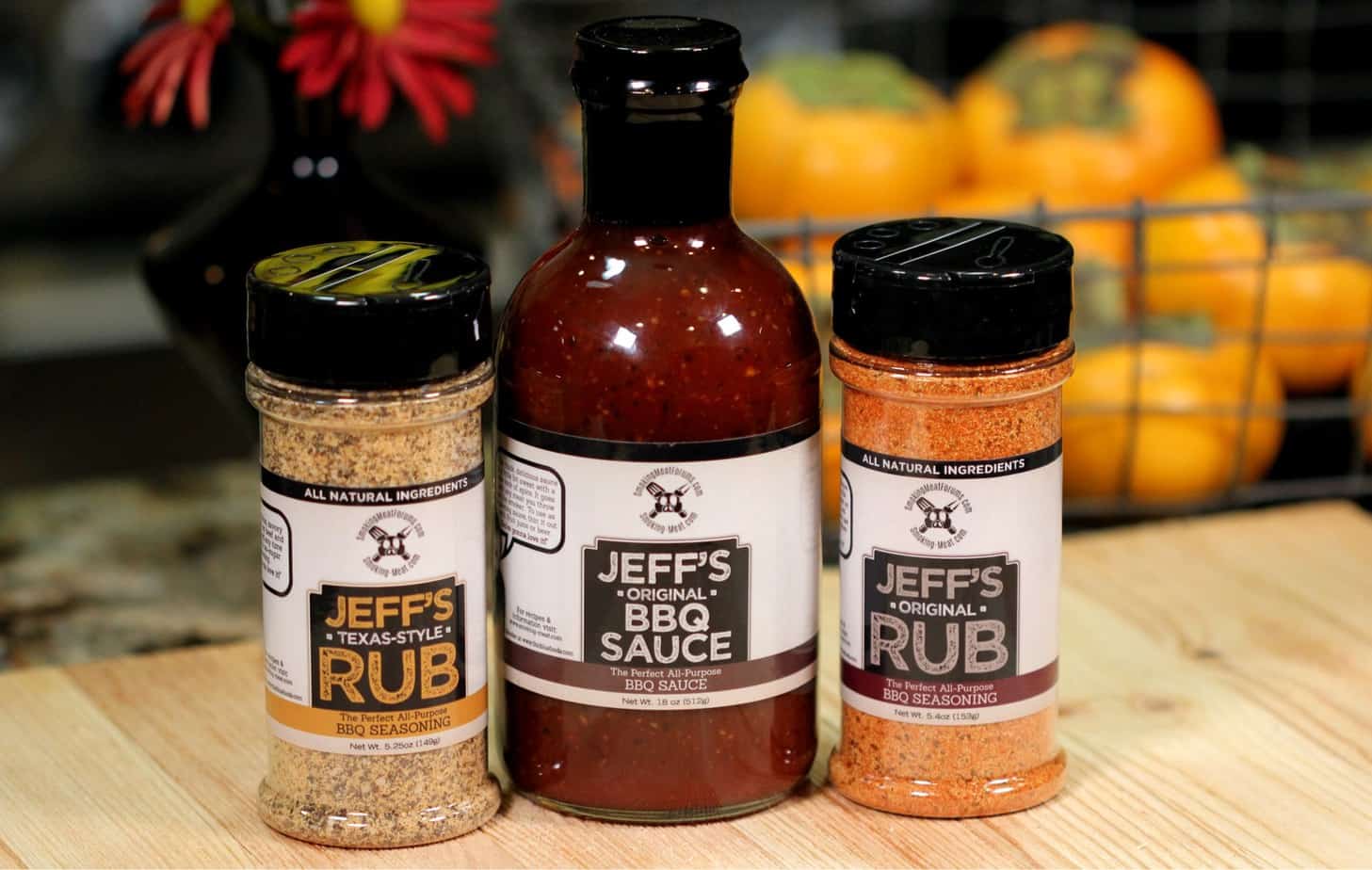 ✅ If you haven't ordered my rubs or sauce yet you can do that HERE. They are the best thing you've ever tasted and it's a great way to support what we do!
We ship blazingly fast and orders over $50 ship free!
You can also order the formulas for my rubs and sauce and make these yourself at home. Grab those HERE and download immediately.
Jeff's Smoking Meat Books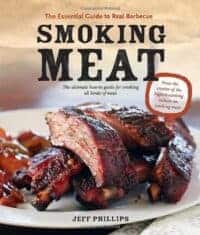 Smoking Meat: The Essential Guide to Real Barbecue – The book is full of recipes and contains tons of helpful information as well. Some have even said that "no smoker should be without this book"!
With more than 1000 reviews on Amazon.com and a rating of 4.7 out of 5 stars, it comes highly recommended and is a Bestseller in Barbecuing & Grilling books on Amazon.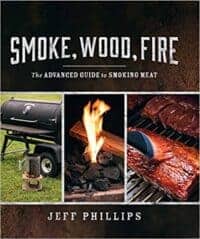 Smoke, Wood, Fire: The Advanced Guide to Smoking Meat – Unlike the first book, this book does not focus on recipes but rather uses every square inch of every page teaching you how to smoke meat. What my first book touched on, this second book takes it into much greater detail with lots of pictures.
It also includes a complete, step-by-step tutorial for making your own smoked "streaky" bacon using a 100 year old brine recipe.
Get Almost Anything at Amazon
If you enjoy the newsletter and would like to do something helpful, then..
The next time you decide to order something at Amazon.com, use THIS LINK to get there and we'll get a small commission off of what you purchase.
Thank you in advance for using our special link: http://www.smoking-meat.com/amazon
---
Printable Recipe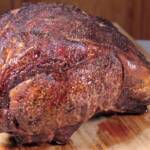 Print Recipe
Smoked Prime Rib for Christmas
Smoked prime rib is the perfect entree for Christmas time.. it's fancy, it's delicous and it only takes about 5 hours from start to finish.
Ingredients
Prime Rib or Standing Rib Roast

Olive or vegetable oil

Jeff's Texas Style Rub
Instructions
Step 1: Prep the Prime Rib
Ask the butcher to cut off the bones and then tie it all back up for you. You can also ask him to "french" the bones for you to make it look real nice.
Step 2: Oil and Seasoning
Apply a good coating of oil to the entire outside surface of the prime rib to help the seasoning to stick.

Sprinkle Jeff's Texas style rub onto the meat on all sides. Don't forget the ends.
Step 3: Smoke Time
Setup your smoker for cooking at about 225°F

Apply light smoke for the entire time if possible or for at least 3 hours.

Monitor the temperature and when the temperature reaches about 130°F, remove it from the smoker.

Tent foil over the top of the meat and let it rest for 10-15 minutes.
Step 4: Slice and Serve
Cut the strings that are holding the roast and bones together.

Remove the rack of bones and set them aside.

Slice the roast into ½ to ¾ inch slices.

Serve to your guests and enjoy!