Get your beef on this Christmas with my smoked beef short ribs recipe!
These smoked beef short ribs are braised for a time in a cranberry juice cocktail. It doesn't give them a cranberry flavor but it does wonders for the color and the liquid helps to braise them to perfection. Not to mention, it's a great juice to use for braising at Christmas time!
For best results be really picky about the beef short ribs and try to find ones that have lots of marbling without large clumps of fat.
Barbecue's Greatest Secret.. My Original Rub Recipe!
---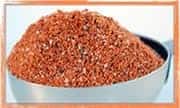 My smoked beef short ribs recipe will work well with both my original rub recipe and the Texas style rub recipe depending on what flavor profile you prefer. I personally think the sweet aspects in my original rub works best and that is the seasoning I featured in this recipe. If you prefer beef that is not sweet, use the Texas style rub recipe and you'll be delighted!
I promise you'll love my dry rub/seasoning recipes and my barbecue sauce recipe or you don't pay!
Reasons to buy: Support the newsletter and the website | Own "the recipes" | Get the email newsletter 100% AD FREE from now on | Includes the Texas style rub recipe | Immediate download + email download

Helpful Information
Prep Time: 10 minutes
Brine Time: 4 hours or overnight
Cook Time: 4 hours
Smoker Temp: 240°F
Meat Finish Temp: 185°F
Recommended Wood: Cherry
What You'll Need
4-6 lbs of beef short ribs (1 lb per person approx.)
Deep foil pan
Coarse kosher salt
Cranberry juice or juice cocktail
Heavy duty foil
Dry Brine the Beef
Dry brining, as we discussed last week, is the act of sprinkling salt onto the top of meat and letting it draw moisture to the surface. This slurry of salt and meat moisture is then drawn back deep into the meat.
Unlike wet brining, the meat does not gain extra moisture but is done mostly for flavor.
Study the images below to get a good idea of the correct coverage. I tend to be on the conservative side of dry brining since I don't like things that are overly salty. You can adjust the salt for your tastes but I admonish you to do so after trying it my way the first time.
Place the beef short ribs into a deep foil pan for best results.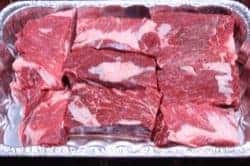 Sprinkle coarse grained kosher salt onto the top of the beef short ribs as shown below: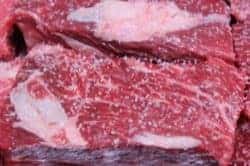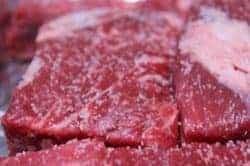 Place the pan of beef ribs into the fridge for at least 4 hours or overnight.
I normally leave the beef uncovered in the fridge but you can cover it if you want to.
When the brining process is complete, remove the beef from the fridge.
Rinse the ribs under cold water or simply wipe them off with a damp paper towel to remove any residual salt from the surface.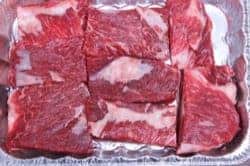 They are now ready for the seasoning.
Add the Seasoning
Even though the braising process does not happen right away, I like to go ahead and pour in about ½ inch of cranberry juice or juice cocktail.
Pour the juice over the meat so that the meat gets wetted in the process. This will help the rub to stick a little better.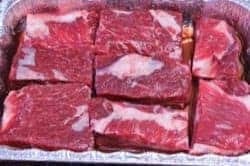 Sprinkle the beef ribs generously with Jeff's original rub (purchase recipes here).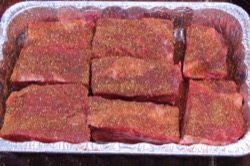 While it's sitting there getting sassy.. you can go get the smoker ready.
Preheat the Smoker
Setup the smoker for cooking at about 240°F using indirect heat and cherry wood for smoke. Most other smoking woods will work great as well.
If your smoker has a water pan, fill it full with hot water.
In cold weather, it's a great idea to let the smoker come up to temperature about 30 minutes to an hour before you are ready to cook. This gives the metal time to heat up and allows the smoker to do a better job of temperature recovery when you open the door to input the meat.
Smoke Time
The beef short ribs will take 4 hours or maybe a little more to reach 185°F in the center of the thickest part.
The first 2 hours will be uncovered and this is where the smoke does it's thing.
After 2 hours, add more cranberry juice if necessary to replace what has been lost and cover tightly with foil.
This is where the braising takes place in this sealed, humid environment and where the tenderizing happens.
Use a good quality leave-in meat thermometer to monitor the temperature of the beef ribs while they cook in this covered configuration.
My recommendation is the new "Smoke" thermometer by Thermoworks. It is the best thing out there right now in my opinion and I think if you are serious at all about smoking meat and getting the job done correctly, it's one of the best tools you can have aside from your smoker.
This part stays by the smoker. It has 2 probes.. one for the meat and one for the smoker. Finally you'll know exactly what the accurate temperature is inside your smoker and what the internal temperature of the meat is.
Remember, there is no way to make sure the meat is done properly and safely without using an accurate thermometer.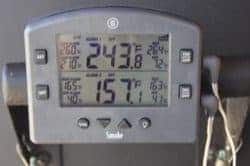 Here's the part that goes where you go.. into the house, on the mower, by your bed, etc. and you need not worry, It' ll alert you if anything goes wrong.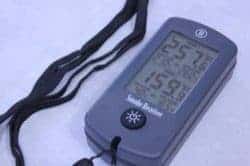 The high and low temperature alarms are so easy to set on the "Smoke" that you'll actually use them every time you cook.
You are looking for about 185-190°F for these smoked beef short ribs. This is the point at which they become really nice and tender.
Ready to Eat
Once the smoked beef short ribs reach this temperature, remove them from the smoker and keep them warm under foil until you are ready to serve them.
Just before serving, spoon some of the juices from the bottom of the pan over the top of the beef.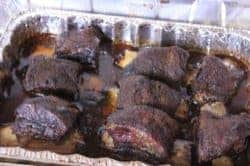 If you like, garnish with a little chopped parsley and sprigs of rosemary.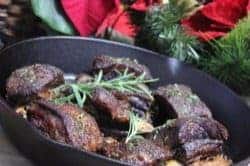 I recommend serving about a pound to each person. This will vary depending on how they are cut up.
Enjoy!
---
We are now running a limited-time
25% off sale on the DOWNLOADABLE RECIPES
.
Click HERE
to purchase the instantly downloadable
recipes (formulas)
 for both of my rubs and barbecue sauce at an unbeatable discount. Somebody pinch me! Or better yet, just
go get them
😉
Note: The coupon should be automatically applied OR use SM25 during checkout if necessary.
***Note: you get the Texas style rub recipe free with your order!
If I could give these recipes away, I would do that. I really want you to have them! But, then, this is how I support the newsletter, the website and all of the other stuff that we do here to promote the art of smoking meat.
Read these recent testimonies:
"Love the sauce and rub recipes. So far I have used them on beef ribs, pork ribs, and different chicken parts. Can't wait to do a beef brisket. Texas rub is great as well!" ~Peter S.
"I tried the rub on a beef brisket and some beef ribs the other day and our entire family enjoyed it tremendously. I also made a batch of the barbeque sauce that we used on the brisket as well as some chicken. We all agreed it was the best sauce we have had in a while." ~Darwyn B.
"Love the original rib rub and sauce! We have an annual rib fest competition at the lake every 4th of July. I will say we have won a great percent of the time over the past 15 years so we are not novices by any means. However, we didn't win last year and had to step up our game! We used Jeff's rub and sauce (sauce on the side) and it was a landslide win for us this year! Thanks Jeff for the great recipes. I'm looking forward to trying the Texas style rub in the near future!" ~Michelle M.
You see the raving testimonies and you wonder, "Can the recipes really be that good?"
No worries! Make up a batch and if it's not as good as you've heard.. simply ask for a refund. Now that's a bargain and you know it. Let's review:
You decide you don't like the recipes.. you don't pay!
The recipes are absolutely amazing!
Once you order, there'll be no more recipe ads in the email version of the newsletter
Well.. what are you waiting for.. click on the big orange button below to order the recipes now.

I really, really appreciate the support from my newsletter friends and be sure to let me know if you have any questions about this.
Jeff's Smoking Meat Book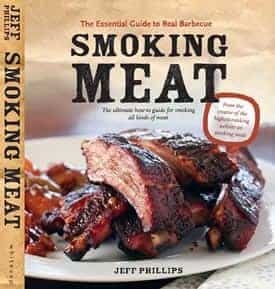 The book is full of recipes and contains tons of helpful information as well. Some have even said that "no smoker should be without this book"!
With more than 800 reviews on Amazon.com and a rating of 4.7 out of 5 stars, it comes highly recommended.
It is a Bestseller in Barbecueing & Grilling books on Amazon.
Amazon | Barnes & Noble | German Edition
Digital versions available via Nook | iTunes | Kindle
Get Almost Anything at Amazon
If you enjoy the newsletter and would like to do something helpful, then..
The next time you decide to order something at Amazon.com, use THIS LINK to get there and we'll get a small commission off of what you purchase.
Thank you in advance for using our special link: http://www.smoking-meat.com/amazon
Printable Recipe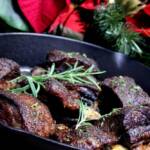 Cranberry Braised Smoked Beef Short Ribs
Get your beef on this Christmas or any day of the year with these smoked beef short ribs braised in cranberry juice for the ultimate in tender beefy perfection!
What You'll Need
4-6

lbs

of beef short ribs

1 lb per person approx.

Coarse kosher salt

Cranberry juice or juice cocktail
Instructions
Place the beef short ribs into a foil pan or plastic container.

Sprinkle coarse grained kosher salt onto the top of the beef short ribs. Coverage should be about 10-15% and should leave at least 1/8 to ¼ inch between the grains on average.

Place the beef short ribs in the fridge uncovered for at least 4 hours or overnight.

When they are done brining, there is no need to rinse them.

If necessary, move the beef short ribs to a foil pan that is about 2 to 3 inches deep.

Pour about ½ inch of cranberry juice or juice cocktail into the bottom of the foil pan. Pour the juice over the beef ribs so that they get wetted in the process. This will help the rub to stick better.

Prepare the smoker for cooking at 225-240°F using indirect heat and cherry wood for smoke.

Place the pan of ribs into the smoker and let them smoke cook uninterrupted for 2 hours.

At the end of 2 hours, cover the pan with foil to let the braising really take place. This braising process should last for 2 hours.

Uncover the short ribs at the end of 2 hours and spoon some of the tasty juices up onto the ribs.

Garnish with some chopped parsley and rosemary and serve immediately.