I'm on my third batch of these smoked pork belly slices otherwise known as "pure deliciousness" in order to get the recipe and instructions absolutely perfect and I have to say, you NEED these really bad although your doctor may disagree! These are not entirely healthy and you probably shouldn't eat these everyday but for a once-in-a-while treat, I say go for it;-)
In my first batch, I only smoked them and they were pretty darn good but I knew they were missing something texture wise. I then decided to give them a good sear in the frying pan after they cooled down and that made all the difference in the world. A good crisp on the outside, tender and juicy on the inside.. oh yeah!
Order Jeff's Rubs and Barbecue Sauce TODAY!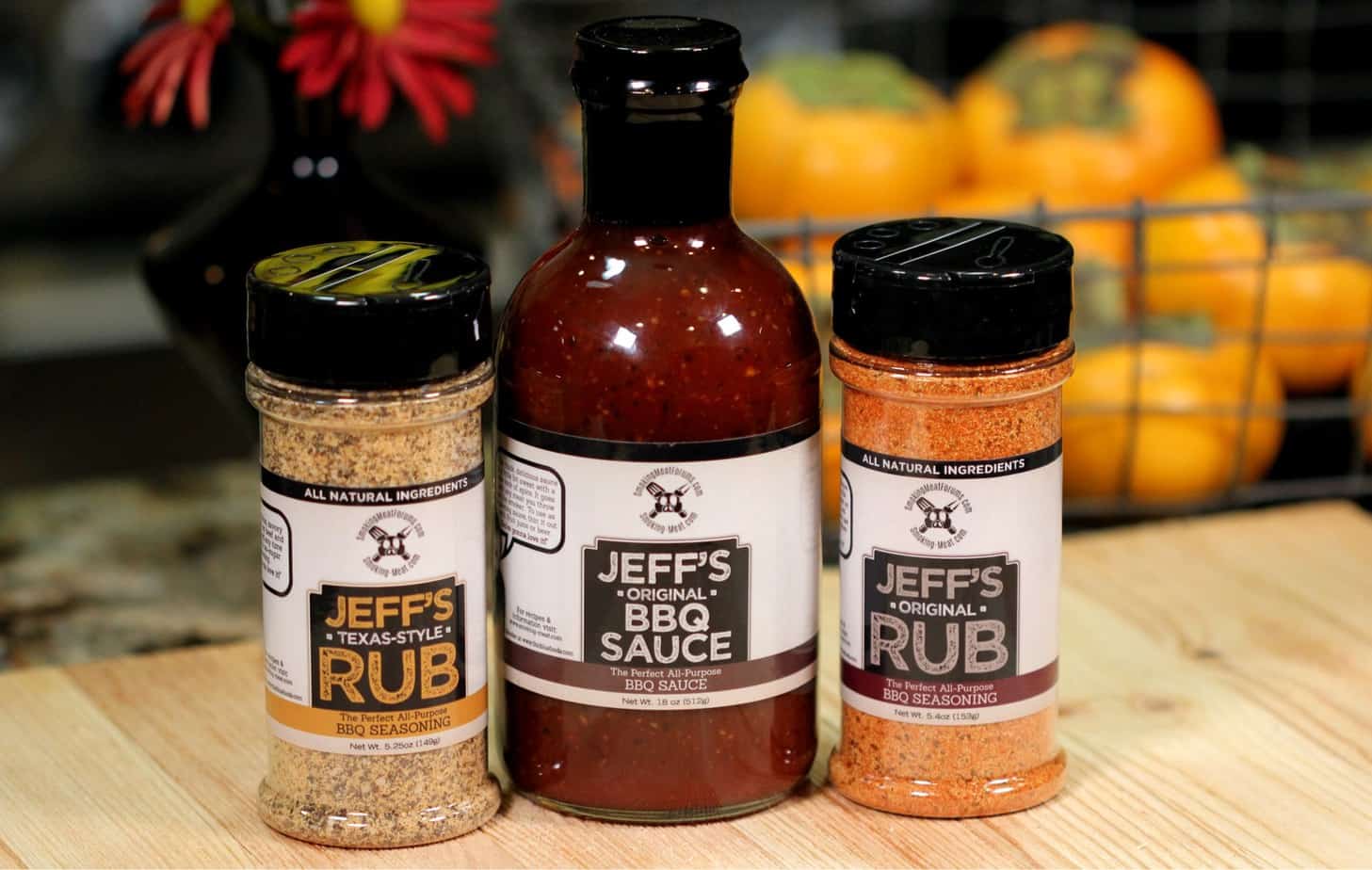 ✅ If you haven't ordered my rubs or sauce yet you can do that HERE. They are the best thing you've ever tasted and it's a great way to support what we do!
We ship blazingly fast and orders over $50 ship free!
You can also order the formulas for my rubs and sauce and make these yourself at home. Grab those HERE and download immediately.
Jeff's Smoking Meat Books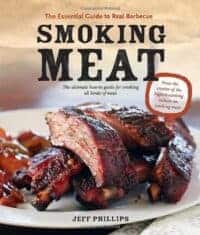 Smoking Meat: The Essential Guide to Real Barbecue – The book is full of recipes and contains tons of helpful information as well. Some have even said that "no smoker should be without this book"!
With more than 1000 reviews on Amazon.com and a rating of 4.7 out of 5 stars, it comes highly recommended and is a Bestseller in Barbecuing & Grilling books on Amazon.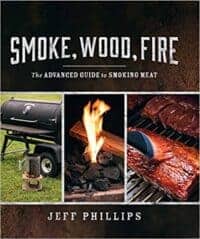 Smoke, Wood, Fire: The Advanced Guide to Smoking Meat – Unlike the first book, this book does not focus on recipes but rather uses every square inch of every page teaching you how to smoke meat. What my first book touched on, this second book takes it into much greater detail with lots of pictures.
It also includes a complete, step-by-step tutorial for making your own smoked "streaky" bacon using a 100 year old brine recipe.
Get Almost Anything at Amazon
If you enjoy the newsletter and would like to do something helpful, then..
The next time you decide to order something at Amazon.com, use THIS LINK to get there and we'll get a small commission off of what you purchase.
Thank you in advance for using our special link: http://www.smoking-meat.com/amazon
---
Printable Recipe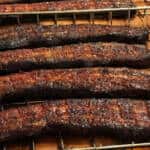 Print Recipe
Smoked Pork Belly Slices
These smoked and seared pork belly slices are just what you need if you are looking for an appetizer that will take your party or get together to the next level. It's like bacon on steroids and you'll wonder why you've never made these before!
Ingredients
3-4

lbs

pork belly slices

((¼ thick is perfect))

Kosher salt

((for the dry brine))

Jeff's original rub recipe
Instructions
Lay the strips of pork belly on a flat sheet pan for dry brining.

Sprinkle salt on the top side of the meat at about 10% coverage then place in the fridge for 1 hour.

Flip the meat over, salt the other side in the same way and place it back in the fridge for another hour.

After the 2nd hour, the meat is ready to be seasoned with the original rub.

Season both sides liberally with Jeff's original rub waiting in between top side and bottom side for the rub to acquire that "wet' look before flipping them over.

Smoke the pork belly slices at 240°F for approximately 90 minutes or until they reach an internal temperature of 200-205 °F as measured by an instant-read hand-held digital thermometer such as the Thermapen or ThermoPop.

When finished, remove them from the smoker and let them cool for about an hour. You can also place them in the fridge to cool for longer if you are making them ahead of time.

Just before serving, heat a skillet or electric griddle to medium heat and cook both sides of the pork belly slices until they are seared but not blackened.

Serve immediately.