If you're looking for a smoked appetizer that has super bowl party written all over it.. you've found it! A slice of sausage, wrapped in thick bacon and held secure with a toothpick to form a cup. The cups are filled with almost anything but my favorite is a cream cheese mixture containing chopped jalapeño, Jeff's original rub and grated cheese.
Pop a few of these in your mouth and you'll be wishing you had made a whole lot more!
You're welcome!
Helpful Information
Hands-on Prep Time: 30 minutes
Cook Time: 1 hour 30 minutes
Smoker Temp: 250-275°F
Meat Finish Temp: N/A
Recommended Wood: Cherry and/or pecan
What You'll Need
Smoked sausage links, cut into ½ inch thick rounds (Polish kielbasa also works great)
Bacon, (thick), cut in half
8 ounces cream cheese, softened
½ cup grated cheese (4 cheese Mexican blend works great)
2 tablespoons jalapeños, chopped
2-3 tablespoons Jeff's original rub recipe, divided
Step 1: Chop the Jalapeño and Grate the cheese
If you use fresh jalapeños, you'll want to cut off the stem and chop these up. I use the seeds and and veins for more heat but if you want it to be more mild, you can remove the veins and seeds and just chop what's left.
A couple of small jalapeños or a larger one should do the trick.
You can also purchase chopped jalapeños at the grocery store. I recommend the non-pickled variety that usually comes in a small 4 ounce can.
Cheese can be purchased already grated or you can grate your own. I usually purchase cheese already grated to make it easy on myself. Almost any type of cheese will work but I like to use the 4-cheese Mexican blend in this recipe.
You will need about 1 cup of grated cheese per batch.
Step 2: Slice the Sausage, Cut the Bacon in Half
I don't measure but I try to keep the sausage between 3/8 and ½ inch thick. I was able to get 18-20 pieces from each sausage link.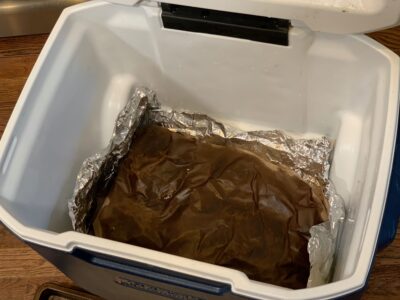 For most appetizers, I use bacon that is thin so it will crisp up better in the lower heat but these need something a little more robust so they'll hold their shape better. For this, you need thick bacon or about 12-13 slices per lb.
Open the bacon, find the halfway point and slice all of it in half.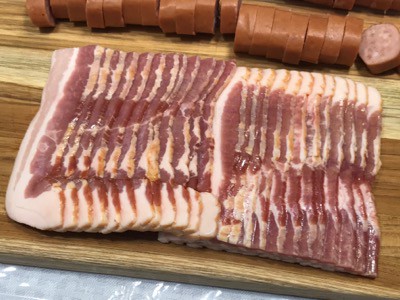 Step 3: Wrap Bacon Around Sausage + Toothpick
Lay a sausage slice on your cutting board and wrap a half slice of bacon around the perimeter forming a cup.. the sausage is the bottom of the cup.
Push a toothpick through the end of the bacon, the sausage and through the bacon on the other side to hold everything in place.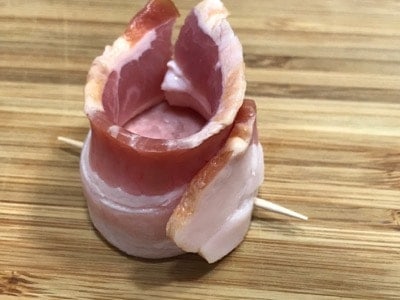 Step 4: Mix up the Cream Cheese Mixture and fill the "Cups"
Hopefully you left the cream cheese laying on the counter about an hour or two ago so it can get nice and soft. This makes it a lot easier to work with.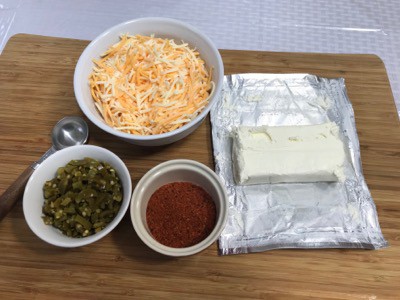 Place the cream cheese into a small or medium sized bowl and press it out with a fork.
Add 1 tablespoon of Jeff's original rub, ½ cup of grated cheese and approximately 2 tablespoons of chopped jalapeños and mix everything up really well.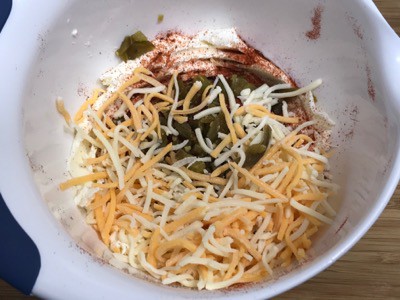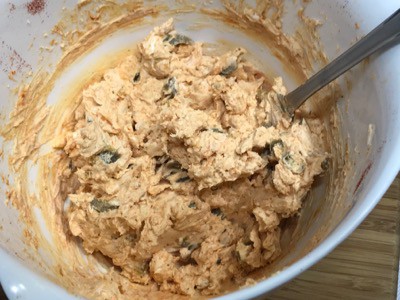 At this point, I made "balls" of the cream cheese mixture that were about the width of the sausage slices. You could also place the mixture into a zip top bag with a corner cut off and squeeze the mixture into the cups if you feel that would work better for you.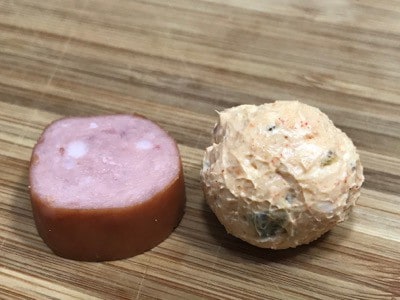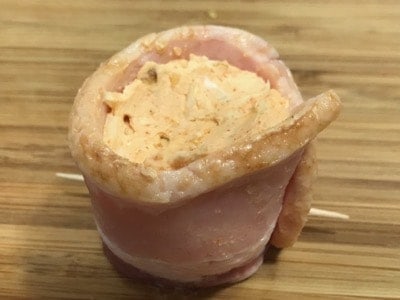 You do not need to fill the cups all the way to the top as the bacon will shrink as it cooks.
We added a nice bit of Jeff's original rub into the cream cheese to give it lots of flavor but it's also a great idea to give the stuffed appetizers a good sprinkling of my original rub just before the pig shots go into the smoker.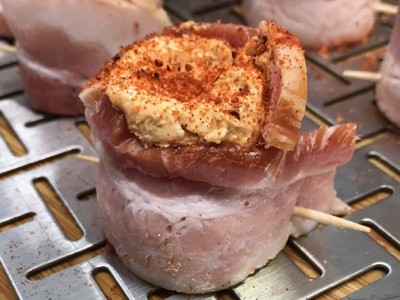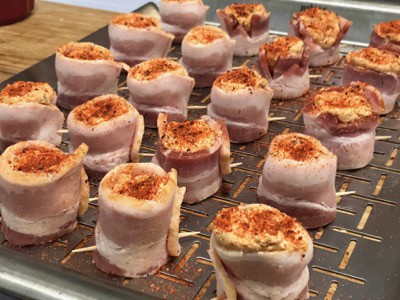 Step 6: Set Up Smoker
Set up your smoker for indirect cooking at about 250-275°F if possible. The thicker bacon will appreciate the higher heat and they'll get done in about 90 minutes this way. If your smoker will not cook that hot, then just set it up to cook as close to that temperature as you can.
If your smoker uses a water pan to create an indirect cooking method then fill it up. Otherwise, extra humidity is not really essential in this recipe.
I used the Camp Chef Woodwind pellet smoker with a pellet blend that contained hickory, cherry and maple. Almost any smoking wood will work great for these.
Step 7: Smoke Cook the Pig Shots
Once your smoker is ready, place the pig shots on the smoker grate preferably using a Weber grill pan or similar to make it easy to move them to and from the smoker. Because the Weber grill pans have slots in the bottom which allow the grease to drain off and smoke to get through, you can leave the appetizers on the pan while they cook. Super handy!
You can expect these to take about 90 minutes if you are able to maintain 250-275°F but you will need to be the judge when the bacon reaches that sweet spot.
It was 17°F outside when I was cooking these and luckily I was wrapped up good but if you need to give these 30 minutes of smoke and finish them in the oven, there is no shame in that.
If you do use the oven for these, be sure to place a pan under the pig shots to catch the bacon grease. This keeps the oven clean and prevents grease fires.
When they are finished cooking and ready to take out of the smoker, feel free to give them a good glaze of barbecue sauce and leave them another 10 minutes in the heat to let it set.
I used about 1/2 cup of  my original barbecue sauce thinned with a couple tablespoons of apple juice and it was an excellent choice.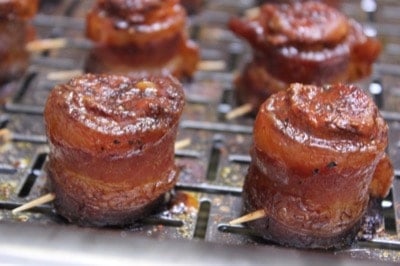 Step 8: Finish and Serve
Bring the pig shots into the house and serve them up right away. They'll disappear quickly and you'll probably wish you'd made an extra batch.
Step 9: Options
Mix a little crushed pineapple into the cream cheese mixture or even some pulled pork to change it up.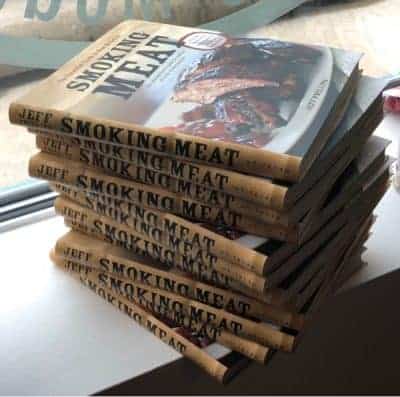 The book is full of recipes and contains tons of helpful information as well. Some have even said that "no smoker should be without this book"!
With more than 900 reviews on Amazon.com and a rating of 4.7 out of 5 stars, it comes highly recommended.
It is a Bestseller in Barbecueing & Grilling books on Amazon.
Thin Blue Foods Store | Amazon | Barnes & Noble | German Edition
Get Almost Anything at Amazon
If you enjoy the newsletter and would like to do something helpful, then..
The next time you decide to order something at Amazon.com, use THIS LINK to get there and we'll get a small commission off of what you purchase.
Thank you in advance for using our special link: http://www.smoking-meat.com/amazon