Today I am going to show you how to make smoked chicken cordon bleu. This dish has been a favorite for ages in many countries and while it is quite simple to make, it is fancy enough to be served at a nice dinner party or get together.
Cordon bleu can be made with chicken, pork, veal and almost any cut of meat but it is most often made using chicken and that is what we will use in this recipe today.
Doing this recipe in the smoker means that you simply leave off the bread crumbs and use some rub instead. I also took the liberty to wrap the whole thing in bacon so as to maintain a lot of moisture and to keep the outside of the chicken breasts from drying out during it's time in the heat.
When you cut into this smoky succulent piece of goodness and see the melted swiss cheese oozing out around the folds of ham, you will experience for yourself why I love this so much.
What You'll Need
4-8 chicken breast (1 per person)
Swiss cheese, sliced
Ham, sliced
Bacon (2 slices per chicken breast)
Toothpicks
How to Prepare the Chicken Breasts
Now in order to make chicken cordon bleu, you have a couple of options. You can simply butterfly the chicken breasts and lay them open or you can pound them out until they are about 1/4 inch thick all over.
I chose to pound them out and to do that you simply place one of the chicken breasts inside of a ziploc bag.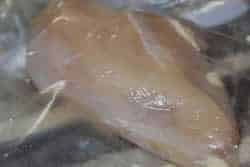 Use a meat mallet to lightly pound the meat starting in the center and working toward the outside until it is the right thickness.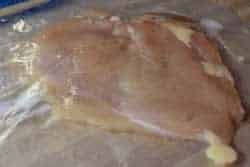 Once it is about 1/4 inch thick all over, take the chicken breast out of the bag and lay it on a cutting board for stuffing.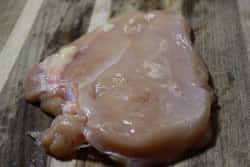 Sprinkle my original rub (purchase recipe here) on both sides of the chicken breast.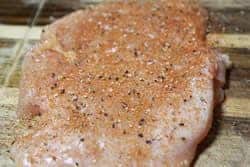 In smoked chicken cordon bleu, it's all about the ham and the swiss. I really like to smoke my own ham and get slices of that for this step but if you are like me and short on time and short on home smoked ham, use a good deli ham. I used the thin sliced and doubled up on the slices.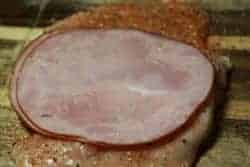 I use a single piece of swiss cheese right on top of the ham. If you are a cheese fanatic and want to have more gooey goodness oozing out of the ends at the finish, perhaps put swiss on the bottom, then the ham then another piece of swiss. Your call.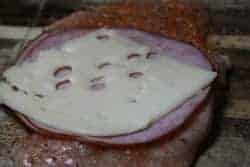 Roll the ham up like a pinwheel. You will probably have a wide end and a more narrow end on the chicken breast pieces. It seems to work better if you start rolling on the wide end and finish with the narrow end.
Lay 2 pieces of bacon parallel and about 1 inch apart. Place the rolled chicken breast across the strips of bacon at about the 1/3 mark or about 3 inches from one of the ends.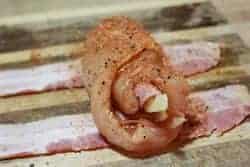 Pull the short ends up over the rolled chicken breast.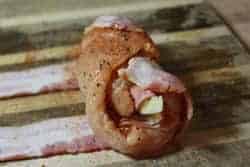 Roll the stuffed chicken breast across the bacon for about 4 more inches. Once you get about 3-4 inches from the end, pull the pieces toward the center and up over the chicken.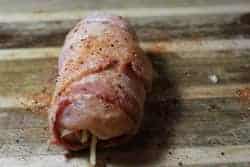 Overlap the ends in the center and secure with a toothpick. Sprinkle a little more of my original rub (purchase recipe here) onto the outside of the bacon for good measure (you can't get too much of this stuff).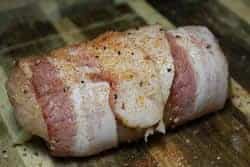 I made these the night before I planned to cook them and placed them in a covered bowl in the fridge when I was finished stuffing and wrapping all of them.
Get the Smoker Ready
Prepare the smoker for cooking at about 225-240°F. These can be smoked  in any type of smoker as long as you follow the recommended temperatures and make sure to not overcook the meat.
Here's some information that I have written on various smokers. I hope to include more very soon.
Note: In colder weather, it is advisable to preheat the smoker at least an hour or more before you are wanting to use it. Keep the door closed as much as possible and even skip basting if necessary to maintain proper smoking temperatures.
Smoking the Chicken Cordon Bleu
Note: Due to the fact that these are wrapped in bacon, they can handle a lot of smoke and I recommend keeping the smoke going for the entire time if possible.
Place the meat on the grate leaving about 3/4 inch between them to allow the smoke to have full access to them.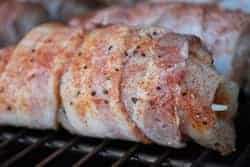 Maintain about 225-240°F throughout and keep the smoke going. I recommend using a good bold smoke like hickory, pecan or mesquite but any smoking wood will work well.
These should take about 3 hours but keep a close eye on the internal temperature of the chicken using a digital probe meat thermometer and pull them off when they reach 165°F. It is ok to pull them a degree or two shy of this if you are worried about overcooking them since they will continue to cook internally for a few minutes.
I don't worry about making the bacon really crispy, but if that is a requirement for you, you can pull them from the smoker when they reach about 145°F and place them on a hot grill to finish or under the broiler for a few minutes. If you do this, continue to monitor the internal temperature and make sure they reach 165°F before calling them done.
About Using a Meat Thermometer
Be sure to use a digital probe meat thermometer  when making the smoked chicken cordon bleu or any recipe that requires the meat reach a safe temperature. I use the "Smoke" by Thermoworks which is a dual probe remote thermometer with the sending unit at the smoker and the receiver in my pocket or around my neck. This way, I can go about what I need to do and I always know the temperature of my smoker and the meat.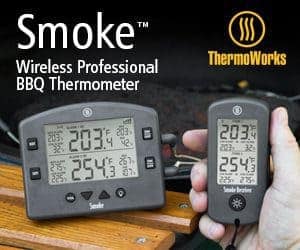 Serving the Smoked Chicken Cordon Bleu
I recommend serving these immediately when they are finished cooking since you want the cheese to still be melty when folks cut into it. Serve with a nice side like steamed asparagus (recipe below).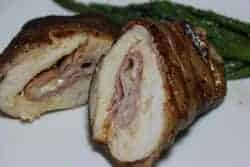 Summary
Place chicken breast in ziploc back or between 2 pieces of wax paper.
Pound lightly with a meat mallet until desired thickness is acquired.
Apply light coat of my original rub (purchase recipe here) to both sides of chicken breast.
Lay ham then swiss cheese onto top of chicken breast.
Roll up chicken breast, ham and cheese like a pinwheel.
Lay down 2 pieces of bacon parallel and about 1 inch apart
Place rolled, stuffed chicken breast across bacon about 3 inches from end.
Pull short ends of bacon up over the chicken breast.
Roll stuffed chicken breast across bacon until about 4 inches from end.
Pull bacon pieces up over the center of stuffed chicken breast.
Overlap ends of bacon and apply a little more rub to outside.
Push toothpick through bacon and chicken to secure.
Smoke chicken cordon bleu at 240°F for about 3 hours or until it reaches 165°F.
Serve immediately.
Steamed Asparagus Recipe
Note: Use the thinnest asparagus stalks you can find–they'll be more tender.
Rinse asparagus in cold water and trim 1-2 inches from the stalk ends.
Bring 2 inches of water to a boil in a stockpot.
Place asparagus in the pot and cover.
Reduce heat to medium and cook (covered) for 5 minutes.
Remove from heat and drain immediately.
Drizzle with olive oil or butter.
Season with kosher salt and coarse pepper to taste.
---
We are now running a limited-time
25% off sale on the DOWNLOADABLE RECIPES
.
Click HERE
to purchase the instantly downloadable
recipes (formulas)
 for both of my rubs and barbecue sauce at an unbeatable discount. Somebody pinch me! Or better yet, just
go get them
😉
Note: The coupon should be automatically applied OR use SM25 during checkout if necessary.
***Note: you get the Texas style rub recipe free with your order!
If I could give these recipes away, I would do that. I really want you to have them! But, then, this is how I support the newsletter, the website and all of the other stuff that we do here to promote the art of smoking meat.
Read these recent testimonies:
"Love the sauce and rub recipes. So far I have used them on beef ribs, pork ribs, and different chicken parts. Can't wait to do a beef brisket. Texas rub is great as well!" ~Peter S.
"I tried the rub on a beef brisket and some beef ribs the other day and our entire family enjoyed it tremendously. I also made a batch of the barbeque sauce that we used on the brisket as well as some chicken. We all agreed it was the best sauce we have had in a while." ~Darwyn B.
"Love the original rib rub and sauce! We have an annual rib fest competition at the lake every 4th of July. I will say we have won a great percent of the time over the past 15 years so we are not novices by any means. However, we didn't win last year and had to step up our game! We used Jeff's rub and sauce (sauce on the side) and it was a landslide win for us this year! Thanks Jeff for the great recipes. I'm looking forward to trying the Texas style rub in the near future!" ~Michelle M.
You see the raving testimonies and you wonder, "Can the recipes really be that good?"
No worries! Make up a batch and if it's not as good as you've heard.. simply ask for a refund. Now that's a bargain and you know it. Let's review:
You decide you don't like the recipes.. you don't pay!
The recipes are absolutely amazing!
Once you order, there'll be no more recipe ads in the email version of the newsletter
Well.. what are you waiting for.. click on the big orange button below to order the recipes now.

I really, really appreciate the support from my newsletter friends and be sure to let me know if you have any questions about this.
Jeff's Smoking Meat Book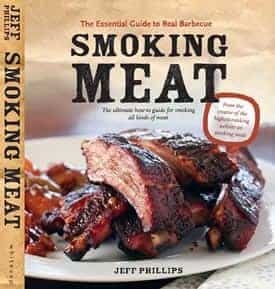 The book is full of recipes and contains tons of helpful information as well. Some have even said that "no smoker should be without this book"!
With more than 800 reviews on Amazon.com and a rating of 4.7 out of 5 stars, it comes highly recommended.
It is a Bestseller in Barbecueing & Grilling books on Amazon.
Amazon | Barnes & Noble | German Edition
Digital versions available via Nook | iTunes | Kindle
Get Almost Anything at Amazon
If you enjoy the newsletter and would like to do something helpful, then..
The next time you decide to order something at Amazon.com, use THIS LINK to get there and we'll get a small commission off of what you purchase.
Thank you in advance for using our special link: http://www.smoking-meat.com/amazon