If you plan to cook for someone you love on Valentine's Day then you might as well make it special and I have come up with just the perfect thing.. strawberry balsamic pork loin, smoked with cherry wood. I told my 14 year old son I was using strawberry wood but I don't think he believed me;-)
The strawberry comes in with the balsamic strawberry glaze that I mixed up for it.. you're going to really love that!
It is, of course, coated with my original rub (Purchase formula here | Purchase bottled rub) for that perfectly flavored crust on the outside.
Helpful Information
Prep Time: 35 minutes
Cook Time: 2-3 hours
Smoker Temp: 225-240°F
Meat Finish Temp: 140-145°F
Recommended Wood: Cherry
What You'll Need
Pork Loin, full or half (your choice)
Butcher's twine (also called cooking twine made from 100% cotton)
2 jars (10 oz each) Smucker's Simply Fruit® Strawberry spreadable fruit (it's JAM)
1/3 cup balsamic vinegar
Jeff's original rub (Purchase formula here | Purchase bottled rub)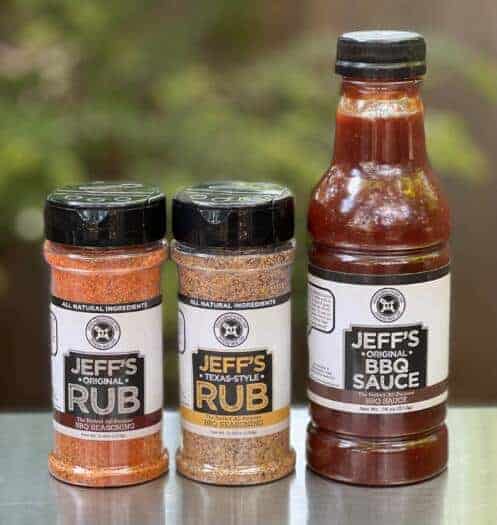 Please note that my rubs and barbecue sauce are now available in 2 formats– you can
purchase the formulas
and make them yourself OR you can
buy them already made
, in a bottle, ready to use.
Tie It Up
If you look at a pork loin carefully you will see that it's actually oval shaped and this is not good as it causes it to cook unevenly. Fortunately, it's really easy to make it round so that it cooks super even from side to side and top to bottom.
I cut mine in half and put one of the halves in the freezer for a later date.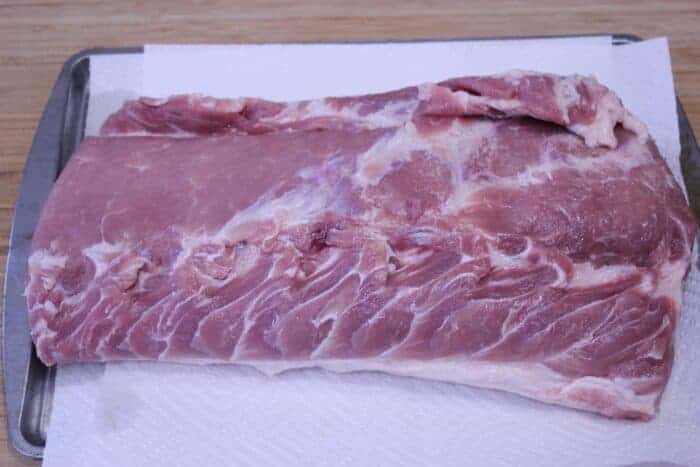 All you need is some clean cotton twine or butcher's twine, cooking twine, whatever it's called where you purchase it.
Cut about 5-8 pieces depending on the length of your pork loin– make them about 18 inches long so you have plenty to work with.
Tip: place the ball of cooking twine into a lidded bowl with a ¼ inch hole cut in the lid. Pull the loose end of the string through the hole and replace the lid onto the bowl. Makes it much easier to use.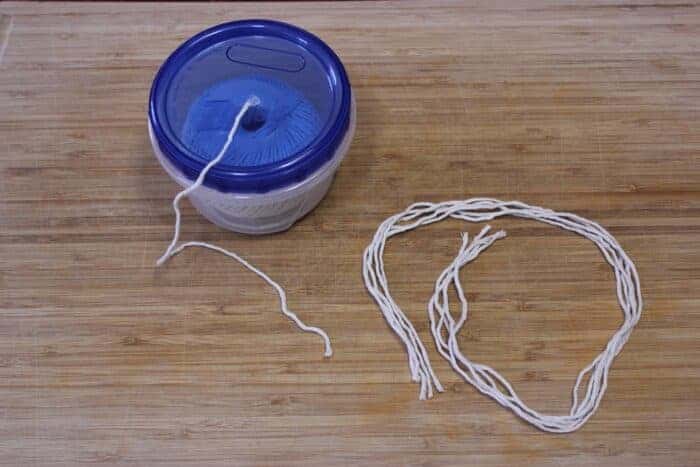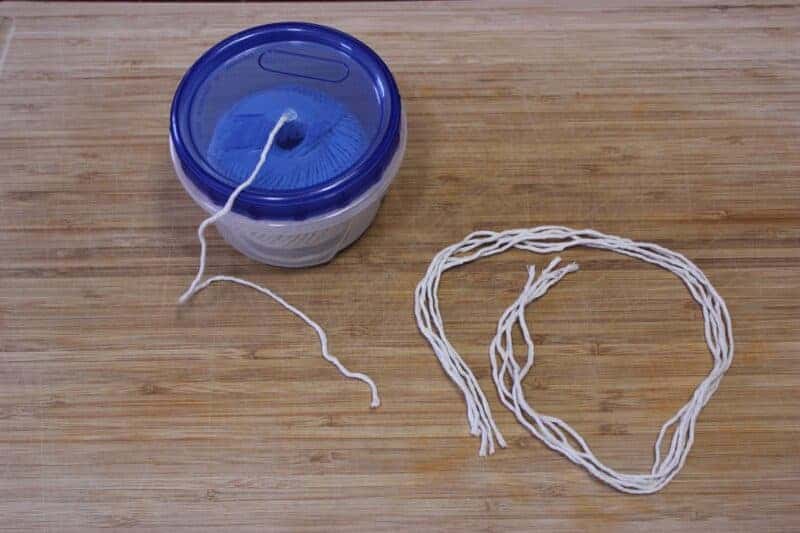 Take note of the length of the pork loin and lay the strings across the pan or cutting board spacing them about 2-3 inches apart.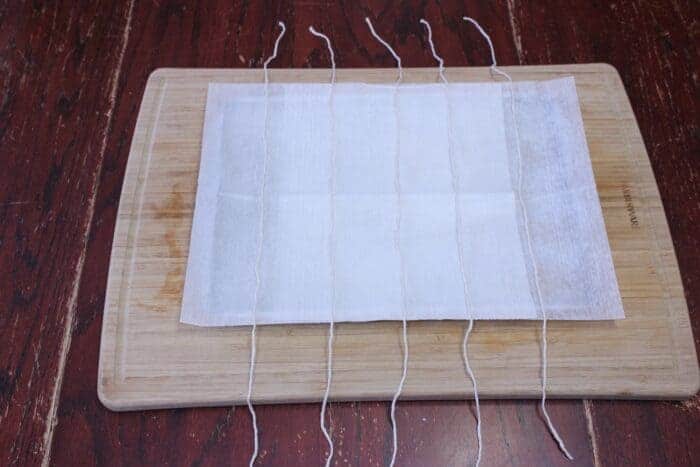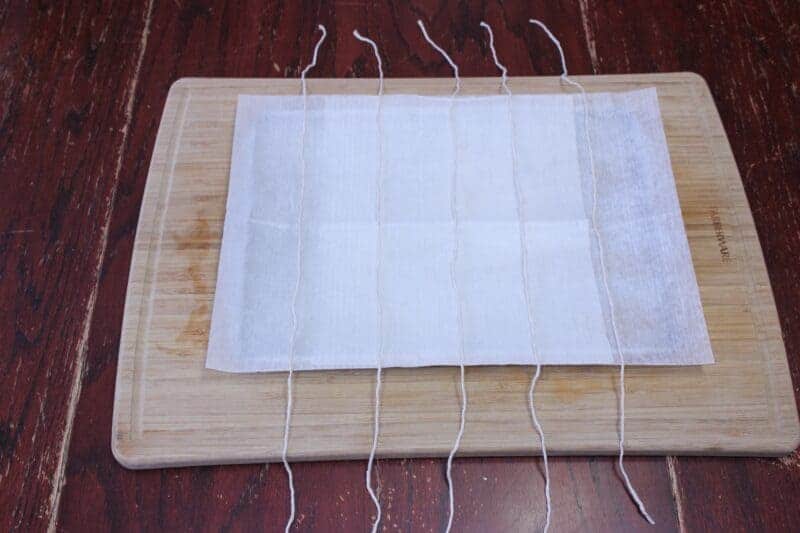 Carefully lay the pork on top of the strings.. FAT CAP DOWN.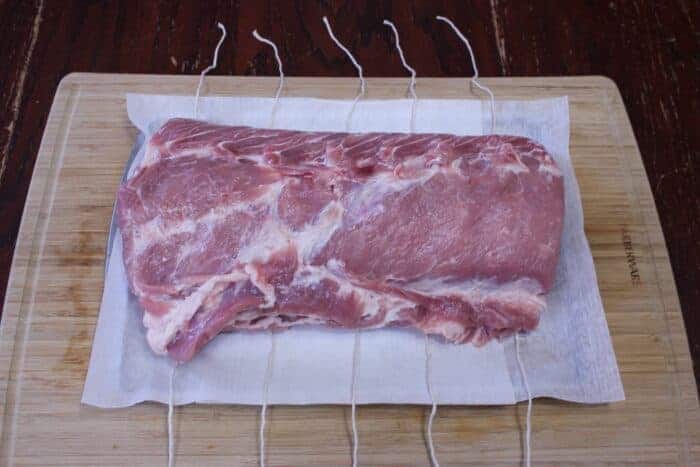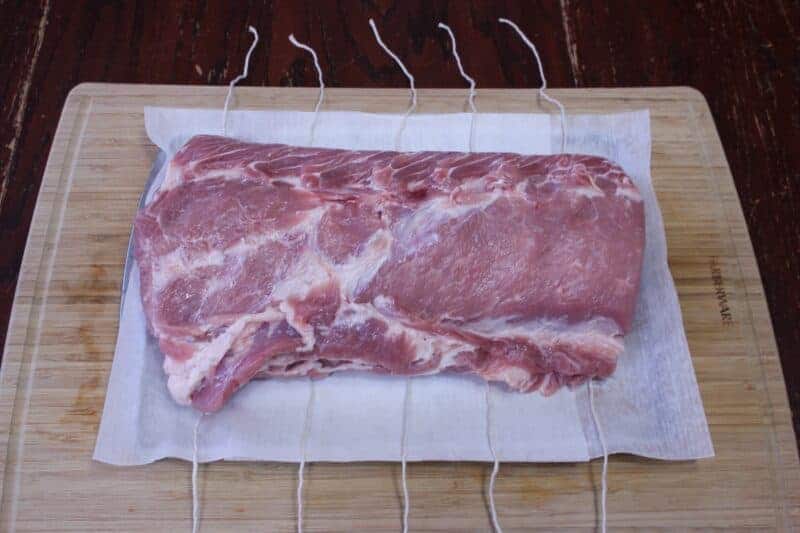 I like starting in the middle but you can start where you like. Bring the cotton string around the pork loin and tie a simple knot by crossing the strings and then bringing one end under. Pull it really tight, rotate both strings 180 degrees to hold it in place then tie another simple knot while keeping the string tight.
It's not as hard as it sounds.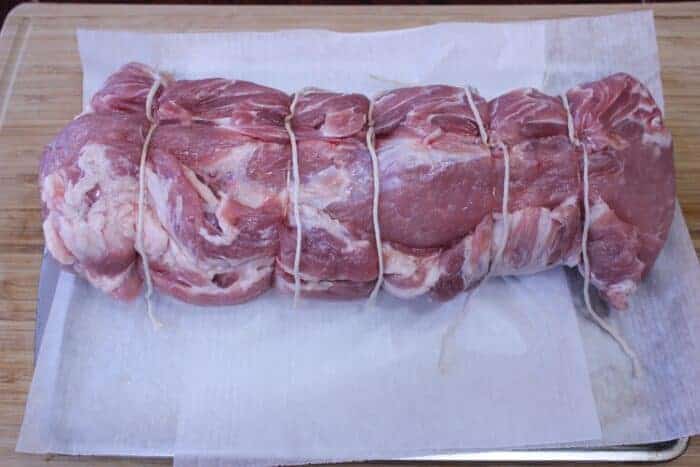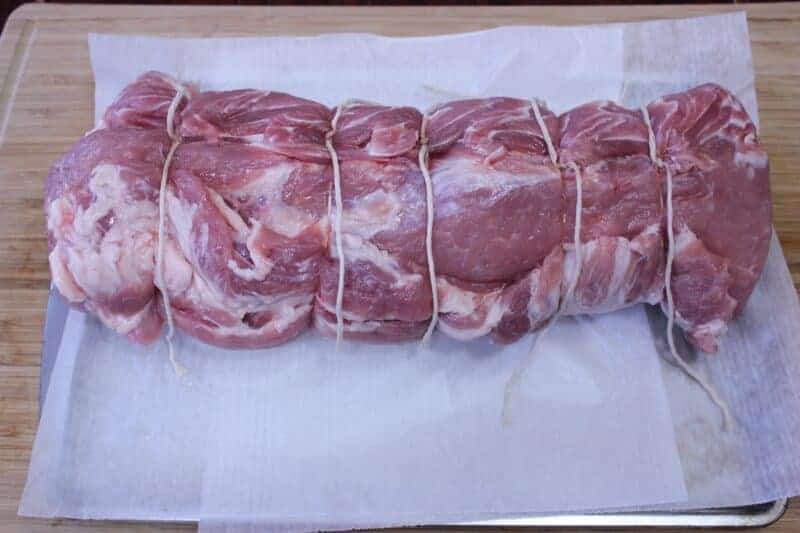 Butcher's have a special tying routine that they do and you can easily learn this by watching some youtube videos. I sometimes do it this way and sometimes, I just use a simple knot!
If you have another Boy Scout knot that works great you or like to show off, knock yourself out.
Once all the strings are tied real tight and the pork loin has taken on a more "rounder" shape, you can trim the extra off the string.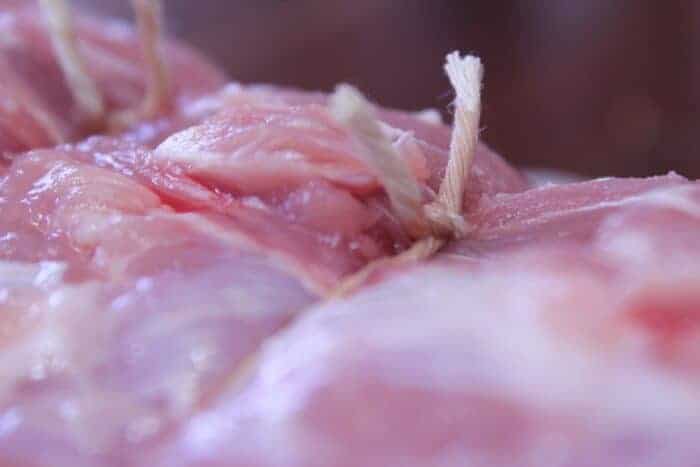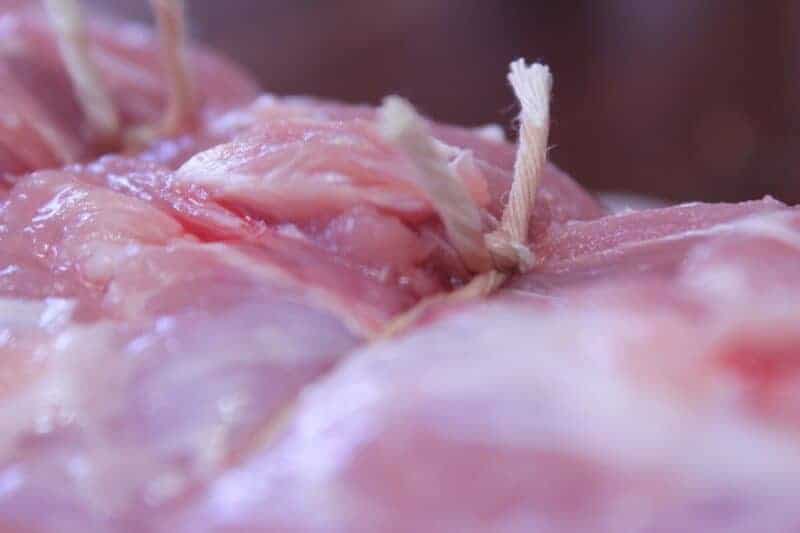 Get Your Jam On
In staying with the strawberry theme, we shall use none other than strawberry jam to create a nice thick sticky layer on the meaty side of the pork loin to help that rub stick to the meat.
How often do you get a chance to get your hands in strawberry jam? Relish it my friends! Good times and stuff! It can be a sticky situation… ok I'm done enjoying that thought.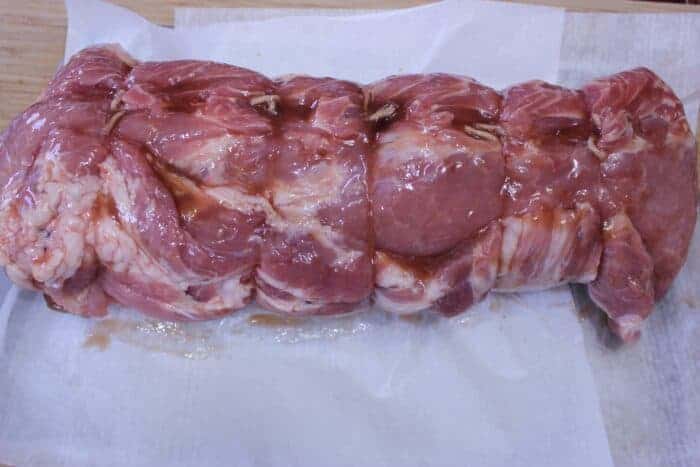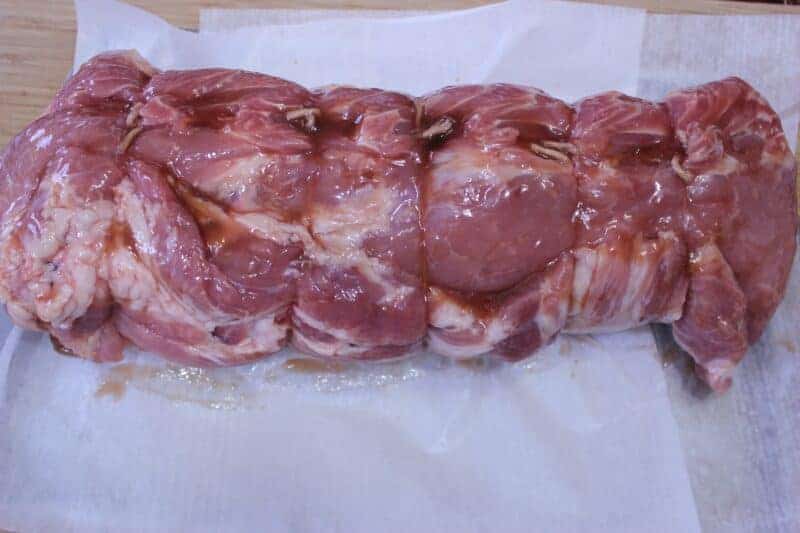 Rub it Down
As many of you have discovered, much to your great fortune, my original rub (Purchase formula here | Purchase bottled rub) is the cat's meow, it's the peanut butter and jelly of the seasoning world, it's the bees knees, it's all that and a bag of chips.. you get my drift!
Now that you have a nice sticky layer of strawberry jam on the meaty side of the pork loin, it's time to "lay on" the rub and when I say, lay it on, I mean don't be a weenie about it. Pour it on like you mean business;-)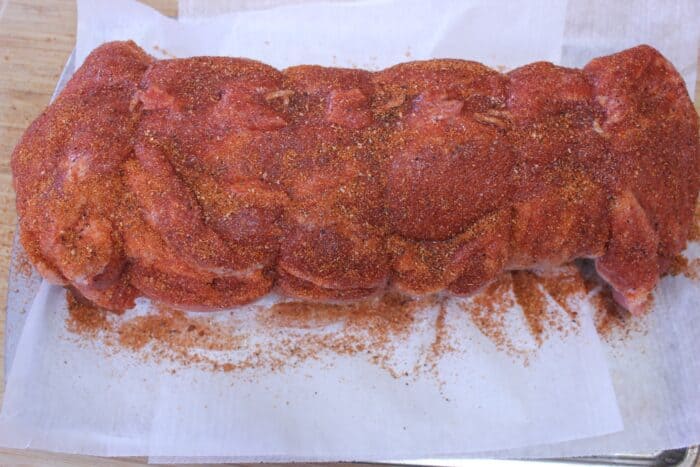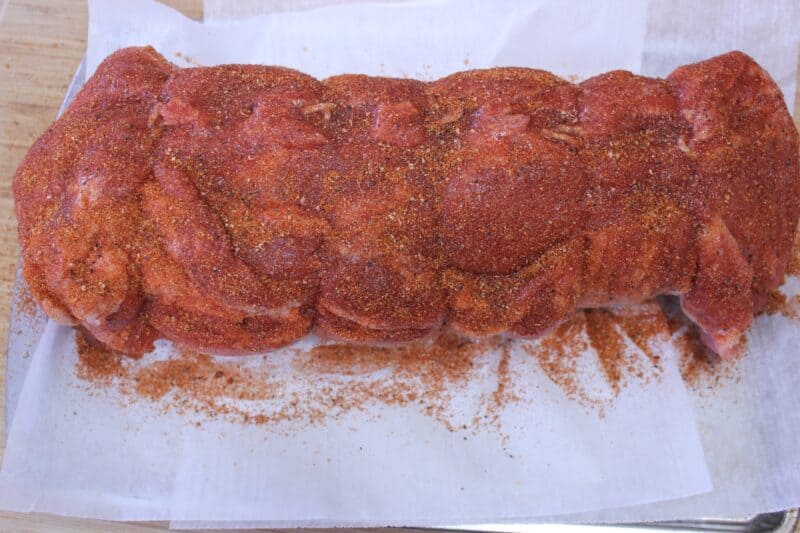 10 minutes later it has a sort of "wet" look indicating that it has soaked up some juices..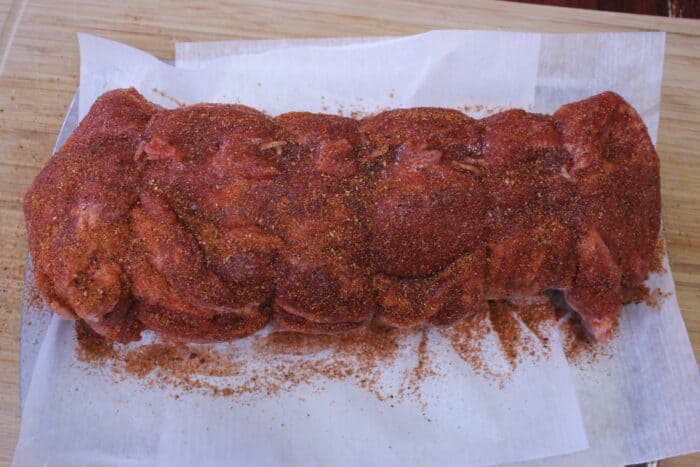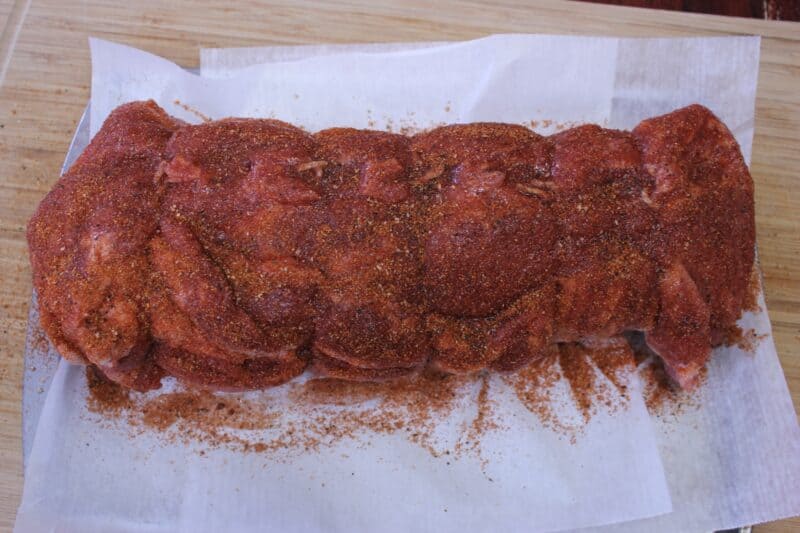 You are done with the meaty side so roll the pork loin over to fat cap up.
Score the Fat Cap
The fat cap on these pork loins are about as tasty as it can get but we still want to replicate the jam and rub process. To help it stick a little better on this fatty surface, we will make some scores into the fat cap using a very sharp knife.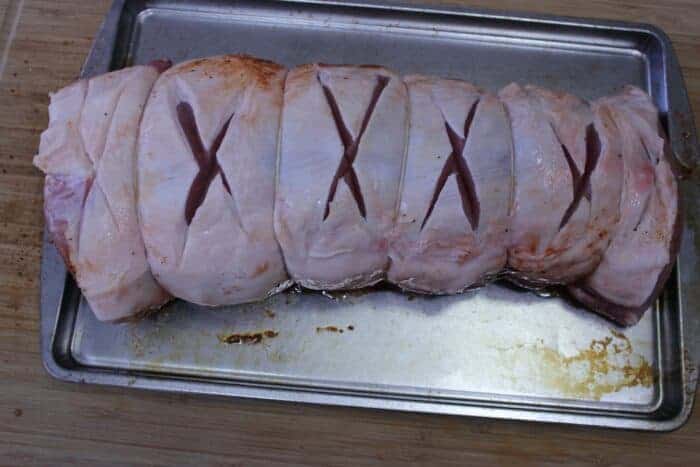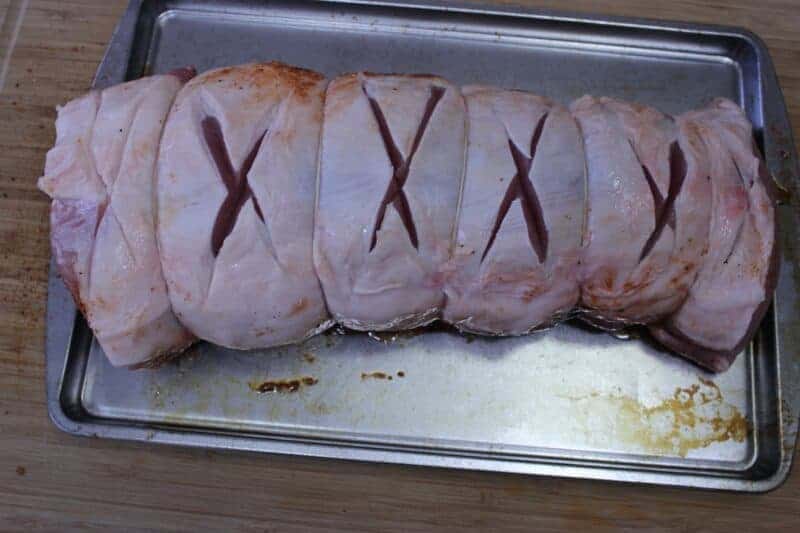 I cut an "X" shape between the pieces of string that we tied earlier.. feel free to carve your initials or the initials of your special someone or perhaps some hearts if you're feeling it. Cut through the fat and down into the meat just a little.. maybe 1/8 inch or so.
Now we have a great platform for more jam and rub on the fatty side of this baby.
Jam and Rub on the Fat Cap
Apply a layer of the strawberry jam on the fat cap making sure some of it gets down in the score marks you made.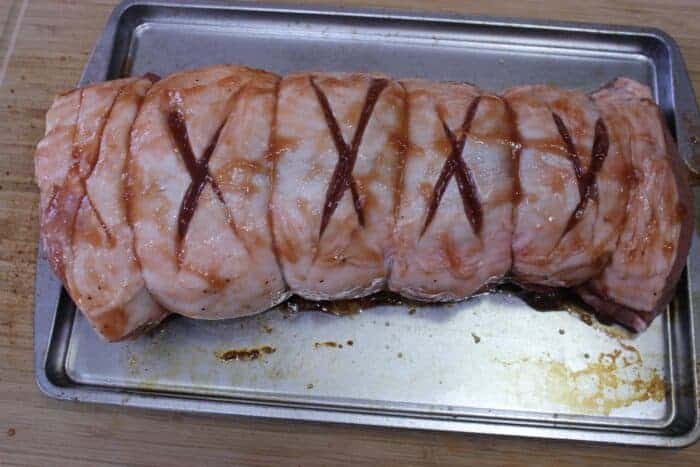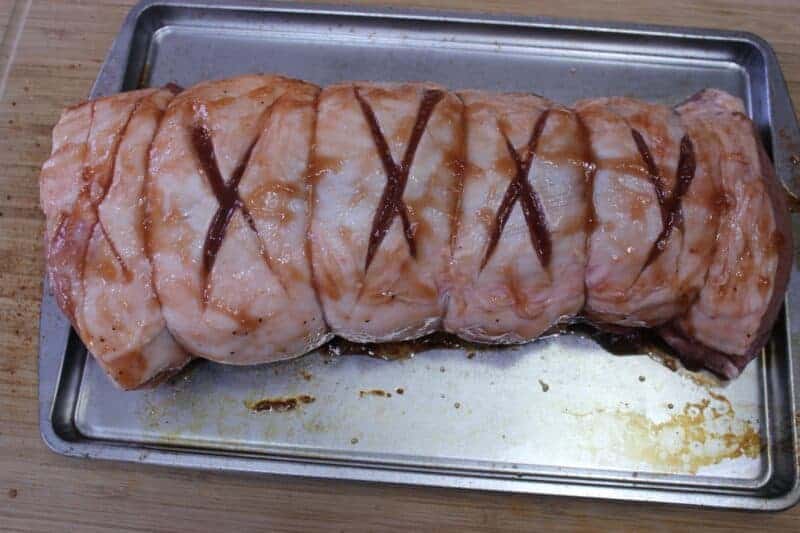 Sprinkle a healthy coat of my original rub (Purchase formula here | Purchase bottled rub) onto the fat cap and leave it sitting there for a few minutes to get happy.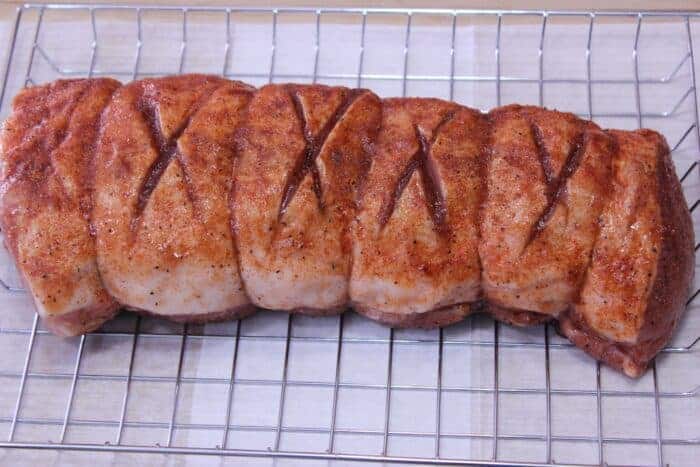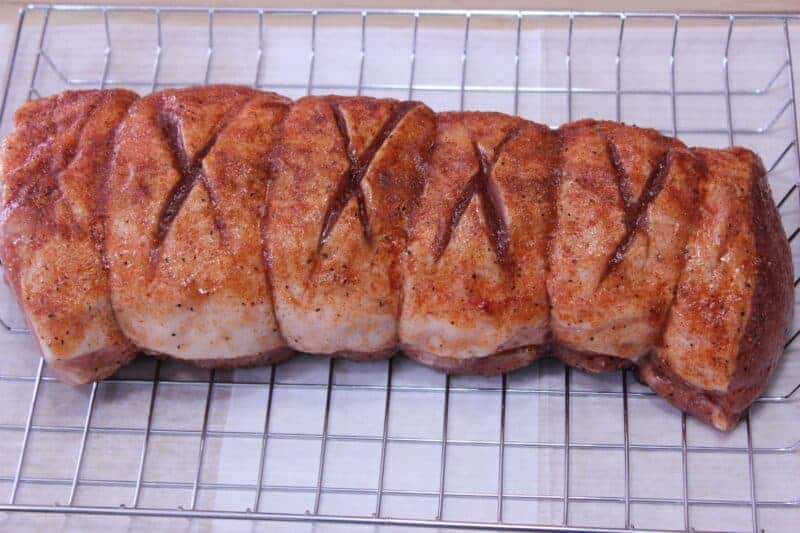 This is a great time to go fire up the smoker.
Smoke Time
Set your smoker up for cooking at about 225-240°F using indirect heat.
If your smoker has a water pan, fill it up with hot water.
I used cherry wood for smoke. If you have some nice fruit wood that works great otherwise, use the smoking wood that you have readily available in your area.
Once the smoker is ready, place the pork loin in the smoker and let the good times roll!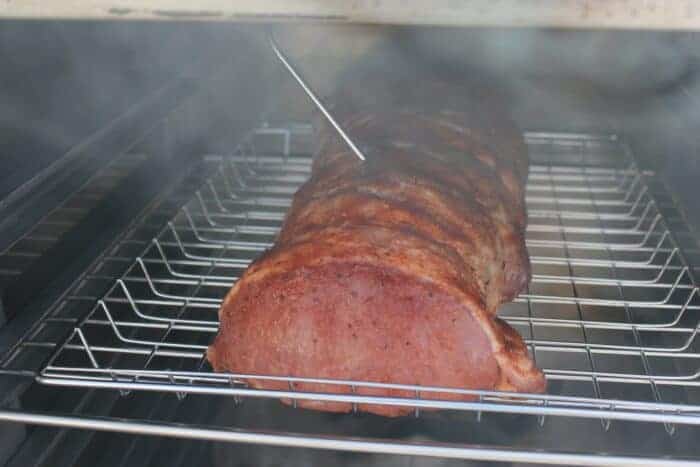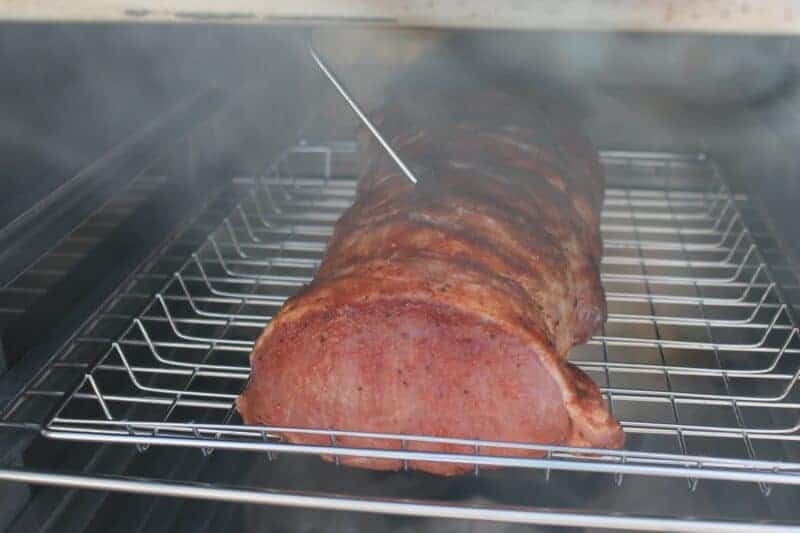 Depending on how cold the meat is when it goes into the smoker, how well your smoker maintains the temperature, outside weather conditions, etc. the pork loin will take between 2-3 hours to reach it's perfect done temperature of 145°F.
We know that meat keeps cooking for a bit after you remove it from the smoker, so for lean meats like pork loin it's always a great idea to remove it a few degrees early. I usually shoot for about 140-142°F knowing that the carryover cooking will bring it on up to a perfect 145°F during the resting period.
Use a Thermometer
For something like a smoked pork loin, you definitely want to use a digital probe meat thermometer. There is NO other way to make sure that you cook it to the right temperature so that's it's safe to eat but not overdone. I use the "Smoke" by Thermoworks which is a dual probe wireless meat thermometer.
Part of the unit stays at the smoker and the other part goes with you around the house, out in the yard, to bed.. wherever you are within a 300 foot range.
I love using products that exude excellence and you can too. Check out "The Smoke" digital probe meat thermometer and stop buying that cheaply made stuff that won't last very long.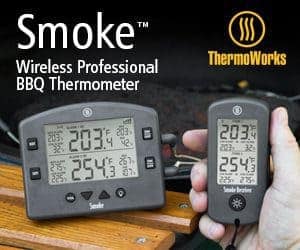 Finish and Serve
Once the pork loin is finished, remove it from the smoker at once and place it on the counter with a piece of foil tented over it. Let it rest for about 10 minutes before slicing into it.
While it's resting, make the strawberry balsamic glaze.
Strawberry Balsamic Glaze
This is so easy you'll feel like you're cheating.. maybe you are but it's so good, you won't even care!
10-oz jar of Smucker's Simply Fruit® Strawberry spreadable fruit (I choose to call it jam)
1/3 cup balsamic vinegar
Put both of these ingredients in a small pan over low heat. As it warms, stir to combine. Serve warm.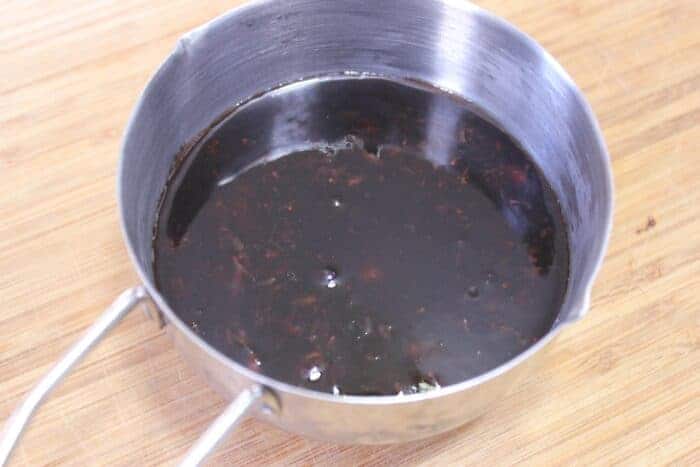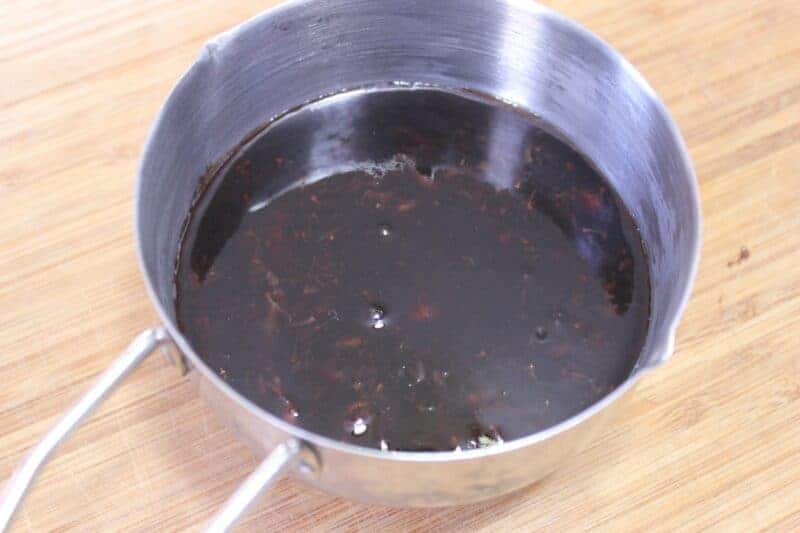 Clip the strings and slice about ½ to ¾ inch thick.
Serve with strawberry balsamic glaze drizzled over the top and more on the side. Make plenty and make extra of this wonderful stuff.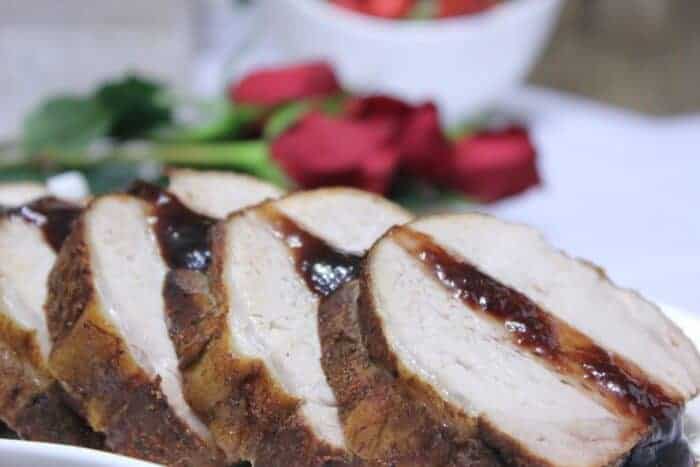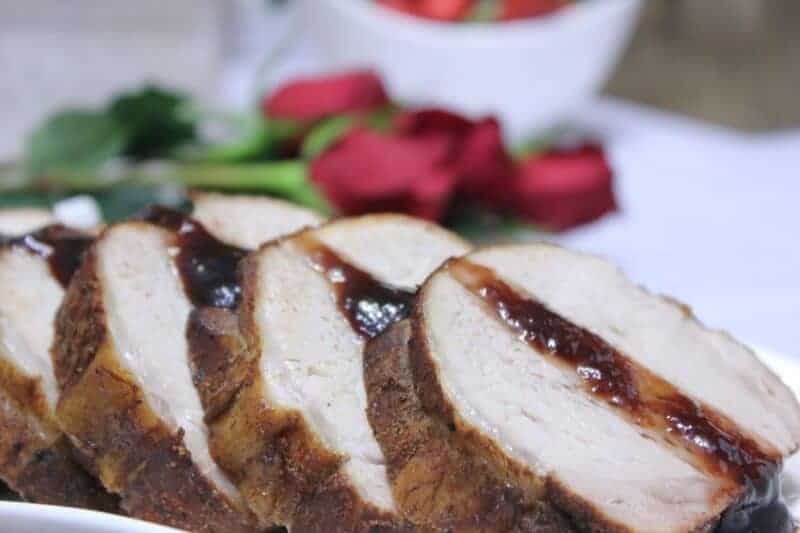 Order Jeff's Rubs and Barbecue Sauce TODAY!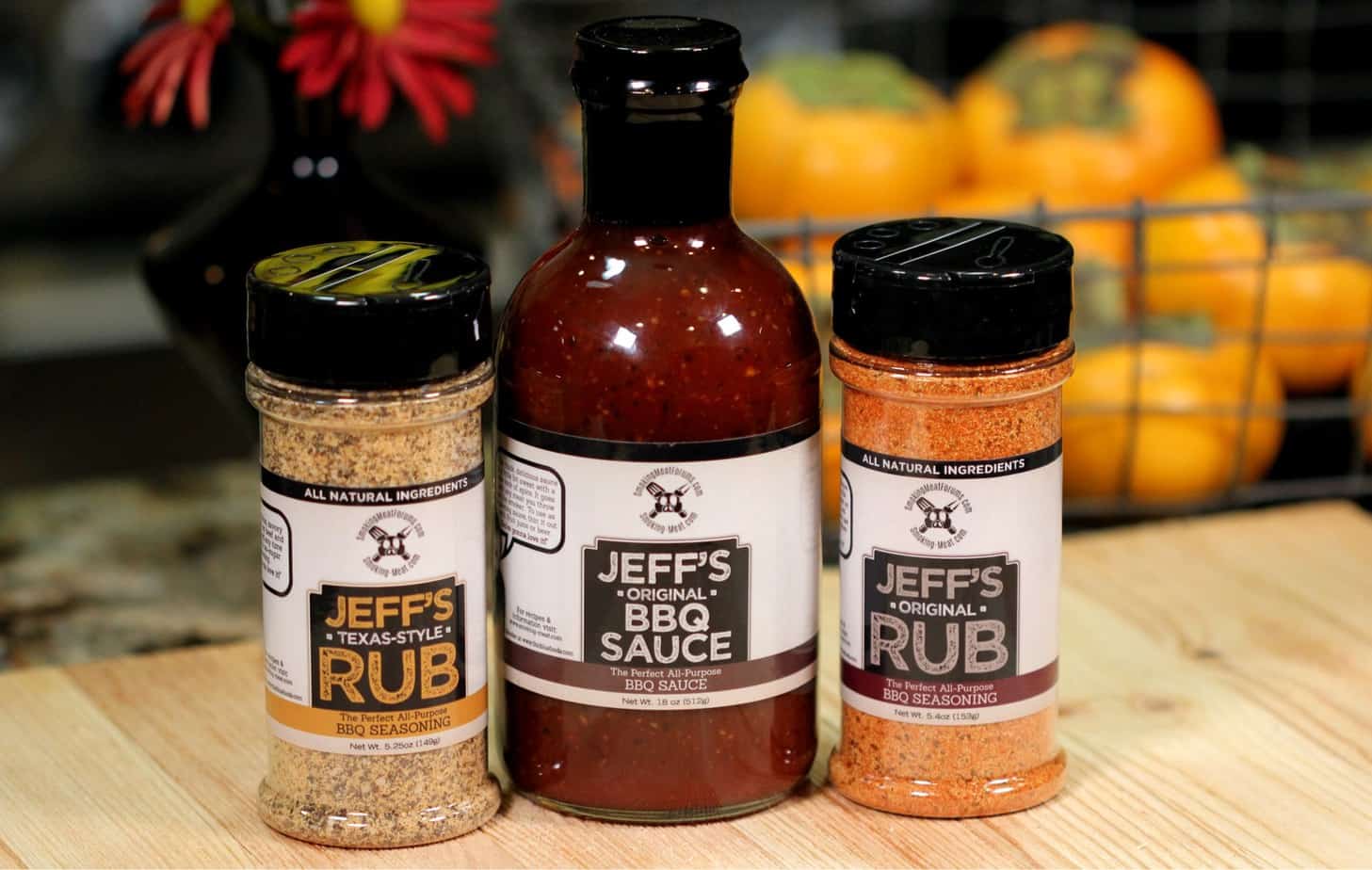 ✅ If you haven't ordered my rubs or sauce yet you can do that HERE. They are the best thing you've ever tasted and it's a great way to support what we do!
We ship blazingly fast and orders over $50 ship free!
You can also order the formulas for my rubs and sauce and make these yourself at home. Grab those HERE and download immediately.
Jeff's Smoking Meat Books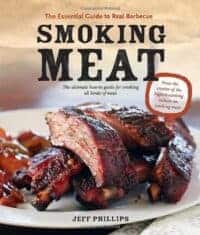 Smoking Meat: The Essential Guide to Real Barbecue – The book is full of recipes and contains tons of helpful information as well. Some have even said that "no smoker should be without this book"!
With more than 1000 reviews on Amazon.com and a rating of 4.7 out of 5 stars, it comes highly recommended and is a Bestseller in Barbecuing & Grilling books on Amazon.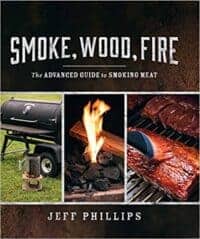 Smoke, Wood, Fire: The Advanced Guide to Smoking Meat – Unlike the first book, this book does not focus on recipes but rather uses every square inch of every page teaching you how to smoke meat. What my first book touched on, this second book takes it into much greater detail with lots of pictures.
It also includes a complete, step-by-step tutorial for making your own smoked "streaky" bacon using a 100 year old brine recipe.
Get Almost Anything at Amazon
If you enjoy the newsletter and would like to do something helpful, then..
The next time you decide to order something at Amazon.com, use THIS LINK to get there and we'll get a small commission off of what you purchase.
Thank you in advance for using our special link: http://www.smoking-meat.com/amazon
---
Printable Recipe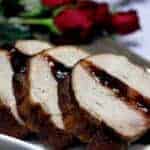 Print Recipe
Strawberry Balsamic Pork Loin for Valentine's Day
Complete instructions and pictures for cooking my downright delicious strawberry balsamic smoked pork loin for your special someone this Valentine's Day.
Ingredients
Pork Loin

((full or half (your choice)))

Butcher's twine

((also called cooking twine made from 100% cotton))

2

jars

((10 oz each Smucker's Simply Fruit® Strawberry spreadable fruit (it's JAM)))

1/3

cup

Balsamic vinegar

Jeff's original rub
Instructions
Tie up the pork loin using butchers twine to give it a round even shape.

Cut "X's" into the fat cap between the strings.

Coat the outside of the pork loin with Smucker's Simply Fruit® Strawberry spreadable fruit.

Apply Jeff's original rub to the entire outside of the pork loin.

Set up the smoker for cooking at 225-240 °F using indirect heat and cherry wood for smoke (any other smoking wood will also work).

When the smoker is ready, place the pork loin on the smoker grate and let cooking commence.

Let the pork loin smoke cook until it reaches 145°F in the center as indicated by a digital probe meat thermometer.

Lay the smoked pork loin on the counter with a piece of foil tented over it and allow to rest for 10 minutes.

Clip the strings and slice ½ to ¾ thick.

Make the strawberry balsamic glaze while the meat is resting.

To make the glaze, place 10 oz of Smucker's Simply Fruit® Strawberry spreadable fruit and 1/3 cup balsamic vinegar into a small pan over low heat.

As the ingredients get warm, stir to combine. When it's warm through, it's ready to use.

Drizzle the strawberry balsamic glaze over the pork loin slices and serve right away.