How to Reverse Sear Smoked Ribeye Steaks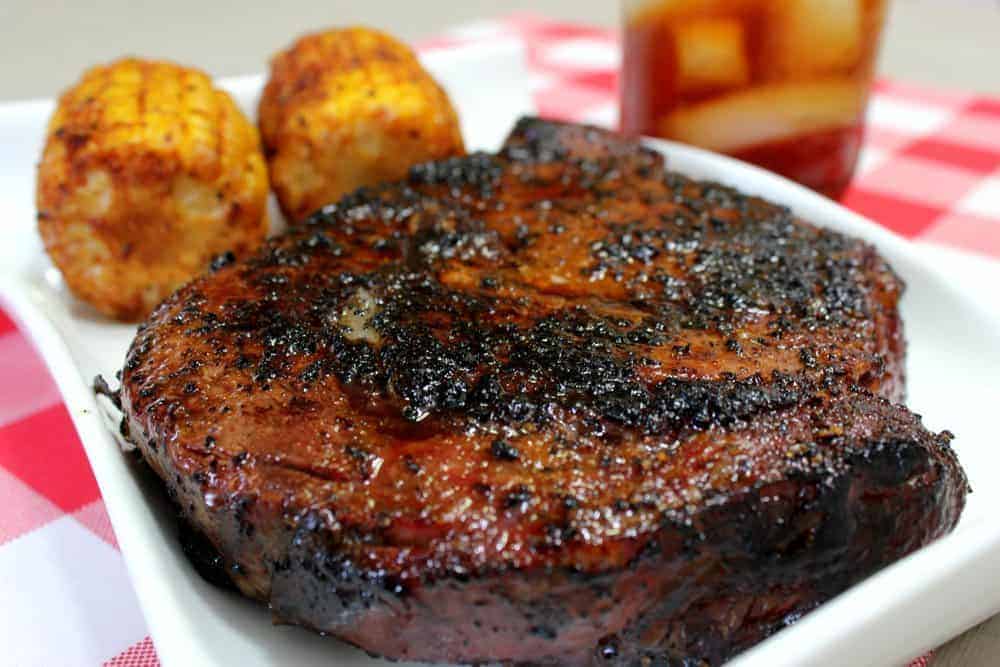 Smoking-Meat.com is supported by its readers. We may earn an affiliate commission at no extra cost to you if you buy through a link on this page.
Read this article without ads
Many cooks throw steaks on a hot grill or over a hot fire and once it reaches the right temperature in the middle, it's done.
What if I told you there was a better way and one that some steakhouses even employ to produce a perfect edge-to-edge pink medium rare with an elegant sear on the outside?
This recipe will show you how to dry brine, smoke cook, rest and then reverse sear a smoked ribeye steak that is better than anything you can get at any restaurant.
Helpful Information
Prep Time: 5 minutes
Dry Brining Time: 2-4 hours
Cook Time: 1.5 to 2 hours
Smoker Temp: 225°F (107°C)
Meat Finish Temp: 130°F (54°C)
Recommended Wood: Cherry
What You'll Need
Ribeye steaks (1 per person), ¾ inch or thicker is best (other steak cuts will also work ok)
Kosher salt (Morton)
Large cast iron skillet or a screaming hot fire
Vegetable oil
Dry Brine
Lay the steaks on a plate or open container and sprinkle kosher salt on them. Be generous but don't go overboard. Typically ½ teaspoon of kosher salt per pound of meat is what the experts recommend.
Here's a picture to give you an idea of how much I use: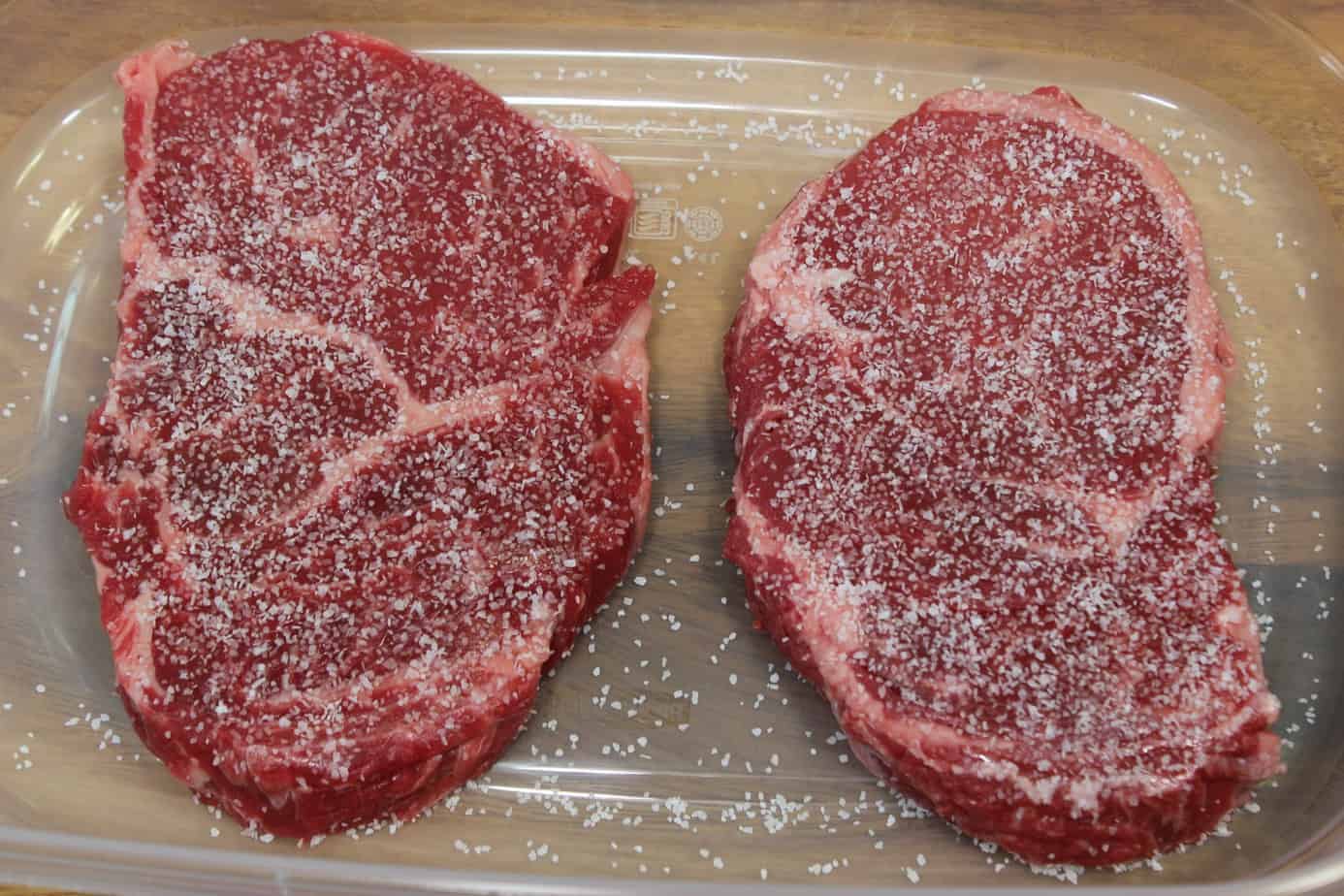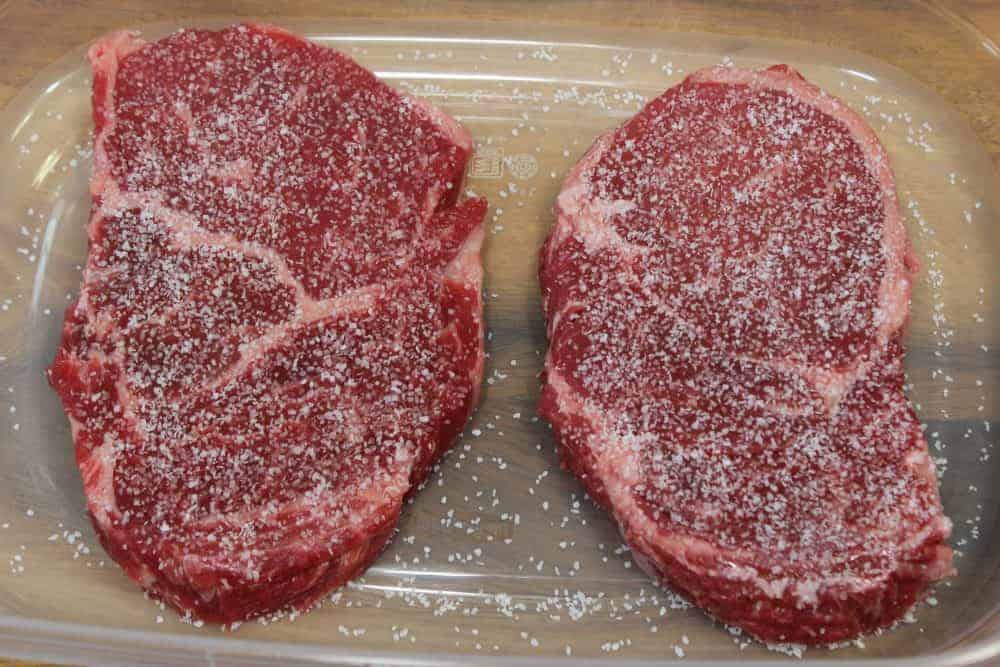 For ¾ inch steaks like these, I just coat one side.
For thicker steaks, I recommend brining both sides– one side at a time for 2 to 4 hours each side.
You then place them in the fridge uncovered.
The salt immediately begins to pull the juices to the surface where it mixes with the salt and becomes a slurry. Over the course of time, the salty meat juices are drawn back into the steak and if you wait long enough it will absorb deep into the meat.
Here's the same 2 steaks after about 45 minutes: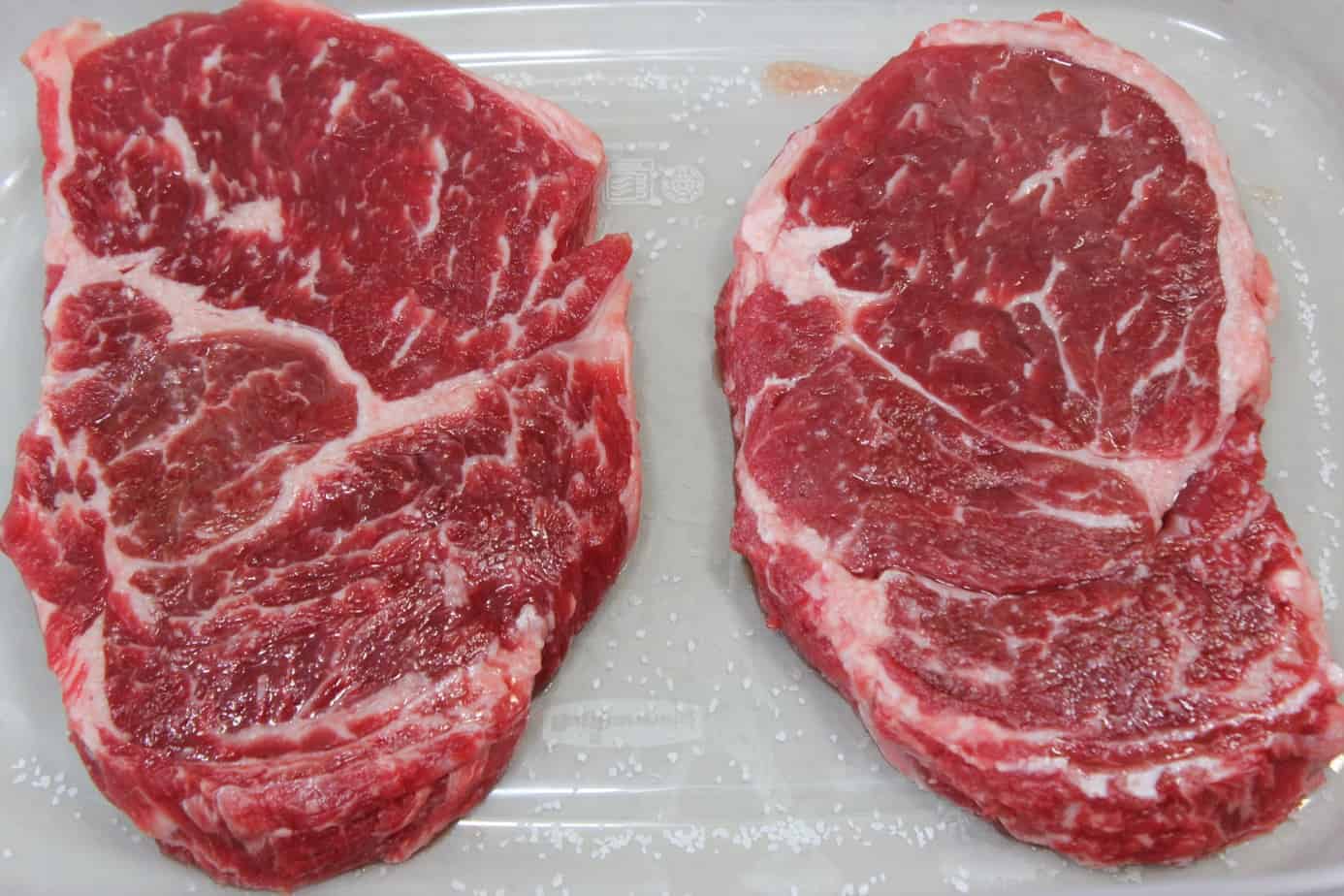 The thicker the steak, the longer they need to sit in the fridge. I left these ¾ inch steaks for about 2 hours and they were perfect.
No need to rinse the steaks when they are finished.
Season
Some folks might just add a little pepper at this point since they salt is already seasoning the inside, but I highly recommend my Texas style rub on these. It's pretty low in salt and has some other things like cayenne and garlic to really ramp up the flavor. The Texas style rub makes beef really, really happy!
Both sides should be seasoned with the rub.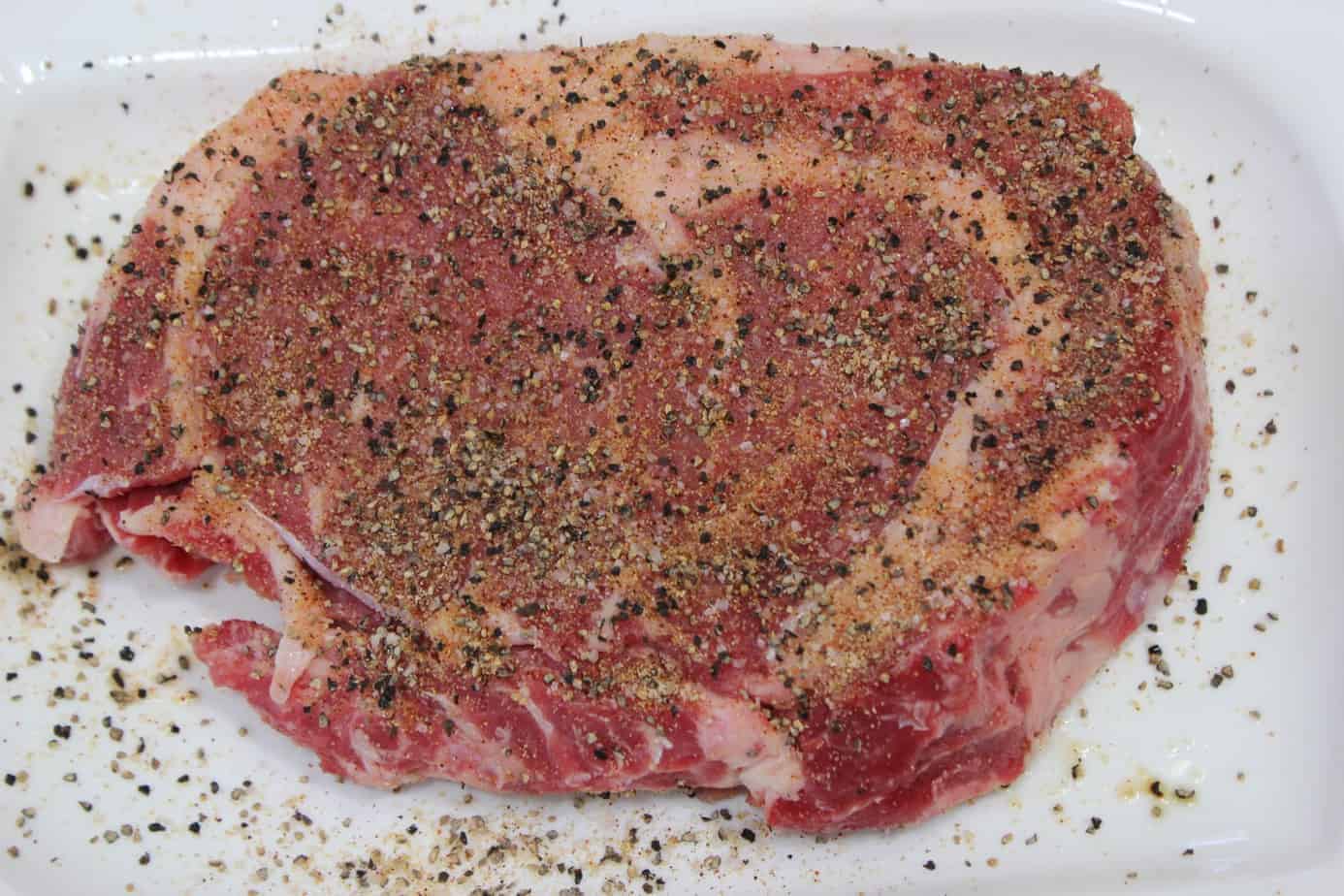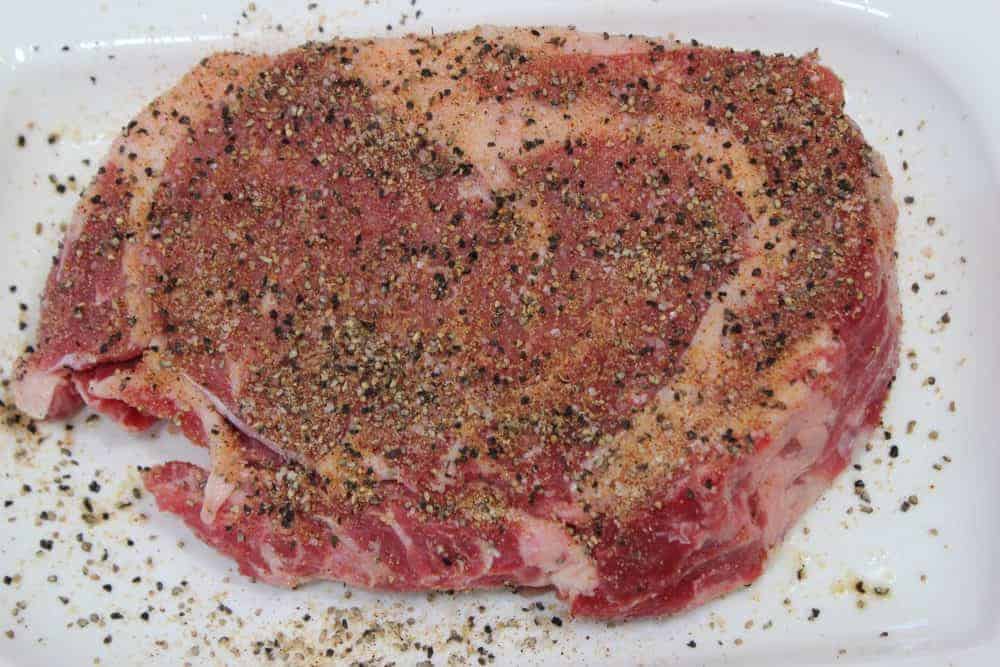 Smoke
Leave the steaks sitting on the cabinet for a few minutes while you go get the smoker set up. They need to warm up a little bit anyway after being in the fridge for several hours.
Set up your smoker for cooking at about 225°F (107°C).
Use indirect heat and if your smoker uses a water pan, fill it up.
The smoke can be any good smoking wood but I recommend cherry if you have it. Other great woods for these are pecan and oak.
Once the smoker is ready, place the steaks on the smoker grate. You can also use any pan with a rack or a Weber grill pan to make it easy to transport the ribeyes to and from the smoker.
For electric, gas and charcoal smokers, keep a light wood smoke going for at least an hour but more is ok as long as you have plenty of airflow into and out of your smoker. Wood smokers will continue smoking the entire time by default.
Be sure to use a digital probe meat thermometer such as a Thermapen or the "Smoke" by ThermoWorks so you'll know the very second when the steak gets done so you can remove it from the heat.
Another great instant-read tool is the ThermoPop digital pocket thermometers. One of my favorite toys.. er, tools;-)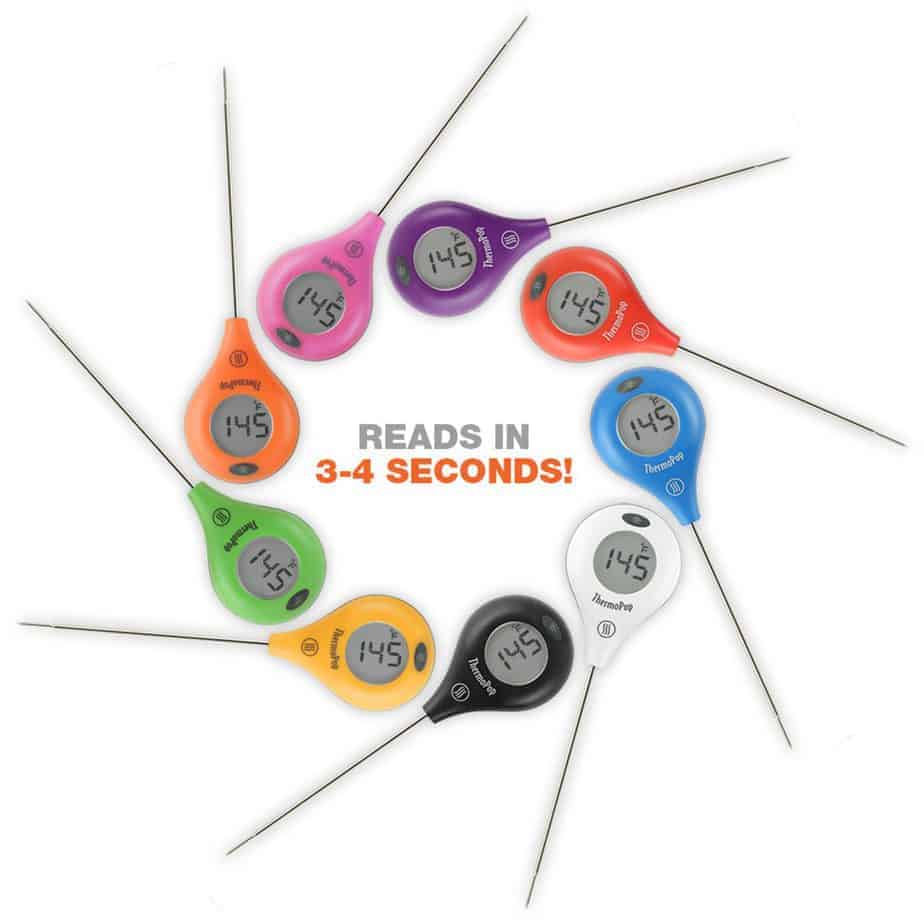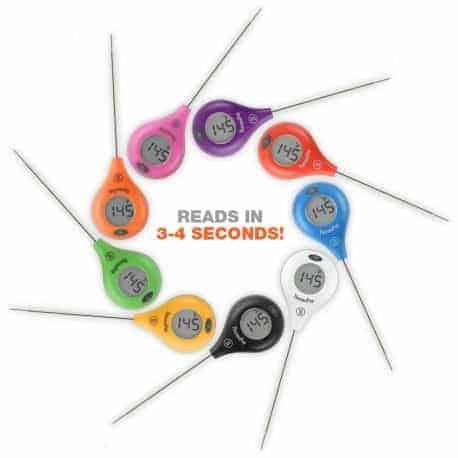 I recommend letting it go to about 120°F (49°C) since we are going to sear them later and the carryover heat plus the searing should bring it on up to a perfect medium rare or 130°F (54°C).
Once the ribeyes reach the set temperature (usually about an hour), move it from the heat immediately.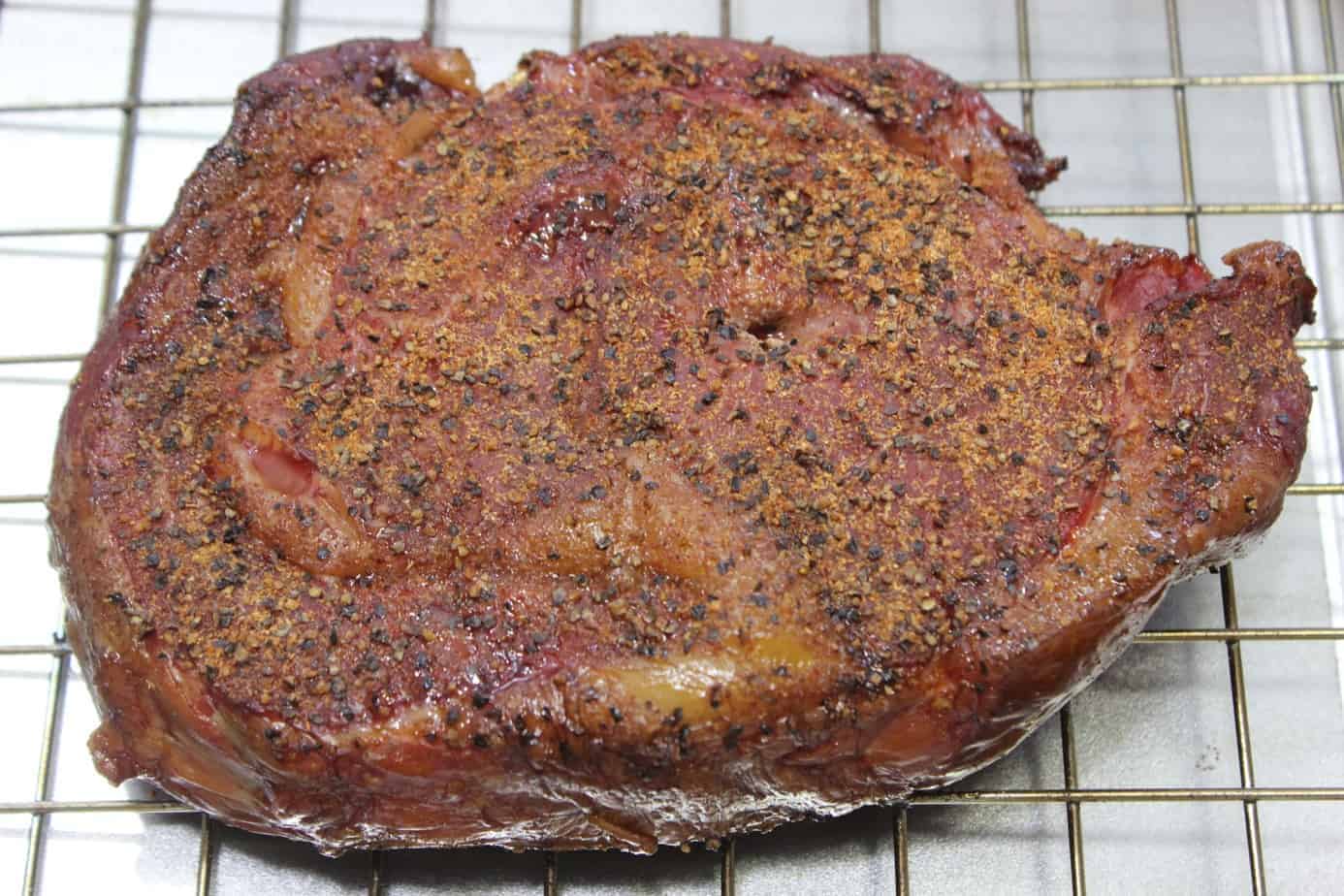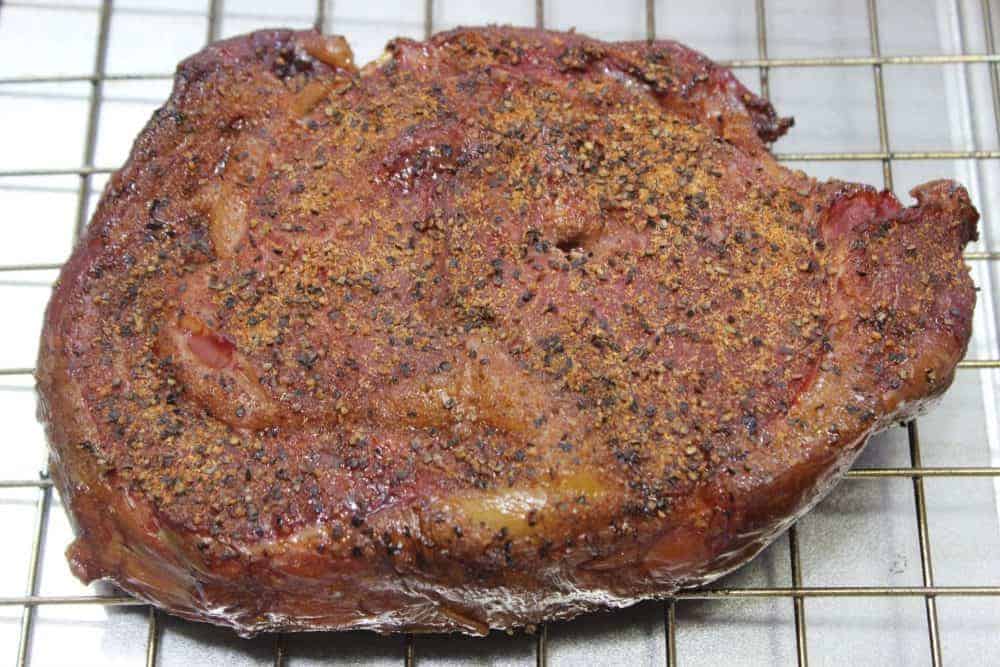 Rest
Let the steak rest away from the heat, tented with foil for about 10 minutes to allow the juices to return to center.
Sear
Place a cast iron skillet over a high heat burner. Use a little vegetable oil in the center of the pan and get it super hot.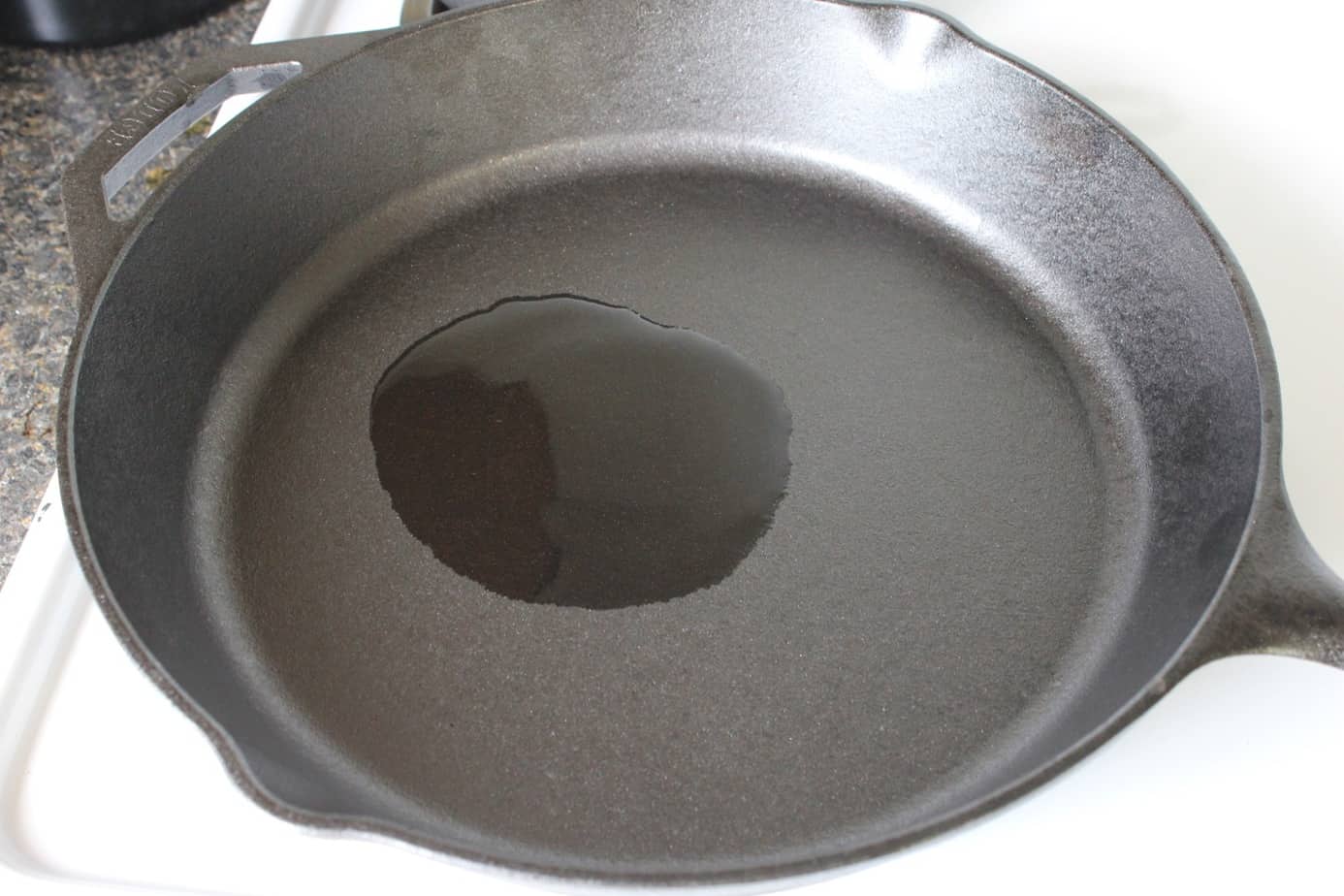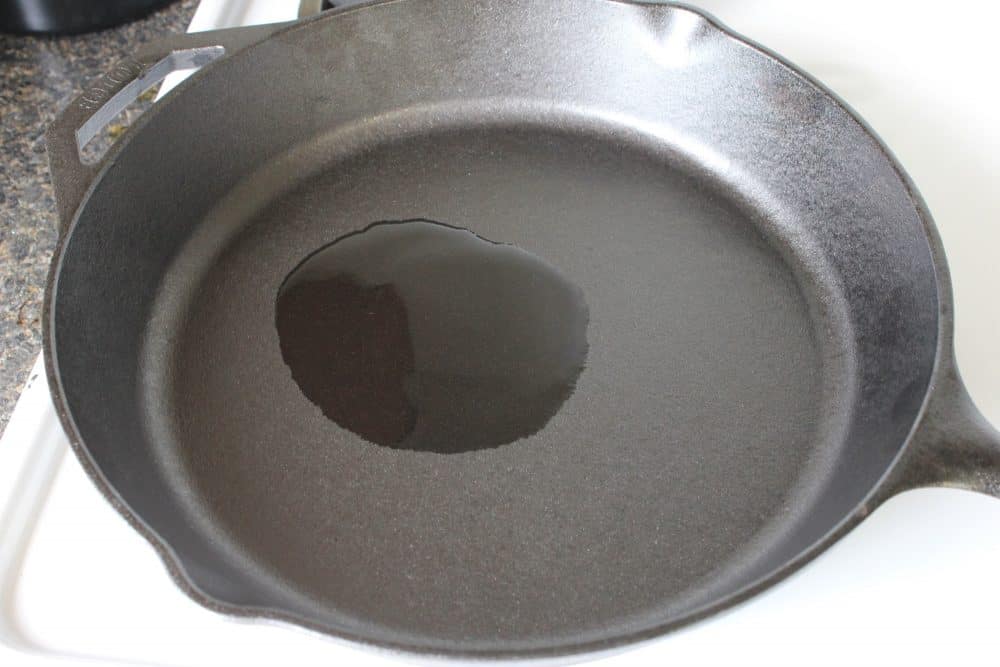 Once the pan is ready, place the steak in the pan and rotate the steak with your tongs to spread the oil around a little.
About a minute each side should do it but keep a close eye on it.
I did some tong magic and seared the sides as well but that's not required
You'll see lots of smoke and this is how it should be. If you have a side burner on the grill, that is a better choice than using a burner in the house.
If you must use the burner in the kitchen oven, just make sure to turn the exhaust hood fan on and perhaps open a couple of windows during this process.
You can also use a screaming hot fire to do this but it's a little less predictable and requires more finesse to get the job done right.. your choice.
Serve
Once again, let the steaks rest (no foil tented over them this time) for about 5 minutes and then serve them to your guests with ample sides.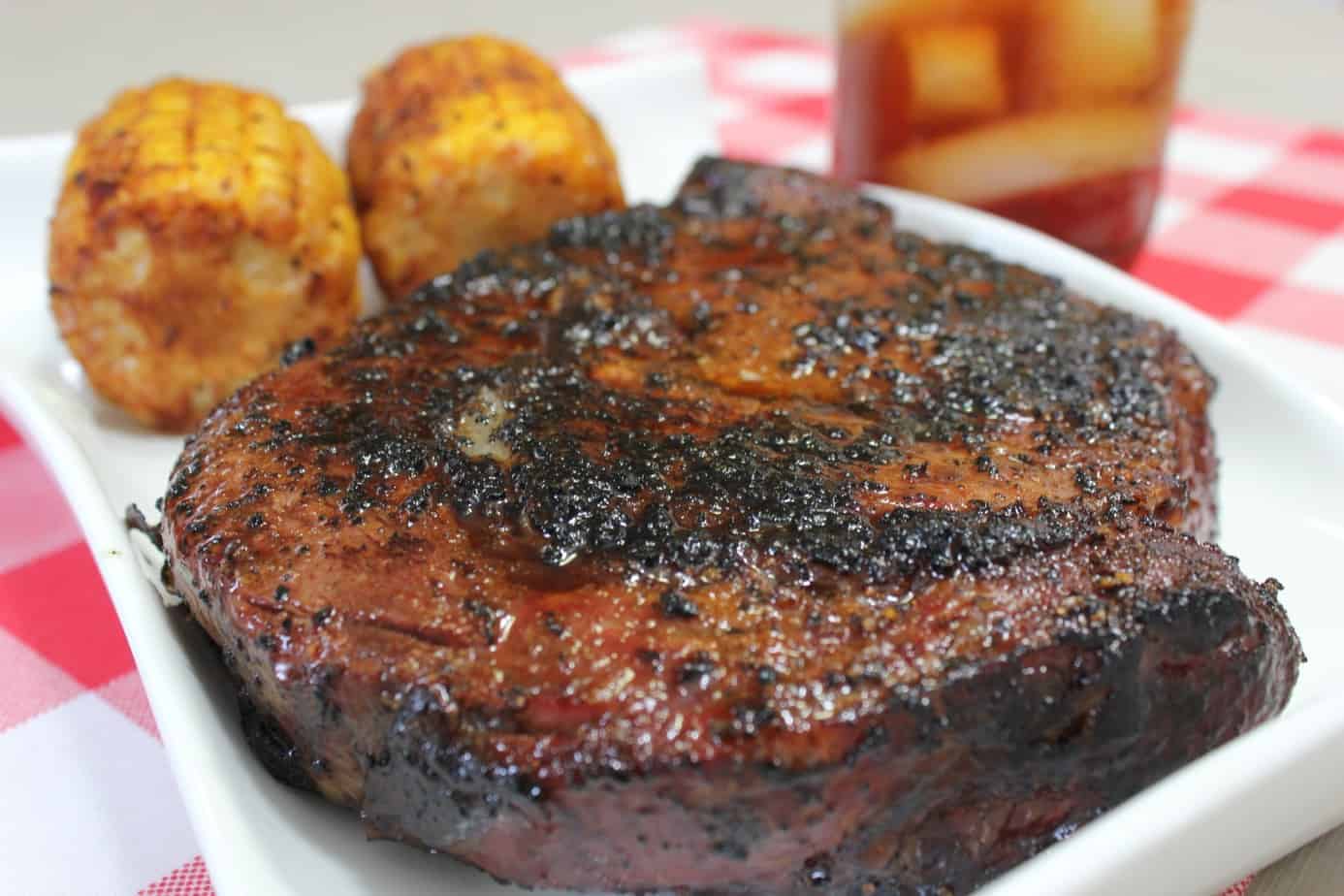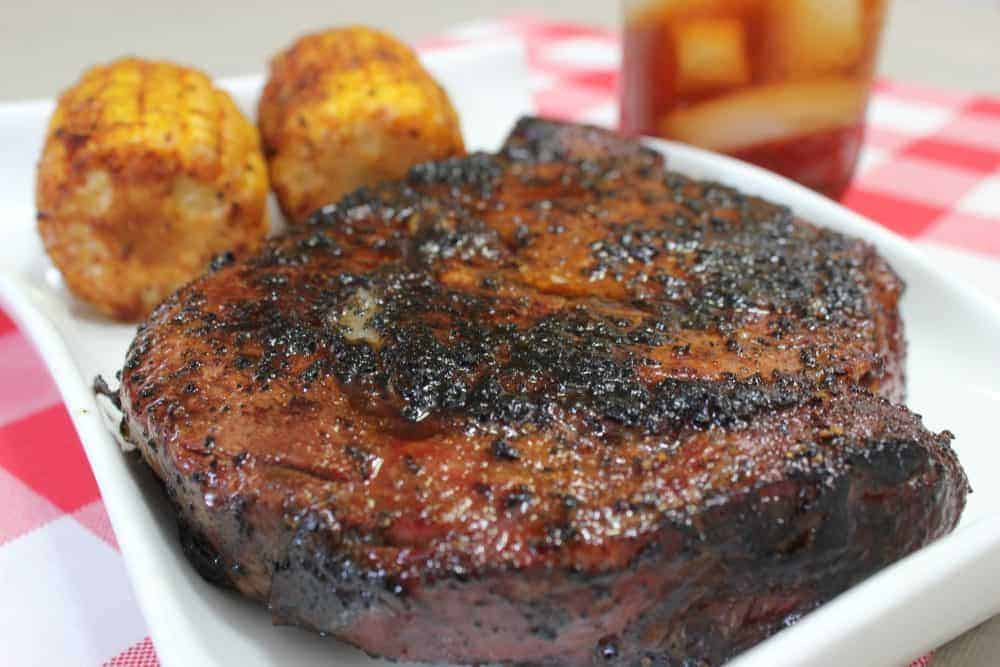 How to Reverse Sear Smoked Ribeye Steaks
How to dry brine and reverse sear smoked ribeye steaks. This gives you perfect edge-to-edge medium rare with the most beautiful seared outside you've ever seen.
Ingredients
Ribeye steaks

(1 per person, ¾ inch or thicker is best [other steak cuts will also work ok])

Kosher salt

(Morton blue box)

Large cast iron pan or a screaming hot fire

Vegetable oil
Instructions
Dry brine the steaks by sprinkling about 1 tsp of kosher salt on the top. If they are extra thick, do the bottom as well. Place the steaks on a plate or open container in the fridge for 2-4 hours. When the brining is complete, remove the steaks from the fridge and set aside.

Season the steaks, top and bottom with

Jeff's Texas style rub

and let them come to room temperature while you get the smoker ready.

Prepare the smoker for cooking at 225°F (107°C) with indirect heat and cherry wood for smoke. Pecan or oak are also great choices. If your smoker uses a water pan, fill it up.

Place the steaks on the smoker grate and let them smoke cook for about 1.5 to 2 hours or until they reach 120°F (49°C) in the center as measured by a digital meat thermometer. Remove the steaks from the heat and let them rest with foil tented over them for about 10 minutes.

Meantime, heat an iron skillet over high heat and once water will spit in the pan, it is ready to use. Pour a little vegetable oil in the center of the pan and place the steak in the pan rotating it to spread the oil out. Sear each side for about a minute or until they have reached the color that you like.

Serve immediately.
Get Jeff's Products!